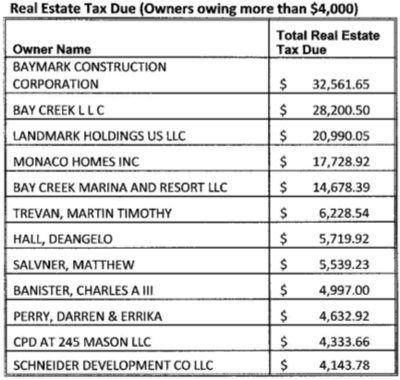 By KAREN JOLLY DAVIS
Cape Charles Wave
July 31, 2012
Delinquent taxpayers owe the Town of Cape Charles over a quarter million dollars. And the companies that owe the most are among the largest landowners in town — Baymark Construction Corp., Bay Creek LLC, and Bay Creek Marina and Resort LLC.
"We should be caught up within 60 days," said Oral Lambert, speaking for the Bay Creek companies. "There are many entities in our corporate group and this is just a small percentage of the total. The vast majority of the Bay Creek taxes have already been paid."
Town Manager Heather Arcos informed the Wave that the Town collects an average of about 96 percent of taxes due each year. Delinquent real estate taxes, including penalties and interest, equal $250,856 as of July 26.
Arcos said Cape Charles uses a string of methods to collect back taxes. The Town mails bills, sends out reminder letters, and sometimes even calls the delinquent owner.  Payment plans can be arranged. And under the Town Code, officials can withhold permits until taxes are paid.  [Read more…]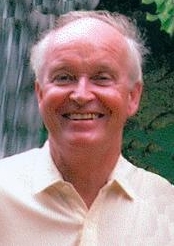 James Fraser, 72, husband of Margaret Hope Jolly Fraser and a resident of Cape Charles, passed away Thursday, July 26, at his residence.
He was born May 16, 1940, in Glasgow, Scotland, the son of the late James R. Fraser and the late Alice Nobbs Fraser.
He was a retired wastewater technician for the Town of Cape Charles and was affiliated with the Capeville Masonic Lodge #107.
In addition to his wife, he is survived by two daughters, Heather Nace and her husband, Christopher, of Coral Springs, FL, and Christine Eadeh and her husband, John, of Philadelphia, PA; two sisters, Rae and Janice; and three grandsons, Colin, Ian, and Brendan Nace, all of Coral Springs.
To honor his wishes, no public service will be held. In lieu of flowers, memorials may be made to Riverside Shore Cancer Center, P.O. Box 17, Nassawadox, VA 23413. [Read more…]
By KAREN JOLLY DAVIS
Cape Charles Wave
July 30, 2012
Spin a workboat from one dock to another, attach four lines to four posts bow and aft, and do it in about 30 seconds — that's the essence of a boat docking contest. Next weekend in the Cape Charles harbor, watermen from Virginia and Maryland will compete to see who is the fastest.
"They risk tearing their boats up," said Harbormaster Smitty Dize, who organized the event. "Most of them get dinged up. Last year, one guy knocked a part of his guard off, but that's to be expected. It can be a very expensive thing if you tear up the hydraulic line."
The boat docking contest is one of many events planned for the Inaugural Cape Charles Clam Slam, a town-wide festival August 3-5. Participants will enjoy three live bands, trash to treasures and yard sales, vendors, a Shriners Parade and car show, skiff and cork races, and clams, clams, clams.
"We're not doing these events to make a profit," said Dize. "We're hoping to offset the costs of other town events, like the 4th of July fireworks."
Last year, the town hosted its first docking race. Six boats competed before a crowd of about 1,200. Dize expects 9 or 10 boats in three divisions this year, and double the attendance. The Clam Slam Facebook page is getting lots of traffic, he said. And a yacht club that had one member attend last year is bringing 30 boats next weekend.
"A lot of vacationers are here this year because we exposed the town last year," said Dize.
Cape Charles got a $10,000 grant from the U.S. Fish and Wildlife Service to market the harbor. The grant paid for ads in boating magazines like Proptalk and Spinsheet, plus rack cards and other marketing tools. Massive harbor improvements have prompted some to consider it the new center of town.
"No, we're not the center of town," said Dize. "But we're actually attached to the town now. The harbor used to be on the other side of the railroad tracks." [Read more…]
July 29, 2012
Heat lightning flashed across the Bay, but the third try was the charm for the Northampton Chamber of Commerce's "Applaud the Sun" Boardwalk Gazebo Party last night. Due to rain, the party was cancelled two Saturdays ago and again last Saturday.
G.Z. Slick played the music and Ol' Sol provided the lighting effects, all to a backdrop of several classic cars from the '60s.
This was the Chamber's first Boardwalk Gazebo party, replacing last year's Harbor parties.  Which location do you prefer? Comments invited.
Town Council will hold a special meeting at 6 p.m. Tuesday, July 31, at Town Hall to review the recommendations of the Planning Commission for the rezoning and conditional use permit for the school property adjoining Central Park.
Town staff has recommended that the Council consider holding a final public hearing on the issue on Thursday, August 23, at 6 p.m. The only action that would be taken by Council July 31 would be to schedule the public hearing.
The 21-page agenda packet, including staff background papers and recommendations, may be read by clicking here: Town Council Special Meeting Packet July 31
By DORIE SOUTHERN
Cape Charles Wave
July 27, 2012
The Cape Charles Planning Commission yesterday voted unanimously to recommend approval of the rezoning of the Old Cape Charles High School, adjoining parking lot, and basketball court from Open Space to R-1 residential.
The Planning Commission also voted 3-1 to recommend approval of a Conditional Use Permit to allow Echelon Resources, a private developer, to convert the school into a 17-unit apartment building located in an area of mostly single-family homes.
The votes were preceded by a public hearing, at which all the members of the public who spoke opposed the rezoning and conditional use.
Lenora Mitchell said the rezoning and the conditional use would "destroy the character of the neighborhood." She noted that the basketball court next to the school is a community asset used across racial, age, ethnic and social lines. Under the terms of the contract signed by the Town, the basketball court will become a private parking lot for the apartment house.
John Peterman, an adjacent property owner and part-time resident, said, "We had no idea this would happen when we bought our property. We would not have bought it had we known."
Wayne Creed, president of Old School Cape Charles, LLC, asked, "What happened that we are converting a public asset to a private asset? Why? Because we are in the Historic District we are eligible for government grants and loans and tax credits to improve the building, but those will be going to a private developer instead of the people of Cape Charles."
Creed reminded the Planning Commission that the Historic District Review Board had rejected the proposal to convert the school into an apartment house as inappropriate.
Creed said the park has always been open space and the school has always been part of the park. "History shows that they were always together," he said.
ArtsSplash Summer Theater Program presents Robin Hood, the Musical, on Saturday, July 28, at 3 p.m. and 7 p.m.
Adults $10, Students $5 at the Palace Theater on Mason Avenue.
See feature story for more information.
By KAREN JOLLY DAVIS
Cape Charles Wave
July 25, 2012
The Palace Theater swirls with youthful energy. On stage, choreographer Amy Watkins directs a swordfight. Kids with sticks, plastic swords, bows, and quivers (also full of sticks) lunge at each other with cries of delight.
"So much of what you do in the fight scenes is shown by what you do with your body," said Watkins, gently organizing the pandemonium. "You don't really have to hit each other."
Thirty campers in the ArtsSplash Summer Theater program have two weeks to memorize their lines, movements, songs, and put on two live performances. It's a lot for a kid to learn, and many of these children are very young.
"The kids learn how to cooperate and take direction," said Mary Ann Roehm, co-director of Arts Enter, the nonprofit that sponsors the theater camp. "It's a big confidence booster for them to get on the stage."
All of the camp staffers are volunteers, said Roehm. Three years ago, Emily Bates —- who runs a children's theater group in Florida and spends part of the summer in Cape Charles -— walked through the Arts Enter doors. [Read more…]