LETTER: Too Many Tomatoes? Bake a Cake!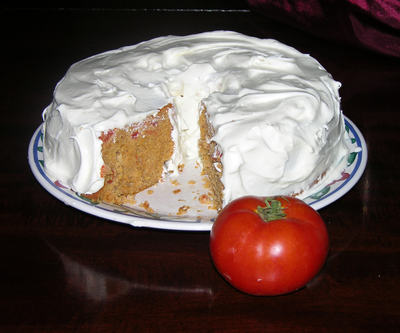 July 22, 2012
DEAR EDITOR:
Too many tomatoes? Try making this Fresh Tomato cake!
I used an angle cake pan and cream cheese frosting, but you can use your imagination.
Ingredients:
1 box yellow cake mix with pudding in the mix
4 eggs
1/4 cup  vegetable oil
2 cups chopped fresh unpeeled tomatoes
1/8 teaspoon salt
1 teaspoon cinnamon
Directions:
Chop and drain the tomatoes slightly.
Beat eggs and oil together until smooth.
Combine all ingredients and mix well.
Spray pan with baking spray, bake at 350 degrees for 40 minutes.
Cool and frost.
Delicious!
SANDY MAYER
Letters to the Editor are welcome on any subject relevant to Cape Charles. Submissions must be signed, and may be emailed to capecharleswav[email protected]