By GEORGE SOUTHERN
Cape Charles Wave
August 4, 2012
Washington Post travel writer Becky Krystal stayed at Hotel Cape Charles recently, and gave a very favorable review in Friday's online edition of the paper.
The article is one of a Washington Post series on East Coast and regional lodging.
Unlike some local residents, Krystal didn't seem to mind the modern look of the just rebuilt Hotel Cape Charles, which she termed "very zen" and "eco-beach chic." And "not a single cliched pastel shore print hung on the walls" — a definite plus in her book.
This is the second (and more prominent) mention the Washington Post has given Cape Charles in a matter of weeks. On July 13, Krystal wrote more generally about her trip to First Landing State Park near Virginia Beach, Kiptopeke, Cape Charles, and Assateague Island. She mentioned Cape Charles (specifically, Brown Dog Ice Cream shop) only in passing.
Now we know why — she was saving Hotel Cape Charles for a full-length article. [Read more…]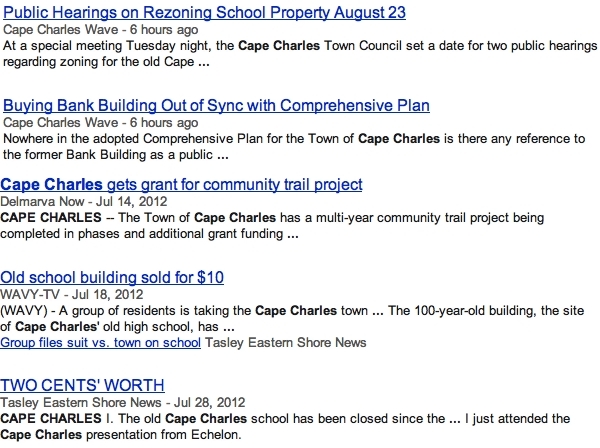 _________________________________________________________________
By GEORGE SOUTHERN
Cape Charles Wave
August 4, 2012
The Cape Charles Wave has been accepted by Google News as an authentic source of local information. Google News listings began including the Wave on Friday, as illustrated in the screen shot above.
The above screen shot is not "clickable," but the actual Google News screen is, meaning that readers can access any of the above news media directly from the Google News screen.
Google News readers who search "Cape Charles" get a listing of online news from local sources such as the Eastern Shore News (also listed as Delmarva Now), the Virginian-Pilot, TV stations with online news such as WAVY-TV (shown above), and many more.
The Google web crawler is automated, and searches for the words "Cape Charles" on the Internet. But the only sources allowed under the "News" category are those that have been reviewed and accepted by a Google official.
To be accepted, the Cape Charles Wave had to demonstrate that it publishes information that would normally be found in a newspaper, such as news reports, feature stories, opinion columns, obituaries, classifieds, and letters to the editor. The Wave was also required to have a public "face" — meaning that its editors and reporters are clearly identified by name. [Read more…]
Robert Charles Gennings, 59, husband of Mary Katherine Belote Gennings and a resident of Williamsburg, passed away Thursday, August 2.
A celebration of his life will be held Monday, August 6, at sunset (7:30 p.m.) at the north end of the Cape Charles Beach. The Rev. Linwood Cook will officiate, and all are invited to attend.
Robert Gennings was born November 20, 1952, in Arkansas, and grew up in Texas. He was the son of the late Robert Truman Gennings and the late Helen Percell Gennings.
He was a retired heavy equipment operator for George Nice and Sons, and previously worked for the Missouri State Highway Department and in the oil fields of Texas.
In addition to his wife, he is survived by five children, Robert Bryan Gennings of Williamsburg, Kimberly Faye Osterdyk of Golden City, Mo., James Frances Hertig II and companion, Tedra Whitting, of Gravois Mills, Mo., Katherine Danielle Cook and husband, Gray, of Chatham, Va., and Luther Tankard Burgess and companion, Amber, of Cape Charles; two sisters, Sister Catherine Clare of Greenwich, NY, and Nancy Logan and husband, Jim, of Gonzales, TX. He leaves behind 15 grandchildren ranging from 9 months to 17 years old. [Read more…]