H. Allen Floyd, 90, President and Founder of Floyd Energy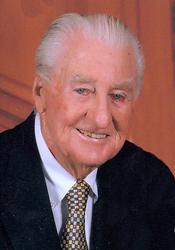 January 26, 2013
H. Allen Floyd, Jr., 90, husband of Mary Elizabeth Cullen Floyd and a resident of Belle Haven, passed away Saturday, January 26, at his residence.
A graveside service will be conducted 2 p.m. Monday, January 28, at Tankard's Rest Cemetery in Exmore with the Rev. Cameron Randall officiating.
Family will join friends at Doughty Funeral Home on Sunday evening from 7 to 8:30.
Flowers will be accepted or memorials may be made to Hospice and Palliative Care of the Eastern Shore, 165 Market Street, Suite #3, Onancock, VA 23417.
A native of Bridgetown, Mr. Floyd was the son of the late Hoge A. Floyd, Sr., and the late Margaret Mapp Floyd. He was president of Floyd Energy and former executive vice president for Kellam Distributing Co. for over 36 years. He was a U.S. Navy World War II veteran and participated in nine invasions in the Phillipines, past president of Exmore Rotary, a member of the Little Pungo Ruritans, a member of Central Masonic Lodge 300 AF&AM, a member of the Kawanis and a member of St. George's Episcopal Church.
In addition to his wife, he is survived by two children, Betty F. Spencer and her husband, Eddie, of Cape Charles, H. Allen Floyd III and his wife, Cindy, of Belle Haven; two brothers, George Richard Floyd and his wife, Alicia, of Baltimore, Charlie Mapp Floyd and his wife, Dorothy, of Charlottesville; four grandchildren, Brittany Floyd, Bethany Floyd, Eric Floyd Spencer, and Rachel Elizabeth Spencer.
Online condolences may be sent to the family at www.doughtyfuneralhome.com.
Arrangements were made by Doughty Funeral Home, Exmore.