Annual Forestry & Wildlife Tour of Northampton County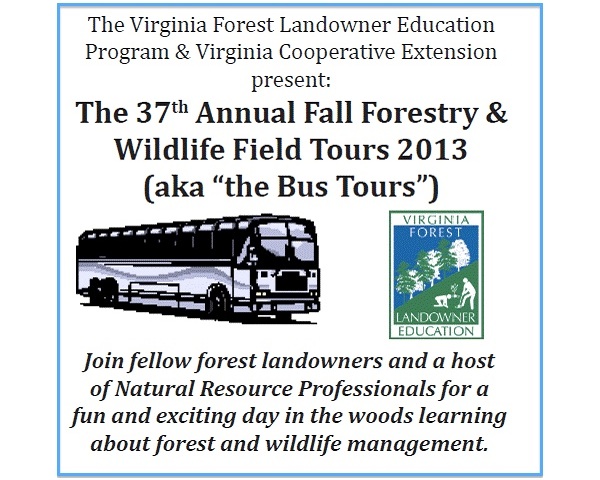 September 7, 2013
The annual Forest Landowners bus tour for Northampton County typically has 50-75 participants.  Teachers, local government officials, and interested citizens are welcome to join forest landowners on the tour, and scholarships are available for K-12 teachers.
Meet-up is 8 a.m. Thursday, October 3, at the Food Lion, Northampton Shopping Center in Exmore. Tour begins promptly at 8:30 a.m.
The day will be spent visiting privately owned forestlands to view and discuss active forestry and wildlife management options. The day concludes at Chatham Vineyards.
There will be numerous opportunities throughout the day for participants to interact with one another, and with natural resource professionals. Robbie Lewis, with the Virginia Department of Forestry, will be the main tour guide.
The tour will conclude by 4:30 p.m.
Registration is $45/person; $80/couple and includes lunch, refreshments, and transportation.
Register by September 25 at http://forestupdate.frec.vt.edu.  For more information contact: Neil Clark at [email protected] or 757-653-2572.
ITINERARY
Stop 1: Mattissippi Tract, Explore the remnants of a house built during the Colonial Era. Discussion will cover topics such as pre-commercial thinning, aerial herbicide release, and waterfowl impoundments (they do duck hunt on the Shore ya' know).
CONTINUED FROM FIRST PAGE
Lunch: Brownsville Preserve. At this Nature Conservancy property, learn about the Wildlife Enhancement Program, which has resulted in the creation of shallow-water impoundments and planted crops and hedgerows that enhance habitat for birds. And we'll keep an eye out for the endangered Delmarva fox squirrel.
Stop 3: Firewood Processing Facility. See how value is added through sourcing, species selection, and lean manufacturing of this ancient form of carbon-neutral biofuel.
Stop 4: Chatham Vineyards. Wait, what? A winery on a forestry tour? Yes! Not only has this property been a working farm for over four centuries, it is also under active forest management and enrolled in the Forest Stewardship Program. We'11 learn how the forest is managed to keep it healthy, while maintaining the aesthetics of the vineyard. And, those interested can stop at the winery.