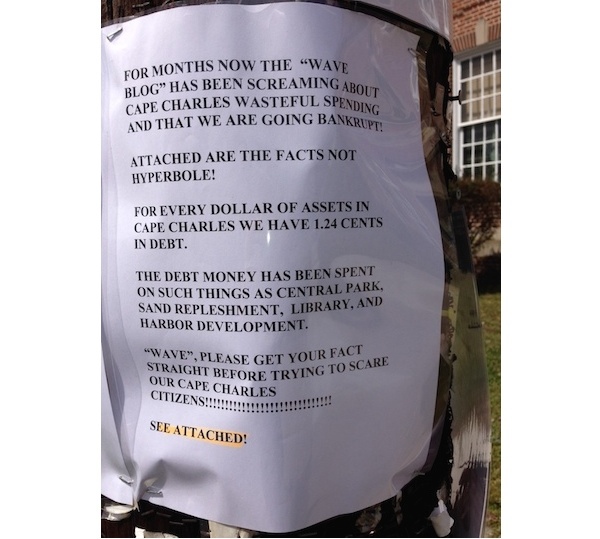 March 24, 2014
Going to the Post Office, it's hard to miss the posters attacking the Wave, including accusations of "schemes to denigrate our town." Another claim stapled to the telephone pole is that "the Wave has been screaming about wasteful spending and that we are going bankrupt."
The postings appeared on the telephone pole this past Friday, the morning after former town councilman Larry Veber addressed Town Council with a similar message. "Something that's very concerning," Veber related, "from what I hear from people who come into town. Two people recently that love Cape Charles and were so impressed with Cape Charles – they looked at everything, and said, 'listen – we understand your town is going bankrupt!' . . . 'Everything we read about in the Wave – it's bankrupt. You guys are going under! You are really in serious, serious trouble!'"
Veber continued, "We need to have somebody who's going to give the information and not editorialize it." . . . "There's a group somewhere that keeps on talking, keeps on beating, and it's hurting our town – in my opinion it's having a tremendous negative effect on Cape Charles."
Our response is that Mr. Veber's accusations are utterly ridiculous and without foundation. What he doesn't like is that the Wave actually reports the news – good and bad. The inner circles of any government never want bad news reported, and if possible they will print their own Pravda – or in the town's case, the Gazette. [Read more…]
March 24, 2014
(EDITOR'S NOTE: Cape Charles Historical Society has for more than a decade been recording oral histories of the area's earlier days.  A grant from the Virginia Foundation for the Humanities enabled 15 interviews to be transcribed, and the Historical Society has made this one available for readers of the Wave.  All the transcriptions may be read at the Cape Charles Museum.)
David Mitchell speaks April 12, 2001
PART 1
I was born in Baltimore, Maryland, and I left there at the age of five and came to Cape Charles.  I lived with my aunt and uncle, Jesse Mitchell and Sally Mitchell.  My uncle worked for the town back in those days.  He used to haul garbage, and the garbage dump was over where the Coast Guard housing is right now [Washington Street east of Sea Breeze apartments].  Used to be the dump pile.  They had a horse and wagon they used to haul garbage with.
I always loved having my own money, so at an early age my Uncle Jesse had me working.  He used to do a little gardening and he would sell butter beans and tomatoes and stuff from his garden.  And he would take orders from private homes to sell butter beans and we had to help shell them and so forth.  And, of course, he would give us a little bit for helping and delivering.  My aunt used to wash laundry for families and she did some housework also.
When I was about 12, Mr. Gladstone had a dairy.  I know a lot of people are familiar with Gladstone Dairy over on the other side of Washington Avenue.  His father had strawberries and stuff.  I didn't know that much about his father, but I did know Paul Gladstone.  I used to watch the cows and they would graze along Washington Avenue.  They had fields along it, but no fence.  So I happened to be out there playing one day and he came by and asked me if I wanted to keep the cows from going out in the street.  He'd give me something for doing it.  Well, I was playing anyway, so I told him yes.  So I would just throw a rock out and make them go back and then I would continue to play.  I'd see them come over again and I'd throw and make them go back.  And I guess he must have seen that I was faithful in what I was doing, so when I got a little older he gave me a job at the dairy. [Read more…]
On Monday, March 24, at 5 p.m. in the Board Room of the County Administration Building, the Northampton County Board of Supervisors will conduct a regular work session to include the annual meeting with the NHC Planning Commission and a joint meeting with the Eastern Shore of Virginia Public Service Authority. [Read more…]
The Chesapeake Bay Foundation seeks volunteers for buffer plantings. All materials will be provided, children are welcome to attend, and holes are ALREADY dug. [Read more…]
Tyler Brown, son of Susan and Dallas Brown, has been chosen to play baseball for the America's Team in Barcelona, Spain, from July 14 to July 22. To support Tyler's costs for the program, a fundraiser will be held at the American Legion in Cheriton on Saturday, March 22, from 4-8 p.m. [Read more…]
On Sunday, March 23, at 4 p.m., Hungars Episcopal Church in Bridgetown presents Music Director Stefan Dulcie, a favorite musical artist on the Shore, in a concert of organ music composed by Johann Sebastian Bach. Hungars Episcopal Church is at 10107 Bayside Road, south of Franktown and north of Machipongo. [Read more…]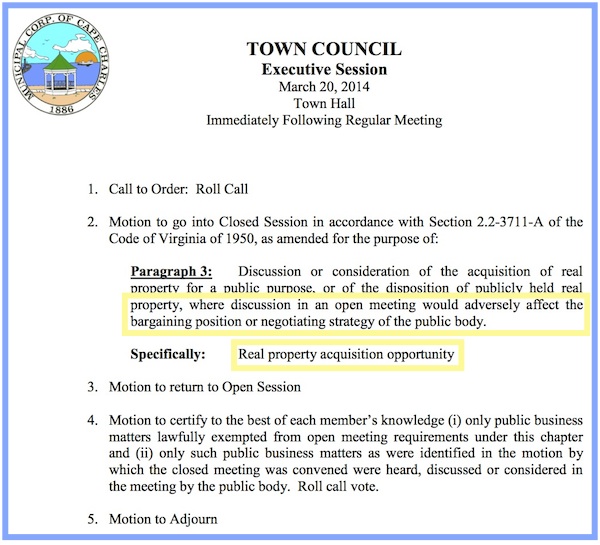 CAPE CHARLES WAVE
March 18, 2014
As required by law, the Cape Charles Town Clerk today posted notice of a Thursday, March 20, closed-door meeting of Town Council to discuss, in her words, "another real property acquisition opportunity." The notice, shown above, fails to state what property is being considered.
According to Virginia law,  "A general reference to . . . the subject matter of the closed meeting shall not be sufficient to satisfy the requirements for holding a closed meeting." But in keeping with past practice, the clerk nevertheless has failed to identify what property is being considered.
After the Wave began covering Town Hall in 2012, the clerk did begin providing slightly more information about closed sessions. Previously, for example, when Town Council met to secretly negotiate a no-bid contract to divest Central Park property for $10, the meeting was described by the clerk only as consideration of an "Unsolicited Confidential Proposal," with no hint that real estate was involved.
Virginia law also makes strict limitations on closed sessions even when a real estate deal is under consideration: The public may only be excluded in cases "where discussion in an open meeting would adversely affect the bargaining position or negotiating strategy of the public body." [Read more…]
By GEORGE SOUTHERN
Cape Charles Wave
March 17, 2014
Cape Charles Town Council agreed in a closed-door meeting March 10 to spend $100,000 to buy seven empty lots on the corner of Randolph Avenue and Fig Street owned by developer Richard "Dickie" Foster's Bay Creek LLC. According to Town Manager Heather Arcos, "the general consensus was for the Town to move forward with the acquisition."
The town has no immediate plans for the property, which displays a "Welcome to Historic Cape Charles" sign. The town's Comprehensive Plan and VDOT's 2020 Transportation Plan call for a traffic circle at the intersection of Randolph and Fig, according to Arcos.
No formal vote is allowed during closed meetings, so Town Council will officially vote to buy the property during its regular meeting Thursday, March 20. Although the decision has already been made, 3-minute public comments may be expressed at the meeting (6 p.m. Thursday at St. Charles Parish Fellowship Hall, 550 Tazewell Avenue). CLICK to read the memo and draft resolution.
The town has leased the seven lots from Foster since 2010 with first right of refusal should the property be offered for sale. A similar number of commercial lots on the other side of Randolph Avenue (not owned by Foster) have been for sale for more than 10 years.
The lots the town plans to buy are valued on County tax rolls at $50,000 each, for a total of $350,000. However, since the real estate bubble burst in 2008, vacant lots in the Town of Cape Charles typically have sold for only a fraction of their assessed value. [Read more…]