Enjoy '60s and '70s music, wine, beer, face-painting, food, and fun at The "Summer of Love" fundraiser for  Cape Charles Band Saturday, July 12, from 4-8 p.m. in Central Park. Dress up as your favorite hippie and win a prize.  A "groovy time" for all ages! [Read more…]
The public is cordially invited to attend a Community Meeting concerning the Northampton Middle School Renovation Project Thursday, July 10, from 6-7:30 p.m. in the auditorium of the former Northampton Middle School, 7247 Young Street, Machipongo. [Read more…]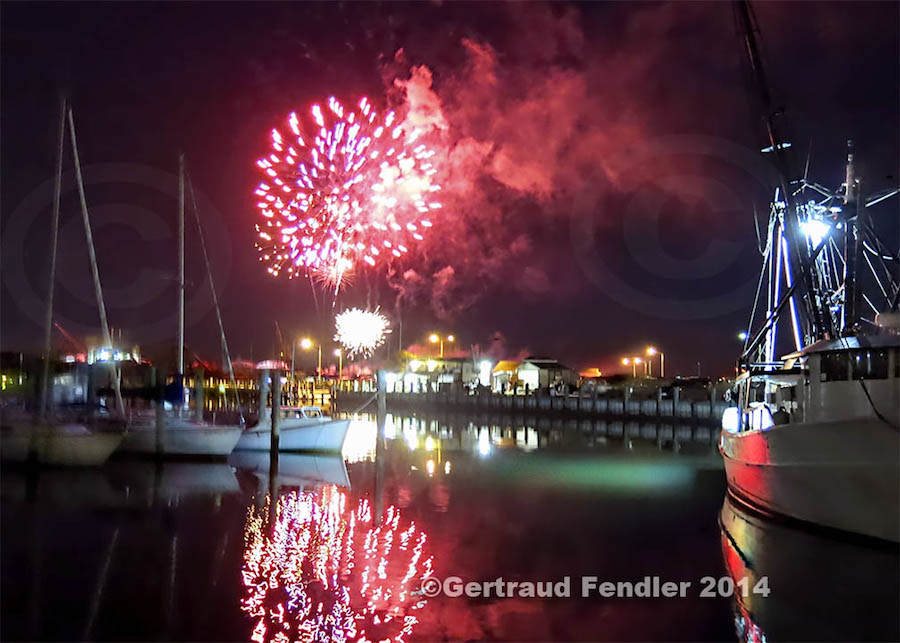 JULY 4TH ON THE 5TH: A RECORD-BREAKING HOLIDAY!
(July 7, 2014 Edition) Hurricane Arthur (or Hurricane "Author" as the town's Route 13 sign dubbed him) couldn't dampen Cape Charles' July 4th celebration, which from an unofficial count looked to be the largest ever in modern times — certainly judging from the number of occupied parking spaces. Saturday, July 5, proved to be a picture-perfect day for a belated 4th, and residents and tourists made the most of it. Eastern Shore artist Gertraud Fendler captured the best photo of the Town Harbor we have EVER seen, thanks to the fireworks-illuminated sky. Ms. Fendler has graciously shared a proof photo for Wave readers, while prints suitable for framing (without the copyright signs) are available at the new Ellen Moore Gallery, 223 Mason Avenue.
By MARY MILLER
Citizens for a
Better Eastern Shore
July 7, 2014
Counties around the state are finishing up their budgets for the next fiscal year. This is the time of year we can easily see where our county's tax dollars are going – and take a look at similar expenses for the counties around us.
This year, and not for the first time, Northampton County wins the spendthrift award. Compared to Accomack County, and compared also to several eastern Virginia counties with similar populations, Northampton spends more per person for county administration, public safety and debt service, and provides more education dollars per student than most of the others. Northampton also tops the list in per-person local tax revenue collected.
When comparing expenses of the two Eastern Shore counties with a disparity of population (Accomack's population is about
 three times Northampton's), it's more informative to compare the costs for what are assumed to be similar services on a per-person basis. For instance, Northampton collects almost $1,700 in local tax revenue per person, while Accomack collects about $1,100. Assuming that the actual costs of several locally funded services are similar from one county to the next, it would be logical that the same costs spread over a larger population would make the services less costly per person. All things being equal, one might assume that the total costs for many services in Accomack could be as much as three times as much as in Northampton, which has one-third the number of residents. [Read more…]