(EDITOR'S NOTE: The Wave normally does not publish promotional press releases from afar, but this one caught our eye as exceptional. We congratulate Lisa McPherson on her successful and growing Eastern Shore start-up.)
By LILLY McGEE
July 12, 2014
Blue Skye Lavender, a 13.7-acre lavender farm near Modest Town in Accomack County, is featured in a nine-page spread in the current edition of Martha Stewart Living. Founded by Lisa McPherson in 2008, Blue Skye Lavender caught the attention of the magazine in 2013, and a camera crew spent two days on the farm last June capturing its natural beauty and the 1,200 lavender plants that dominate the farm's landscape.
McPherson uses the lavender she grows to produce elegant confections and bath products. She distributes her products in North Street Market in Onancock and in the Washington DC area.
The business started as a series of happy accidents. "Six years ago, I wanted to plant some lavender to deter deer from eating my plants and trees, so I ordered 300 lavender plants from a West Coast nursery. They sent 3,000 plants by accident, so my daughter and I rounded up some friends and got to work," McPherson said.
The Shore's wind and sun were hard on McPherson's fair skin, so she mixed lavender extract with sugar and created a soothing skin balm. "One day, I noticed my daughter spooning this lavender skin balm out of the jar and eating it," said McPherson. "I just about fell out of my chair. Then I started thinking about it and realized that lavender might be a nice accent in candy, so I started making nut brittle with a lavender accent." [Read more…]
By ANDY ZAHN
July 12, 2014
All fishermen are liars . . . except you and me — and sometimes I have my doubts about you!
There is a small lake at Fort Lewis, Washington, and it is in the artillery impact range where often they fire 105 mm Howitzers, so the area is off limits five days a week. On Saturdays my Captain, my Sergeant, and myself would go there to catch the beautiful Rainbow Trout living there in large numbers. I would dig a worm, put it on my hook, cast, and in short order reel in a nice fish.
The Captain would ask what I was using for bait and he would say worms are no good. "Use some of my salmon eggs." I would dig another worm and catch a fish. Each time I caught a fish he moved to my spot, but no matter, I continued to catch fish.
The limit was 15 and when I had enough I left to meet my girlfriend who was in the Air Force and then go to where they had fireplaces and tables and enjoy the elegant feast. When I left the lake the Captain was still using salmon eggs and had not caught a fish.
The Captain was also a game warden on the Fort, and I went with him to a club on the base for hunters and fishermen. Above the bar they had the head of a mounted "Jack-A-Lope," which is a cross between a jack rabbit and an antelope: very rare!
That girlfriend became my wife, and 56 years, four sons, and 12 grandkids later here we are in Melfa. [Read more…]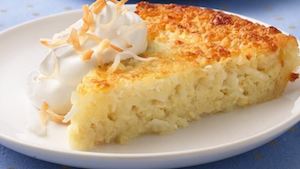 July 12, 2014
At the Wave's request, longtime Monroe Avenue residents Dolores and Stefanie Somers are sharing a recipe known as "Impossibly Easy Coconut Pie." Dolores says the recipe was popularized by Bisquick, but no matter — it really is the best coconut pie ever!
 Impossibly Easy Coconut Pie
2 cups milk
¾ cup sugar
½ cup Bisquick
¼ cup butter or margarine, softened
4 eggs
1 ½ tsp vanilla
1 cup coconut flakes
Lightly grease pie pan.
Mix all ingredients except coconut flakes in blender or food processor.
Stir in coconut flakes.
Pour into pie pan and bake 50-55 minutes at 350 degrees.
No need for a pie crust — the pie forms its own crust!
SPCA Eastern Shore will be the charitable partner of the Parksley Volunteer Fire Department for a night of bingo to benefit the shelter animals on Thursday, July 17, from 7-9 p.m. [Read more…]