A CAPE CHARLES WAVE EDITORIAL
January 16, 2014
At 5:15 p.m. today (Thursday), members of Cape Charles Town Council will go behind closed doors at Town Hall for an "executive session." (The Wave has been criticized in the past for referring to such meetings as "secret.")
Virginia state law requires almost every action, or even discussion, by publicly elected or appointed bodies to be open to the public, with records available. There are only a few exceptions — personnel matters being the most important. If Town Council wishes to interview candidates for, say, chief of police, the candidates understandably deserve privacy.
But today, Town Council is meeting to consider buying or selling property. That much we know, because state law requires the Town to state the reason for its "executive" session.
Here is the reason provided by the Town Clerk:
Discussion or consideration of the acquisition of real property for a public purpose, or of the disposition of publicly held real property, where discussion in an open meeting would adversely affect the bargaining position or negotiating strategy of the public body. Specifically: Discussion of property leased by the Town and Town-owned property.
So, we know that today Town Council will discuss property leased by the Town, with the idea of buying it, and property owned by the Town, with the idea of selling it. What we don't know is — just what property?
The only allowance under state law to privately discuss the sale or purchase of property is if "discussion in an open meeting would adversely affect the bargaining position or negotiating strategy" of the Town. Note that any "adverse effect" must be on the Town – not the other party. [Read more...]
A CAPE CHARLES WAVE EDITORIAL
November 4, 2013
Tuesday's election is the most important in modern times for Northampton County. For the first time, voters have a chance to elect their School Board, which until now has been appointed.
Two of the Board's seven seats are at-large, voted on throughout the County. For the four-year-term seat, Randall Parks is running against Delores Lindsay. Both candidates have decades of experience teaching in Northampton schools. Mr. Parks has the distinction of being the driving force behind the petition and referendum that resulted in an elected Board. His opponent, Ms. Lindsay, is currently an appointed School Board member. Voters happy with the current Board will want to retain Ms. Lindsay, while the rest have an opportunity to cast their ballots for Mr. Parks.
The other at-large seat is between Jo Ann Molera, who with her husband ran a Montesorri school in Nassawadox for many years, and Nykia Robinson, who graduated from Northampton High six years ago. We commend Ms. Robinson for her civic spirit, and also appreciate that a Board member not long removed from the student side of the classroom could contribute a unique perspective. That said, the current perilous state of County public schools cannot afford the luxury of on-the-job training, and thus we support Ms. Molera.
District 1, where Cape Charles residents vote, is contested by Shannon Dunham, an Eastville attorney and graduate of Northampton High, and Tamsey Ellis, a retired teacher with decades of local experience. The two candidates' personal styles differ dramatically – the former feisty, the latter folksy – but we believe that either choice would make a good Board member.
The other District 1 race is for Board of Supervisors, where Granville Hogg is challenging incumbent chairman Willie Randall. We appreciate both candidates' willingness to serve – especially since the incumbents in District 2 and District 3 are running unopposed.
In District 1, Mr. Randall is running on his record, while Mr. Hogg has raised serious issues with County policies. We note that Mr. Hogg served on the Public Service Authority until this year, but when he opposed the PSA proposal to nearly double property taxes for selected commercial properties to fund a sewer pipe, the Board of Supervisors replaced him.
District 1 voters (and only District 1 voters) have the opportunity tomorrow to send a message to the Board of Supervisors. If they agree with the direction the Board has taken over the past four years, they can vote for Mr. Randall. If they disagree, they can vote for Mr. Hogg.
A CAPE CHARLES WAVE EDITORIAL
September 19, 2013
Two weeks ago today, Cape Charles Town Council was supposed to discuss a proposed rate structure for commercial sewer customers on Route 13 and around Cheriton. Assistant Town Manager Bob Panek earlier said that determining a sewer rate would be "about a day's work." But no rate has yet been proposed, and Council's work session was cancelled. It's now clear that the sewer charge won't be based on engineering calculations — it will be a political decision.
Cape Charles residents and businesses pay a minimum monthly sewer charge of $61. But County Administrator Katie Nunez doesn't want commercial customers outside the Town to pay any more than an "affordable" rate of $45. Town officials bought into Mr. Panek's reasoning that any additional sewer income would be "gravy," since most of the costs of running the treatment plant are fixed, and not dependent on how much sewage is treated. So they initially were amenable to the $45 charge.
But try telling anyone who sells hamburgers in Cape Charles that they have to pay full rate to support the fixed costs of the sewer plant, while McDonald's and Hardee's will get a lower rate. It's a politically indefensible argument, so it's not surprising that Town officials now are scared to propose any rate. As a result, the public hearing set for Monday, September 23, at the County board room in Eastville will be almost farcical, since nobody knows what the rate will be.
It doesn't take a month or even a day to calculate a rate structure for County sewer customers, because the calculation has already been done. If Town customers pay $61 a month, then County customers should pay $61 a month. Any less, and the Town is rewarding and encouraging businesses outside Town limits. Any more – well, forget that argument, because no County customer would tolerate a rate above $61 – even though Town Council member Joan Natali has publicly suggested that the Town could "make a profit" on providing sewer service to the County. [Read more...]
CAPE CHARLES WAVE
September 4, 2013
This editorial should not have to be written, because the issue should be obvious.  Sadly, that is not the case in Northampton County – or especially Cape Charles, where conflicts of interest are more common than September hurricanes. (Click here for an egregious example five years ago.)
Resident in Cape Charles is a remarkable individual known to all as Bob Panek. Once the acting town manager, he now prefers to be the assistant.  He was the chief consultant for construction of the Town's wastewater treatment plant.  He is president of Citizens for Central Park.  At candidate debates before the last three elections, Mr. Panek decided which questions were asked and to whom, despite his unconcealed partisanship. And finally, which is the point of this editorial, he is chairman of the Eastern Shore of Virginia Public Service Authority, whose purpose is to study, implement, and operate water and sewer systems.
Mr. Panek was appointed by Cape Charles Town Council to represent the Town on the PSA. This was wrong, because it violates the principle of separation between a paid public employee and an elected or appointed official.  One might have hoped that Town Council understood that principle, after two town employees ceased to serve on Town Council. A paid town employee should not be appointed or elected to a town board or commission and should not be the town's representative on a county board or commission. [Read more...]
August 28, 2013
An earnest commenter, upon reading the Wave's story about the developer who plans to convert the Old School into an apartment building, wrote, "I don't think it's fair to smear someone's name just for "knowing" another person. . . . Mary [McCormack, wife of developer J. David McCormack] is one of the kindest, sweetest people I have ever had the pleasure of knowing and I am sure there are lots of people here on the Shore that would agree with me that her name should not even be brought into this mess."
Indeed, it's a journalistic axiom when reporting the actions of a public figure that family members' privacy should be respected. But what about when the public figure himself brings up his wife's name?
In this case, developer McCormack, addressing a meeting of the Cape Charles Planning Commission, noted that his wife, Mary, "just by sheer coincidence realized that she had a relationship with Heather [Arcos, the town manager]." The Wave videotaped McCormack's statement (to the discomfiture of the Planning Commission chair), and the video may be viewed by clicking here.
Why is it newsworthy that the wife of a developer "had a relationship" with the town manager? Because what the Town did with the Old School property was highly irregular. When authorities decide to divest public property, it is unusual to give it away, and even more unusual to pay a developer $41,000 to take it – especially when the property was valued on the tax rolls at $900,000.
If a municipality wants to sell public land, it normally would advertise for bids, and then sell to the highest bidder. That didn't happen in Cape Charles. Instead, Town Council met secretly with McCormack. No one else knew that Town Council was considering selling the building (much less paying someone to take it). Most people still thought the Cape Charles Christian School was going to lease the building. [Read more...]
June 28, 2013
Last night as this was being written, Cape Charles Town Council was approving the new budget, including new water/sewer rates.
Even though reassessed property values dropped 35 percent on average, Town Council still felt it was OK to increase our tax bills.
At the County level, elected officials didn't see it that way, and voted a slight tax decrease. But rather than following suit, our Town officials viewed the County tax decrease as justification for raising Town taxes. After all, they told us, your combined County/Town tax bills are likely to be less than last year's.
Yes, and with property values down 35 percent, they certainly should be!
The new budget is further evidence that Town Council doesn't control Town staff – quite the reverse. During the budget planning process, Council instructed staff to produce an "equalized" budget – one that would not require a tax increase.
But Town staff disobeyed orders – as if they had been asked to perform the impossible. And Town Council, like an indulgent parent, gave in. [Read more...]
April 1, 2013
Last week somebody posted the following notice on the Cape Charles Post Office telephone pole:
DID YOU KNOW??
ATTENTION
So far our town of Cape Charles has 
spent $76,386.01 of your money for
attorney's fees to respond to the lawsuit 
from Old School Cape Charles.
You and every other town resident will
pay for this foolish lawsuit!!!
Ask the Wave . . . why they didn't 
publish this!
So far, no one has asked the WAVE — but if they did we would refer them to our March 4 analysis, where we wrote: Records show that since July 1 of last year, the Town has spent almost $64,000 on the [Old School lawsuits].
There were legal costs prior to July 1, so the anonymous telephone poll poster probably got it right: total attorney fees of $76,386 and, to be precise, one penny.
If the unknown informant had wanted that fact circulated to the most possible people, he or she could have written a letter to the editor at the WAVE. We would have published it. (Of course, that would have required the writer to have the courage to identify himself.)
But there was even another way: send it for publication in the ANONYMOUS section of the WAVE. We would have published that as well.
Regardless, the unknown writer raises a salient, if unintended, point: why does the Town of Cape Charles, with a population of 1,000, spend so much money on lawyers?
The $76,000 is not the total cost for Old School legal fees. As the WAVE has reported, the Town paid its own attorney $15,000 just to review the contract to convey the Old School to a developer for a price of $10.
That should make the Guinness World Records:  legal costs were 1,500 times the sales price.
Worse, Town Council proceeded to ignore the Town attorney's advice to require a performance bond and a buyback option in the contract. So if the developers fail to carry out their plan to convert the school and parkland into a 17-unit apartment building, there is no penalty, and nothing the Town can do about it.
Except, perhaps, sue. And at what cost?
The $15,000 legal fee also seems money badly spent considering that the Town attorney failed to raise a red flag over language in the contract stating that Purchaser shall not operate the Project as a low-income housing facility under any state or federal program. That got the Town in hot water with fair housing advocates and, as a result, state legislators. After the building was already sold, the Town revised the contract to drop the offending language.
So, adding the $15,000 fee to review the Old School contract to the $76,000 to answer the lawsuit brings the legal cost to the taxpayer to $91,000. [Read more...]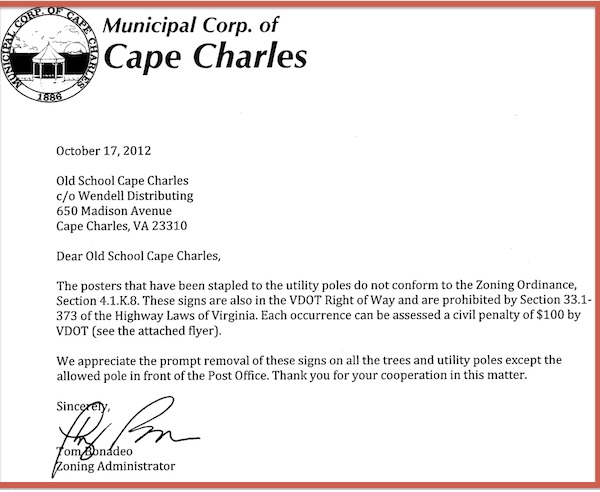 HOW THE WAVE SEES IT
November 13, 2012
There are laws meant to be obeyed, and there are laws meant to be broken.
A wise town authority knows when to bear down, and when to look the other way. But a foolish authority ends up looking, well — foolish.
The Cape Charles Wave takes more than simple pleasure in pointing out official foolishness — we see it as our civic duty. Question authority!
So, for example, we pointed out the, yes, stupidity of trying to enforce a ban on political yard signs until just 45 days before a Presidential election. We noted that the U.S. Supreme Court long ago struck down any such ban. And we cheered on our own vice mayor for ignoring the town ban by prominently displaying political advertising in his yard before the permitted date.
Just yesterday we drew attention to more foolishness, as our Town Council members put their heads together this Thursday to discuss enacting rules to constrain behavior at public meetings. Town staff recommends that we, the residents, be prohibited from handing out or receiving flyers within 50 feet of the door of the meeting hall.
What are they afraid of?
There's also a suggestion to prohibit speakers from personally criticizing elected Town officials or Town staff. To do so would be an "attack" on their person.
Virginia Beach banned "personal attacks" during the public comment of school board meetings, and the courts ruled the ban unconstitutional.
We're not suggesting that "anything goes." The presiding town official has the right to require a certain decorum, but a wise official will differentiate between scathing criticism (allowed) and speech that violates the "habits and manners of civility" (not allowed).
And now we've learned of even more foolishness by a town staff that seems to have too much time on its hands. As shown above, the Town has issued an official warning to Old School Cape Charles for advertising its Oyster Roast on telephone poles. Each sign is cause for a $100 fine. [Read more...]