By BRUCE LINDEMAN
Cape Charles Wave
April 22, 2013
Last year, I got to meet one of the volunteers of the New Roots Youth Garden (NRYG), Tammy Holloway.  Through my story about picking pecans one Sunday morning, Tammy inquired about the location of these trees that were so giving this past year so that the NRYG kids could pick some for the holiday pecan pie sale.
Having watched the NRYG take shape with interest since its inception, I thought that helping those kids any way I could would be fun.  Gardening.  Kids.  Education.  All good stuff.
Then I met Tammy and her husband, Jim, and realized: I really need to help these people!
If you've met Tammy, you'll understand.  She and Jim have quickly become stewards of one of the most amazingly beautiful homes in Cape Charles, now Bay Haven Inn, but also active supporters of all things Cape Charles.  They truly get what this place is all about and have poured their hearts and souls in to making our little town a better place for us all. [Read more...]
By BRUCE LINDEMAN
Cape Charles Wave
March 28, 2013
Since mid-November, 74 arsons in Accomack County have been recorded. Investigators are trying desperately to find the person or persons responsible and have recently announced an award of up to $5,000 for information leading to the capture of the arsonist(s) from the Virginia Chapter of the International Association of Arson Investigators (http://www.vaiaai.com).
Since these fires have been widespread, fighting the blazes has involved many local volunteer fire departments throughout the county –- departments with limited funds to respond to the extraordinary number of calls.
These blazes have stressed many of Accomack's volunteer fire and rescue personnel to the point where they are running out of supplies and the budget to replace them. To date, these brave men and women have logged 3,700 hours fighting these fires.
How can we help? I asked Billie Jean Miles at the Accomack County Department of Public Safety. Below is the information she sent me.
Volunteer! There are fifteen volunteer fire & rescue stations located in Accomack County. A complete list with contact information can be found at http://www.acdps.net/page/volunteer-fire-and-rescue.
There are various ways one could volunteer and not necessarily be a firefighter and/or EMS provider. Maybe you have some extra time to help clean equipment or fire hoses, assist with one of their upcoming fundraisers, staff the rehab unit, or provide administrative support. Contact your local station to see how you could make a difference.
Give! An account has been established for monetary donations. All donations are tax-deductible. Donations can be dropped off at any Shore Bank location or mailed to Shore Bank (c/o Accomack Firefighter's Assistance Fund), P.O. Box 920, Onley VA 23418. [Read more...]
By BRUCE LINDEMAN
Cape Charles Wave
January 30, 2013
By now most of you who have read my past columns know that I tend to write about what I perceive to be what's good in this town of ours.
2012 was a year of controversy and angst for many, and I simply don't want us to lose sight of all the good things that happen throughout the course of the year and the people behind those things.
The old "forest for the trees" adage is alive and well here:  we have to consider the whole if we're going to pick the nit.
Case in point:
I have an old truck.  It's not a beauty nor is it anywhere near new.  Fred is a 23-year old Ford F-150 pickup.
I've owned Fred for seven or eight years now, I suppose.  I don't measure my time with Fred in terms of years or miles, but in the quality it adds to our lives.
Why the name Fred?  Before I bought it, I borrowed a friend's F-150 to help move some furniture.  That truck was affectionately named Lamont by my friend.  It was the same vintage as Fred.
If you remember the TV show Sanford and Son, you'll get Lamont and Fred.
My son was maybe four at the time, and I plopped him in the seat next to me figuring he'd get a kick out of riding high in a truck.  Little did I know how much so.
Jack rode back and forth with me over the course of two days as we moved loads of furniture to our new house.  The evening I brought Lamont back to my friend, we put the kids to bed and I made a final trip back to my friends' to retrieve my car.
The next morning, Jack looked outside in the driveway and asked, "Where's Lamont, Daddy?"  I told him we had only borrowed it and that it wasn't ours to keep.  His little eyes began to tear up.  He clearly didn't understand.  My heart broke for him.  So I vowed that I'd find a truck just like Lamont for us to tool around in. [Read more...]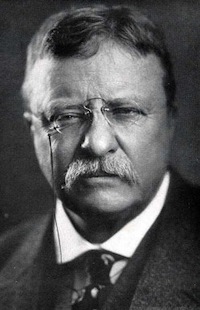 By BRUCE LINDEMAN
Cape Charles Wave
January 7, 2013
Be the change you want to see in the world.
We've all heard it. Sounds cliché-ish, but there is no truer a sentiment in this day and time.
In 1910, Theodore Roosevelt spoke about "the man in the arena":
It is not the critic who counts; not the man who points out how the strong man stumbles, or where the doer of deeds could have done them better. The credit belongs to the man who is actually in the arena, whose face is marred by dust and sweat and blood; who strives valiantly; who errs, who comes short again and again, because there is no effort without error and shortcoming; but who does actually strive to do the deeds; who knows great enthusiasms, the great devotions; who spends himself in a worthy cause; who at the best knows in the end the triumph of high achievement, and who at the worst, if he fails, at least fails while daring greatly, so that his place shall never be with those cold and timid souls who neither know victory nor defeat.
That speech is of a past time yet also of this time.
We residents of Cape Charles continually face an uphill battle trying to preserve, yet grow. We want to sustain our rural Shore lifestyle, but in a progressive way that is sensitive not only to our amazing historical architecture, but to our family and independent, hard-working values that we so cherish on the Shore.
We welcome new home ownership and tourism, but we do so carefully and by casting a cautious eye. We'll gladly welcome a new mom-and-pop business, but shun the big-box guys that rely on scale to eek out their profits.
It is a constant struggle.
When Bay Creek came to town, that struggle came to the forefront. Cape Charles saw the opportunity but also recognized that the impending change had to be planned and monitored closely lest we became another Nags Head or Hilton Head. [Read more...]
By BRUCE LINDEMAN
Cape Charles Wave

December 18, 2012
This past weekend was my birthday weekend down on the Shore.  Not a milestone birthday by any stretch, yet a birthday just the same.
But it wasn't a happy one.  As much as I tried to stay clear of the updates coming out of Newtown, CT, it was hard not to check in on my iPhone now and again to learn more and try to get to an understanding.
It's the understanding part that we all seem to struggle with.
We all process these things differently, and depending on where we are coming from emotionally and politically, we each have different things to say about the "why" question.
I'm not going to use this space to politicize this event.  There are countless others who will do just that online, in the halls of Congress, and behind podiums at town hall meetings across the country.  There is a lot of anger that will build up over this and recent similar events, and people will demand change in the weeks ahead.
I'm not ready to go there yet.  My mind and heart are still full of sadness and thoughts of those 20 little children.
We can argue endlessly about the "why." But not here.  Please.  Instead, I want to talk about what we've become as a nation.
Most of us will look back nostalgically to recall a simpler and kinder time.  But our parents and their parents likewise have done the same.  The past always seems like a happier time.
Perhaps it was, and perhaps it wasn't.  We have to think about such things as a whole and not just through our own individual eyes and experiences.  And "simpler" and "kinder" are failingly difficult things to quantify.
But for the sake of argument, let's assume we have taken a slide toward a meaner and more unforgiving world.  If that's the case, it begs the question:  how do we, as a society, reverse that trend?  For surely if we do not, we're headed towards far more of these news stories. [Read more...]
EDITOR'S NOTE: Last week was hard on Cape Charles, and hard on the WAVE. So thank goodness for more goodness from Lindeman!
By BRUCE LINDEMAN
Cape Charles Wave
December 11, 2012
I had arranged with Tammy Holloway earlier in the week to pick up my pie from her side porch, attached to the magnificently revived Bay Haven Inn on Tazewell.  My wife and I had been watching the renovation of Leon's old house for months.  Just the simple act of removing most of the overgrown plantings around the place opened it up and provided a sight not seen in years.  To me, one of the prettiest homes in the historic district and well deserving of the love that the Holloways have showered on that place.
When I opened the screen door to their porch, where the pies were awaiting, I could sense even more so the level of detail they had put into this renovation.  Everything looked so bright and shiny I just wanted to stay awhile and take it all in.  But I had my dad in the car and, well, some visiting to get to as he and my mom had just driven into town for the holiday.
The back story of how I had come to even hold that lovely mocha pecan pie in my hands is a story that "only happens in Cape Charles" as we so often say.  I had written about my wife's and my gathering of pecans a week or so prior in the Wave.  Tammy emailed me later that week and politely asked if I could tell her where said pecans could be found.  As there are numerous and very giving pecan trees in town, I told her where she could find one of the most giving — Big Mamma.  Now, please don't email me asking where Big Mamma can be found.  That's between me, my wife, Tammy, and a group of enterprising young kids who assisted her in the gathering. [Read more...]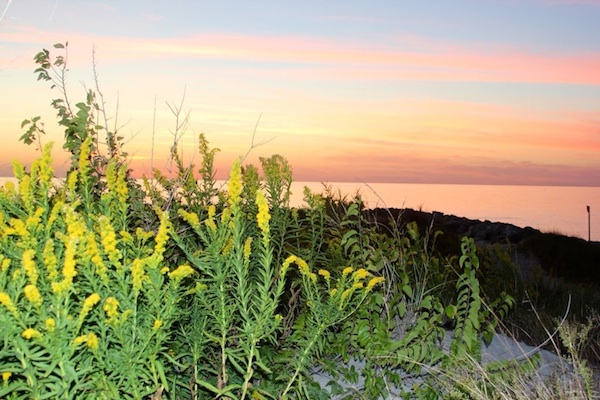 By BRUCE LINDEMAN
Cape Charles Wave
Thanksgiving Day, 2012
As parents, we typically focus on what we can teach our kids.  We only have them for a few, brief years before, poof!  They're gone.
But one thing has pleasantly surprised me during our twins' nine years on this planet: they teach me things every day.
It may not be something new, but something I somehow forgot or misplaced.
I believe you don't actually forget most things altogether. You subconsciously place them in memory somewhere back where you keep things like memories of your wedding from 20-plus years ago.  It's there.
You just have to rummage through a bunch of other stuff before you find it.  "Ah!  There you are forgotten memory! So glad to think of you again. How've you been?!"
You psychologists out there please don't take me to task on the above. This is my take on how it happens.  As they say, it's my story and I'm stickin' to it.
My kids teach me new songs that they've learned in school — new takes on the smart-aleck ditties of my youth and some completely new. I learn new pop songs from them –- music I would never even think of to listen to.
"What is that?  You call that music?! Back in my day . . . ." [Read more...]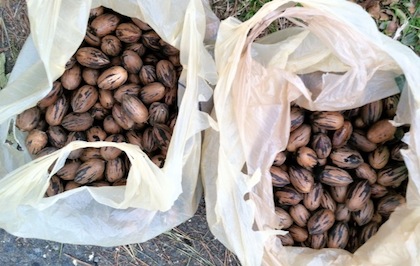 By BRUCE LINDEMAN
Cape Charles Wave
November 8, 2012
It was brisk Sunday morning as we walked over to the next block to pick some of the giant pine cones from the ground that fall this time of year.  They will be useful for dressing the Christmas table with fresh greens such as magnolia, holly, and such and to give away for others' holiday decorating.
The bag, now full, was big and clumsy so we left it on the front porch before heading out in search of our prime mission: picking pecans.
If you're a Cape Charles resident, I'm not telling you anything you don't already know.  However, what's intriguing is that so many residents don't seem to care about the pecans — or so it seems from the sheer amount of them we found still on the ground this year.
Cape Charles is known for its beautiful crepe myrtles and, more recently, its abundance of rosemary which seems to grow so well in our rich Eastern Shore soil.  I could go on about rosemary, but we're talking pecans here.
Our first visit to town was at the end of winter, oddly.  While most people's first visit is during summer — a time of blooming perennials, parades, harbor parties, and the like — we came when there were no leaves on the trees, under overcast skies.  Yet we still fell in love with the place.  And we hadn't even seen the crepe myrtles in bloom yet!
Like most visitors, one of the places I had to go first was Watson's Hardware.  Ever since we were kids helping my dad restore a 1920s bungalow on the south shore of Long Island, I've had this thing for old hardware stores. [Read more...]