WEEKEND: HALF-WAY PIER OPEN FOR MEMORIAL HOLIDAY
(May 24, 2014) Kudos to town officials for agreeing to reopen the Fun Pier in time for the Memorial Day weekend, even though it's only half finished. The deep-water section of the pier withstood Hurricane Sandy well, and half a pier is all you need to get out to the main section, which is not being replaced. Access is now available from the beach (bottom right photo), while the remaining section extending to the sidewalk is still under construction. Town staff repaired the pier following Sandy, but now a FEMA grant is paying for a replacement with much larger footings (top left photo) than the previous inadequate sleepers. Pier lighting is still to come, so for now the pier is only open from dawn to dusk. (Wave photos)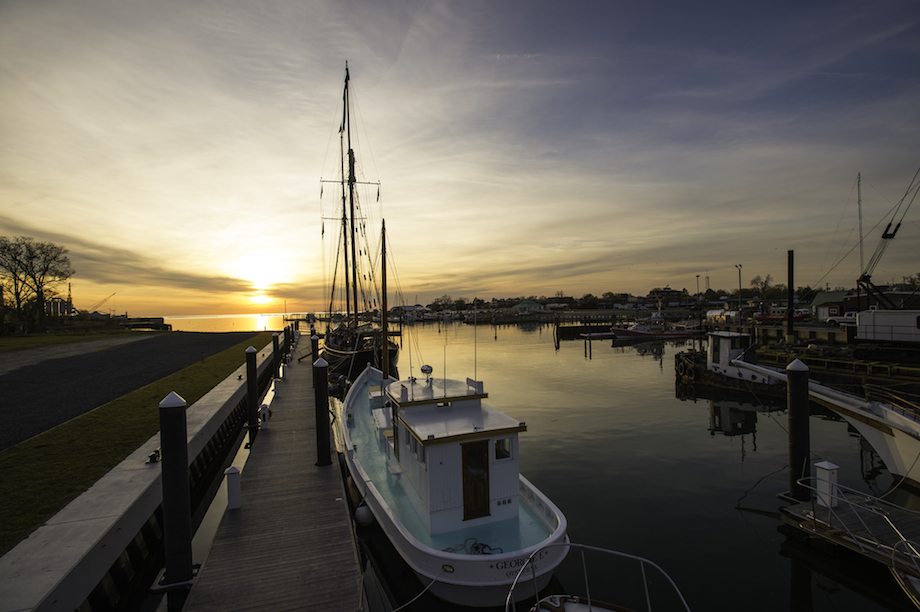 WEEKEND: MESSING ABOUT IN BOATS
(May 17, 2014 Weekend edition) "There is nothing — absolutely nothing — half so much worth doing as simply messing about in boats." (Kenneth Grahame, The Wind in the Willows). But as boat enthusiasts know, much of the time is spent working on the boat. And that's not a bad thing either — especially when there's a boat yard at hand. The photo above, courtesy of Cape Charles Yacht Center, belies the activity going on there now — especially Thursday's soirée hosted by Eyre Baldwin to mark the grand opening of the yacht center. Some 500 guests attended, and Baldwin announced that "Phase Two is now." He was talking about accommodation for mega-yachts that will require a 300-ton boat lift. That was planned for sometime in the future, but according to Baldwin it's going to happen now.  Meanwhile, the 75-ton-capacity Travel Lift is up and running, and Cape Charles Yacht Center is open for business. It's a great time to mess around in a boat!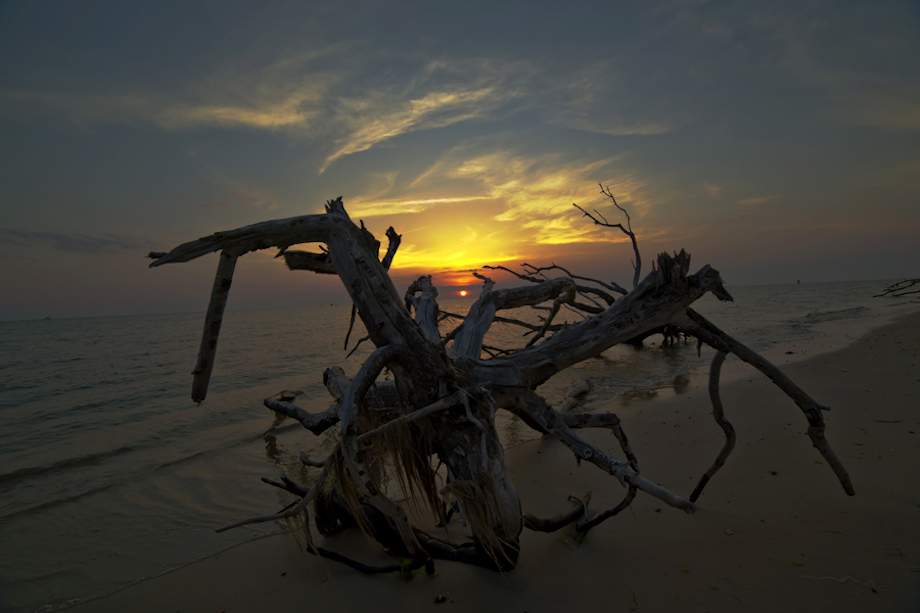 WEEKEND: NOT JUST ANOTHER CAPE CHARLES SUNSET
(May 10, 2014 edition) Just when we had had our fill of sunset photos in the Wave, we received this email from Christine Williams: "Dear Sir:  I don't know if you want this or not, but my husband took this photo last evening. Pretty good for an amateur!" Pretty good indeed — good enough to break our sunset embargo. The photo credit goes to Gary Williams, and judging by the tree, this was shot on Bay Creek property close to Bayshore Concrete.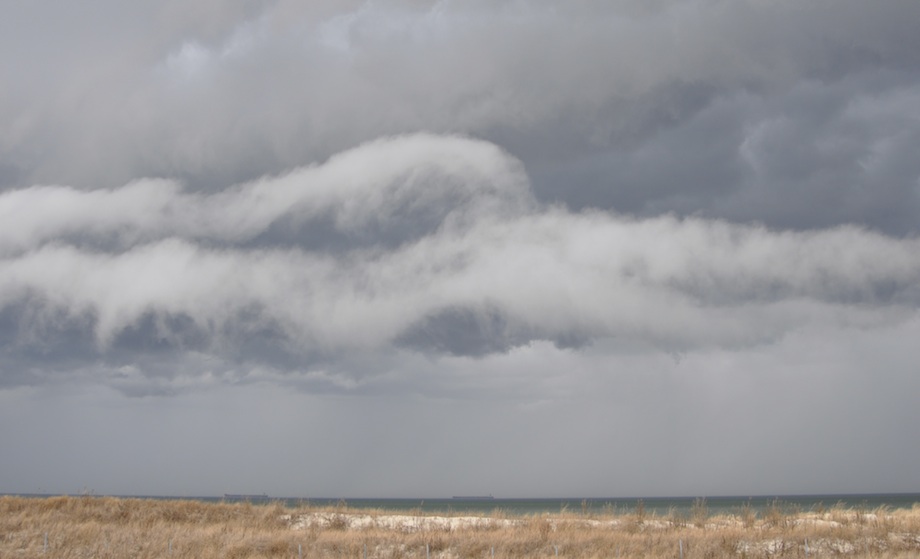 WEEKEND: A STORM A'BREWIN'
Bay Avenue resident Darin Alperin took this very grey photo from his front yard. "There was a storm rolling in and you could see the clouds moving in with the colder temperatures. As the cloud reached our house the temperature dropped 10 or 15 degrees. It cannot be seen in the photo, but the cloud in the front was actually a rolling tube," he explains.
WEEKEND: WHAT, ANOTHER SNOW SCENE?
Winter's not over, and this view of sunset over Mill Creek (off Cherrystone Creek) taken by Mary Lee Wood might be more than a memory: snow is predicted Wednesday, with lows in the 20s the rest of the week.
Readers are invited to submit their favorite local photos for Weekend editions of the Wave, when the picture extends all the way across the page. (February 22, 2014 Weekend Edition)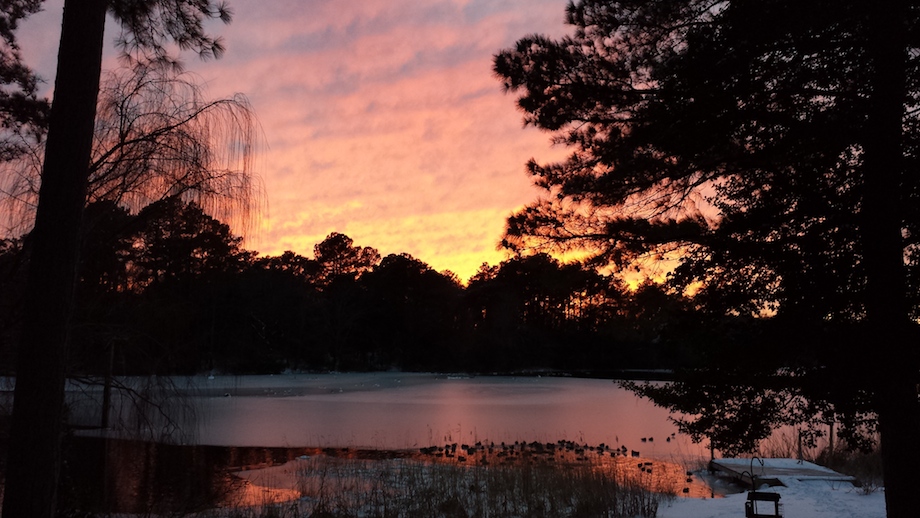 WEEKEND: ANOTHER DAY, ANOTHER SUNSET
Perhaps the best thing about winter on the Shore is the sunsets — they are definitely more dramatic than in warmer months. Craig Richardson shot this one from his back porch in Seaview. Keep 'em coming — if they look this good we'll print them through July!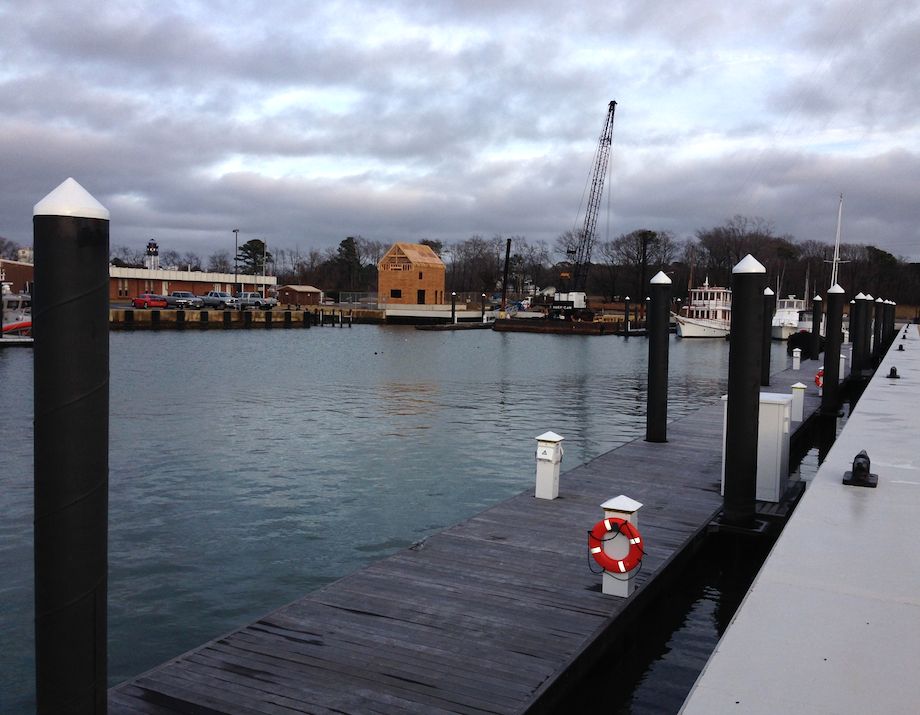 WEEKEND: SOUTH PORT RISES
February 8, 2014
Construction of South Port Investors' Cape Charles Yacht Center has been ongoing for the past year, but only now has anything risen above the horizon. The two-story wooden structure across from the Coast Guard station began taking shape late last month. The first floor is for equipment storage, while upstairs will be an apartment for an on-site manager.
The bulkhead and floating dock at right were constructed last year to accommodate mega-yachts. At the east end of the yacht center are three boats owned by principal investors Furlong and Eyre Baldwin: a Hinckley sailboat, the restored Buy Boat "Georgie E.," and the sightseeing vessel "Oyster Catcher."
Behind the building under construction, a 40-foot high, three-level boatel will offer storage for 33 boats.  Drydock yacht repair will take place across the road in the area formerly occupied by the town wastewater treatment plant.
South Port is soliciting vendors for a bistro, rental shops, and a bed & breakfast in addition to boat manufacturing, yacht brokerage, boat rentals, sail making, ship stores, and insurance.
Readers are invited to submit their favorite local photos for Weekend editions of the Wave, when the picture extends all the way across the page. (Wave photo)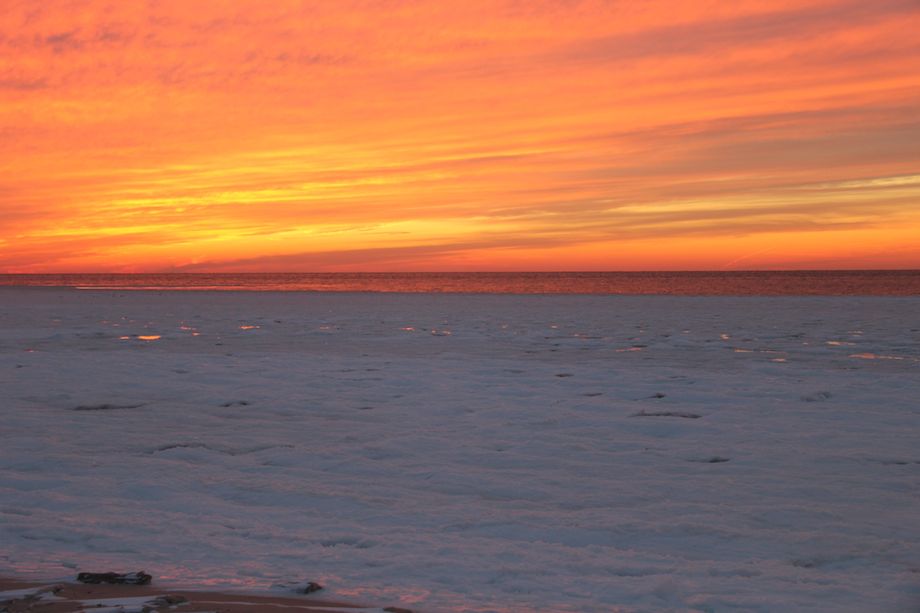 WEEKEND: FIRE AND ICE
January 31, 2014
One good thing about winter in Cape Charles: the colder it gets, the more dramatic the sunsets. And nobody who truly loves Cape Charles ever tires of seeing a sunset. This one, taken Wednesday at 16 degrees, really is primordial — evoking a time millions of years ago when fire and ice were all the earth knew. 
Readers are invited to submit their favorite local photos for Weekend editions of the Wave, when the picture extends all the way across the page. (Wave photo)