By SARAH GOLIBART
Cape Charles Wave
August 18, 2014
It's not every day that you find yourself shirtless in a room with a man who recently moved from the Dominican Republic. Now, don't jump to conclusions! I was receiving acupuncture treatment from Dr. Greg Stern, Cape Charles' newest acupuncturist and chiropractor.
I tensed as he pushed the third needle into the muscle of my right shoulder. About seven more needles were waiting to puncture my back, hands, shoulders, and ears. Surprisingly, it didn't really hurt. According to Dr. Stern, acupuncture isn't supposed to cause pain, but instead promote healing and well-being.
"Dr. Greg," as he's called, was treating my shoulder for an injury I received almost two years ago in a bicycling accident. I fell while riding downhill and dislocated my shoulder. I partially tore my rotator cuff and immobilized my arm. Eight months of physical therapy has almost fully restored my arm's motion, but left my deltoid useless and without sensation. The deltoid is a very crucial muscle involved in arm movement. Dr. Greg chose to focus on my shoulder injury for my acupuncture and chiropractic treatment. [Read more...]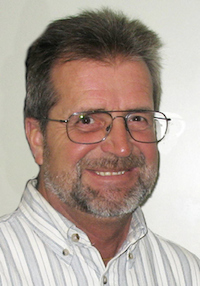 August 20, 2014
Gary Lee King, 65, passed away Friday, August 15, at his Tazewell Avenue residence in Cape Charles. A celebration of life service will be held 1:30 p.m. Sunday, August 24, at Woodlake United Methodist Church, 15640 Chesterfield Dr., Chesterfield, near Richmond.
Mr. King was born September 27, 1948, in Northern Virginia, the son of the late G. Leroy King and the late Amy Brown King. He was a Management Information Systems technician for VCU School of Pharmacy and previously lived in Richmond.
He is survived by his former wife and dedicated companion, Joy Pelletier; two children, Christopher L. King and wife Amy, and Michael J. King, all of California; a brother, William L. King and wife Kathy, of Richmond; two grandchildren, Delaney and Deklan King of California; and his extended family at VCU School of Pharmacy. [Read more...]
August 18, 2014
(EDITOR'S NOTE: Cape Charles Historical Society has for more than a decade been recording oral histories of the area's earlier days.  A grant from the Virginia Foundation for the Humanities enabled 15 interviews to be transcribed, and the Historical Society has made this one available for readers of the Wave.  All the transcriptions may be read at the Cape Charles Museum.CLICK to read previous oral histories in the Wave.)
1990 Interview of Virginia Fitzhugh conducted by Virginia Savage
PART FIVE
VIRGINIA SAVAGE: Where was the Fitzhugh house?
VIRGINIA FITZHUGH:   Right there on the corner where Shrieves lives [southwest corner of Randolph and Peach].
The yellow house on the corner of Peach and Randolph.  And that's where you started housekeeping.  Did Mr. Fitzhugh build that house?
No. That house was built by Dr. Kellam, the doctor that was in Cape Charles.  And Mr. Fitzhugh bought it from him.
Now the house next to that where the Johnsons lived now. And the next house was Harold Smith's. 
That's right.  That was a boarding house.
That was an old Federal type building there [torn down in the '80s].  Do you remember when the Mack buildings were built?
Yep.  They were built late.  I would say '30s or '40s.
Do you remember when Mr. Parsons built his house on the beach?  Mr. Russell Parsons . . . Miss Alice Parsons.  The one the second floor burned probably during the late '70s.
I don't know how old I was when that was built.
That was such a gorgeous house.  What a calamity that it burned.  [The five dormers were lost, the Chippendale railing around the upper porch and a wonderful slate roof.]
Listen,  it was worth it.  They got so much money back, because it had gone perfectly terrible and they didn't have the money to fix it.  But how in the world they got so much insurance money — it's like an almost entirely new house inside.  I tell you, Virginia, Miss Alice Parsons had property but I don't think she had much cash.  Because she was a working woman.  She had all those apartments up over where Harold Smith had his hardware store.  And up there where the Eastern Star was.  [Parson building on Mason.]  See they had apartments up there.  They owned all these big houses at the end of Tazewell. [Read more...]
August 18, 2014
DEAR EDITOR,
It is with much praise and gratitude that I express my sincere appreciation for the event "Harbor for the Arts" in Cape Charles August 1-17. As the second annual event, this arts festival deserves great acclaim. Not only has our cultural arts organization Arts Enter Cape Charles demonstrated expertise in grant and sponsorship funding, it has also proved to the world that our community has one of the premier cultural arts centers in the nation if not the world.
Performances and exhibitions took place over a two week period using venues that represented the best private and public assets of the Town of Cape Charles and her surrounding environs. Street performances, bands under pavilions on the park and at the beach, concerts and films in our beautifully restored historic theater, entertainers gathering audiences on the sidewalks, a multi-media dance production in a classic 150-year-old equestrian barn overlooking the seaside sounds and islands, and more — wherever one turned during these two weeks the cultural arts permeated our living space here in Cape Charles. How blessed this writer felt to be living and working in such an incredibly talented community!
Arts Enter Cape Charles deserves all of the support our community can possibly give — through attendance, financial gifts, sponsorships and volunteer participation. This dedicated group colors our community with excellence in the arts, offering instruction in the performing and visual arts as well as amazing performances that educate, entertain and thrill her audiences. This is the essence of economic development: establishing our community as a center of the arts and education, improving our reputation and attracting new growth and business to our region.
Thank you to Arts Enter Cape Charles for enriching our lives and lifting our souls!
DAVID L. KABLER
Machipongo
Letters to the Editor are welcome, and a diversity of opinions is encouraged. Send submissions to [email protected].
By WAYNE CREED
August 19, 2014
In response to David Kabler's letter (CLICK), I certainly agree with everything Capt K is saying, especially "establishing our community as a center of the arts and education, improving our reputation and attracting new growth and business to our region."
However, the deconstructionist in me would be remiss not to point out that textually the narrative always bleeds over and tends to occupy the most important part of the narrative, out in the margins, echoing Guy Debord's claims that different commodities conflict with each other, preventing the consumer from consuming the whole. Each commodity claims itself as the only existent one:
"Irreconcilable claims jockey for position on the stage of the affluent economy's unified spectacle, and different star commodities simultaneously promote conflicting social policies."
What I mean is that as beautiful a celebration of the Arts as Harbor for the Arts was, simultaneously, right across town, in the old school, crews were working to demolish the oldest, most historical stage on the Eastern Shore.
As much as I love and support everyone and everything involved in HFA, it's still hard to reconcile these "oppositional" events. I guess my ultimate criticism is that the ultimate goal here, as described by Kabler, is economic development; however, this belief is couched in the belief that existence is structured in terms of oppositions (historical significance and social justice or grants for digital cameras) and that these oppositions are hierarchical, with one side of the opposition being more valuable than the other (this is certainly the reality (of the street) that the historically underserved are being expected to accept). The courts certainly seem to agree with this, and insist that we urgently re-inscribe this new hierarchy (devalue social and historical significance and replace it with the "New": see Hotel Cape Charles) so that we can move ahead with "economic development" as the main driver. [Read more...]
ON THE TELEPHONE POLE
Registration is open for the Eastern Shore Master Naturalists 2014 basic training course which will be held on Thursdays, Sept. 11 through Nov. 13 from 9 a.m. to 3 p.m. at the Historic Onancock School. [Read more...]
Holding an event of interest to the general public in or near Cape Charles? Send an email to
[email protected] and your event will be listed in ON THE TELEPHONE POLE. Events will normally be publicized the same week they occur. Deadline for submission is the preceding Saturday.
August 18, 2014
DEAR EDITOR,
Could someone please look into why the waste treatment plant at Cape Charles continuously smells? My husband and I have a home in Cheriton and frequently have grandchildren over to visit. Of course they want to go to the beach, and the beach at Cape Charles is very convenient. Last year we noticed a sewage smell while swimming and sunning. This year it is there as well. We also put our boat in at the harbor and, of course, experience the same thing. It is very off-putting when you expect sea breezes and get only what you can only say "phew" to.
We continue to put our boat in at the harbor because of the convenience of not towing it a long distance, and because we don't have to smell those odors because we are not there very long. We have, however, decided not to take advantage of the beach anymore, because who wants to spend the day whiffing those gases? We'll go to Kiptopeke and pay for the privilege to breathe the clean, salty air down there. Or trip on up to Assateague and, again, pay for a glorious breezy experience and for fun playing in the waves.
I wonder how the folks in the big yachts in the harbor feel about taking in foul odors while trying to sit on the boat deck, having a cool one and grilling out? How would this go over as a recommendation to their friends to dock their boats there? How do they feel when they have friends over and they ask, "How can you stand that smell?" [Read more...]
August 15, 2014
Last Saturday was another big surprise presentation by Cape Charles Harbor Festival. Venue: Parr Barn — An old white barn at the end of a cornfield, overlooking the marshes and barrier islands of the Atlantic seaside. At the back of the barn, guests were in the periphery of a circular driveway and in the center a maleTaiwanese dancer clad in a billowing black skirt was miming in silence. Boooring.
After 10 minutes I was about to leave when suddenly appearing from the seaside was a female Taiwanese dancer in similar attire but in red, jumping ,writhing, pirouetting gracefully towards the black dancer in unison with a hypnotizing Chinese melody. Hmm — interesting. The two dancers went inside the barn and out came several dancers clad in all white costumes and gestured the audience to go with them inside the barn, up the stairs into the rafters.
Up there, we were enveloped in white smoke as the dancers danced and the audience stared, mesmerized. It felt like I was participating in someone else's dream. After the sequence, someone started playing the violin by the big barn window with the big moon just hanging outside like a cliched landscape. We went back downstairs to another stage where a very talented husband and wife team (Bridgman and Packard) performed their magical, whimsical dancing as images were projected into a black screen. At times, it was hard to determine whether it was the real person dancing or an image. Totally engrossing.
Many thanks to the organizers and supporters of the Harbor Festival for bringing this avant garde productions to our little town.
– MARIA FRANCIA VARGAS DALKINSKY
CAPE CHARLES WAVE
August 12, 2014
Tonight (Tuesday) three speakers are scheduled to address the Northampton County Board of Supervisors on proposed zoning changes — specifically the proposed removal of the Waterfront Village zones of Oyster and Willis Wharf.
Eyre Baldwin, who owns property in Oyster, addressed the Planning Commission last week, and is expected to make the same points tonight. Baldwin has restored an old Oyster structure, moved it to the waterfront, and now wants to use it as a "waterfront Mom and Pop general store where locals, boaters, and traveling tourists can stop in to purchase gasoline, ice, drinks, and snacks for their boat ride out on the seaside." He also wants to rent out kayaks, open a raw bar, and use the upstairs as a vacation rental. His complaint is that under the current zoning ordinance none of those things can be done "by right."
"We are urging the Planning Commission to help ease the current restrictions that are preventing us from moving forward with a potentially great waterfront village business," Baldwin said August 5.
Baldwin also again raised the concept of a regional water and wastewater system at the Webster property he owns in Cheriton. He called attention to the study by the Accomack-Northampton Planning District Commission and quoted it as stating that water quality in Cape Charles is "getting worse." (CLICK for the Wave's report.) "The wells in Cheriton at the Webster site are not affected by the water issues that plague Cape Charles. Studies have shown that the Webster site is sitting on top of the deepest part of the aquifer that runs under this county," he said. [Read more...]
Elvis Lives!
Jim Smith returned to Cape Charles Saturday, August 9, for his fourth local appearance as Elvis — this time street-side. Watch "Walk a Mile in My Shoes."
Old Man and the Fountain
Meanwhile, up Mason Avenue, Tony Sacco performed old favorites outside the Stage Door Gallery. Watch "Summertime."
August 11, 2014
DEAR EDITOR,
What a treat it was to attend the July 19 screening of Pocomoke City native Jenny Roberts' documentary Pieces of Tangier in Onancock. It is her 2013 MFA thesis which, more than that, reveals her personal effort, at much of her own expense, to convey the unique life of Tangier residents as erosion nips the island.
Betty Martin (unrelated to the writer) attended last year's screening at the Mar-Va Theatre and was equally impressed. In fact she undertook a nine-month volunteer effort to coordinate the sterling screening presentation which garnered significant generosity and participation from the Accomac community.
As we continue to mark the bicentennial of the War of 1812 for another year a charming prelude to Pieces of Tangier by the same artist can be enjoyed here http://vimeo.com/48050485
Luckily for those who've missed the boat thus far, Jenny's DVD is now available at the Book Bin. Northampton residents look forward to a screening in the not-too-distant-future.
WENDY MARTIN
Eastville
Letters to the Editor are welcome, and a diversity of opinions is encouraged. Send submissions to [email protected].
By ANDY ZAHN
August 11, 2014
In 1957 I was an MP in the 4th Infantry Division and Fort Lewis. One of our Captains at Fort Lewis was in Germany at the end of WW II. His sole assignment in Germany was to get Werner Von Braun to the United States in case the USSR should attack.
Before the war Dr. Goddard was ahead of his time and was studying rocket science. He told the government of the possibilites but our leaders paid no attention. The Germans heard and they began work on jet engines and rockets. They had several outstanding scientists working on the program and by war's end had jet fighter aircraft and V-2 and V-12 rockets with guidance systems raining destruction on London. It was agreed that half these scientists would be in the Russian Zone and half in the U.S. Zone.
Those in our zone came to Redstone Arsenal, Alabama, and worked on a rocket that would escape earth's gravity and orbit the earth. That group, led by Dr. Von Braun, had such a rocket on the launching pad at Redstone but because of politics were not allowed to attempt a launch until the Air Force made a few tries ending in failure.
In the meantime the Russians launched Sputnik and thus were first to orbit the earth. When the army at Redstone was permitted to fire their rocket we were successful but in 2nd place. The American school system got the blame. Sound familiar? It had nothing to do with our schools nor with the Russian schools. The entire program was German!
In 1958 I was teaching math and science to 7th and 8th graders. We had wonderful textbooks written by three authors who knew not only the math but the readiness of the students, and it was written at their level of understanding. The 8th grade text took up where the 7th grade left off, and the 7th grade book prepared them for next year. There were always revews of the basics already learned, lots of practice problems, thousands of word problems dealing with all manner of everyday useful practical math, and here the students were also learning about borrowing, investing, compound interest, bonds, stocks, measuring, weights, volume, dry measure, geometric constructions, perimeters, areas, volumes, and a few new concepts such as the 3rd type percent problem, positive and negative numbers, and basic algebra. [Read more...]
CAPE CHARLES WAVE
August 7, 2014
Stating that "I can no longer serve in good conscience given the flawed processes we are working under," Northampton County Planning Commission Vice-Chair Martina Coker submitted her resignation August 5 effective immediately. Coker was the District 1 representative, which includes the Cape Charles area.
"I continue to be dismayed at the manner in which the Zoning Ordinance was developed and proposed, without any public input or analysis of data which could support proposed changes," she wrote, adding that there could be a "significant detrimental effect on residential property values" as a result.
Coker did not attend the August 5 Planning Commission meeting, but submitted her statement to be read at the meeting. Economic Development Director Charles McSwain reportedly suggested that Coker's statement be included in the record but not read out loud. But after it was pointed out  that Coker had so requested, the letter was read.
Coker's frustration comes from the County Board of Supervisors' refusal to give the Planning Commission more than 100 days to review what amounts to a whole new zoning code for the county. She wrote: "The proposed ordinance strips property owners of their rights to maintain their property value by eliminating Special Use Process for virtually all uses, many of which could decimate property values." [Read more...]