By GEORGE SOUTHERN
Cape Charles Wave
September 15, 2014
What a difference being mayor makes. Just seven months ago when George Proto was president of the Cape Charles Business Association he wrote a hard-hitting letter to then-Mayor Dora Sullivan, chastising her for failure to answer his questions about processing county sewage at the town's new treatment plant. "My original questions have yet to be answered after almost 6 months," he wrote.
Proto and the Business Association were concerned that running a sewer line to Route 13 would promote commercial competition on the highway. "There does not appear to be any significant benefit to the Town of Cape Charles from the proposed connection," Proto wrote to Mayor Sullivan.
Now Proto is mayor, and acting Town Manager Bob Panek has convinced him, along with all other members of Town Council except Frank Wendell, that piping commercial sewage from Route 13 into town is a good idea. Panek's argument is that (1) the income received will reduce town utility bills, and (2) if the town doesn't take the sewage, the county will eventually build a plant elsewhere – perhaps on the Webster property in Cheriton — and the town will have forever lost the opportunity to operate a regional treatment plant.
Panek oversaw planning of the town's new sewer plant, which with some modifications is large enough to treat all the wastewater in the lower part of the county, were there some means to get it there. Meanwhile, the fixed costs of the plant are eating the town and its ratepayers alive.
Town Council agreed September 11 (Wendell dissenting) to negotiate an agreement with the County's Public Service Authority to accept wastewater for 1.5 cents per gallon. All Council members agreed that PSA customers must also pay the town a substantial facility hookup fee, even though Panek has opposed such a fee, fearing it would drive away potential customers.
As Business Association president, Proto had urged that the sewer line project be put on hold "until certain significant questions" were answered. The first question was, "What is the projected benefit to the town from the Route 13 sewer line?" [Read more...]
By ANDY ZAHN
September 15, 2014
A couple hundred area kids went to the Liberty Theater on Springfield Avenue Saturday afternoons to see a war movie, a serial to see if Pauline could undo the ropes and get up before the train got to her and a crime or spy movie. Three or more times each Saturday there was a flash of light as another kid came through the exit door to see the movie, which cost about 12 cents, for free.
The spies were always a German couple and the man wore a white suit with a straw Panama hat. He also drove a Lincoln Zypher car. In my friend's house in the attic apartment there was exactly such a couple. We all knew they were spies.
One day the FBI was picking up radio signals and put direction finders on the signals. The waves crossed at my friend's house and the FBI tore up the apartment, finding a trasmitter. The two were arrested and never seen again! In a real war agents are not tried in civil court and the penalty is death. Our agents know this as the enemy used to also know.
Springfield Avenue is the main street through Irvington, NJ, and had trolleys going from Springfield through Millburn, Maplewood, Irvington, and downtown Newark. People came from miles to go to Olympic Park with rides, a huge swimming pool, and a merry-go-round now at Disney World in Orlando. There could be a story about the park, now gone, there was so much. There were stores all along the Avenue and we saw the town install parking meters. Bamberger's had a clock on the sidewalk and everyone used to say "Meet me at Bamberger's clock." After the trolleys they had buses with trolly poles that ran on electricity or their regular motor. Six days a week the Avenue was a mass of activity and on Sunday it was deserted as in the song "A Sunday Morning Sidewalk." [Read more...]
CAPE CHARLES WAVE
September 8, 2014
A consultant hired by the Town of Cape Charles has reported that town staff salary ranges are "significantly lower" than in comparable regional organizations. The consultant warned that because salaries are "below average market rates," Cape Charles may experience difficulty hiring and retaining employees in the future.
The town paid Richmond consultant Springsted Inc. $8,400 to conduct the salary study, which entailed comparing Cape Charles town salaries with those in other municipalities. However, Springsted Senior Vice President John Anzivino said they were unable to obtain information from any other town on the Eastern Shore, including Onancock and Chincoteague. Most of the comparisons are with towns closer to Hampton Roads and Richmond, although both Northampton County and Accomack County salary schedules were obtained.
Springsted's proposed salary schedule recommends increases for every town position surveyed, with more than half the town's workforce currently earning less than even the minimum proposed salary for their grade.
The report recommends a maximum salary of $87,900 (not including benefits) for the Chief of Police, the Director of Public Works, the Treasurer, the Harbor Master, and the Code Official. Anzivino emphasized that the actual salary earned by a town employee was not considered — instead it is the salary range of the position that matters. That's because a new, inexperienced employee will be paid much less than a long-time, seasoned staffer doing the same work.
The report suggests a maximum salary of $72,300 plus benefits for the Assistant Town Manager, the Town Clerk, the Town Planner, and the Librarian.
Maximum salary for the Wastewater Plant Operator in Charge would be $68,900.
The Recreation Coordinator could earn up to $65,600, while the Public Works Supervisor would see a maximum salary of $62,500.
Springsted also recommended that the town hire additional support staff in order to free up department heads for other duties. A "lack of internal support" has caused inefficiencies, with department heads forced to prepare their own reports, conduct research, answer phones, and conduct administrative support functions, Springsted found. [Read more...]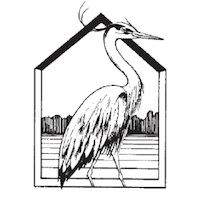 By JOHN ORDEMAN
Citizens for a Better Eastern Shore
September 8, 2014
The ShoreLine editorial board announced several months ago that we have begun a campaign to get county Supervisors to hold occasional Town Hall meetings with their constituents, a practice that would give the people who elected them an opportunity to engage in meaningful discussion with their representatives and enable the Supervisors to be more responsive to the will of the electorate.
All of the Northampton Supervisors responded to a query from ShoreLine asking whether they would schedule meetings with their constituents.
Granville Hogg, who has been holding Town Hall meetings ever since he joined the Board of Supervisors in January, wrote: "I have always thought Ron Wolff [the Accomack Supervisor who holds monthly public meetings] did a great job by meeting with his constituents. I decided it would be good for me to adopt a similar policy so long as residents were interested in what was happening. I would try to keep them informed and listen to what they thought was important. At those meetings I would exchange information with constituents. If there was disagreement, why did they disagree and what information were they relying on? In some cases, they had better information than I possessed; hence, I took that information into consideration for future decisions."
Hogg's statement is an excellent summary of what can be accomplished at Town Hall meetings, and it is remarkable that Hogg's colleagues will not follow his example and give their constituents the opportunity to exchange information and debate issues with them.
Larry LeMond's response to the query was, "I thought about holding a town hall meeting last year, but never got around to it. But I do think it is a good idea and I plan to hold one or two this year – probably the first one will be in July or August."
Rick Hubbard wrote, "I will give your idea some consideration and look into possibly doing it sometime."
Larry Trala sent word through Janice Williams that "he has no problem or objection to having constituent meetings."
Oliver Bennett replied, "No comment."
None of the Supervisors, other than Hogg, has held a Town Hall meeting in spite of the fact that Northampton County is embroiled in the most contentious issue — the proposed overhaul of zoning regulations — that residents have had to deal with in recent memory. [Read more...]
ON THE TELEPHONE POLE
The Chesapeake Bay Foundation  is seeking volunteers to grow baby oysters in floating "oyster gardens" attached to piers, docks, and marina slips to help restore the Bay's oyster population. CBF will host a workshop to train volunteers on Saturday, September 20, from 9 a.m.-11 a.m. at the Virginia Institute of Marine Science Eastern Shore Lab, 40 Atlantic Avenue in Wachapreague. [Read more...]
"Memory is identity. I have believed this since . . . oh, since I can remember. You are what you have done; what you have done is in your memory; what you remember defines who you are; when you forget your life, you cease to be."
– novelist Julian Barnes
Please join us at the Stage Door Gallery 5-8 p.m. Wednesday, September 24, for an evening of art, stories, and memories.
Residents at Heritage Hall nursing care center in Nassawadox have been exploring memory, reminiscing and rediscovering themselves by creating wonderful pieces of art. Memory-led art classes have been held the last several months, and the residents have put together a beautiful tapestry of work that tells their stories of time and place and the lives they have lived. [Read more...]
Help our Eastern Shore Athletes SOAR at the Special Olympics Virginia Awareness Reception on Sunday, October 19, from 1-5 p.m. at Kings Creek Inn. A live auction and silent auction featuring pieces from local artists, vouchers for hotel and B&B stays, and much more will be held to benefit the Special Olympics Virginia Athletes of the Eastern Shore. Tickets are $15 in advance and $20 at the door. All tickets include an engraved wine glass, one glass of wine, hors d'oeuvres, a chance to win a door prize, and the knowledge that you have helped change a brave athlete's life! [Read more...]
Holding an event of interest to the general public in or near Cape Charles? Send an email to
[email protected] and your event will be listed in ON THE TELEPHONE POLE. Events will normally be publicized the same week they occur. Deadline for submission is the preceding Saturday.
Please visit the Eastern Shore Master Gardeners annual fall plant sale on Saturday, September 20 (rain date September 27), during the Exmore Town-Wide Yard Sale in front of the Exmore Town Hall from 8 a.m to 12 noon. 
Plants are grown by members or donated by local nurseries and include native annuals, herbs, perennials, shrubs, and trees, which flourish on the Shore. Each plant purchased will include growing instructions, and questions will be welcomed from novice to skilled gardeners alike. [Read more...]
As fall's cooler temps invigorate, energize your creative nature with one of ESO Arts Center's classes. A vast variety of classes and workshops for all ages are starting now and in the weeks ahead. [Read more...]
There is no better place to experience the spectacular phenomenon of fall migration than the Eastern Shore of Virginia.  During the fall months, millions of songbirds, hawks, shorebirds, butterflies, and dragonflies migrate through the narrow Delmarva Peninsula on their long journey south to warmer wintering grounds.  The Eastern Shore Birding & Wildlife Festival brings you closer to nature and closer to the birds with guided hikes, family activities and boat trips throughout much of the Eastern Shore's flyway.
Festival headquarters and vendors are located at the Cape Charles Fire Station, 501 Mason Avenue.  Free activities for children and families are located at Kiptopeke State Park, 3540 Kiptopeke Drive, Cape Charles.  Free bus transportation between Cape Charles Fire Station and Kiptopeke State Park is available.  Field trips and activities are held in various Eastern Shore locations beginning Friday, October 10, at 7:30 a.m., through Sunday, October 12, at 4 p.m. [Read more...]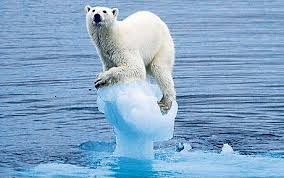 By WAYNE CREED
September 8, 2014
According to the National Climate Assessment released last month, the risk to the overall economy from coastal climate impacts (sea level rise) is substantial because coastal counties account for almost 50 percent of gross domestic product (also the most densely populated). The value of insurable properties in coastal counties tops $14 trillion.
The latest Bloomberg report, "Risky Business: The Economic Risks of Climate Change in the United States," leans towards the CO2 problem model, noting that if current emissions stay the same, by 2050 between $66 billion and $106 billion worth of existing coastal property will likely be below sea level nationwide, growing to $238 to $507 billion by 2100. That is, by the year 2100, at least $701 billion worth of existing coastal property will be below sea level. This model has sent Wall Street into a tizzy, with Hank Paulson, Michael Bloomberg, Tom Steyer, Robert Rubin, George Shultz, and other business leaders clamoring for political action. The important name in the bunch is Tom Steyer, one of Gov. Terry McAuliffe's biggest backers. Interestingly, as was reported in the Wave, McAuliffe has just reinstituted the Climate Change and Resiliency Commission to "attack" this problem, and the Eastern Shorekeeper is also involved.
So, what exactly is sea level rise, and when and how did it start? The term is actually Mean Sea Level (my dad used to work as party chief for the U.S. Coast and Geodetic Survey (now U.S. National Geodetic Survey), and he would travel from Bangor, Maine, to Corpus Christi, Texas, and then back again, collecting coastal elevation data used in monitoring MSL along coastal areas). The height of Mean Sea Level is given relative to a certain, arbitrarily chosen reference or datum level (such as tidal datum, or North American Datum 1927). It may rise or fall, relative to the zero point of the reference scale. The Dutch, being so vulnerable to the sea, were one of the first to start tracking MSL, and established the Dutch Ordnance Datum (NAP) in 1683. The big problem is that the zero point reference is meant to be stable over time, but tide gauges and bench marks may move vertically as a result of movements of the earth's crust. Complicating the problem is that regional Mean Sea Level may differ from one area to the next, and regional sea level graphs cannot simply be extrapolated to show global mean sea level over time. [Read more...]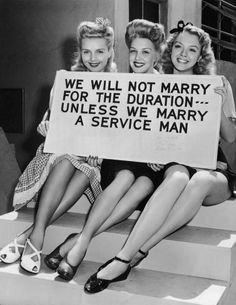 By ANDY ZAHN
September 8, 2014
I was 10 when Pearl Harbor was bombed. All of our lives changed on that December 7th day, 1941. We had air raid drills at school where we went to the basement and stood with our heads in our arms against the wall lockers. My father taught all the town's teachers first aid in case we actually had a raid and needed help. Air raid sirens could go off at any time, and if at night all lights had to be made not visible. Gasoline was rationed and you had to display a letter in the rear window of the car or truck with an "A" letting you buy three gallons per week if you had the money and the ration coupons. The speed limit was 35 mph to save gasoline. The top half of the headlights had to be covered with black electrical tape.
Dad trained the soldiers from Fort Monmouth how to be firefighters, and their fire engine came to our drill tower weekly for instruction. After getting the town ready for war, equipping and training the Civil Defense firefighters and working with the Red Cross, Dad tried to go back into the Army but was too old. He then joined the Navy! When the local judge heard what Dad had done we met him on Sunday outside church and he remarked that he would never do such a thing.
Now Mom and I were alone, and at age 12 I was the man of the house. Mom went to the ration board and picked up two books of coupons, one for each of us. When she got home and opened the books all the meat coupons had been stolen by a worker at the board. For the next six months we were not able to legally buy any meat.
While there were a lot of patriotic people, there were also a lot of low-lifes. Many young men joined the military and many others waited for the draft. But there were many who we called "draft dodgers" and "slackers." There were all manner of ways to avoid the draft. Some men with one child hastened to have another baby, figuring men with two or more kids would not be drafted. Some bachelors quickly married a woman with children. Some moved to Lakewood, NJ, and took up raising poutry. Some put blotters inside their shoes to give a false pulse reading. And there was the black market where things were sold at high prices without ration coupons. [Read more...]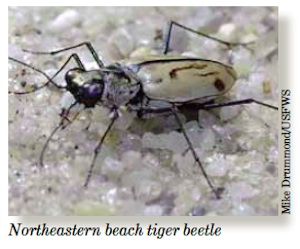 CAPE CHARLES WAVE
September 2, 2014
The lowly Northeastern beach tiger beetle, a threatened species, has won out over Bay Creek beach goers — with the help of the U.S. Fish & Wildlife Service.
The Bay Creek Homeowners Association used to rake the Bay Creek beaches to remove whatever washed up with the tide, such as seaweed, grasses, and the like — just as Cape Charles does at the town's public beach. But the raking, especially with a tractor, is highly damaging to the Northeastern beach tiger beetle, whose habitat has been reduced to two areas: Martha's Vineyard in Massachusetts and some relatively undisturbed beaches on the Chesapeake Bay.
That counts out the town public beach, where the tiger beetle gave up long ago. But the Bay Creek beaches, having become frequented by people only in recent times, still host the tiger beetle. So the beaches at Bayside Village and at The Colony/Kings Bay have been designated by the F&WS as tiger beetle habitat and may not be disturbed. 
"This means that the beach must be left to nature with the exception that human pedestrian traffic is permitted, as well as the hand removal of glass, metal, plastic, etc. In years past the beach at Bay Creek was mechanically raked and maintained. This practice was suspended when the F&WS Enforcement branch placed the management of the Home Owners Association on notice that cleaning the beach is a violation of law subject to criminal prosecution and heavy daily fines for continued violations," the Bay Creek HOA reported to its members in August. [Read more...]
By WAYNE CREED
September 2, 2014
As school starts today, I have to say it is a little bit sad not have any of my children going back to Cape Charles Christian School. My son and daughter were part of the first class at the school, when it was housed by the generous folks at Trinity Methodist and Cape Charles Baptist. From its very beginnings, the school embodied the very best of our community, and I can't tell you what a joy it was to once again see gaggles of kids traipsing through Cape Charles.
Now that my son Joey has moved on to Broadwater (he really wanted to play varsity sports), I am personally going to miss those mornings, watching him strap on his backpack, hop on his scooter, and go off to school in the same town where he grew up. He loves playing sports at BA, but I know he also misses the Christian school too.
I am so grateful for everything that CCCS did for our kids — the values they taught and the sense of community that they have built.  It has been a fruitful partnership with the citizens of Cape Charles, our Library and staff, and especially Arts Enter, which has been so gracious and helpful with classes, instruction, and use of facilities.
Kate Tayloe, Valerie Travis, Dawn Lewis, Carrie Cabello, and Leslie Savage provided the best lower school experience one could wish for. Andrea Davis is no longer there, but she was also instrumental in laying the intellectual foundation for success. Thanks to Ms. Tayloe for showing my kids that, yes, reading can actually be fun. Holly Hubbard brought so much talent and passion to our upper school, teaching the required disciplines needed to excel in not just the upper school, but all through the educational experience. [Read more...]