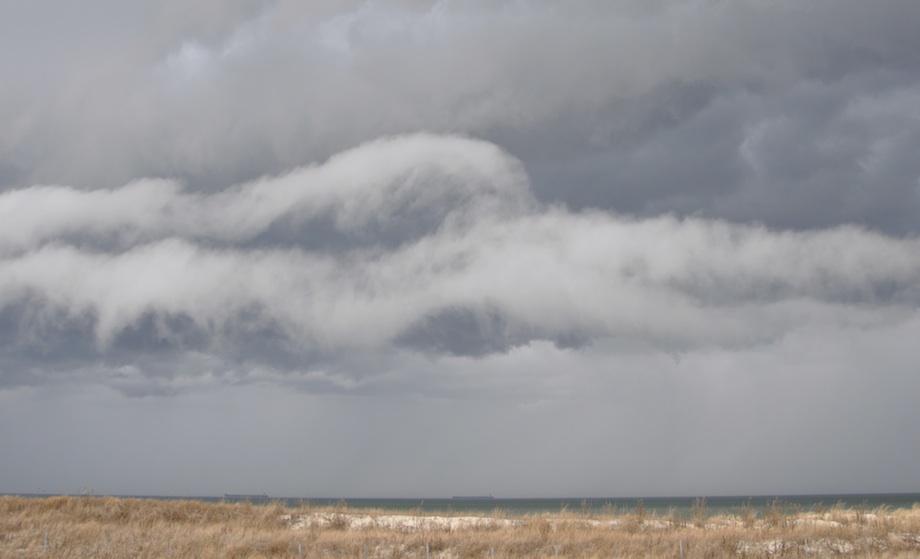 WEEKEND: A STORM A'BREWIN'
Bay Avenue resident Darin Alperin took this very grey photo from his front yard. "There was a storm rolling in and you could see the clouds moving in with the colder temperatures. As the cloud reached our house the temperature dropped 10 or 15 degrees. It cannot be seen in the photo, but the cloud in the front was actually a rolling tube," he explains.
April 20, 2014
Northampton County Supervisor Granville Hogg will hold a Town Hall Meeting for constituents 7 p.m. Wednesday, April 23, at the Cape Charles Museum and Welcome Center, 814 Randolph Avenue.
Topics will include:
Northampton County's proposed zoning code changes,
Emergency medical services,
County budget, and
Public Service Authority (PSA).
"I am inviting you to a Town Hall Meeting to listen to your concerns," said Hogg. "Please identify your concerns and let me know what you are in favor of, or in opposition to."
The event will be in the traditional town hall meeting style — an informal public gathering that provides citizens a chance to voice their opinions and ask questions of elected officials.
Hogg will also hold a town meeting 7 p.m. Thursday, April 24, at Kiptopeke Elementary School.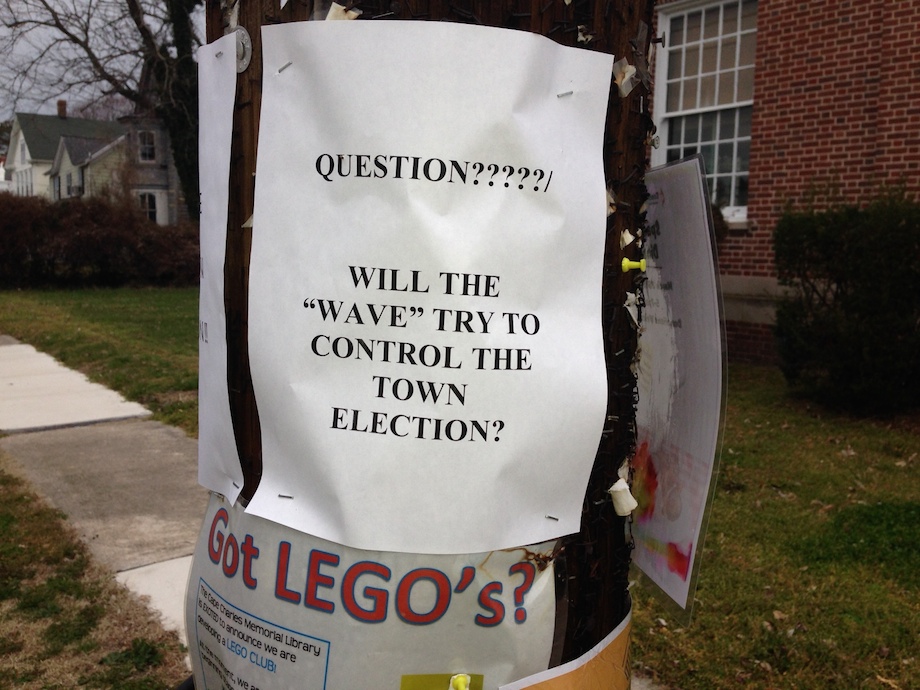 A CAPE CHARLES WAVE EDITORIAL
April 15, 2014
The photo at right of an anonymous poster outside the Post Office asks, "Will the Wave try to control the Town election?" But until now the Wave has been almost silent on the May 6 election for mayor and Town Council. When the eight candidates filed, we published an impartial story listing their names and brief bios. We intend to let the candidates tell their own stories, and invite them to write a few paragraphs on "Why I'm Running for Mayor" and "Why I'm Running for Town Council" to inform our several thousand readers.
But in this hotly contested election there are already signs (pun intended) of manipulation. And not for the first time – the November 2012 special election for a Town Council seat was shamelessly manipulated by the town power structure, taking advantage of the good name of Arts Enter as the "sponsor" of a candidates forum. In fact, assistant town manager Bob Panek masterminded that forum, and although his name did not even appear in the list of volunteers, like the Wizard of Oz behind the curtain it was Panek who selected questions from the audience and decided to whom they would be asked. All the while, he displayed a sign in his yard for candidate Steve Bennett.
In this year's election, Council incumbent Joan Natali was first off the line in blanketing the town with campaign signs, and no one complained. But later when opposition candidates David Gay, Deborah Bender, and Lynn Mitchell-Fields began matching the Natali signs with their own, the town took action, and most of the signs were confiscated by the Police Department under the excuse that they were not allowed in the right-of-way (even in front of private residences). Ironically, Natali was responsible for that town regulation, enacted in reaction to the "Community Center YES" signs of a previous battle.
Next comes the curious question of the "second" candidates forum sponsored by Cape Charles Rotary. Following the town staff's manipulation of the previous forum mentioned above, the non-political Citizens for a Better Eastern Shore (CBES) agreed to host a forum for Cape Charles candidates. CBES has a long history of hosting candidate debates, and most recently held two forums for County Supervisors and School Board candidates in last November's elections. At that time no one seemed concerned that a CBES forum might not be enough. [Read more...]
CAPE CHARLES WAVE
April 14, 2014
Attention Cape Charles voters: Lenora Mitchell-Fields has NOT withdrawn her candidacy for Town Council in the May 6 elections.
The town's official publication, Cape Charles Gazette,  inexplicably omitted Mitchell's name in its April 14 edition headlined "2014 Is An Election Year!"
The story states that "five candidates are running for Council," and then lists five names. But in fact, SIX candidates are running for Council.
Reached at her store, Mitchell was asked by the Wave to guess which candidate the Gazette had left off its list. Her first guess was Deborah Bender, who was once referred to by Mayor Sullivan as the "Barking Bender," perhaps due to her history of public comments at Town Council meetings. But Bender's name was not the one omitted from the Gazette.
Lenora Mitchell has her own history of criticizing the Town when an official injustice has been committed. When the town sold the basketball court, parking lot, and old school to a developer for conversion into apartments, it stipulated that the property could not be made available to low-income residents — despite the developer's intention to receive over $1 million in state and federal assistance for renovating the building. [Read more...]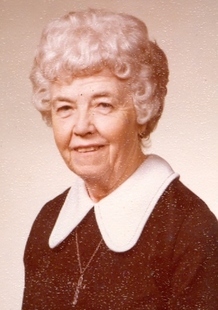 April 14, 2014
Emma Loretto Kelly, 104, passed away Monday, April 14, at Heritage Hall Healthcare in Nassawadox. A funeral mass will be held at a later date.
Mrs. Kelly was born July 15, 1909. A native of Marlboro, NY, she was the daughter of the late Peter Krones and the late Honora McManus Krones. She was a retired secretary and member of St. Charles Catholic Church.
She is survived by a son, Eugene J. Kelly and his wife, Colleen, of Cape Charles, and three grandchildren, Colin Kelly, Liam Kelly, and Finn Kelly.
Online condolences may be sent to the family at www.doughtyfuneralhome.com
Arrangements are by Wilkins-Doughty Funeral Home, Cape Charles.
By DORIE SOUTHERN
Cape Charles Wave
April 14, 2014
Cape Charles Town Council is in the midst of hammering out a $3.2 million budget for the fiscal year that begins July 1. The  projected budget does not increase taxes on real estate or personal property, and utility bills are also projected not to increase. But even though no general tax increase is planned, the budget includes a 2 percent cost of living adjustment for all town employees.
At a Town Council budget workshop April 10, Council member Frank Wendell argued that since the town is paying $10,000 for a wage and compensation study, it should not provide any cost of living adjustment until the study results have been received.
Town Council does want to increase the lodging tax imposed on guests at hotels, B&Bs, and vacation rentals a whopping 23 percent — from the current 3 percent to 3.7 percent. That's in addition to 5.3 percent state tax and 2 percent county tax on short-term lodging, for a new total of 11 percent. The tax increase is projected to generate an additional $19,000 revenue for the town.
The lodging tax would be spent on tourism-related events such as Fourth of July fireworks, Cape Charles Business Association projects, the Historical Society, and the new tourism website Cape Charles By the Bay. A public hearing for the proposed tax increase has been rescheduled for 6 p.m. Thursday, April 24, at St. Charles Parish Hall.
ON THE TELEPHONE POLE
Voices of the Shore, a benefit performance for the Boys and Girls Club, will be held Friday, April 25, at 7 p.m. at the Franktown United Methodist Church. [Read more...]
The Cape Charles Historical Society will hold its annual Low Country Shrimp Boil on Saturday April 26 at the Cape Charles Museum from 5-9 p.m. April 26 is also Garden Day on the Eastern Shore, a great time to visit. [Read more...]
Sunday, April 27, from 1:30-3 p.m. Blessing of the Worms at New Roots Youth Garden.
Holding an event of interest to the general public in or near Cape Charles? Send an email to
[email protected] and your event will be listed in ON THE TELEPHONE POLE. Events will normally be publicized the same week they occur. Deadline for submission is the preceding Saturday.
The next Science and Philosophy Seminar of the Eastern Shore of Virginia is "Born Between the Bombs" at 12:30 p.m. Friday, April 25, in the Lecture Hall of the Eastern Shore Community College, 29300 Lankford Hwy., Melfa. [Read more...]
CLICK to view poster with full details.
 The Chesapeake Bay Foundation and its partners are recruiting volunteers for the 26th Clean the Bay Day, CBF's annual shoreline cleanup scheduled for Saturday, June 7, from 9 a.m. to 12 noon. [Read more...]
By DORIE SOUTHERN
Cape Charles Wave
April 14, 2014
Developer Patrick Hand hopes to replace the old Be-Lo grocery store on Mason Avenue with a mixed-use building with commercial storefronts at ground level and condos upstairs. Last Monday (April 7) he asked the Board of Zoning Appeals to allow reduced setbacks, fewer parking spaces, and reduced green space for his project. But the Board wanted more information, and is meeting again today (April 14) at 4 p.m. at Town Hall.
The Board asked Hand to give them options for how his requested parking variance could be addressed. Hand had suggested placing stipulations on use of the property such as allowing no restaurants, which require more parking.
The setback variance and green space requirements were less of a problem for the Board. But to receive a variance, Hand must demonstrate "undue hardship not shared generally by other [similar] properties."
Town Council candidate Deborah Bender spoke at the meeting, noting that a zoning matter should not be taken up before the Harbor District Review Board considered Hand's proposals. Bender pointed out that the town had spent thousands of dollars and many hours to create the Harbor Area Conceptual Master Plan and Design Guidelines, but that they are being ignored. Bender quoted the Cape Charles zoning ordinance: "Harbor Development Certificate required. No zoning clearance shall be issued for location, construction, or enlargement of any building or structure within the Harbor District until a Harbor Development Certificate has been issued. Submission of a Harbor Development Certificate Application and approval by the Town Council shall be required to obtain a Harbor Development Certificate."
Receiving a development certificate is a lengthy procedure that consists of a "General Application" and a "Detailed Application," and requires approval of Town Council after it has been approved by the Harbor District Review Board. Bender said that the developer was putting the cart before the horse by asking for a variance before receiving approval by the Harbor District Review Board. [Read more...]
By DEBORAH BENDER
April 14, 2014
Local developer Patrick Hand has an idea to redevelop the old Be-Lo grocery store property on Mason Avenue. There is no question that the old shuttered grocery blights the streetscape of Mason Avenue. No one can argue against having a nice new building on that lot. But with important matters to consider about the proposal, Town Council has thrown caution to the wind.
At a recent Board of Zoning Appeals meeting, Mr. Hand said that he approached some members of Town Council six or seven months ago about his plans for the property. He proposed selling some of the property to the town for public parking, but he and Town Council could not agree on a price. But rather than ask townspeople what they want, Council cut off negotiations.
Then Town Council decided to buy seven empty lots on the entrance to town. Why did Council think it was more important to buy those lots from Dickie Foster than to purchase parking on Mason Avenue?
Residents, homeowners, shop owners, and some members of Town Council were left in the dark about the Be-Lo proposed project until just a few weeks ago. Most of us only heard about the plan at the March Town Council meeting. Later, a few adjacent property owners received a letter about the Board of Zoning Appeals meeting held last Monday. Mr. Hand's proposal has never been raised with the Planning Commission or the Harbor District Review Board. It seems that they are only needed when it is time to pull out the rubber stamp.
For going on 20 years the parking lots at the old Be-Lo store have been available to the public in Cape Charles. They have been used for parking to attend functions at the Palace Theatre, to shop on Mason Avenue, and to eat at the Coffee House, as well as other uses. Where will tourists and shoppers park when those lots are closed? [Read more...]
April 14, 2014
DEAR EDITOR, 
Perhaps like many of you, I grew up in a time when most news outlets operated under the Golden Rule. Television and radio stations were mandated to devote time to contrasting views on matters of public interest. They were also required to offer equal time to political candidates with opposing views. The policies that required this applied only to radio and television but, in simpler times, were a standard for all journalism. Unfortunately these policies were repealed in 1987.
While none of these rules were ever mandated for newspapers, many people still expect the news to be delivered in an unbiased fashion. Reading your April Fool's story and subsequent postings made it very clear that the Wave has a political agenda and is actively promoting a particular point of view.
The right to vote is sacred and it is the duty of voters to learn as much as they can about all candidates and issues prior to voting in any election — national, state, or local. In every election, it is important to get information from multiple sources.
In Cape Charles, all of the candidates live just a few blocks away. We have the opportunity to watch how they volunteer their time in our community. We can speak to them directly and ask their opinions. We can attend Town Council meetings and candidate forums. It is only by knowing both sides of a story that we can be sure that we vote for what is best for our future.
NANCY DANIEL VEST
Cape Charles
Letters to the Editor are welcome, and a diversity of opinions is encouraged. Send submissions to [email protected].
April 14, 2014
(EDITOR'S NOTE: Cape Charles Historical Society has for more than a decade been recording oral histories of the area's earlier days.  A grant from the Virginia Foundation for the Humanities enabled 15 interviews to be transcribed, and the Historical Society has made this one available for readers of the Wave.  All the transcriptions may be read at the Cape Charles Museum.)
David Mitchell speaks April 12, 2001
PART 4
[Audience]: "What are you doing now?"
I do odd jobs.  I cut grass.  Mrs. Restine was the first person I cut grass for and I did it up until she died.  In fact, I bought my first lawn mower in 1959 and I've been cutting grass ever since then.  I don't go out and look for work, it's just a few people I do it for.  As I told the man the other day, I don't want to go out and them tell me I need to get a license.  It's a charitable thing mostly.  This young fellow [indicates Clarence Smaw] over there, he helps me out at church.  He's retired from the railroad.  He said he noticed at the church anytime they needed somebody to do something, they always called on me.  He said, when I retire, I'm going to help him.  So he's been 100%.  This other young man [indicating James Braxton], he's at the church, we've been pals for many, many years.
We used to go out once or twice a year for a day, just the three of us.  The driver was the only one who knew where they were going.  Sometimes you could change your mind, but nobody would know because you were the only one who knew where you were going.  Like what happened to him, he was going to work on a Monday morning and we were out on a Sunday run.  He said, isn't it something, I've got to come right back up the road tomorrow and go to work.  He worked up in Delaware.  Well, I was heading up that way, so when I got in Delaware, I turned and changed my plan and went to Baltimore.  I didn't want to go over the same route he was going to go over!  We would just have a lot of fun riding, talking, and stopping with no particular place to go and no time to get there.  We used to do it quite often, but after my son got sick and my wife's mother got up in age, she had to look after her.  We haven't been out, but we hope someday soon we will be.
I had a fun experience with Herb Lovitt.  He and I used to have a little talk about different things and I would disagree just to get him wound up.  He got a little upset one night, got a little rough. I was riding with him — one night I would drive carrying us to work and he would drive the next — I said to him, "You wait until we get home and I'm going to tell you something."  He was very quiet all the way home and he didn't know what was going to happen.  So I got out of the car and just said, "So long, Herb, have a nice day!"  And he was shocked. [Read more...]
By DORIE SOUTHERN
Cape Charles Wave
April 7, 2014
The Cape Charles Board of Zoning Appeals meets today (Monday) at 4 p.m. at Town Hall to hear public comment and make a determination on variances requested by local developer Patrick Hand.
Hand proposes to demolish the former Be-Lo grocery store on Mason Avenue and build a commercial and residential building on the property. He is requesting reductions in setback requirements, permission to provide less than the required number of parking spaces, and a reduction in the amount of green space required by Town Code.
According to a background report from Town Planner Robert Testerman, the development would open the Strawberry Street viewshed to the harbor. But that might only happen if the town buys a portion of the property from Hand for an extension to Strawberry Street. Hand told Town Council March 27 that if the town did not purchase the property soon, he might sell it to someone else.
While the grocery store has been shuttered for many years, the property owner has allowed lots on either side of the building to be used for public parking. Hand had offered to sell part of one of the parking lots to the Town for public parking, but Town Council and Hand were unable to agree on a price. [Read more...]