April 21, 2014
Northampton County Supervisor Granville Hogg will hold a Town Hall Meeting for constituents 7 p.m. Wednesday, April 23, at the Cape Charles Museum and Welcome Center, 814 Randolph Avenue.
Topics will include:
Northampton County's proposed zoning code changes,
Emergency medical services,
County budget, and
Public Service Authority (PSA).
"I am inviting you to a Town Hall Meeting to listen to your concerns," said Hogg. "Please identify your concerns and let me know what you are in favor of, or in opposition to."
The event will be in the traditional town hall meeting style — an informal public gathering that provides citizens a chance to voice their opinions and ask questions of elected officials.
Hogg will also hold a town meeting 7 p.m. Thursday, April 24, at Kiptopeke Elementary School.
By DORIE SOUTHERN
Cape Charles Wave
April 21, 2014
Cape Charles Board of Zoning Appeals approved variances April 14 for half of the proposed development of the shuttered grocery store property on Mason Avenue. Local developer Patrick Hand had requested variances for setbacks, open space, and parking. The requests had been tabled at an earlier meeting, and the Board had asked Hand to come back with other alternatives for his parking variance request
Hand's response was to request that the parking requirement be reduced to one car per 200 square feet of commercial property. The Board instead agreed to one car for every 300 square feet. Under town code, parking requirements are dependent on the uses in the building, but Hand, who does not yet own the property, does not know what businesses might locate in the 3,750 square feet of commercial space that he plans to build.
In addition to the commercial space, Hand envisions his building housing one- and two-bedroom apartments for retirees and weekenders in the Soho style of New York. The proposed building would be 120 feet wide and 104 deep on a lot that is 105 feet deep, thus allowing a one foot setback from the drainage ditch on the adjacent railroad property. Although the Harbor District has no setback requirement for the rear of a building, lots are supposed to be 140 feet deep. [Read more...]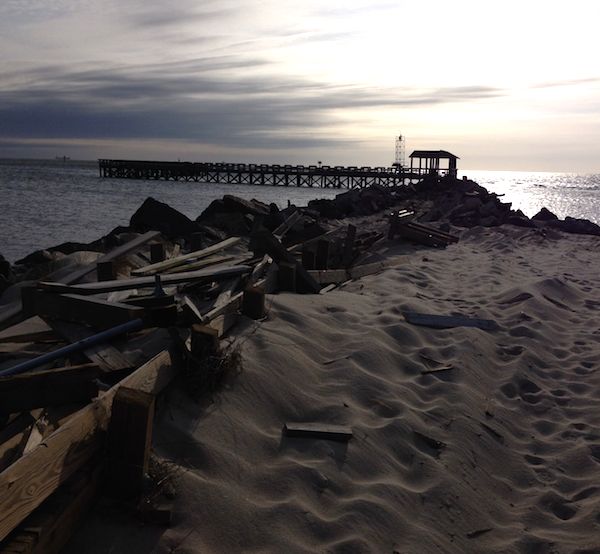 April 21, 2014
The Cape Charles Fun Pier is no longer, but a resurrection is in the works. Just before Easter, an excavator ripped out the portion of the pier resting on railroad-style ties, which was damaged by Hurricane Sandy. The far portion of the pier is built on deep pilings that withstood both Sandy and Irene with no damage at all. Town staff repaired the pier following Sandy, but now a FEMA grant is paying for a replacement. However, the replacement portion will again be built on less expensive ties instead of the pilings proven to withstand hurricanes. The pier is scheduled to reopen before Memorial Day. (Wave photo)
By DORIE SOUTHERN
Cape Charles Wave
April 21, 2014
Blustery conditions cancelled Gov. Terry McAuliffe's charter flight to attend the State of the Shore event April 15, so he had to come by car. But the real turbulence at the meeting came from opposition to Northampton County's rezoning plan.
Northampton Board of Supervisors Chairman Larry LeMond defended the zoning rewrite, saying the county needs to streamline the development process. Those who questioned the county's plans are advocates of "no growth," he said.
Ken Dufty, representing the newly formed group Citizens for Open Government, responded that the proposed zoning ordinance was not in accord with the County's Comprehensive Plan and that the Planning Commission had not even discussed the zoning changes until two weeks before the public hearing. Dufty disputed LeMond's claim that the Planning Commission had had two and a half years to look at proposed zoning changes. He also noted that the Planning Commission had asked the county to hire a consultant to help review the proposed changes, but that the county refused to fund it.
LeMond responded that Supervisor Larry Trala felt that the citizens should be able to take care of the review of the ordinance without hiring a consultant. The Planning Commission has 100 days to offer suggestions about the changes, and no further public hearings are scheduled for what LeMond referred to as a "hot-button issue." [Read more...]
By JOE COCCARO
April 21, 2014
As a new resident, I've been impressed by the town's dedication to preserving its past. I love that Cape Charles has a "historic" designation, and I admire residents and leaders steadfast about preserving its quaintness and personality.
In the town's zeal to protect its legacy, however, I fear some have lost perspective about what's worth preserving. The lines between "historic'' and "nostalgic'' have become fuzzy.
I live near Central Park and enjoy my strolls there and hearing the kids playing, the fountain flowing, seeing residents walking pets, pushing baby strollers, playing soccer. Like its beautiful old buildings, the park defines Cape Charles. It's where we gather, recreate and bond. The beach and park unifies us, as much as our local pubs and churches and shops.
With that in mind, I have been head-scratching about the old school. Frankly, I was stunned by the rancor swirling in such an otherwise civil and thoughtful community. The accusations, lawsuits and bitterness seem shockingly out of character. There's nothing quaint about bitterness.
I keep asking myself, "all of this fighting over what?'' A dilapidated building that, in my view, is ugly. Yes, the old school building is an eyesore to no less an extent than the old supermarket by the harbor that, hopefully, will soon be razed and replaced with at least some open space.
The school obviously has nostalgic appeal to some. But it's not "historic'' and seems devoid of architectural splendor. Not everything old deserves to be protected. The school building was a tool; its purpose served.
One solution to the school quandary could have been just tearing the old girl down. The town could have preserved the site and enhanced wonderful Central Park with some basketball courts for the kids, or maybe a few more tennis courts or benches, or swing sets. Wouldn't that have been a fitting legacy for the school site? Kids enjoying the old playground? Perhaps that was an option discussed and discarded. [Read more...]
April 21, 2014
(EDITOR'S NOTE: Cape Charles Historical Society has for more than a decade been recording oral histories of the area's earlier days.  A grant from the Virginia Foundation for the Humanities enabled 15 interviews to be transcribed, and the Historical Society has made this one available for readers of the Wave.  All the transcriptions may be read at the Cape Charles Museum.)
David Mitchell speaks April 12, 2001
PART 5
[Audience]: "When you were in the ball club and traveling, did you go on a bus?  Did you sleep on the bus?
Oh yes, we had a bus.  We always had hotels that we would go to stay in.  I had a kind of hairy experience coming out of Upstate New York.  We played up in Utica and Ithaca, New York.  We were coming down from there and what happened, the bus had broken down in New York and we had to hire a limousine to take the team, there were 18 heads.  Coming back, the left front tire blew on this limousine and we were coming down this mountainside.  And the driver hollered, "Don't nobody touch it!"  He was afraid someone would grab the wheel and try to steer it.  We came to a stop right to a guard rail and nobody got hurt, didn't even scar the car or anything, but that was something that lived with me for a long time, because if we had gone over . . . .  There was a 50 or 75 foot drop down there  and I guess all of us could have been killed or get broken bones or something.
We were staying in a hotel in New York on 7th Avenue,  I can remember a young lady that had been down here visiting and all she was talking about was this Glass house in Cape Charles.  It's the house right across from where Raymond Spady lives, that was new at that time.  Somebody described it to her as the Glass House and so she wanted to see it.  So this lady was visiting my friend's girlfriend and this particular night we were going out and I didn't have a date, so they asked me if I would mind taking this girl along.  I said fine.
After taking her out that night, I took her out the next day and showed her the sites, the farm, the houses and different places.  And she enjoyed it so much, that she told me that if I was ever in New York, to please come by and see her.  She told me about her boyfriend and everything. [Read more...]
ON THE TELEPHONE POLE
Voices of the Shore, a benefit performance for the Boys and Girls Club, will be held Friday, April 25, at 7 p.m. at the Franktown United Methodist Church. [Read more...]
The Cape Charles Historical Society will hold its annual Low Country Shrimp Boil on Saturday April 26 at the Cape Charles Museum from 5-9 p.m. April 26 is also Garden Day on the Eastern Shore, a great time to visit. [Read more...]
Sunday, April 27, from 1:30-3 p.m. Blessing of the Worms at New Roots Youth Garden.
Holding an event of interest to the general public in or near Cape Charles? Send an email to
[email protected] and your event will be listed in ON THE TELEPHONE POLE. Events will normally be publicized the same week they occur. Deadline for submission is the preceding Saturday.
The next Science and Philosophy Seminar of the Eastern Shore of Virginia is "Born Between the Bombs" at 12:30 p.m. Friday, April 25, in the Lecture Hall of the Eastern Shore Community College, 29300 Lankford Hwy., Melfa. [Read more...]
CLICK to view poster with full details.
 The Chesapeake Bay Foundation and its partners are recruiting volunteers for the 26th Clean the Bay Day, CBF's annual shoreline cleanup scheduled for Saturday, June 7, from 9 a.m. to 12 noon. [Read more...]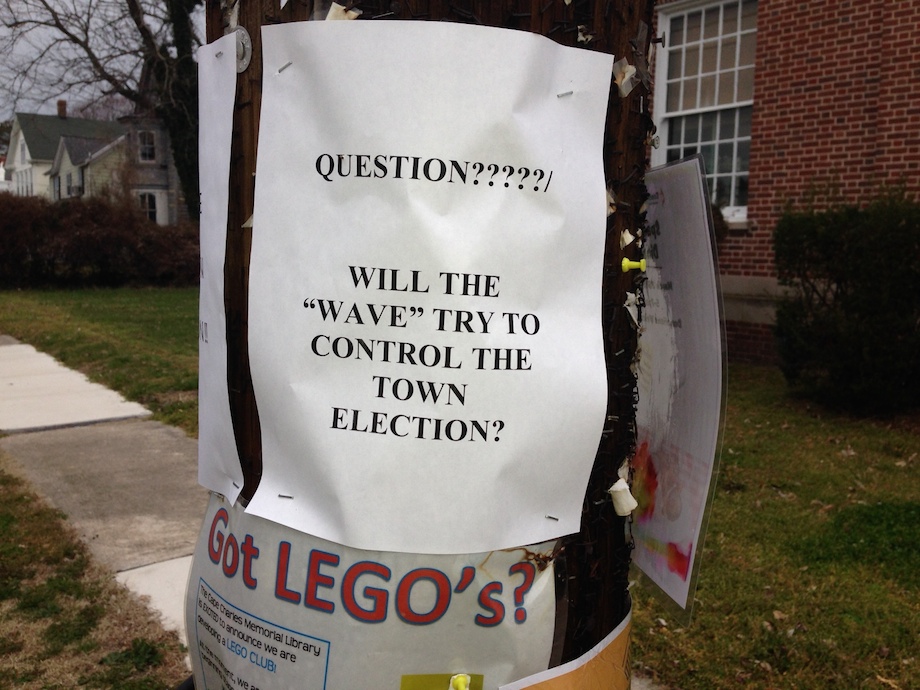 A CAPE CHARLES WAVE EDITORIAL
April 15, 2014
The photo at right of an anonymous poster outside the Post Office asks, "Will the Wave try to control the Town election?" But until now the Wave has been almost silent on the May 6 election for mayor and Town Council. When the eight candidates filed, we published an impartial story listing their names and brief bios. We intend to let the candidates tell their own stories, and invite them to write a few paragraphs on "Why I'm Running for Mayor" and "Why I'm Running for Town Council" to inform our several thousand readers.
But in this hotly contested election there are already signs (pun intended) of manipulation. And not for the first time – the November 2012 special election for a Town Council seat was shamelessly manipulated by the town power structure, taking advantage of the good name of Arts Enter as the "sponsor" of a candidates forum. In fact, assistant town manager Bob Panek masterminded that forum, and although his name did not even appear in the list of volunteers, like the Wizard of Oz behind the curtain it was Panek who selected questions from the audience and decided to whom they would be asked. All the while, he displayed a sign in his yard for candidate Steve Bennett.
In this year's election, Council incumbent Joan Natali was first off the line in blanketing the town with campaign signs, and no one complained. But later when opposition candidates David Gay, Deborah Bender, and Lynn Mitchell-Fields began matching the Natali signs with their own, the town took action, and most of the signs were confiscated by the Police Department under the excuse that they were not allowed in the right-of-way (even in front of private residences). Ironically, Natali was responsible for that town regulation, enacted in reaction to the "Community Center YES" signs of a previous battle.
Next comes the curious question of the "second" candidates forum sponsored by Cape Charles Rotary. Following the town staff's manipulation of the previous forum mentioned above, the non-political Citizens for a Better Eastern Shore (CBES) agreed to host a forum for Cape Charles candidates. CBES has a long history of hosting candidate debates, and most recently held two forums for County Supervisors and School Board candidates in last November's elections. At that time no one seemed concerned that a CBES forum might not be enough. [Read more...]
CAPE CHARLES WAVE
April 14, 2014
Attention Cape Charles voters: Lenora Mitchell-Fields has NOT withdrawn her candidacy for Town Council in the May 6 elections.
The town's official publication, Cape Charles Gazette,  inexplicably omitted Mitchell's name in its April 14 edition headlined "2014 Is An Election Year!"
The story states that "five candidates are running for Council," and then lists five names. But in fact, SIX candidates are running for Council.
Reached at her store, Mitchell was asked by the Wave to guess which candidate the Gazette had left off its list. Her first guess was Deborah Bender, who was once referred to by Mayor Sullivan as the "Barking Bender," perhaps due to her history of public comments at Town Council meetings. But Bender's name was not the one omitted from the Gazette.
Lenora Mitchell has her own history of criticizing the Town when an official injustice has been committed. When the town sold the basketball court, parking lot, and old school to a developer for conversion into apartments, it stipulated that the property could not be made available to low-income residents — despite the developer's intention to receive over $1 million in state and federal assistance for renovating the building. [Read more...]
By DORIE SOUTHERN
Cape Charles Wave
April 14, 2014
Cape Charles Town Council is in the midst of hammering out a $3.2 million budget for the fiscal year that begins July 1. The  projected budget does not increase taxes on real estate or personal property, and utility bills are also projected not to increase. But even though no general tax increase is planned, the budget includes a 2 percent cost of living adjustment for all town employees.
At a Town Council budget workshop April 10, Council member Frank Wendell argued that since the town is paying $10,000 for a wage and compensation study, it should not provide any cost of living adjustment until the study results have been received.
Town Council does want to increase the lodging tax imposed on guests at hotels, B&Bs, and vacation rentals a whopping 23 percent — from the current 3 percent to 3.7 percent. That's in addition to 5.3 percent state tax and 2 percent county tax on short-term lodging, for a new total of 11 percent. The tax increase is projected to generate an additional $19,000 revenue for the town.
The lodging tax would be spent on tourism-related events such as Fourth of July fireworks, Cape Charles Business Association projects, the Historical Society, and the new tourism website Cape Charles By the Bay. A public hearing for the proposed tax increase has been rescheduled for 6 p.m. Thursday, April 24, at St. Charles Parish Hall.