By GEORGE SOUTHERN
Cape Charles Wave
October 21, 2014
Two working days after Cape Charles Town Council shot down the "urban chicken" concept, the brainchild behind the proposal, Town Planner Rob Testerman, submitted his resignation.
Mayor George Proto told the Wave that he learned yesterday (Monday) that Testerman was leaving to accept a "better" job with supervisory authority. Proto stressed that Testerman's departure is on very amicable terms — the town has been very happy with his work over the past year, the mayor said.
Whether Testerman's decision to quit was influenced by Town Council's rejection of his chicken proposal may never be known. Testerman was reluctant to divulge his plans to the Wave before having the opportunity to personally inform his colleagues on Wednesday that he was leaving. He was unaware that the job opening had been posted on the town website within hours of his letter of resignation. No notice was even given to members of Town Council before the job opening was posted.
Applications for the position of town planner are due November 14, and Mayor Proto said he hoped a new planner could be hired by the time Testerman leaves in December. [Read more...]
ON THE TELEPHONE POLE
Like diving into a fresh pile of fall leaves, color your world with ESO Arts Center's   newest classes. Pre-registration is required. [Read more...]
Science and Philosophy Seminar of the Eastern Shore of Virginia has scheduled its next seminar which is called "Secular Religion." The free 90-minute seminar will be held at 12:30 p.m. on Friday, October 24 in the Lecture Hall of the Eastern Shore Community College, 29300 Lankford Hwy, Melfa. [Read more...]
The Chesapeake Bay Foundation will celebrate the tasty traditions of Chesapeake Bay seafood and local farm produce with "Bounty of the Bay, Farm to Table," an evening of outdoor dining, music, and conversation on Saturday, November 1, at Mimosa Farm in Cheriton. [Read more...]
Eastern Shore Spay Organization (ESSO) is raffling a golf cart to help purchase a "Neuter Scooter" for the Eastern Shore. Tickets are $25 or 5 for $100. A maximum of 500 tickets will be sold. Tickets available online at www.easternshorespayorg.com. [Read more...]
Friday, October 24, from 5-8 p.m. is the next Fourth Friday at Stage Door Gallery. Music, food and friends. [Read more...]
American Legion Post 56 will host their annual Halloween Night for Children on Friday, October 31, at the Post in Cheriton. [Read more...]
Trinity United Methodist Church, Cape Charles, will be holding their annual FALL FESTIVAL from 9:30 A.M. – 1:00 P.M. [Read more...]
Holding an event of interest to the general public in or near Cape Charles? Send an email to
[email protected] and your event will be listed in ON THE TELEPHONE POLE. Events will normally be publicized the same week they occur. Deadline for submission is the preceding Saturday.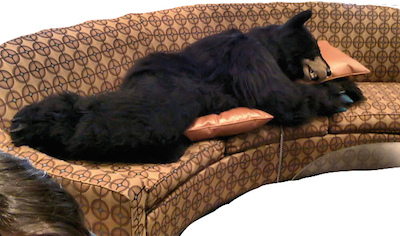 October 20, 2014
The Cape Charles Wave is following the example of Brown Dog Ice Cream by establishing winter hours. The Wave will still publish, but on a reduced schedule.
Readers are invited to continue sending event notices for ON THE TELEPHONE POLE, as well as comments to ANONYMOUS and news to GOSSIP. The CLASSIFIEDS section remains open as well.
LETTERS will be published whenever received, as will COMMENTARIES.
So what's changing? Essentially, what you read in the Wave will now be largely whenever and whatever the public submits, while the regular reporters hibernate.
Our 688 subscribers will continue to receive an email whenever a new story or event notice appears. But our nearly 500 Facebook friends will need to check the Wave on their own, unless there is breaking news.
During hibernation, the Wave archive remains available to all: 1,350 stories to date, which have received over 1 million page views by nearly 120,000 unique readers since July 2012. The average time spent on each of those 1,088,000 page views was 2 minutes 51 seconds, meaning that a total of 51,680 man-hours have been devoted to reading the Wave. That should be enough to make anyone ready to hibernate!
CAPE CHARLES WAVE
October 20, 2014
Cape Charles Town Council spent $25,000 on a chicken study and laid an egg. Council member Chris Bannon provided that cost estimate October 17 at Council's monthly meeting. Although Bannon did not break down the cost, it presumably is a measure of how many hours were spent on the chicken question by Town Planner Rob Testerman over the past year, as well as the cost for legal counsel to review a proposed town ordinance to allow backyard hens under a highly regulated set of conditions.
Although Testerman clearly wanted to see Cape Charles get on board with the nationwide urban chicken movement, Town Council was not convinced, even though the majority of Historic District residents participating in Testerman's survey approved of the concept.
Testerman had earlier presented survey results showing a majority of respondents opposed to backyard chickens. But that survey included Bay Creek residents, who would not be affected since Bay Creek makes its own rules. Council member Sambo Brown wanted to know what residents in the affected Historic District thought, and when the Bay Creek input was removed the results were reversed.
But that didn't stop Bay Creek Council members Steve Bennett and Joan Natali from voting on the question. Bennett earlier had expressed reticence over voting, noting that as a Bay Creek resident he would not be affected personally. But he overcame that hesitation, voting with Natali against the chickens. [Read more...]
October 20, 2014
Peacewerks Center for Well-Being, LLC, announces its opening in Cape Charles at 109 Mason Avenue, Suite A (the former Sullivan's Building).  Peacewerks is staffed by Gerald E. Boyd and Polly Boyd and exists for the support of individuals, families and communities in the continuous achievement of emotional and spiritual balance and the reclaiming of life.
"We are foundationally social entrepreneurs and have opened an office in Cape Charles to share our knowledge capital, inspire hope, and impart to our clients power, permission and potency to build stronger more vibrant families and communities, the Boyds said. "Our agency is firm in our focus on the possibilities for change and we are motivated to be the agents for change made possible through the increased capacity of citizens.
"We envision a world where people and their communities live fully in connection with themselves and each other with zest, peace and well-being. We have a passion for working with diverse populations to facilitate the achievement of the lives they most deeply desire.  We educate the community on issues impacting their survival, renew and preserve families, address the health disparities of women and men and the many groups to which they belong." [Read more...]
The Eastern Shore Oyster Roast is Saturday, October 25, from 4-8 p.m. with proceeds benefiting the Eastern Shore Artisan Trail. If you look carefully on the poster below you'll see there could not be a more appropriate location in the whole world.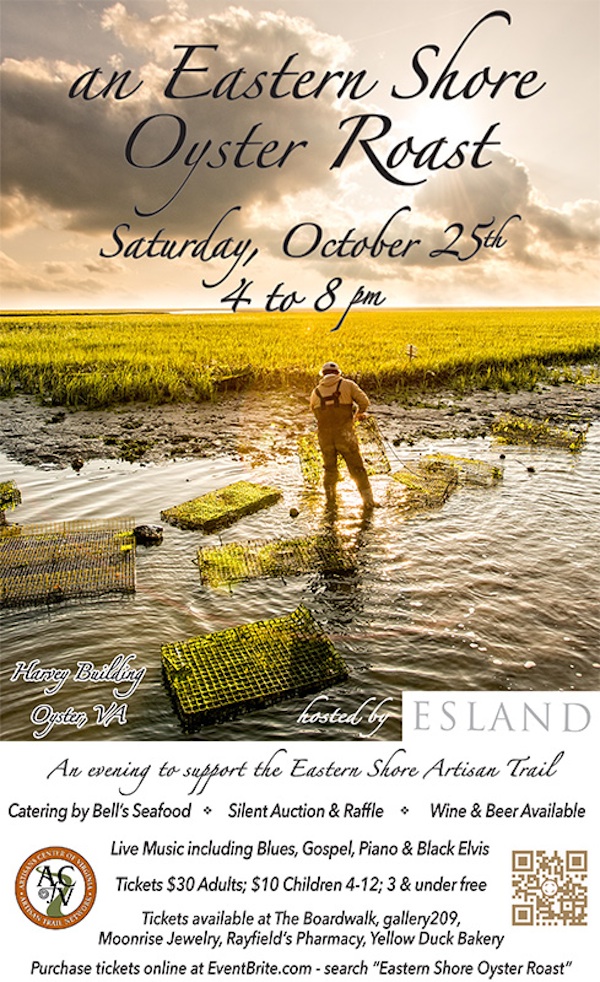 By WAYNE CREED
October 20, 2014
Some have described the Stay Tuned Music Fest on Oct 4 at the Shanty as a flop, or even an epic fail. Even if it was, that's not really a bad thing. Getting in the ring and taking a swing is the most important part — these festival things are hard to predict, and given the limited population and demographic, they sometimes don't turn out as well as we hope.
I know the promoters, and I'm sure they will collect some Lessons Learned, and make some adjustments for next time (maybe move to coincide with Harbor for the Arts, or go old school with Shore Made Music by Shore Made Musicians — then cook up a pig, some crabs or oysters, with plenty of cold beer).
All this aside, there was still something about Stay Tuned Fest that bothered me; as if something was just a bit off. One evening, after a few martinis, staring at the old brick at Kelly's, I realized just what was bugging me: it was that holding the event at that location (new harbor) lacked so much authenticity, and was so typical of the New Cape Charles — that is, to completely ignore the old Eastern Shore ways and arrogantly try to impose some foreign aesthetic in its place.
It also exposes something more indicative, something that weaves itself into the fabric of life in Cape Charles. When you go to Kelly's or the Palace Theatre or the Cape Charles Coffee House, there is a feeling of authenticity, something old and careful, something graceful, yet more importantly, there is a feeling of respect, not meant to replace, but gently restore.
Across at the new harbor, it's as if it's missing a fundamental element. It seems a bit crass, contrived, incongruent, and almost random, a perfect metaphor for the arrogance of the New Cape Charles. Whereas Kelly's is unwilling to ignore its own moral and aesthetic objections in order to have a more comfortable existence, much of the New Cape Charles seems more than willing to sell out and embrace a poisoned bad faith, all for the sake of few soiled rupees. [Read more...]
By ANDY ZAHN
October 20, 2014
PART 5
With so many women working on the war effort, and many had children, there had to be a way to take care of these kids. My town came up with "Child Care Centers," and my mother, being a natural with children, got a job as a Child Care teacher. Now this was amazing since Mom never graduated from 8th grade because her father got killed at work and left a widow with seven kids. The oldest had to quit school and had to find jobs.
I've heard of "horse whisperers" and "dog whisperers" where a person can train the animal through just plain love, and I think some people, especially kindergarten teachers, also have this talent.
After Mom quit school she was playground director in the school she had just left. At times she taught nursery school and in a large federal housing project in California she was in recreation for the teenagers. I saw my mother who was 4′ 11″ just simply clap her hands at a dance of a couple hundred boys and girls and the place fell totally silent. The respect was incredible!
Dad was overseas, and he loved real stinky German Limburger and Liederkranz cheese. The cheese came in a wooden box with about eight half-pound blocks, each wrapped in tin foil, and then Mom wrapped the whole thing securely in brown paper and I took it to the Post Office. They could smell it, and it had to be re-wrapped and then sent. I avoided the kitchen whenever my parents were eating that cheese.
Dad was a stickler about eating. "Eat that fat. I paid 35 cents a pound for that too!" "Clean your dish." We had a deal which was fine for me. Eat everything on your dish, that meant all the veggies, etc., and then you could have seconds on whatever you wanted, which meant steak and chops. Dad couldn't abide people who ate with their eyes or noses. "Taste it. You may like it," and usually he was right. Finally he goaded me into trying the stinky cheese, but one bite was my limit. I said it tasted just like what it smelled like.
Turkey, I got the drum stick. T-bone steak, I got the tail. I thought it was the best part and because they loved me. Only now I realize their teeth couldn't handle it! [Read more...]
By GEORGE SOUTHERN
Cape Charles Wave
October 6, 2014
When Cape Charles Town Council approved a $10,000 employee wage study by Springsted Inc. last February, the Wave publicized the action — and a number of readers reacted negatively to the town's decision. (CLICK to read letter from David Gay: "Town Paying $10,000 for Free Information.")
Apparently wishing to avoid further bad publicity, when Town Council decided to hire the same firm again — this time to search for a new town manager — they did it behind closed doors. The official minutes following the July 31, 2014, executive session (CLICK) refer only to a motion "to hire Springsted Inc. per their proposal for executive search services for the Town Manager position as discussed." The "as discussed" part will forever remain secret, as no minutes are recorded for executive sessions. There will be no explanation, for example, why Town Council chose Springsted or whether any other headhunter was even considered.
State law requires public bodies such as Cape Charles Town Council to do their work in public, where concerned citizens have the opportunity to scrutinize their actions. Elected officials are not even allowed to discuss town business among themselves — all discussion must be in a public forum. The only exception is that two members may have a private conversation — but no more than two. Under the last administration, Council members would make almost daily pilgrimages to Sullivan's Office Supply to confer one by one with the mayor, which was legal.
There are only a few instances when public bodies are allowed to close their doors, and one of them is to discuss personnel matters. But even then, only certain aspects can be kept private — in this case, "Discussion, consideration or interviews of prospective candidates for employment." That's the reason cited for the July 31 closed session. The reason was patently false, however, since there were no prospective candidates at that time.
Alan Gernhardt, staff attorney for the Virginia Freedom of Information Advisory Council, confirmed to the Wave that Town Council's secretive action was illegal: "The personnel exemption would not cover a discussion of the job position and/or hiring a search firm, as the personnel exemption only covers discussions concerning specific individuals," Gernhardt said. He added that a different exemption might have been used (although it was not): "Discussion of the award of a public contract . . . where discussion in an open session would adversely affect the bargaining position or negotiating strategy of the public body" (emphasis added).  It is difficult to see how openly discussing the Springsted proposal could adversely affect the town's negotiating strategy — especially if no competitor was under consideration. Although the town did not apply this exemption, it has improperly done so in the past, when it confused its own interests with those of J. David McCormack, developer of the Old School property. In that instance, Town Council met privately to avoid any adverse impact on the developer. [Read more...]
By DR. NATHAN HIGGINS
October 6, 2014
There are two questions that I generally get when I meet someone new. It's either, "Do you have family here?" or "What brought you to the Eastern Shore?"
The first one is easy; no, we don't have family here. The second is much more complicated and multi-faceted. From the moment we stepped on the Shore in April 2013, we found the contrast to our usual hustle and bustle to be so refreshing. Northampton County was filled with unobstructed charm along with caring people who took the time to get to know us.
We saw an exciting small town community that was growing steadily while keeping a safe, family atmosphere. But we were astounded to hear that there was no veterinary clinic in the county, and to learn how far people were traveling for pet care.
After only a few visits to Cape Charles, my wife Wendy and I knew this is where we were being called to be. Our children were at the perfect age, and Wendy could write from home, so we decided to chase our dream to the water.
I'm looking forward to the opening of my new clinic in Cape Charles and can't wait to be of service to the community. Most people think the vet is just there to give shots, but vaccinations are only a small part of my job. We will be a full service hospital, able to perform surgeries, x-rays, and provide medical care for sick patients. [Read more...]
CAPE CHARLES WAVE
October 6, 2014
Last week former mayor Dora Sullivan closed her office supply store at 109 Mason Avenue, which had been the informal "town hall" for eight years. She had announced her retirement concurrent with stepping down as mayor last July, but kept the shop open until it could be sold or rented.
Meanwhile, Realtors Lynn Gray and Melanie Brown had closed their Eastern Shore of Virginia real estate office just up the street and joined Long & Foster in Onancock. That's when L&F listings started appearing on For Sale signs in Cape Charles.
Business must be good, because Long & Foster now has leased the Sullivan's storefront. No more trips to Onancock will be necessary.
Mason Avenue has somewhat of an incestuous working relationship. One of the principal agents at the new Long & Foster agency at 109 Mason is Betty Lou Charnock, fresh from Coldwell Banker Harbour Realty of 205 Mason — which, coincidently was formerly the address of Gray and Brown's Eastern Shore realty office.
Meanwhile, a little further up the street at 225 Mason, Gray's husband Chip Watson holds forth at Watson's Realty and Watson's Hardware. Right next door to him is Melanie Brown's husband, Tim, who will "Hook U Up" with gourmet sandwiches and pizza. [Read more...]