By KAREN GAY
Cape Charles Wave
February 2, 2015
The Oyster Farm Seafood Eatery is coming to Cape Charles, part of a newly branded complex called The Oyster Farm at Kings Creek. If you're thinking that the name Kings Creek is familiar, you're right!  This is the new name for the Aqua Restaurant and the Kings Creek Marina.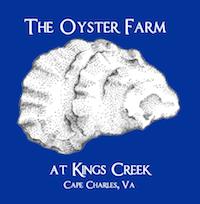 Big changes are underway to the restaurant, marina, weddings and event center, and villas. The plan is that rebranding will bring many more people and especially families with children to Cape Charles this coming season and afterwards.
So what's with the Oyster Farm concept? Marketing consultant Hope Lawler explains that Robert Occhifinto, who bought the property two years ago at a foreclosure auction, plans to create a very large oyster farm. Oyster cages measuring 20 inches in diameter and 6 feet long, each with 10 compartments, will be suspended from the sides of the docks. The oysters they produce will be called "Kings Creek Salties."  The idea is to have an interactive, festival-like environment right on the docks with raw oysters available to eat, hands-on demonstrations of oyster growing, oyster shucking, shucking contests, oyster bakes, BBQs, and bands. [Read more…]
By GEORGE SOUTHERN
Wave Columnist
April 27, 2015
A little shy of two years ago, Eastville resident and Wave student journalist Sarah Gollibart wrote an article entitled "Eastville Inn Rises Again." It went on to become one of the Wave's most-read stories of the year, so I know that a lot of folks are interested in the Eastville Inn.
But after the Inn shut down again on March 24, I started wondering, just what does it take to run a successful restaurant on the lower Eastern Shore? If the Eastville Inn can't make it, who can – and how?
The Eastville Inn is a good case study because on paper at least it has so much going for it. Start with a historic building (c.1724) in a quaint town. Add proximity to the courthouse and county seat government center. Top it off with a talented chef/owner (Brent Schmidt) who bent over backward to make his venture special and inviting.
So what went wrong? The quick response might be that Chef Schmidt's nouvelle cuisine wasn't the local clientele's cup of tea – either in taste (light), portion (small), or price (high).
But wait a minute – those were some of the same causes attributed to the Eastville Inn's failure two iterations earlier.  Following that shutdown, a local team converted the Inn's format to kind of an upscale Exmore Diner. But that didn't work either – the former clientele didn't like it, and the hoped-for new customers stayed at Yuk's.
So I'm thinking that the Eastville Inn's woes are not of its own doing but rather reflective of the whole lower Shore. This is a tough market! Follow me up Route 13 and see what I mean. [Read more…]
By WAYNE CREED
Cape Charles Wave
April 20, 2015
The Northampton Board of Supervisors approved the FY 2016 budget April 14, which included a $320,000 increase in school funding as well as a 2% cost of living increase for county workers. To accommodate these increases, staff and operations cuts have been put in motion, including the elimination of one county building inspector, and a code enforcement official reduced to part time status.
There will be a tax rate increase, but the Board kept it to less than 1 cent ($0.6805) per $100 of the assessed value for real estate. Personal property taxes (including aircraft) will be raised to $3.90 (up from $3.85) per $100 assessed value. The vote to approve the budget was 4-1, with Supervisor Oliver Bennett voting no as show of protest against cutting county jobs (just prior to an election cycle).
Although the budget approval was the most pressing part of the agenda, real estate and special use permits for several high profile projects took front and center. At the forefront were two projects by Eyre Baldwin. The first was for a Conference Center/Retreat at the barns of the historically restored Mimosa Farm. The retreat plans to have up to 10 guest rooms. The parcel is currently zoned Agricultural/Rural Business and sits on over 17 acres of land. Cela Burge of the law firm Turner and Turner, representing Baldwin, told the Board that "using the barn meets the goals of the Comp Plan, is a low-impact special use, and is a quality rural business." She said that "we have gone as far as we can go on this project" without approval from the Health Department, but in a "chicken and egg" scenario, the Health Department would not do anything until there was an approved use for the parcel.
During public comments, Elizabeth Dodd of the Northampton Chamber of Commerce said, "This will bring vendors and business to the county . . . bringing in people from outside the county; this is an historic venue that will be perfect for hosting distinctive events."
"There has been a crying need for a product of this nature," added Joan Prescott of Eastville. "This is an adequate and lovely facility . . . travel and tourism will benefit from this lovely property . . . it will bring in high quality, low-impact groups."
Carol Evans of the Chamber said, "This property has been impeccably, historically restored . . . it will add to our tax base, and is the kind of sustainable business we need in the county . . . that will respect our historic environment."
Applicant Baldwin stated that he and his companies have been trying to bring opportunities to Northampton County, but were always being told by the county to hold off. "Over the years, we have spent $10 million to get things done here . . . and yet, we are always told to just wait, that the county is going to change the zoning. We are in such a time, we need to get things done with a 'Yes.' It hurts the little guy, the guy that wants to make a hustle parking cars or shucking oysters . . . it hurts local planners and photographers and musicians. How can we learn to say yes? Help me, help you save the economy." [Read more…]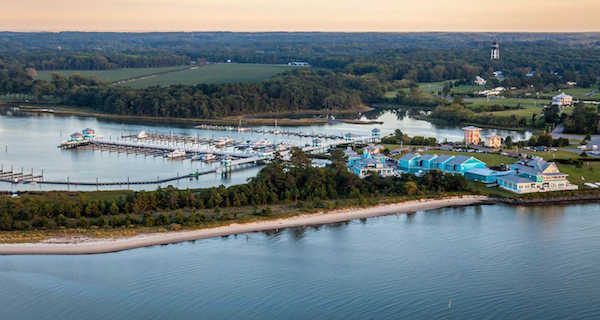 March 4, 2015
When the Wave broke the news that Aqua Restaurant was being renamed The Oyster Farm at Kings Creek, the story quickly became the most read of the year. Everyone was interested to hear about the changes — although the majority of commenters turned thumbs down on the new name. Now the restaurant has launched, heralded by the magnificent photo above. CLICK for the Oyster Farm website, which includes new menus for the renamed restaurant.
The Chesapeake Bay Foundation will celebrate the tasty traditions of Chesapeake Bay seafood and local farm produce with "Bounty of the Bay, Farm to Table," an evening of outdoor dining, music, and conversation on Saturday, November 1, at Mimosa Farm in Cheriton.
Enjoy a five-course meal prepared by classically trained local chef Amy Brandt, meet Eastern Shore farmers and learn about their Bay-friendly farming practices, and tap your toes to live bluegrass performed by the Chair Place Players. In addition to such delicious local fare as oysters, rockfish, and vegetables, the 5 p.m.-8 p.m. event also will offer a critical reminder of the necessity of clean water and a thriving Chesapeake Bay. [Read more…]
By CLARICE MACGARVEY
Cape Charles Wave
February 3, 2014
If your palate enjoys surprises, put Chef Brent Schmidt and the Eastville Inn on your dining radar. The historic Inn, built in 1724, began life as a roadside Coach House in Colonial times, offering overnight accommodations as well as dining for travelers.   Today, the sprawling hotel bedrooms located on the upper story of the Inn are closed.  The primary floor, consisting of a large main dining room, a smaller, more private dining space, and a cozy lounge, is very much open—providing an upscale dining experience that is rare on the Eastern Shore.
Chef Schmidt, a native of Hampton Roads with strong family ties to the Shore, took over this landmark facility in June 2013, updating the décor and adding high-top tables, a bar, and bar seating to the rear lounge overlooking the Colonial herb garden.  The lounge area previously served as a display room for artifacts found in or near Eastville, showcasing the Shore's legacy as one of Virginia's earliest shires. The artifacts can now be viewed in the spacious entry hall, making space in the lounge for a comfy sofa and chair for chatting or enjoying a pre-dinner cocktail.   The Inn's bar serves a full range of popular cocktails and specialty martinis (try the Flirtini or Spiced Pear) along with champagnes and some very nice wines from Australia, Italy, New Zealand, Argentina, California, and the Shore's own local winery, Chatham Vineyards.
As an historic landmark, on the National Register of Historic Places, the Inn must maintain authenticity in specific areas of décor and structural detail.  This includes draperies and wall paint color tones.  Schmidt has added counterpoint to the Inn's soft yellow walls with rich burgundy table linens and a collection of nicely hung art by local artists.  With the warm wood flooring and pristine white molding and support pillars, the dining room fully evokes Southern hospitality.   And the friendly, well-trained staff delivers on that promise.
I have been to the Inn multiple times, and on each visit have discovered a new taste sensation. Schmidt is a talented and imaginative chef with a real knack for unexpected flavor pairings, including his soup and appetizer creations.  On my last visit, a chilly Saturday night in mid-January, the soup du jour was "Loaded Potato," a rich and hearty blend of potato, apple wood-smoked bacon, corn, and spinach.  It was pleasantly seasoned, appropriately thick and creamy, and topped with Cheddar-Jack cheese and sour cream.  Also popular is Schmidt's "not so traditional" French Onion Soup, with a unique base that delivers a nice flavor twist. [Read more…]
By CLARICE MACGARVEY
Cape Charles Wave
January 21, 2014
Chef Timothy Brown of Hook-U-Up Gourmet has ambitious culinary goals. He intends to elevate the level of dining on the Eastern Shore, and establish some new benchmarks for quality and good taste, both locally and region-wide.
A talented and innovative chef, Brown's credentials include teaching at the Culinary Institute of America and operating the 5-Star restaurant, Myriah's at Tower Hill.  He opened Hook-U-Up, a gourmet dine-in/take-out café-style restaurant, in April 2012, and began introducing Bistro Tuesdays, a more upscale dining experience, this past November.
My first visit to Hook-U-Up Gourmet's Bistro Tuesdays event indicates that Chef Brown is taking the right approach, and that there is plenty of great dining ahead for epicureans living on, or visiting, the Shore.
Located at 227 Mason Avenue in downtown Cape Charles, the venue is small and intimate, with only six tables at the front. The kitchen is within view.  My companion and I arrived at 7:30, and although the dining space was packed, our server, also named Tim, seated us and took our drink orders right away.  My first surprise was finding some of my favorite wines listed at very reasonable price points.  The bottle of Hess Select Chardonnay we enjoyed, for example, was only $22.
For appetizers, my companion ordered the Salmon Mousse served with chopped egg, red onion, and crème fraiche.  It was so creamy and delicious, I couldn't keep my fork away, even though I had a lovely appetizer of my own: Sauteed Local Crabmeat en bouchee, finished with sherry, butter, and country ham. [Read more…]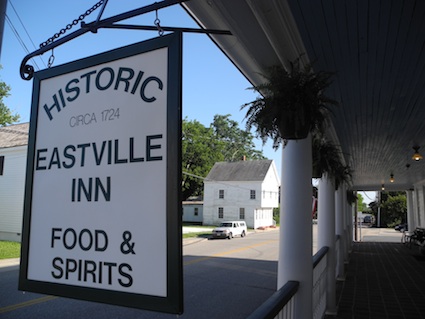 By SARAH GOLIBART
Cape Charles Wave
June 22, 2013
As an Eastville native, I have seen the Eastville Inn change hands several times. And long-time Eastville resident Ralph Dodd says he's seen the Inn run by "six or more" people during the time he's been around. Different tastes and visions have passed through the Eastville Inn as quickly as flipping through the pages of a book.
And now the Eastville Inn has another new owner: Brent Schmidt, who until recently was owner-chef of Brent's Fine Foods in downtown Hampton.
Schmidt is returning the Eastville Inn's menu to offer upscale dining, after the last proprietor's unsuccessful attempt to attract a larger clientele with diner-style food.
Ralph Dodd, whose real estate office is a short walk from the Eastville Inn, pronounces the food at the reopened restaurant as "very good."
"It looks sharp inside," Dodd adds.
Dodd sees the inn as  a valuable asset to the Town of Eastville, especially considering its historical background. The Inn dates to 1724.
Despite some changes over the years, the building still holds its antique charm and has attracted both locals and passersby with its promise of a great bite to eat. [Read more…]