#15 Story


Town Says Pound Net Would 'Eliminate' Fun Pier Fishing
Cherrystone Campground Also Affected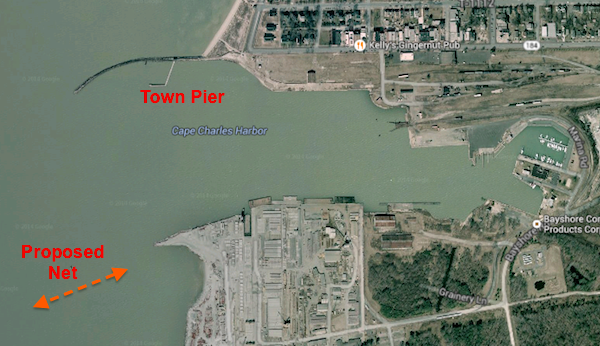 CAPE CHARLES WAVE
June 23, 2014
The Town of Cape Charles has reacted strongly to applications to place pound nets in the Bay near the Town Fun Pier and near Cherrystone Campground. The pound nets "would directly eliminate the supply of fish" to the Cape Charles Fun Pier and to the Cherrystone piers, according to a letter to the Virginia Marine Resources Commission signed by Mayor Dora Sullivan.
The letter names four reasons why the pound net application should be denied:
– Recreational Fishing: Thousands of people visit the Fun Pier annually, and the pound net would "eliminate" the supply of fish to the pier.
— Environment: The pound net would likely use old telephone poles treated with creosote. "We don't understand why this is allowed," the letter states.
— Safety and Health: A fishing vessel next to the Federal Channel could hinder safe navigation, and seagulls attracted to the catch could hinder operations at Bayshore Concrete Products.
— Tourism: Issues cited above, as well as additional flies, "could cause the harbor and beach areas to become undesirable to the point that our visitors may not return."
The letter also complains that the VMRC did not notify the Town of the application. By the time the Town found out, the 30-day comment period had ended.
Applications for pound nets require an advertisement in a local newspaper, followed by a 30-day period for public comment. The advertisement apparently was not noticed by town officials, and no other notice was received.
CONTINUED FROM FIRST PAGE
On May 8, Edward H. Bender of Cheriton applied for a license to locate a pound net 75 feet northeast of Cape Charles City Range B Front Light 8. The application requires notice to be mailed to all property owners within 500 feet of the proposed net. The description of the location indicates that the only property owner within 500 feet is Bayshore Concrete Products.
Bender has also applied to site a 925-foot pound net southeast of Cherrystone Channel Light 2C. The town letter states that "although this net has more impact to our neighbors, Cherrystone Camping and RV Resort, it will have a lot of the same effects to Kings Creek as the other net has to the Town Harbor. Cherrystone Camping and RV Resort has three fishing piers available for their customers and placement of this net would also eliminate the supply of fish to Cherrystone's piers."
The town is asking VMRC to deny both permit applications. "In the future, please consider notification to the affected localities regarding permits that would directly impact the localities, their residents and visitors," the letter concludes.
The letter was copied to Lt. Gov. Ralph Northam, State Sen. Lynwood Lewis, and Delegate Robert Bloxom.
CLICK for town letter to VMRC.