#1 Story


Aqua Restaurant Becoming Oyster Farm Seafood Eatery

By KAREN GAY
Cape Charles Wave

February 2, 2015

The Oyster Farm Seafood Eatery is coming to Cape Charles, part of a newly branded complex called The Oyster Farm at Kings Creek. If you're thinking that the name Kings Creek is familiar, you're right!  This is the new name for the Aqua Restaurant and the Kings Creek Marina.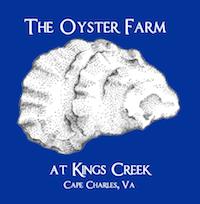 Big changes are underway to the restaurant, marina, weddings and event center, and villas. The plan is that rebranding will bring many more people and especially families with children to Cape Charles this coming season and afterwards.
So what's with the Oyster Farm concept? Marketing consultant Hope Lawler explains that Robert Occhifinto, who bought the property two years ago at a foreclosure auction, plans to create a very large oyster farm. Oyster cages measuring 20 inches in diameter and 6 feet long, each with 10 compartments, will be suspended from the sides of the docks. The oysters they produce will be called "Kings Creek Salties."  The idea is to have an interactive, festival-like environment right on the docks with raw oysters available to eat, hands-on demonstrations of oyster growing, oyster shucking, shucking contests, oyster bakes, BBQs, and bands.
CONTINUED FROM FIRST PAGE
The Oyster Farm Seafood Eatery's menu will be changing with the help of Chef Shelly Cusmina, who is developing new recipes with lower prices while still keeping some of the existing favorites like Thai Shrimp. The new concept plans to draw in more families with children as well as seniors, business people, and wedding parties. The goal is to be welcoming to all and provide fresh local water-to-table cuisine.
Changes to the Eatery will include 10- and 20-foot long fish tanks and a tank with fresh lobsters and crabs in addition to an oyster bar.
Speaking of bars, they will have several new cocktails including an oyster bloody mary and an oyster martini that comes with a fresh oyster and a pearl in the bottom of the glass.
The staff will wear cobalt blue polo shirts emblazoned with their new logo. The Eatery will also provide picnic baskets for guests who prefer to go boating or hiking, or just wish to eat on the beach.
Two new villas will be added, bringing the total to eight rental units ranging from one to four bedrooms. The villas are geared to providing the comforts of home to yachtsmen calling at the marina, but are available to landlubbers as well.
The existing Event Center will continue to host wedding celebrations and other festive events. There are several large spaces available with the biggest being able to hold up to 300 people.  There is also room for cocktails and hors d'oeuvres in the upstairs loft or out on the new deck overlooking the beach. With the addition of a large beach side tent in the front of the complex it is possible to hold up to two weddings and other events simultaneously.
Existing marina amenities include paddle boards, bicycles, kayaks, golf carts, a small swimming pool, showers,  a laundry, and bathrooms, making the marina a very viable alternative to the Cape Charles Town Harbor. Planned additions include volleyball nets,  fire pits, and other outdoor activities.
Future area changes include the upgrading of the Kiptopeke Inn to mid-priced lodging and an 80-room hotel built right on the Oyster Farm grounds.