By DORIE SOUTHERN
Cape Charles Wave
March 10, 2014
"If written properly, a backyard chicken ordinance is feasible for Cape Charles. It boils down to whether or not the Town wants it," Town Planner Rob Testerman told the Planning Commission March 4. Commissioners agreed that Testerman should draft a suggested ordinance to allow keeping backyard chickens under controlled conditions. At present, the town's ban on agricultural activities in residential areas contains no exception for chickens.
"Backyard (urban) chickens are allowed in residential districts in various localities across the country, state, and Eastern Shore, from city settings such as Madison, WI; Chicago, IL; and Brooklyn, NY; to small rural towns like Onancock, Chincoteague, and Eastville," Testerman reported. "They are allowed on lots as small as 3,000 square feet, or in some cases the minimum lot is much larger," he said. Two towns that do not allow backyard chickens are Exmore and Wachapreague, he noted. [Read more…]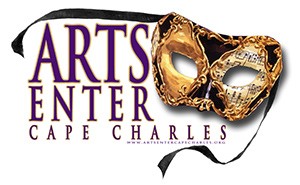 March 10, 2014
DEAR EDITOR,
We are writing to provide an update on some changes within the Stage Door Gallery, the visual arts facet of Arts Enter Cape Charles. From our humble beginning on Strawberry Street 14 years ago, to our growth into the beautifully renovated space on Mason Avenue in 2007, the gallery continues to shine thanks to our dedicated patrons, artists, and volunteers.
However, it is with sadness that Arts Enter has accepted the resignation of gallery manager Ellen Moore. Both she and her predecessor, Ebba TinWin, were instrumental to supporting the gallery's role in the community. [Read more…]
EDITOR'S NOTE: The following editorial is reprinted by permission from the Citizens for a Better Eastern Shore newsletter, ShoreLine.
March 10, 2014
Those who read ShoreLine regularly know that we've taken a strong interest in Northampton County's revision of its zoning ordinance. The editorial board is unanimously agreed that the ordinance needs revision — and we're unanimously agreed that the County's conduct of that revision has been so poor that it has raised the spectre of embarrassing legal action.
What's been wrong with the process? First, the public has been effectively shut out. There has been no informed public involvement in developing the revision. The so-called public information meetings on the draft revision held in December were virtually meaningless because no presentations actually informed the public about the draft ordinance. Maps were displayed and staffers, available to answer the public's questions, were more than willing to expound upon minor details. This process tended to obfuscate the real changes. In fact, without substantive information, it was hard to know what questions to ask. [Read more…]
By WAYNE CREED
March 10, 2014
It was reported in an opinion piece last week in the Wave that the 501(c)(3) Eastern Shorekeeper has decided to enter the fray over proposed Northampton County zoning issues, essentially using a petition and a veiled legal threat to force County Supervisors to follow the "intent" of the Comprehensive Plan. I understand the trepidation, but attempting to tie officials to a document that is outmoded the day it is completed does not seem like an effective approach.
Although required, Comprehensive Plans are only a guide, and the State does not require land use and zoning decisions to be based on, or even consistent with them (they carry no legal intent). They are inherently too old, too ignored, or too irrelevant to ever be of any practical use — attempting to apply them to dynamic systems is the ultimate exercise in futility. [Read more…]
March 10,  2014
(EDITOR'S NOTE: Cape Charles Historical Society has for more than a decade been recording oral histories of the area's earlier days.  In 2006, Bill and Jan Neville interviewed the late Capt. Bill Evans. A grant from the Virginia Foundation for the Humanities enabled 15 interviews to be transcribed, and the Historical Society has made this one available for readers of the Wave.  All the transcriptions may be read at the Cape Charles Museum.)
Excerpts from a March 31, 2006, interview by Bill and Jan Neville of Ferryboat Capt. Bill Evans and his wife, Grace. 
PART 5
I don't know if this is right or not, but I call the Pocahontas, the Princess Anne, the DelMarva, I call those the ferries.  And then the Elisha Lee and the Virginia Lee and the Maryland, I called them steamers.  But I guess they are all technically steamers. I thought these were diesel engines and that they didn't run on steam.  Were they coal fired? [Read more…]
"As Time Goes By," a discussion on how our perception of time changes as we age, will be presented 12:30 p.m. Friday, March 14, in the Lecture Hall of the Eastern Shore Community College, 29300 Lankford Hwy., Melfa. [Read more…]