#10 Story
GOODBYE WAVE, WAVE GOODBYE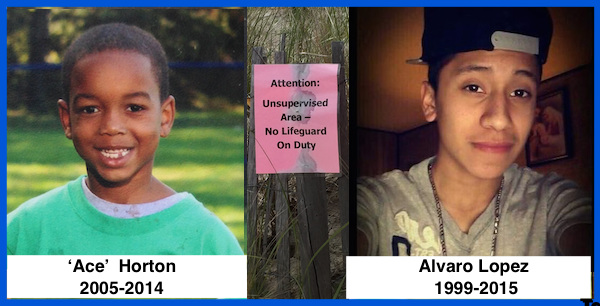 CAPE CHARLES WAVE
June 29, 2015
In last Monday's edition (which broke all readership records – over 7,000 page views in one day) the Wave had the sad task of leading the page with news of another drowning off Cape Charles Beach – a tragic death that competent town leadership could have avoided.
Anyone could have seen that drowning coming, and of course many did. The former "safe" beach has become a death trap now that newly pumped spoil has brought the beach close to the once-distant Cherrystone channel and its sudden drop-off and swift tidal currents.
Three months ago the Wave drew attention to the town's failure to acknowledge the dangerous beach when we wrote: "A 'special edition' of the Cape Charles Gazette purports to tell everything you ever wanted to know about the harbor dredging/beach improvement. We learn what color the sand will turn, and whether it's safe to walk on the beach. What isn't mentioned is whether it's safe to go in the water — specifically, are there dangerous drop-offs now that the beach extends so close to the channel? The town isn't telling. (April 1, 2015)"
That same Gazette mentions that the town annually budgets $20,000 for beach sand replacement, but with the free spoil, that cost will now be saved. Yet last Saturday's Eastern Shore News quotes town officials as saying that hiring lifeguards would be too expensive and too complicated.
CONTINUED FROM FIRST PAGE
That same news story quotes officials as saying that a safety line and rope floats have been ordered and should arrive "any day." But the float line will not be installed until approval comes from the Virginia Department of Game and Inland Fisheries.
That sounds very much like the recreation director's report submitted to Cape Charles Town Council back in May, which stated: "The paperwork is almost complete to submit to DGIF. Once they review and approve, we can start on placing the swim area."
Mr. Mayor, take a lesson from Rudy Giuliani following 9/11: be a leader. Order that float line to be installed immediately and get the DGIF approval retroactively. If you can't provide a safe swimming area before July 4, then resign. The buck stops with you.
And speaking of resigning, we now announce that our three-year effort to produce a real newspaper for the Town of Cape Charles is ending. As the saying goes, the great thing about banging your head against the wall is that it feels so good when you stop.
Because we have dared to reveal coverups and to print the sometimes ugly truth about town and county politics, we are branded by our detractors as a source of "biased and inaccurate reporting" — code language for printing the news they don't want told.
The Wave has always tried hard to get the facts straight, and when we make a mistake we correct it as quickly as possible. But there seems to be a great deal of confusion about what constitutes factual reporting and what is opinion. A "straight news" story should present the facts and let the reader draw his or her own opinion, while an opinion column allows the writer to state his or her own ideas.
For example, when we asked the owner of the Shanty restaurant why he publicly called Wave reporting "biased and inaccurate," he cited a SHORE THING opinion column that described the Shanty's arrangement with the Town of Cape Charles, which owns the land the restaurant occupies, as a "sweetheart deal." When we pointed out that that was an opinion, not a news story, he replied that should we wish to express any further opinion about his restaurant, we should contact him first. And then he pulled his advertisement from the Wave.
Upon moving to Cape Charles five years ago, the last thing on our mind was publishing a newspaper. That was before we learned early in 2012 of plans to give away the old school in the park to a developer to convert it to an apartment building. Then we learned that it was a no-bid deal, a local group pushing for a community center was rebuffed, the developer got a 75 percent discount on utility hookup fees, the town enacted illegal spot zoning, shut down the basketball court, and on and on — including no water bill to the developer to this day.
It all motivated grass-roots resistance, briefly led by a former longtime Eastern Shore reporter for the Virginian-Pilot who became president of the Old School Cape Charles group. When we learned that she wanted to start a town online newspaper we signed on, and the Cape Charles Wave began publication in July 2012.
The premise of the Wave was that if townspeople really knew what was going on, they would do something about it at the ballot box. That had proved somewhat to be the case in May 2012 when none of three incumbents on Town Council was re-elected. But fate was not on our side, with the untimely death of Don Clarke before he could even be sworn into office. Another winning candidate, Tom Godwin, turned out to be a huge disappointment, choosing always to vote with the majority. That left Frank Wendell the sole opponent of the Council's many inexplicable and sometimes illegal actions.
The Wave reported it all, and the past three years' stories will remain online indefinitely as a record of our attempts to expose incompetence and malfeasance.
We hope the Wave will also be remembered for its many positive features, such as the delightful series of visits to local farms described in THE ALTERNATIVE TABLE by Karen Gay or the oral histories compiled by Cape Charles Historical Society.
We considered shutting down the Wave following the May 2014 elections, when all three of the candidates we supported were soundly defeated. But our supporters somehow convinced us to keep it going. This second drowning death was the catalyst that caused us to finally give up completely. Shining a spotlight on poor town leadership has accomplished nothing but to antagonize those who prefer to be ignorant, so we quit.
But our detractors should be careful what they wish for. Before they drink too much celebratory champagne they should be aware of the sobering fact that our erstwhile reporter Wayne Creed, the Jon Stewart of the Eastern Shore, is not quitting. As the Wave sinks into the sand, the Cape Charles Mirror has been born, and with Creed at the helm may prove to be a Wave on steroids. Read Creed's column in the Wave from last September, "Drowning Might Have Been Prevented."  If Creed were mayor (he ran against Dora Sullivan in 2010), two drownings might now have been prevented.
A prominent local investor complained to Town Council, "it's really hard to wake up on a Monday morning, wondering what's going to [be in the Wave]." Now that investor can wake up and look in the Mirror.
Meanwhile, as we fold our tents and retreat, we would like to dedicate a little traveling music to the Cape Charles Town Council and the Cape Charles Business Association. CLICK to listen.