#14 Story


INTERSECTION: What the . . . ???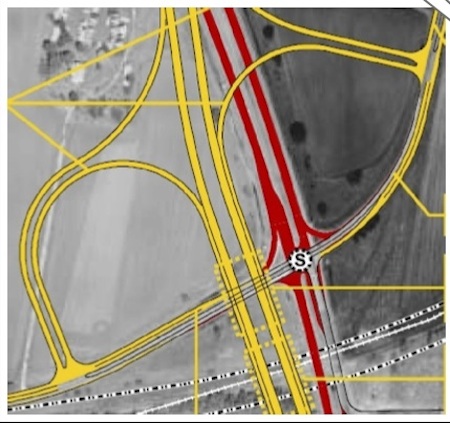 CAPE CHARLES WAVE
May 11, 2015
Resembling ancient symbols in the sand, the array of lines at right depicts a proposed Los Angeles-style reworking of the intersection of Stone Road and Route 13 — Cape Charles's only traffic light (at the sign of the "S").
Northampton Supervisor Granville Hogg dubs it "a million-dollar fix for a hundred-dollar problem."
The red lines show the existing Route 13 including ramps to Stone Road and S. Bayside Road. The yellow lines show a proposed Route 13 relocated to the west with two half-cloverleaf interchanges. The dotted yellow lines signify bridges over Stone Road and the railroad tracks.
VDOT will be in attendance at the Tuesday, May 12, Board of Supervisors meeting, where public input may be voiced at the 7 p.m. session.