TIGER BEETLE HABITAT


Bay Creek Beaches Must Be 'Left to Nature'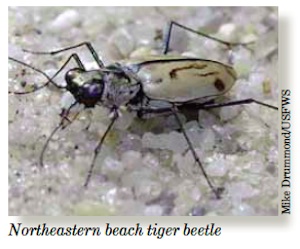 CAPE CHARLES WAVE
September 2, 2014
The lowly Northeastern beach tiger beetle, a threatened species, has won out over Bay Creek beach goers — with the help of the U.S. Fish & Wildlife Service.
The Bay Creek Homeowners Association used to rake the Bay Creek beaches to remove whatever washed up with the tide, such as seaweed, grasses, and the like — just as Cape Charles does at the town's public beach. But the raking, especially with a tractor, is highly damaging to the Northeastern beach tiger beetle, whose habitat has been reduced to two areas: Martha's Vineyard in Massachusetts and some relatively undisturbed beaches on the Chesapeake Bay.
That counts out the town public beach, where the tiger beetle gave up long ago. But the Bay Creek beaches, having become frequented by people only in recent times, still host the tiger beetle. So the beaches at Bayside Village and at The Colony/Kings Bay have been designated by the F&WS as tiger beetle habitat and may not be disturbed. 
"This means that the beach must be left to nature with the exception that human pedestrian traffic is permitted, as well as the hand removal of glass, metal, plastic, etc. In years past the beach at Bay Creek was mechanically raked and maintained. This practice was suspended when the F&WS Enforcement branch placed the management of the Home Owners Association on notice that cleaning the beach is a violation of law subject to criminal prosecution and heavy daily fines for continued violations," the Bay Creek HOA reported to its members in August.
CONTINUED FROM FIRST PAGE
For almost three years, the HOA worked with F&WS on creating a Habitat Conservation Plan that would allow some raking of the beaches. According to the HOA, the plan would have allowed raking in return for "mitigation" in the form of construction of additional breakwaters to the south of the existing ones to help prevent beach erosion.
But HOA engineers estimated the cost of the breakwaters at $1.5-$1.75 million. Additionally, the HOA would be required to add sand as needed to protect the tiger beetle's habitat. And the HOA would have to pay for annual studies to determine if the habitat was being maintained. In return, F&WS would allow hand raking of close to a mile of shoreline, but only from mid-July through August each year.
That was paying too much to get too little, the HOA determined, and so has announced to its members that it has given up on getting permission to rake the Bay Creek beaches.