#8 Story


Bay Creek Lots, Lighthouse Go for Pennies on the Dollar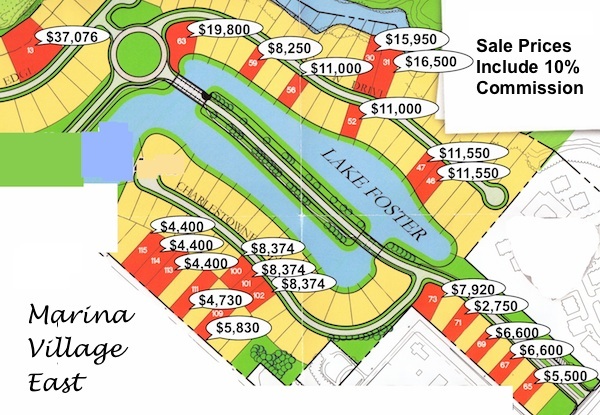 By GEORGE SOUTHERN
Cape Charles Wave
June 2, 2014
The iconic Bay Creek lighthouse, a full-scale replica of the historic Old Plantation Flats lighthouse, sold at auction Saturday for $137,500 to the sole bidder, John Waller of Virginia Beach. Waller said he did not attend the auction with the purpose of buying the lighthouse, but when no one else bid, he did so on a whim. He and his family will use it as a "getaway."
An additional 22 lots in Bay Creek Marina Village East owned by Paul and Robert Galloway also sold at auction for prices ranging from $2,750 to $37,076, for a total of about $200,000 for all 22 lots. At the height of the market eight years ago a single lot sold for more than that.
Built by Bay Creek developer Richard "Dickie" Foster as a museum in 2004, the lighthouse was never intended to be sold. Instead, it was a visual feature of Bayside Village and the Arnold Palmer golf course. But Foster gave up the lighthouse as part of a December 2013 settlement with his former business partner Paul Galloway.
CONTINUED FROM FIRST PAGE
According to Galloway, the settlement provides him (and subsequent owners) access to the lighthouse through the gated entrance to Bay Creek South, even though the lighthouse is no longer part of Bay Creek. That means the lighthouse owner could drive through the Bay Creek gate without having to pay the monthly $155 homeowners association fee.
The original 1886 lighthouse was built as a place to live, and the reproduction is true to the original, with the exception of the addition of heating and air conditioning. But there is no plumbing. According to information provided at the auction, water and sewer hookup could be accomplished for about $24,000.
The 22 lots that sold in Marina Village East were the final Bay Creek real estate holdings of the Galloway brothers, each of whom until recently also owned a large home in that subdivision. Aqua Restaurant owner Robert Occhifinto has purchased both Galloway houses for use as vacation rentals.
Marina Village East is the least developed section of Bay Creek, and does not even have a gate to limit access. A few "seed" houses were built by the developers: Paul Galloway's former house on Charlestowne Drive, Robert Galloway's former house on Bridgeton Drive, and Bay Creek official Oral Lambert's former house on Bahama Road. Two other houses, one at the corner of Randolph Avenue and Bahama Road and the other on Fig Street, are owned by private parties.
Auctioneer William Summs of Norfolk, who has been in the business all his life, said he had never seen similar properties go for such low prices. The auction originally advertised minimum starting bids of $20,000, but closer to the time dropped that to $10,000. In the event, they took anything they could get, which was $2,750 for the cheapest lot and $37,075 for the priciest (all prices include a 10 percent buyer's fee).
Cautious bidders appeared to be taking into account that the auction price would be only the beginning of the cost of owning Bay Creek property. That $2,750 lot will incur an annual HOA fee of $1,860, a lawn maintenance fee of $500, county tax of $270, and town tax of $110, for a total annual expense equal to the purchase price of the lot.
As sellers, the Galloway brothers did not fare as well as Dickie Foster, who recently sold seven lots on Randolph Avenue between Bahama Road and Fig Street to the Town of Cape Charles for $100,000. That's an average of $14,285 per lot. In contrast, the five nearby Galloway lots on Bahama Road sold for a total of $29,370, or $5,875 per lot – almost a third of what the Town of Cape Charles paid per lot.
Town Council member Joan Natali, who voted to buy the Foster lots, also bought one of the Galloway lots for herself for $4,400.
Another local resident remarked afterward that he was going to have to go home and tell his wife that he just spent $15,000 to buy three lots. But he added that he didn't think she could object to that, since [some years earlier] she herself had purchased one Marina Village lot for $250,000.