#13 Story


Reverse Angle Parking Off to Shaky Start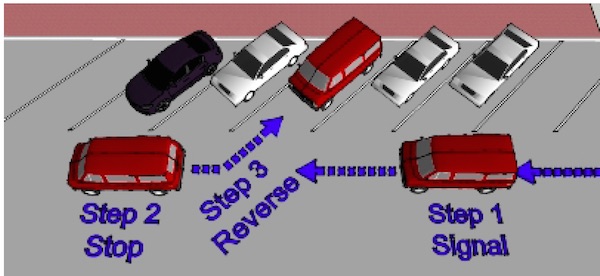 CAPE CHARLES WAVE
May 18, 2015
According to the diagram above, Cape Charles's new "reverse angle parking" on Mason Avenue is supposed to be a three-step process: Signal, Stop, Reverse. But the white Audi station wagon above didn't get that memo, and made a wide turn to pull in front-ways.
The bicycle with trailer next to the Audi did a better job, smartly facing outward. But since when are bicycles allowed to occupy a full parking space? Since reverse-angle parking came to town, apparently.
Next to the bike we see a golf cart, also properly positioned — although it looks to be crowding the white line. Golf carts rarely travel in reverse, so the driver probably lacked experience.
CONTINUED FROM FIRST PAGE
Last week the Wave reported a town official as proclaiming that cars are supposed to, but not required to, back into the parking spots. But a parker who works on Mason Avenue complained in the Wave's ANONYMOUS column that one of Cape Charles's finest didn't read that story, and told him he had to reverse park (no ticket issued).
Meanwhile, one of the Watson brothers is reported to have said that customers entering their hardware store are supposed to, but not required to, walk backwards into the store — making it easier to find their way out.