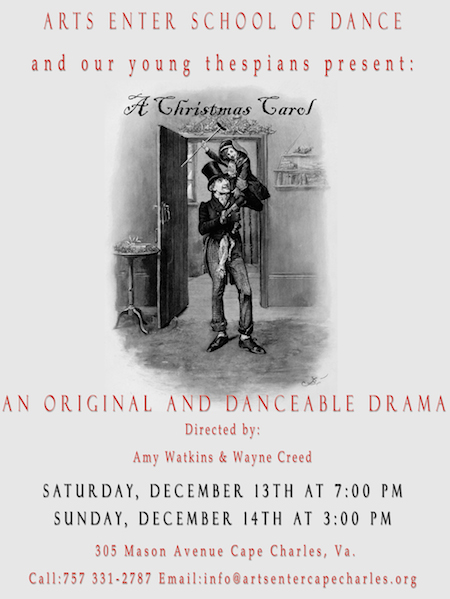 By WAYNE CREED
December 8, 2014
In Cape Charles, Christmas is our best of times, and this season, Arts Enter and the Palace Theatre are excited to bring you their unique interpretation of the Dickens classic, "A Christmas Carol: An Original Danceable Drama." Rather than just blowing dust off the pages, and trotting old Ebenezer out in a nightgown once again, we wanted to re-examine the story, not just relative to a mosaic of other literary work, but as a play between the elements of speech, music, and dance.
This sounds like a daunting task, but working with the brilliant Amy Watkins makes it so much easier. Her original choreography pushes our dancers' movement and form in space, shape, time and energy. For Amy, it is the art of movement, using the language of ballet, contemporary dance, jazz, hip hop, folk dance, GaGa, and even pedestrian movement, all fused together in a spiritual, emotional, and even non-literal textual context to create a vivid and intense narrative that invokes dance's grandest ghosts of the past and present, Martha Graham and Twyla Tharp.
We are also blessed to have a supremely talented costume designer (who can lift a great deal of stress off of the directors), Vera Miller, who uses fabric to create the characters and fill the stage with texture and color. For period pieces, such as "A Christmas Carol," she is marvelous in her ability to plot color, changing social status or period through the visual design of garments and accessories. This may sound simple, but it requires a unique knowledge of not just fabric and pattern development, but also an in-depth education in the history of textiles and fashion. [Read more…]
By DONNA BOZZA
December 8, 2014
For many, their introduction to Eastern Shore Own Arts Center starts with a young daughter mesmerized by the Center's annual performance of the Nutcracker ballet. With an "I wanna be a ballerina" proclamation, it's off to ESO. It was much the same for parents Jeanne and Walt Roll and their daughter Erin. But their involvement with ESO morphed into an amazing two decades of selfless donation of time and talents that soon included their son Chris. Their mark is most evident during the months of intensive preparation for the Nutcracker and the reason this year's 24th production is dedicated to the Rolls.
"Between creating elaborate costumes and props and producing countless videos and photographs, the Rolls have been instrumental in making the ballet happen for 20 years," said Dana Floyd-Sutter, ESO Dance School Director. It would not be hard to dub the Rolls the First Family of ESO. Their dedication has greatly enabled the non-profit to keep the Nutcracker going year after year.
"Nutcracker is so important to the students," said Floyd-Sutter. "It's exciting for them to be part of the tradition and it builds their confidence. It is a great vehicle for team building — I see how it teaches them to love and support each other. It certainly makes them better dancers." [Read more…]
By WAYNE CREED
December 1, 2014
In the early 1960s, novelist Larry McMurtry studied writing as a Wallace Stegner Fellow at Stanford University. In that same class was Ken Kesey, Peter S. Beagle, Robert Stone, and Gordon Lish. While Kesey was taking his trip across America (with his band of Merry Pranksters) in a day-glo-painted school bus, McMurtry returned to Texas to begin creating the desolate, anti-western motif found in his novels. The adaptation of his novel Horseman, Pass By into the film Hud, directed by Martin Ritt and starring Patricia Neal, Paul Newman, and Melvyn Douglas, sealed his reputation. McMurtry's anti-western motif reached its apex with Peter Bogdonovich's adaptation of his novel The Last Picture Show, starring Timothy Bottoms, Jeff Bridges, and the debut of Cybil Shepherd (whom McMurtry described as a beautiful scoop of vanilla ice cream).
Last week, the Palace Theatre brought to the stage a giant swig of that same anti-western, north-Texas motif with the production of James McClure's set of one act plays Lone Star and Laundry and Bourbon (together, also known as 1959 Pink Thunderbird). Laundry and Bourbon and Lone Star are set in the small, rural town of Maynard, Texas. Mclure's scripts for both shows cling to McMurtry's recurring themes of discontent, distorted memory, and the ultimate acceptance of your life, one way or another.
Laundry and Bourbon, deftly directed by Clelia Sheppard, takes place in the back yard of Elizabeth (played by Christy Iverson). Her AC is broken, and as it's way too hot on her front porch, she retreats to the back where she does her very best to avoid a basketful of laundry that is ready for folding. She has a lot on her mind since her husband Roy, a restless Vietnam veteran, has been missing for two days, out somewhere in his beloved 1959 pink Thunderbird. Soon enough her closest friend Hattie (Mellisa Stein) arrives to shoot the breeze, as well as some bourbon, a refuge and respite from her three challenging children. [Read more…]
By DONNA BOZZA
December 1, 2014 
After decades as nationally known designers, Mary Miller and David Handschur, artisans and owners of the Gallery At Eastville, are retiring. "It's been wonderful running a business, and working as artists on the Shore," said David. The pair are founding members of the Artisans Guild of the Eastern Shore, and frequent exhibitors at national venues like the Smithsonian. With their experience, they have been happy to mentor new Guild artisans. "We've helped with setting up businesses, finding reliable suppliers and markets, even showed how to photograph art work," said Mary.
Renowned Shore Folk Artist MAMA Girl is one of their favorite stories. After buying one of Mary Onley's first works at a street fair in Cape Charles, they helped her believe she had a bright future as a folk artist. "We just put a little wind in her sails, the rest is her story," Mary says. [Read more…]
By MARY ANN ROEHM
Arts Enter Cape Charles
November 17, 2014
The Arts Enter Cape Charles Players will present two one-act comedies at the Historic Palace Theatre opening Thursday, November 20 at 7:30 p.m. The plays will continue through the weekend with shows Friday and Saturday evenings at 7:30 p.m. and a Sunday matinee at 3 p.m.
The one-act comedies "Lonestar" and "Laundry & Bourbon" were written by James McLure. In "Laundry and Bourbon," directed by Clelia Sheppard, the action centers on the discontent and very funny gossip of three small-town wives whose marriages have turned out to be less than was hoped for.
The setting is the front porch of Roy (JP Paré) and Elizabeth's (Christie Iverson) home in Maynard, Texas, on a hot summer afternoon. Elizabeth and her friend Hattie (Mellisa Stein) are whiling away the time folding laundry, watching TV, sipping bourbon and Coke, and gossiping about the many open secrets which are so much a part of small-town life. They are joined by the self-righteous Amy Lee (Sherri DeMarino) who, among other tidbits, can't resist blurting out that Roy has been seen around town with another woman. While the ensuing conversation is increasingly edged with bitter humor, from it emerges a sense of Elizabeth's inner strength and her quiet understanding of the turmoil which has beset her husband since his return from Vietnam. He is wild, and he is unfaithful, but he needs her, and she loves him. And she'll be waiting for him when he comes home — no matter what others may say or think. [Read more…]
August 18, 2014
DEAR EDITOR,
It is with much praise and gratitude that I express my sincere appreciation for the event "Harbor for the Arts" in Cape Charles August 1-17. As the second annual event, this arts festival deserves great acclaim. Not only has our cultural arts organization Arts Enter Cape Charles demonstrated expertise in grant and sponsorship funding, it has also proved to the world that our community has one of the premier cultural arts centers in the nation if not the world.
Performances and exhibitions took place over a two week period using venues that represented the best private and public assets of the Town of Cape Charles and her surrounding environs. Street performances, bands under pavilions on the park and at the beach, concerts and films in our beautifully restored historic theater, entertainers gathering audiences on the sidewalks, a multi-media dance production in a classic 150-year-old equestrian barn overlooking the seaside sounds and islands, and more — wherever one turned during these two weeks the cultural arts permeated our living space here in Cape Charles. How blessed this writer felt to be living and working in such an incredibly talented community!
Arts Enter Cape Charles deserves all of the support our community can possibly give — through attendance, financial gifts, sponsorships and volunteer participation. This dedicated group colors our community with excellence in the arts, offering instruction in the performing and visual arts as well as amazing performances that educate, entertain and thrill her audiences. This is the essence of economic development: establishing our community as a center of the arts and education, improving our reputation and attracting new growth and business to our region.
Thank you to Arts Enter Cape Charles for enriching our lives and lifting our souls!
DAVID L. KABLER
Machipongo
Letters to the Editor are welcome, and a diversity of opinions is encouraged. Send submissions to [email protected].
By WAYNE CREED
August 19, 2014
In response to David Kabler's letter (CLICK), I certainly agree with everything Capt K is saying, especially "establishing our community as a center of the arts and education, improving our reputation and attracting new growth and business to our region."
However, the deconstructionist in me would be remiss not to point out that textually the narrative always bleeds over and tends to occupy the most important part of the narrative, out in the margins, echoing Guy Debord's claims that different commodities conflict with each other, preventing the consumer from consuming the whole. Each commodity claims itself as the only existent one:
"Irreconcilable claims jockey for position on the stage of the affluent economy's unified spectacle, and different star commodities simultaneously promote conflicting social policies."
What I mean is that as beautiful a celebration of the Arts as Harbor for the Arts was, simultaneously, right across town, in the old school, crews were working to demolish the oldest, most historical stage on the Eastern Shore.
As much as I love and support everyone and everything involved in HFA, it's still hard to reconcile these "oppositional" events. I guess my ultimate criticism is that the ultimate goal here, as described by Kabler, is economic development; however, this belief is couched in the belief that existence is structured in terms of oppositions (historical significance and social justice or grants for digital cameras) and that these oppositions are hierarchical, with one side of the opposition being more valuable than the other (this is certainly the reality (of the street) that the historically underserved are being expected to accept). The courts certainly seem to agree with this, and insist that we urgently re-inscribe this new hierarchy (devalue social and historical significance and replace it with the "New": see Hotel Cape Charles) so that we can move ahead with "economic development" as the main driver. [Read more…]
SATURDAY AUGUST 16 
8:30 a.m. — Yoga in the Park: Start your weekend mornings with a body/mind practice.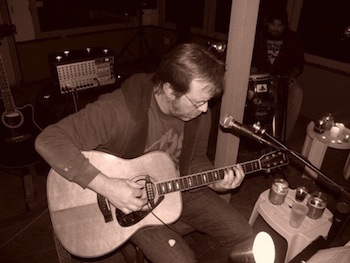 11-1 p.m. —  Jeff Madsen outside Brown Dog Ice Cream: Jeff Madsen entertains with rich vocals and classic acoustics.
1 p.m. — Narrowpath on Strawberry Street: Narrowpath is a contemporary Christian band from the Eastern Shore. They write their own music, and their songs speak to the struggles and the joys of the Christian walk.
5:30 p.m. — Andrew McKnight & Beyond Borders on Strawberry Street: Singer/songwriter Andrew McKnight's music traverses influences from Appalachia, tasteful slide and jazzy blues, feisty anthems, rustic folk, and guitar-driven rock while blending his charming tenor voice and acoustic and electric guitars with banjo, upright bass, drums, and percussion.
7:30 p.m. — Experimental Film Screenings 2014 in the Palace Theatre: Premiere of the 3-minute short films created during the workshop in Cape Charles with comments by the various filmmakers. A culmination of the intense work generated by the international workshop participants. Films highlight Cape Charles location and characters. Special guests include Grammy Award winner Noemie LaFrance, Andy Edmunds from the Virginia Film Institute and Italian film maker Lorenzo Minoli.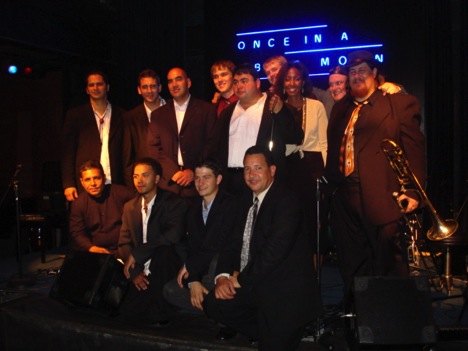 8:30 p.m.-midnight — Tropikiimba, Cuban salsa dance party, Cape Charles Yacht Center: Huge party with dancing, food, cash bar, special events, and entertainment co-sponsored by the Cape Charles Yacht Center. (See poster on page 1.)
SUNDAY AUGUST 17
8:30 a.m. — Yoga in the Park
4 p.m. — Antonio Vitiello, Palace Theatre: Pianist, Antonio Vitiello from Naples, Italy, offers an eclectic variety of musical favorites, interspersed with well known songs by vocalist Gualtiero Cavalieri.
7 p.m. — Soulful Tones Band, Central Park: One of the hottest bands on the Eastern Shore, the Soulful Tones play Funk, R&B, Rock, Reggae and GO-GO. Bring a picnic and a chair. Margaritas available.