By GEORGE SOUTHERN
Cape Charles Wave
July 22, 2012
Outside was wet and cool, but inside Wendell Distributors on Madison Avenue last night, the crabs were hot and the crowd was happy.
The occasion was a fundraiser to support Old School Cape Charles — the local group that has sued the Town over its pending sale for $10 of the old school, basketball court, and playground parking lot at Central Park.
A private developer intends to convert the school into an apartment building, but Old School Cape Charles is trying to block that with legal action. The group instead wants to turn the old school into a community center.
Several hundred folks paid $20 each for a night of local music, dancing, steamed crabs, clams, and corn, baked beans and more.
Freshwater Frank (Frankie Russell) and the Fish warmed up the crowd, followed by Heather & Nathan, Melinda & the Benders, and The Wrecking Ball.
Normally staid Cape Charles very nearly faced two competing festivals at the same time. Last week's Applaud the Sun street party was rescheduled, due to weather, for the same time as the Old School Crab Feast. But Chamber of Commerce officials yesterday postponed the street party once again due to rain.
"Everybody's here," enthused one attendee — "except I don't see a single member of Town Council." But at least one Council member was certainly there: Frank Wendell, who provided his company's warehouse for the occasion. Too bad about the others, because Council members are known to enjoy a good party.
And last night was a good example of how a community can enjoy a rainy Saturday night  — if it has a community center.
Want to relive the party? Watch the 10-minute video below, featuring Heather and Nathan's knockout rendition of Mustang Sally/Proud Mary.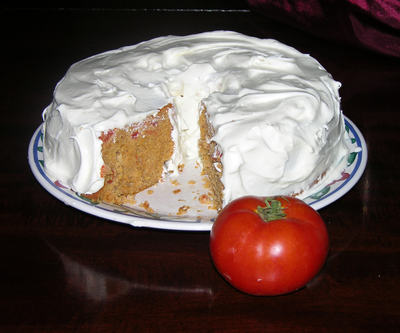 July 22, 2012
DEAR EDITOR:
Too many tomatoes? Try making this Fresh Tomato cake!
I used an angle cake pan and cream cheese frosting, but you can use your imagination.
Ingredients:
1 box yellow cake mix with pudding in the mix
4 eggs
1/4 cup  vegetable oil
2 cups chopped fresh unpeeled tomatoes
1/8 teaspoon salt
1 teaspoon cinnamon
Directions:
Chop and drain the tomatoes slightly.
Beat eggs and oil together until smooth.
Combine all ingredients and mix well.
Spray pan with baking spray, bake at 350 degrees for 40 minutes.
Cool and frost.
Delicious!
SANDY MAYER
Letters to the Editor are welcome on any subject relevant to Cape Charles. Submissions must be signed, and may be emailed to [email protected]