September 10, 2012
Much as we'd like to feature a new story every day in the Cape Charles Wave, until more folks volunteer to write, it's just not possible.
In the meantime, there's a smart way to avoid any disappointment of calling up the webpage only to say, "I already read that."
Just subscribe. It's free of course, and you'll receive an email every morning when a new story appears in the Wave. If there's no new story, there's no email.
Here's what a typical email looks like: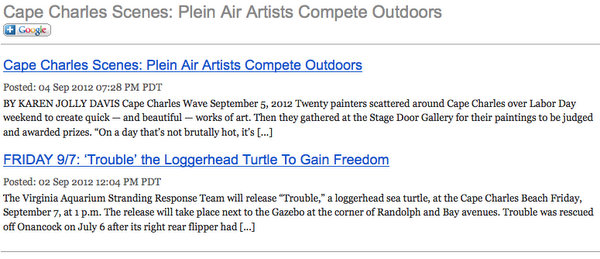 Each new story is shown by headline and the first couple of sentences. If something looks interesting, just click on the headline and go straight to the story.
Subscribing is a two-part process:
FIRST, enter your email address in the subscription box found in the Wave's advertising column to the right. You'll be asked to decipher some script to prove that you're a human and not some spam-generating device.
SECOND, check your Inbox for an email from Feedburner. Reply to the email, and your subscription is activated! (This is for your protection, to be sure you want to receive the service.)
Feedburner is provided by Google, and don't worry — your email address will never be sold or shared.
The Wave now has several hundred subscribers, but almost 50 would-be subscribers never replied to the Feedburner email. Some have told us they never received an email from Feedburner. Perhaps it landed in their spam filter. If you don't get a response from Feedburner, please just enter a new subscription request.
You can also "like" us on Facebook. Look for the Facebook box in the righthand column. Clicking on the "Like" button results in links to Wave stories appearing on your Facebook page. Here's an example: [Read more…]