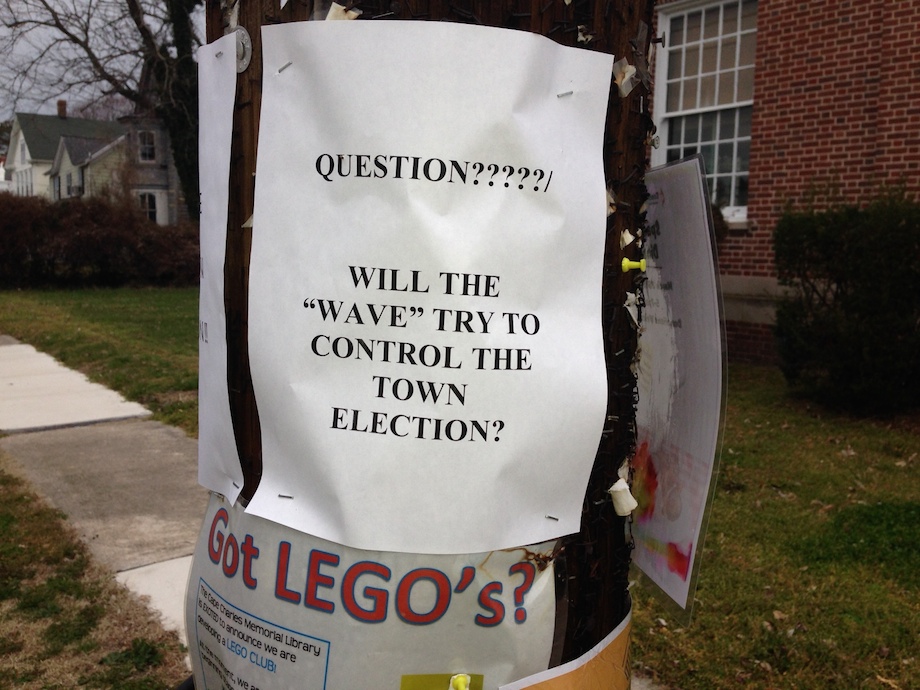 A CAPE CHARLES WAVE EDITORIAL
April 15, 2014
The photo at right of an anonymous poster outside the Post Office asks, "Will the Wave try to control the Town election?" But until now the Wave has been almost silent on the May 6 election for mayor and Town Council. When the eight candidates filed, we published an impartial story listing their names and brief bios. We intend to let the candidates tell their own stories, and invite them to write a few paragraphs on "Why I'm Running for Mayor" and "Why I'm Running for Town Council" to inform our several thousand readers.
But in this hotly contested election there are already signs (pun intended) of manipulation. And not for the first time – the November 2012 special election for a Town Council seat was shamelessly manipulated by the town power structure, taking advantage of the good name of Arts Enter as the "sponsor" of a candidates forum. In fact, assistant town manager Bob Panek masterminded that forum, and although his name did not even appear in the list of volunteers, like the Wizard of Oz behind the curtain it was Panek who selected questions from the audience and decided to whom they would be asked. All the while, he displayed a sign in his yard for candidate Steve Bennett.
In this year's election, Council incumbent Joan Natali was first off the line in blanketing the town with campaign signs, and no one complained. But later when opposition candidates David Gay, Deborah Bender, and Lynn Mitchell-Fields began matching the Natali signs with their own, the town took action, and most of the signs were confiscated by the Police Department under the excuse that they were not allowed in the right-of-way (even in front of private residences). Ironically, Natali was responsible for that town regulation, enacted in reaction to the "Community Center YES" signs of a previous battle.
Next comes the curious question of the "second" candidates forum sponsored by Cape Charles Rotary. Following the town staff's manipulation of the previous forum mentioned above, the non-political Citizens for a Better Eastern Shore (CBES) agreed to host a forum for Cape Charles candidates. CBES has a long history of hosting candidate debates, and most recently held two forums for County Supervisors and School Board candidates in last November's elections. At that time no one seemed concerned that a CBES forum might not be enough. [Read more...]
By DEBORAH BENDER
April 14, 2014
Local developer Patrick Hand has an idea to redevelop the old Be-Lo grocery store property on Mason Avenue. There is no question that the old shuttered grocery blights the streetscape of Mason Avenue. No one can argue against having a nice new building on that lot. But with important matters to consider about the proposal, Town Council has thrown caution to the wind.
At a recent Board of Zoning Appeals meeting, Mr. Hand said that he approached some members of Town Council six or seven months ago about his plans for the property. He proposed selling some of the property to the town for public parking, but he and Town Council could not agree on a price. But rather than ask townspeople what they want, Council cut off negotiations.
Then Town Council decided to buy seven empty lots on the entrance to town. Why did Council think it was more important to buy those lots from Dickie Foster than to purchase parking on Mason Avenue?
Residents, homeowners, shop owners, and some members of Town Council were left in the dark about the Be-Lo proposed project until just a few weeks ago. Most of us only heard about the plan at the March Town Council meeting. Later, a few adjacent property owners received a letter about the Board of Zoning Appeals meeting held last Monday. Mr. Hand's proposal has never been raised with the Planning Commission or the Harbor District Review Board. It seems that they are only needed when it is time to pull out the rubber stamp.
For going on 20 years the parking lots at the old Be-Lo store have been available to the public in Cape Charles. They have been used for parking to attend functions at the Palace Theatre, to shop on Mason Avenue, and to eat at the Coffee House, as well as other uses. Where will tourists and shoppers park when those lots are closed? [Read more...]
April 14, 2014
DEAR EDITOR, 
Perhaps like many of you, I grew up in a time when most news outlets operated under the Golden Rule. Television and radio stations were mandated to devote time to contrasting views on matters of public interest. They were also required to offer equal time to political candidates with opposing views. The policies that required this applied only to radio and television but, in simpler times, were a standard for all journalism. Unfortunately these policies were repealed in 1987.
While none of these rules were ever mandated for newspapers, many people still expect the news to be delivered in an unbiased fashion. Reading your April Fool's story and subsequent postings made it very clear that the Wave has a political agenda and is actively promoting a particular point of view.
The right to vote is sacred and it is the duty of voters to learn as much as they can about all candidates and issues prior to voting in any election — national, state, or local. In every election, it is important to get information from multiple sources.
In Cape Charles, all of the candidates live just a few blocks away. We have the opportunity to watch how they volunteer their time in our community. We can speak to them directly and ask their opinions. We can attend Town Council meetings and candidate forums. It is only by knowing both sides of a story that we can be sure that we vote for what is best for our future.
NANCY DANIEL VEST
Cape Charles
Letters to the Editor are welcome, and a diversity of opinions is encouraged. Send submissions to [email protected].
Reprinted by permission from ShoreLine, the newsletter of Citizens for a Better Eastern Shore. 
By DAVID KABLER
April 7, 2014
The reasoning behind the proposed revision of our zoning ordinance, we are told, is to pave the way to economic development. In that light, prompt disclosure of Northampton County's actual efforts towards promoting economic development will be appreciated by her concerned citizens. We have recently hired a $100,000 per year Economic Development Director to direct us towards prosperity, and it behooves us to know what he has been doing these last 12 months to sell our place to the business world.
The Northampton County Board of Supervisors charged him with the task of revising and simplifying our zoning ordinance. That ordinance he has drafted with the aid of considerable staff, albeit lacking certain studies that could validate the work. The point of "simplifying" the ordinance for the benefit of economic development begs many questions: What are our goals? What is our business plan for marketing and selling the Shore to industry and business? What is our marketing budget, our inventory of real estate assets, our infrastructure assets — i.e. labor, training, materials, transportation, etc? What marketing aids such as brochures and pamphlets have been developed? What trade organizations are targeted? What presentations will we host at places where decision makers gather to meet? What advertising and publicity will we generate?
A good business plan includes a vision statement and the Three P's: Product, Pricing, and Promotion. There is plenty of "product" zoned for business for sale, yet there appears to be no "promotion." Our Development Director should build a partnership with the Shore's real estate agents — our best sales people — who are on the front lines of economic development. Put the product up prominently on a shelf, advertise its availability to your customers, and go out and drum up business.
We hope that Mr. McSwain has not been sidetracked for zoning work. How many contacts has he generated, how many visits has he hosted and how many prospects have turned us down because of our so-called "preservationist" zoning? The County needs to entertain some "paying" customers and find out what their needs are before we attempt to fix something that we are not even sure needs fixing. The Supervisors need to supervise our star salesman to make some sales!
Let's get down to brass tacks and let Mr. McSwain do what he does best. As well, our Planning Commission, and the public, ought to be privy to what our business plan is and how it is being fulfilled. I, for one, would like to see it in black and white or, better yet, in full color.
David Kabler is a Realtor, a local businessman, and a former Northampton County Planning Commissioner.

Submissions to COMMENTARY are welcome on any subject relevant to Cape Charles. Opinions expressed are those of the writer and not necessarily of this publication.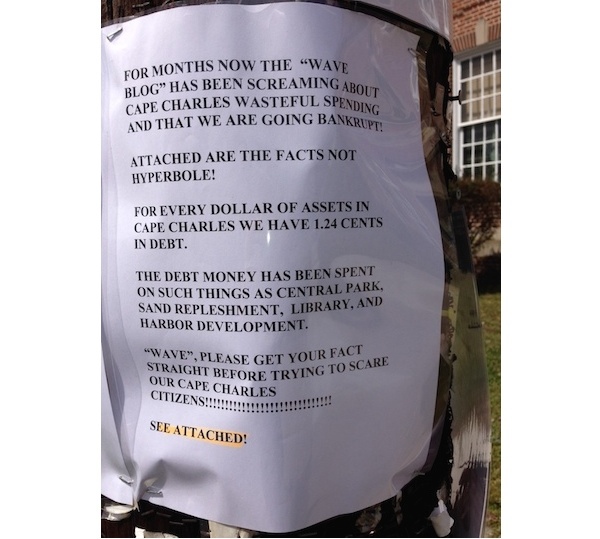 March 24, 2014
Going to the Post Office, it's hard to miss the posters attacking the Wave, including accusations of "schemes to denigrate our town." Another claim stapled to the telephone pole is that "the Wave has been screaming about wasteful spending and that we are going bankrupt."
The postings appeared on the telephone pole this past Friday, the morning after former town councilman Larry Veber addressed Town Council with a similar message. "Something that's very concerning," Veber related, "from what I hear from people who come into town. Two people recently that love Cape Charles and were so impressed with Cape Charles – they looked at everything, and said, 'listen – we understand your town is going bankrupt!' . . . 'Everything we read about in the Wave – it's bankrupt. You guys are going under! You are really in serious, serious trouble!'"
Veber continued, "We need to have somebody who's going to give the information and not editorialize it." . . . "There's a group somewhere that keeps on talking, keeps on beating, and it's hurting our town – in my opinion it's having a tremendous negative effect on Cape Charles."
Our response is that Mr. Veber's accusations are utterly ridiculous and without foundation. What he doesn't like is that the Wave actually reports the news – good and bad. The inner circles of any government never want bad news reported, and if possible they will print their own Pravda – or in the town's case, the Gazette. [Read more...]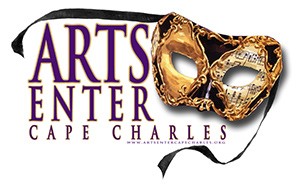 March 10, 2014
DEAR EDITOR,
We are writing to provide an update on some changes within the Stage Door Gallery, the visual arts facet of Arts Enter Cape Charles. From our humble beginning on Strawberry Street 14 years ago, to our growth into the beautifully renovated space on Mason Avenue in 2007, the gallery continues to shine thanks to our dedicated patrons, artists, and volunteers.
However, it is with sadness that Arts Enter has accepted the resignation of gallery manager Ellen Moore. Both she and her predecessor, Ebba TinWin, were instrumental to supporting the gallery's role in the community. [Read more...]
EDITOR'S NOTE: The following editorial is reprinted by permission from the Citizens for a Better Eastern Shore newsletter, ShoreLine.
March 10, 2014
Those who read ShoreLine regularly know that we've taken a strong interest in Northampton County's revision of its zoning ordinance. The editorial board is unanimously agreed that the ordinance needs revision — and we're unanimously agreed that the County's conduct of that revision has been so poor that it has raised the spectre of embarrassing legal action.
What's been wrong with the process? First, the public has been effectively shut out. There has been no informed public involvement in developing the revision. The so-called public information meetings on the draft revision held in December were virtually meaningless because no presentations actually informed the public about the draft ordinance. Maps were displayed and staffers, available to answer the public's questions, were more than willing to expound upon minor details. This process tended to obfuscate the real changes. In fact, without substantive information, it was hard to know what questions to ask. [Read more...]
By WAYNE CREED
March 10, 2014
It was reported in an opinion piece last week in the Wave that the 501(c)(3) Eastern Shorekeeper has decided to enter the fray over proposed Northampton County zoning issues, essentially using a petition and a veiled legal threat to force County Supervisors to follow the "intent" of the Comprehensive Plan. I understand the trepidation, but attempting to tie officials to a document that is outmoded the day it is completed does not seem like an effective approach.
Although required, Comprehensive Plans are only a guide, and the State does not require land use and zoning decisions to be based on, or even consistent with them (they carry no legal intent). They are inherently too old, too ignored, or too irrelevant to ever be of any practical use — attempting to apply them to dynamic systems is the ultimate exercise in futility. [Read more...]