CAPE CHARLES WAVE
January 2, 2014
The model depicted above of a Waterman's Memorial proposed for the parking lot in front of the Shanty Restaurant at the Town Harbor has been submitted to Town authorities. After the model was built, plans were modified from a rectangular layout to a circular one.
According to Virginia Waterman's Memorial President Edward L. Lewis, the memorial will contain three elements inside a 38-foot diameter circle:
— A bronze statue of a young boy standing beside an empty pair of boots;
— A 16-foot-tall replica of the Cape Charles Lighthouse; and
— A three-section black granite wall displaying the name of the memorial and, on the back side, the names of all lost watermen from the State of Virginia.
The Cape Charles Harbor Area Review Board meets today (January 2) at 6 p.m. at Town Hall to decide whether to issue a Certificate of Appropriateness for the plans. The meeting is open to the public, but there is no provision for comments. [Read more…]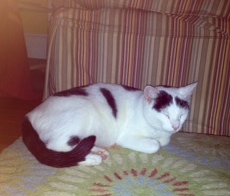 (Owner Found New Year's afternoon — happy day! — EDITOR)
Cat Found: We found a cat on the 200 block of Tazewell. Hoping to get her back to her proper owner! We think she is pregnant. She is wearing a rhinestone collar and is very sweet. If she is yours, please contact [email protected]carlyle.com.