FEATURE: Up the Creek Without a Paddle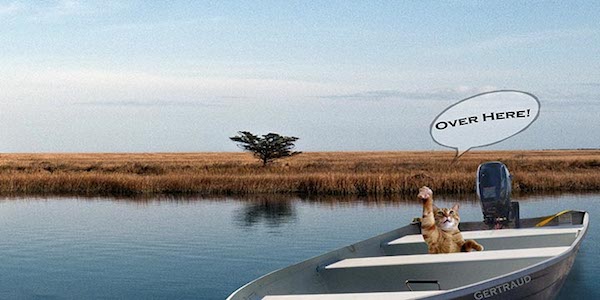 By GERTRAUD FENDLER
July 14, 2014
Living on the Eastern Shore, bounded by water on two sides, makes owning something to float on a necessity. I have this little kayak, a short, round, cute little tub. Not a streamlined kayak, just a little basic kayak. Used it every so often, not too often. After a long, painful trip out to the Barrier Islands a few weeks ago, I realized that my paddling days were not so enjoyable any more.
I also have another boat, a small aluminum rowboat. Has been sitting in my backyard as an ornament for years, slowly turning into a planter. So a few days ago, I decided to purchase a real, small outboard engine at a local marina. Next day I was ready to head out with my new toy. Eureka! It felt like having my first car, after riding a bike for years. Freedom!
Started out early to avoid the searing afternoon heat. Made it to the boat ramp just fine. Backing up took (quite) a few tries. The boat ramp looks much wider close-up when on foot. (Note to self: Should practice backing up in my driveway — and remember, turning left means the bloody boat turns right!)
Slid the boat off the trailer without any problems — even remembered to tie it up before I parked the car. Tried to lower the motor into the water. Where on earth was that little gizmo Tom showed me at the marina that I had to pull out first? Ten minutes later — oh, this one! (Note to self: Things look different when viewed standing on land behind the boat.)
Then tried to start the motor. Pump … Choke … Pull … Again. Took a few pulls (Why did it only take ONE at the marina?) And then the motor stopped. Again — see above — nothing, just a few sputters. Ten minutes later — Success! (Note to self: Do NOT stand on the gas supply hose while trying to start the motor!)
CONTINUED FROM FIRST PAGE
Tide was still going out quite rapidly, but for whatever reason the motor stopped again. Boat washed ashore on the other side of the channel, by the mud, grass, and oyster beds. (Note to self: Just because now this rowboat is an engine-driven boat, do NOT leave the oars at home in the shed!)
Stuck my foot out and tried to push the boat away, holding on to an oyster shell. (Note to self: Do NOT touch oyster shells. They are razor sharp and will slice your fingers!)
By now, while bleeding profusely, I tried again to start the motor and tried to get out of the mud in reverse. Another boat came by — thankfully with a kind and helpful man. He pulled me away from the mud. Asked if I was all right. Of course I was all right — blood all over my shirt and pants!
OK, start motor again — more tissues on that wound to stop the bleeding — engine smoked — ohhh, the choke. I have been driving stick shift most of my life — how could I forget such a normal procedure?!
Finally, off to the Barrier Islands. Very low tide, but I did remember all the low spots and made it out there without any incident. Once on the beach, I was fine. Naturally I had all the land necessities with me: gauze, band-aid, second shirt, and of course chocolate! Walked around for a few hours. The island was busy, lots of people walking and having fun in the sand. Found a few pieces of sea glass, nice ones, very well done. Made me happy.
By then it was 2 p.m. and getting incredibly hot, some wind, hot wind. Lots of those big biting flies. I had my special mixture of black seed oil and fresh garlic with me — keeps all biting insects away. Nothing came close — no people either.
Time to head back home. Trip back was uneventful. Maybe — just maybe — I should peruse that owner's manual that came with the motor?
(When she's not exploring the barrier islands, Gertraud Fendler produces works of art, some of which may be seen at the Ellen Moore Gallery at 223 Mason Avenue.)