Prominent Resident John Schulz Blasts Council for 'Dumbest, Most Dangerous Parking System in America'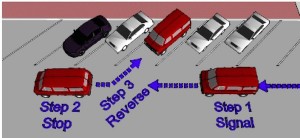 CAPE CHARLES WAVE
June 15, 2015
Cape Charles resident John Schulz is well known as an author and former Voice of America foreign correspondent. He also has been an Oxford scholar, National War College professor, magazine editor, and a prize-winning poet. But only now has he made the decision to break ranks with the town's power structure and roast them for enacting "reverse angle parking" on Mason Avenue.
In a letter to Cape Charles Town Council which Schulz requested be made public record, he wrote satirically,
Dear Council Members: Congratulations! Thanks to your well-thought-through decision, we can all now brag about yet another unique feature of Cape Charles: We have the dumbest, most dangerous main street parking system of any town in America.
Thanks to all of you, anyone wishing to park on our commercial main street can now experience all the thrills and adventures associated with turning into oncoming traffic in the opposite lane, reversing, and, though most of us never practice skills at backing into parking places, begin the adventure of re-crossing into the lane we were in. And, hoping not to scrape the cars parked on either side due to our limited skills at this little adventure, slide our cars into place — also hoping not to drive up on to the curb where we might kill a passer-by we didn't see in our rearview mirrors.
And, for those of us thoughtful enough to go to the end of the block, do a U-turn, and drive head first into the parking space we previously selected, thus avoiding all this maneuvering and extra lane-crossing, there is a parking ticket "just waiting to happen," hot in the hands of our local constabulary.
(CONTINUED FROM FIRST PAGE)
Utterly brilliant decision, folks! Driving on the main commercial street here in Cape Charles is now a heart-pounding adventure, and possibly an expensive one, as we scrape cars already parked and have to pay the deductible fees to our insurance companies. Or, we can just park more skillfully and safely, by coming back to where we started — from the opposite direction — hoping the space is still open, and then be guaranteed to get a ticket. Either way, it's now a "chance game" of "Pay as You Go."
You could fix all this: Erase all the wrong-way painted lines, slant them the other way (where most traffic, and everyone entering the town is coming from), and set up your parking as "head first," in conformity with what every city, town, and metropolitan area in the world does with theirs. The trouble is, the "re-do" and repainting would cost quite a lot of money. But over time, people would forget this unfortunate decision — and likely, would stop giggling every time they hear the words "Cape Charles Town Council." Yes, you've created a one-liner joke!
Council member Chris Bannon, upon receiving Schulz's letter, provided him four Internet links in defense of reverse-angle parking (and supposedly the influence for Town Council's decision):
1. Bikewalk
2. Save Our Towns
3. Preservation Nation
4. Hampton Happenings
The links launched Schulz into high gear, as he fired back:
Chris: I have read each of the links carefully, and considered each in hope of being convinced that some advantage accrues specifically for the traffic conditions we find in Cape Charles. Sadly, my letter and my concerns stand. This "wrong way Corrigan" reverse and angled parking system now in place has prompted negative conversations all over town and in every place citizens have gathered where I have been present recently.
Let me (I hope fairly), summarize in a few words what each of the links is advocating. And then let me apply those considerations to what we find in Cape Charles now, and for the very long foreseeable future.
Link 1: "Reverse angle parking supposedly increases biker safety". Problem: we have EXTREMELY limited bicycle traffic in Cape Charles, and I see more bikes in side streets looking at houses than I have ever seen on our main street. In contrast, Oxford city, England, where I lived, had ONE HUNDRED THOUSAND bikers moving about each day. Drivers knew to look out for them, especially when opening their doors, and bicyclists knew to look out for cars pulling out, etc. With 100,000 bikes roaming all over a dense city, I am sure there were accidents from time to time. But those never reached "epidemic" proportions or anything approaching that in the "City of Dreaming Spires."
Link 2: "Calming traffic and slowing it down." Problem: after laughing out loud at the density of traffic daily on our main commercial street — or the lack of it, I asked the obvious question: WHAT traffic??? Sure, we have a huge traffic entry and exit for special events, and police in key places doing a good job of "slowing the traffic" just by being there. And, traffic slows anyway as the crowds gather, first to look for parking places and second to look out for all the pedestrians moving to or from the big events on July 4, Tall Ship days, and perhaps a few other "crowded times in Cape Charles." In sum, it is the solution, as is the first, to a problem that doesn't exist.
Link 3: Parking problems alleviated by adding more parking spaces. Problem: obviously angled parking adds more parking spaces. But not a single added space accrues by making that angle such that drivers back into their spaces instead of driving straight into them. So, this "solution" cannot be seen as other than "a wash" after it is decided that more spaces are created with angled parking than with parallel parking. Indeed, most second graders could figure that out in their arithmetic classes. Put another way, reversing or driving in, you get only a finite number of spaces, and yes, more than with parallel parking. No "winning argument for reverse angled parking" in that link either. Score so far: Zero for three.
Link 4: Advocacy for safety as drivers depart, not having to blindly back out into traffic. Problem: pick your poison: back semi-blindly and with limited skills INTO the parking space, or, back OUT blindly into traffic — which is how it has been done in literally thousands of towns and cities for at least 50 years and likely 75 in bigger cities. I would say this, too, is a "wash" in terms of safety, except it is actually MORE dangerous and risky backing IN than backing out for reasons fully outlined in my letter:
1. To set up to pull in on our main street, a driver can either "fool the person behind into thinking we are moving on, by moving past the parking slot, BUT THEN stopping, and then backing up, forcing the "guy behind" (if there is one) to have to stop and to back up sometimes.
2. Separately, to get the best angle for reversing, drivers must turn left into the oncoming traffic lane, stop, and then reverse out of that lane and across the lane they were in, and finally into the "slot."
3. But what are the risks inherent in that backward parking process? A) few drivers are accustomed to maneuvering backward into tight spaces, In other circumstances, not compelled by a city parking ticket, they feel far more comfortable driving forward into the narrow "slot"; B) aside from crossing into oncoming traffic, drivers then risk scraping against cars that are already parked, and know they have it "right" only by what little they can tell through their rear- and side-view mirrors. Likely, incidents involving scraped cars will escalate dramatically. Only the body repair shops will be pleased; C) it is difficult or impossible to see the curb, so now sidewalk pedestrians are endangered when drivers bump up onto the sidewalk. FAR more likely for this to occur than when we drive ahead into our parking slots.
Summary: The problem with two or more of these links is that they assure us that traffic has been slowed, spaces have been added, and safety is much better than "before." But none of these advocacy articles clearly compare "apples to apples." Instead they contrast the current benefits of "the new" versus the old parallel parking systems which are, indeed, a bit of a parking/driving challenge and do, indeed, take up more space and allow fewer cars per block.
And sure, after parallel parking, opening the door on the driver's side without looking first may well cause a biker to collide with a door. Nearly happened to me once in Oxford on my small motor bike. But all these "favorable comparisons" are between angled parking and parallel parking. The ONE comparison that had any "weight or relevance" to it considered the merits of driving out into traffic with clearer visibility about the flowing traffic. But I have found in three of the four times I've now had to park with this ridiculous and flawed new system I ended up next to a big pickup truck. And LO — when I tried to "drive out" I had to inch out the same way I would if I had (far more safely and efficiently) driven head-first into my parking place. Thus, no safety or efficiency gain driving out, FAR more difficult and complicated, and unsafe, driving in backwards.
Please relay my response to the other members of Town Council. I have considered your "link responses" carefully, and find, as you see, next to no merit in any of them as they are applied to Cape Charles now or for many years to come. The "Population Boom" here just hasn't happened.