By DORIE SOUTHERN
Cape Charles Wave
June 29, 2015
Bay Coast Railroad has been given five days to come up with a plan to properly dispose of creosote-treated railroad ties currently being buried behind the Cape Charles Museum. After the Wave alerted the Virginia Department of Environmental Quality, DEQ sent a letter to Bay Coast Railroad, owners and operators of the Cape Charles rail yard, requesting a response within five days detailing what will be done to remove or recycle the material. That response is due today (June 29).
Creosote-treated products such as railroad ties must be disposed of in an approved landfill or be recycled appropriately. According to DEQ, the railroad ties must be treated as hazardous waste.
DEQ had not been aware of the large number of railroad ties amassed at the western end of the area being prepared to contain dredged spoil from the town harbor and channel. The mound of ties can easily be seen when driving over the Hump.
The regional DEQ representative, who asked not to be quoted by name, said the railroad was not allowed to use its property as an unpermitted dump site.
DEQ spokesman Bill Hayden told the Wave that he did not know whether the railroad ties could contaminate the water table. [Read more…]
By DORIE SOUTHERN
Cape Charles Wave
June 29, 2015
In a stunning defeat to proponents of a sewer pipe from Route 13 to the Cape Charles treatment plant, the Northampton County Board of Supervisors voted June 22 to put Public Service Authority plans on hold. Citing higher priorities, including emergency medical services and the public schools, Supervisor Granville Hogg made the motion, which carried in a 3-1 vote. Supervisor Larry Trala was opposed, noting that the PSA had been working on the project for quite a while.
Supervisor Larry LeMond expressed impatience with the Town of Cape Charles for its failure to reach an agreement with the PSA about the cost of services. He reported that the town wants to condition a sewer deal on whether the county gives the town a say on what kinds of commercial activity would be allowed just outside town limits.
PSA Chairman John Reiter told the Supervisors that engineering studies for the project were 40 percent complete. The PSA has paid almost $78,000 to date, including $8,000 for a study of possible use of the Bayview facility which had been requested by the Supervisors.
Reiter reported that negotiations with the Town of Cape Charles were still in progress, citing differences over how much should be charged per gallon of wastewater and whether there should be a connection fee. Reiter said that an agreement was close on the per-gallon cost. But he complained that the connection fee could cost $750,000, adding considerably to upfront costs. [Read more…]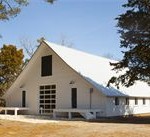 Art in a Barn begins at 6:30 p.m. Sunday, July 5, 2015, at ESLAND's Mimosa Barn just outside of Cape Charles at Eyre Hall Creek. Space will be transformed into a stage for dance, music, projection, community, and good food and drink. This innovative experience offers a stunning Eastern Shore sunset, dazzling  guests with a night that unravels in a series of site-specific, live performance "events" and plenty of time to relax and enjoy the scenery with friends and family. Dinner and Cash Bar will be followed by performances beginning at 7:30 p.m. Suitable for all ages. Special screening of dance films by COORPI, Italia, with performance and music by the Experimental Film Virginia artists. [Read more…]