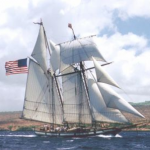 The square-rig top-sail schooner LYNX has arrived at Cape Charles Town Harbor and will offer evening sails beginning Thursday, June 11, in advance of the Fourth Annual Tall Ships At Cape Charles Festival June 13-14. Reserve Lynx sail times and buy tickets online at www.tallshipscapecharles.com. [Read more…]
Portrait of a Town: Cape Charles, 1940–1960, a reminiscence by Patricia Joyce Parsons, will be launched Friday, June 12 at the Cape Charles Coffee House beginning at 5 p.m. Pat will be on hand to answer questions and autograph the books.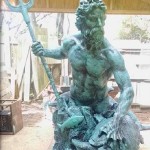 A 7-foot-tall maquette of the 34-foot bronze sculpture on the Virginia Beach boardwalk is being installed on the Bay Avenue boardwalk between Washington and Jefferson Avenues and will be dedicated 10 a.m. Saturday, June 13. A reception follows at 11 a.m. hosted by Arts Enter Cape Charles at the Stage Door Gallery, 301 Mason Avenue. [Read more…]
Saturday June 13, at 8 p.m. —  ESO LIVE! Classical show with BJ Rogers and Richard Williams, accompanied by Stefan Dulcie, titled "Jazz-Broadway-Love." BJ and Richard will perform selections by Cole Porter, Stephen Sondheim, Rogers and Hammerstein, and Leonard Bernstein, among others. [Read more…]
Splash Summer Day Camp will be held at Cape Charles Baptist Church June 22-August 14 for kids from age 5 to 5th grade. Camp is 8:30 a.m. until 5 p.m. Register for one week ($60) or all eight weeks ($450). The camp is filling up fast and is limited to 25 kids. Call 757-331-2110 or email [email protected].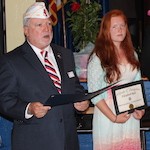 Elizabeth Reid, a Northampton Middle School student, is to be congratulated for her statewide sweep of the Virginia American Legion middle school essay contest.  Each year, the American Legion Post 56 in Cheriton invites Northampton County Middle School students to write a one-page essay that begins with, "I like living in America because. . . ". [Read more…]
At the NHS Annual Awards ceremony June 4, several local organizations celebrated the accomplishments of graduating seniors.  Northampton County High School Alumni Association and its affiliated Foundation for the 26th year awarded scholarships to several students.  Congratulations to awardees Rebecca Bailey, Colton Collins, Eric Church, Bobbie Dunton, Malik McCaskill, Ashanti Mitchell, Keona Smith, James Teeling, and Davae Williams.  The Alumni Association extends its best wishes for your continued success and happiness.