EDITORIAL: Laws Meant to Be Broken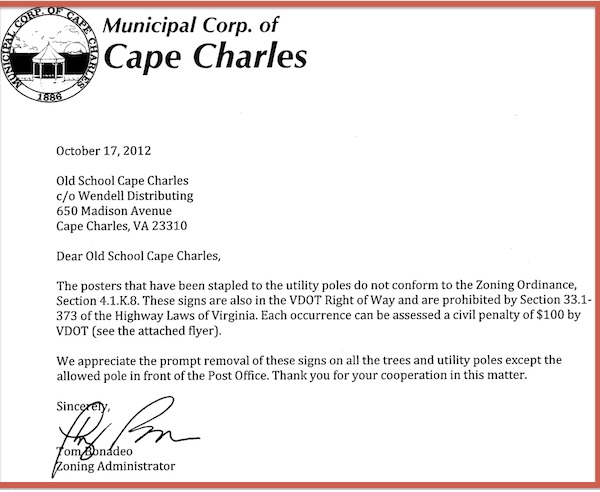 HOW THE WAVE SEES IT
November 13, 2012
There are laws meant to be obeyed, and there are laws meant to be broken.
A wise town authority knows when to bear down, and when to look the other way. But a foolish authority ends up looking, well — foolish.
The Cape Charles Wave takes more than simple pleasure in pointing out official foolishness — we see it as our civic duty. Question authority!
So, for example, we pointed out the, yes, stupidity of trying to enforce a ban on political yard signs until just 45 days before a Presidential election. We noted that the U.S. Supreme Court long ago struck down any such ban. And we cheered on our own vice mayor for ignoring the town ban by prominently displaying political advertising in his yard before the permitted date.
Just yesterday we drew attention to more foolishness, as our Town Council members put their heads together this Thursday to discuss enacting rules to constrain behavior at public meetings. Town staff recommends that we, the residents, be prohibited from handing out or receiving flyers within 50 feet of the door of the meeting hall.
What are they afraid of?
There's also a suggestion to prohibit speakers from personally criticizing elected Town officials or Town staff. To do so would be an "attack" on their person.
Virginia Beach banned "personal attacks" during the public comment of school board meetings, and the courts ruled the ban unconstitutional.
We're not suggesting that "anything goes." The presiding town official has the right to require a certain decorum, but a wise official will differentiate between scathing criticism (allowed) and speech that violates the "habits and manners of civility" (not allowed).
And now we've learned of even more foolishness by a town staff that seems to have too much time on its hands. As shown above, the Town has issued an official warning to Old School Cape Charles for advertising its Oyster Roast on telephone poles. Each sign is cause for a $100 fine.
CONTINUED FROM FIRST PAGE
Talk about shooting flies with a rifle. There is so much disturbing about this, at several levels.
Let's begin with the issue of fairness: Is the Town treating all entities the same? The Cape Charles Historical Society is holding its annual Oyster Roast Saturday, November 24 (don't miss it!), and you can read about it on the telephone poles — including the pole in front of the fishing pier. Somehow, we doubt the Town is crossing swords with the Historical Society.
Then there's the question of sensibleness: Is anybody in the least adversely affected by the presence of oyster roast ads on telephone poles? We'll go further, and argue that banning those oyster roast signs would strip our town of a piece of vitality. Public events are a sign of a town's lifeblood — its zest. They are healthy and good.
And this is where a town official needs to practice discretion. Nobody wants every phone pole in town covered with ads for escort services, used cars, lawn care, and the like. So one could argue that sign restrictions are necessary. But come on folks — what are the chances that our little village could be hit by a wave of obnoxious phone pole ads? About zero.
Finally, there's a question of truthfulness and accuracy. The letter claims the signs violate the Highway Laws of Virginia. We don't think so. But if that were true, the Town would be in violation of state law by allowing signs to be posted on the phone pole at the Post Office. (And yes, the Town zoning ordinance makes a special exception for the Post Office phone pole.)
Why do we think the state law doesn't apply in Cape Charles? Because it specifically exempts municipalities. In an incorporated town, like Cape Charles, we get to make our own sign rules. Read Virginia Code 33.1-353.
So, in just about every way, the official letter above is just wrong. Put it in the circular file along with the recommendation to petition the General Assembly to amend the state code to allow Cape Charles to regulate the 12 boat trailers parked on the streets.
And in conclusion, the Cape Charles Wave would like to make a public announcement: In support of public notices on telephone poles, our Events section, previously called AROUND TOWN, has a new name: ON THE TELEPHONE POLE. We encourage anyone who posts a notice on the Post Office telephone pole to also post it electronically in the Cape Charles Wave. (Send notices to [email protected].)
And don't worry about any $100 fine.