Pat Parsons Pens Memories of Bygone Cape Charles
By DORIE SOUTHERN
Cape Charles Wave
July 28, 2014
When Pat Parsons left home 59 years ago to attend Radford College, Cape Charles was far different from now: a bustling railroad town with a ferry connecting to Norfolk. Now Parsons has nearly completed a book of memories of those bygone days.
During breakfast earlier this year at the Cape Charles Coffee House, Parsons mentioned to proprietor Roberta Romeo that she was writing vignettes of growing up in Cape Charles in order to share her memories with her grandchildren. At Romeo's urging, Parsons read one of her stories to her. Recognizing a talented writer, Romeo immediately urged her to publish a book, and promised to sell the book at the Coffee House. And so it soon will be.
The Cape Charles that Parsons writes about in the 1950s was the hub of commerce for Northampton County. Schools were segregated, with white children attending the big old school at Central Park while African-American children crossed the hump to Cape Charles Elementary, now often called the Rosenwald School.
Schools and churches were central to the life of the town, and folks came from all over the Eastern Shore to shop in Cape Charles. There were grocery stores, clothing stores, and a business district filled with bustling shops.
(Story continues following excerpt below)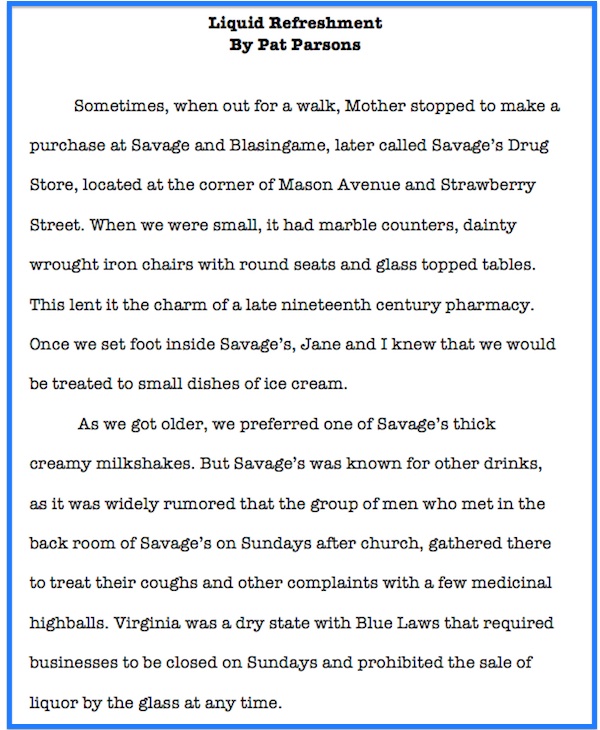 CONTINUED FROM FIRST PAGE
Pat Parsons, born Patricia Joyce, grew up in a house on Fig Street just down from the ice house at the corner of Fig and Randolph. Her house remains, but the ice house is gone. Eventually her family moved to the newer area of town known as Sea Cottage Addition, the filled land west of Pine Street. Parsons then lived in a house that once had been a dance hall across from the ferry docks at the corner of Washington Street and Bay Avenue. Her father, a contractor, moved the structure to Monroe Avenue where it remains today,  just behind Chesapeake Bay View Bed & Breakfast.
Parsons' father fell ill and died while the house project was still ongoing. Patricia was still in high school, but upon graduation she left for college and never returned toCape Charles to live, as her mother also left the Shore to find work. Her one brother also moved away.
"Growing up in Cape Charles was like growing up in a large family," Parsons told the Wave. Adults were prepared to instruct, correct, or discipline children at any time, no matter whose children they were.
Parsons left town before the lean years came, when railroad service all but ended and the ferry moved to Kiptopeke. She married, settled in Richmond, and had children, returning to Cape Charles very infrequently. So her memoirs do not include the story of the town's decline. "Cape Charles was a wonderful place to grow up," she says.
Having almost completed writing her book, Parsons now must decide how to publish it. Thanks to the computer age, it's no longer hard to self-publish. When the book becomes available, it won't just be Coffee House customers who will enjoy it — everyone interested in Cape Charles should give it a read. The title is Before We Were Quaint.
In the meantime, Parsons is sharing a chapter of her book with readers of the Wave. The chapter is entitled "Liquid Refreshment," and here it is:
Liquid Refreshment
By Pat Parsons 
Sometimes, when out for a walk, Mother stopped to make a purchase at Savage and Blasingame, later called Savage's Drug Store, located at the corner of Mason Avenue and Strawberry Street. When we were small, it had marble counters, dainty wrought iron chairs with round seats and glass topped tables. This lent it the charm of a late nineteenth century pharmacy. Once we set foot inside Savage's, Jane and I knew that we would be treated to small dishes of ice cream.
As we got older, we preferred one of Savage's thick creamy milkshakes. But Savage's was known for other drinks, as it was widely rumored that the group of men who met in the back room of Savage's on Sundays after church gathered there to treat their coughs and other complaints with a few medicinal highballs. Virginia was a dry state with Blue Laws that required businesses to be closed on Sundays and prohibited the sale of liquor by the glass at any time. Drugstores, however, could open for a few hours on Sundays, and pharmacists were permitted to keep a supply of alcoholic beverages on hand for use in preparing tonics, cough syrups and other remedies. So, what law could prevent Mr. Savage from hosting his friends to a fortifying drink on an early Sunday afternoon?
Liquor had to be purchased from the state-controlled ABC store further down the street on Mason Avenue. Of course, my mother, as a respectable woman, would never be seen entering the ABC store. If she needed brandy for the fruitcakes she made for Christmas or spirits for other culinary reasons, she walked over to Front Street, as Mason Avenue was often called, and approached any man she saw loitering nearby who looked as if he could use some money. She gave him the money to purchase the required alcoholic beverage and waited outside the ABC store for her surrogate to emerge and pass her the precious package. Then she slipped him his tip and hurried off down the street.
Mother had another provider of spirits: Belle Bilich ran a small grocery store on "Front Street" that carried a line of kosher goods, which meant that she was permitted to sell Manischewitz wine. She was a friendly woman with dark brown hair and lively brown eyes. Mother often spoke of how much she admired Mrs. Bilich, both for her industry and the accommodating manner she showed towards her customers. She liked Belle personally, but she also liked the fact that, if she wanted wine for any reason, Mrs. Bilich would discreetly tuck a bottle or two of Manischewitz in with our family's grocery order.
The adults were not the only ones with a clandestine source of drinking materials. In the first block of Mason Avenue west of Fig Street, Jeff's, a black-owned store, and Ewell's, which belonged to a white owner, were housed in two of the oldest buildings in town. In fact, the floors at Jeff's were so old that they were black with age. Both were typical old fashioned grocery stores where the grocer stood behind the counter to wait on customers.
Occasionally in summer, we children were given a few coins and permission to walk over to Mason Avenue to buy ice cream. We happily set out with other children from the neighborhood for this rare adventure. Mother forbade us to go to Jeff's but gave us permission to walk farther down the street to Ewell's. Sometimes, however, we chose to patronize Jeff's. Jeff's store seemed dark as a cave as we came in out of the summer sunshine. A group of elderly black men, seated on chairs and crates within range of the breeze from the large floor fan, chatted about events in Jersey, the part of town in which they lived. As we trooped across the doorway and made our way towards the drinks cooler, the men's conversation ceased. With only the sound of the fan whirring softly in the background, we plunged our arms up to the elbows into the wonderfully wet chunks of ice in the big sweating cooler and fished up a grape soda or a big orange. We opened the bottles with the bottle opener attached to the side of the cooler, paid the grocer and rushed back into the street to drink up our "grapes" and "big oranges" before going home, because we had been permitted to buy ice cream, not drinks.
Soft drinks, except for homemade root beer and an occasional ginger ale, were seldom served at our house, as Mother maintained that drinking soft drinks in youth would lead to consuming hard liquor later in life. What's more, we were never allowed to drink a soft drink from a bottle, only from a glass, so we were being doubly disobedient at Jeff's. We soon learned to avoid buying the grape drinks. Purple lips and tongues always gave us away when we returned home.
Years later, when we admitted that we used to buy treats at Jeff's, Mother confessed that her objection to our appearing at Jeff's was, not that we were in any danger there, but because she felt that the unusual presence of a group of white children might seem invasive to some of Jeff's other customers.