EDITORIAL: Blame the Wave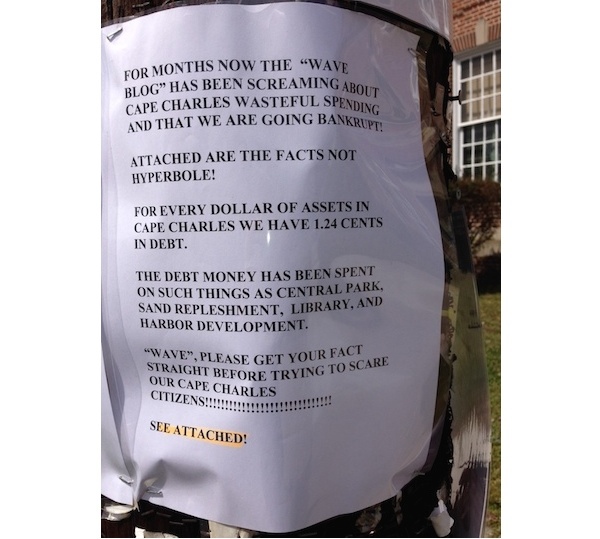 March 24, 2014
Going to the Post Office, it's hard to miss the posters attacking the Wave, including accusations of "schemes to denigrate our town." Another claim stapled to the telephone pole is that "the Wave has been screaming about wasteful spending and that we are going bankrupt."
The postings appeared on the telephone pole this past Friday, the morning after former town councilman Larry Veber addressed Town Council with a similar message. "Something that's very concerning," Veber related, "from what I hear from people who come into town. Two people recently that love Cape Charles and were so impressed with Cape Charles – they looked at everything, and said, 'listen – we understand your town is going bankrupt!' . . . 'Everything we read about in the Wave – it's bankrupt. You guys are going under! You are really in serious, serious trouble!'"
Veber continued, "We need to have somebody who's going to give the information and not editorialize it." . . . "There's a group somewhere that keeps on talking, keeps on beating, and it's hurting our town – in my opinion it's having a tremendous negative effect on Cape Charles."
Our response is that Mr. Veber's accusations are utterly ridiculous and without foundation. What he doesn't like is that the Wave actually reports the news – good and bad. The inner circles of any government never want bad news reported, and if possible they will print their own Pravda – or in the town's case, the Gazette.
CONTINUED FROM FIRST PAGE
Mayor Sullivan once said, "For accurate, precise information, please refer to the Gazette." But don't expect to get the full story in the Gazette. For example, Gazette readers learned all about plans for a giant prototype windmill to be built in the Bay off Cape Charles Harbor. That was good news. But when the multinational company pulled out of the deal, that was bad news, so the Gazette never printed a word.
But back to the Wave: We have never suggested, editorially or in a news story, that the town is going bankrupt. Readers can prove that for themselves. In the top right corner of the page is a search window. Type "bankrupt" and check the results. You will find two stories about the Madonia bankruptcy auction, and a story quoting Councilman Steve Bennett: "'I don't think this will put us into bankruptcy. By law we could have $40 million in debt,' he said."
What about "wasteful spending"? Searching for "waste," we find only stories on "wastewater" and "waste collection."
Last January, Paul Chandler, who owns vacation rental property, wrote, "The Wave purports to be a newspaper. If that's the case, it has a responsibility to the town to be a quality newspaper, instead of becoming a biased, divisive tabloid pandering to [an] insular minority."
We responded: The Wave has published 49 stories and events so far this month. Please put substance to your complaint by specifying which of those 49 stories should NOT have been published.
Mr. Chandler wrote back: "You appear to have completely missed my point."
It appears that our critics know they don't like the Wave, but are unable to cite specifics. So give Mayor Sullivan credit: back in 2013 when she was still speaking to us, we asked for a specific example of what she didn't like about Wave reporting. She cited that morning's headline: Town Plans Deal with South Port to Protect Inner Harbor. She didn't like the word "deal."  We would wager that she didn't like a more recent headline either: Town Grants South Port $180,000 Utility Fee Deferral — it probably sounds too much like a "real deal."
To prove that the town is not bankrupt, Mr. Veber is distributing a chart showing the total assessed value of town property versus town debt. You can read the chart on the telephone pole, but here's what you won't read: that report was as of June 2012, before the county reassessed town property for 2013. That was over a year ago, but Mr. Veber has yet to hear the news: town property values dropped 36 percent. In reaction, Town Council raised the 2013 tax rate to "equalize" the budget, and then raised it some more to actually increase the budget. The Wave reported it all (and for that matter so did the Gazette). The Wave also reported that town debt now totals $10.8 million, up from only $1.7 million in 2005. That's not a typo — town debt now is more than six times what it was in 2005.
Would somebody please get the word to Mr. Veber?