Classical ESO Live! concert with BJ Rogers, Richard Williams and Stefan Dulcie at Hungars Episcopal Church (10107 Bayside Rd., Machipongo) Sunday, June 8, at 4 p.m. Admission $15. [Read more...]
By WAYNE CREED
May 16, 2014
The harsh winter has finally subsided and given way to warm sun, and the hope of the coming summer. I have to admit, with chronic seasonal affective disorder, it was hard for me to get through this one (they seem to get harder each year). One thing that helped me survive was being able to spend each Saturday morning directing the youth cast of this spring's youth show, Curiosity Cat: A Danceable Drama for Cats.
I understand that over the past few years, there have been some worries about the plight of our Shore schools, and the kids that inhabit them. From talking to some folks, you would think that we're talking about inmates in a prison rather than students in a school. Spending any amount of time with this delightful cast would put those fears to rest.
One of the great things about Arts Enter is its commitment to bringing the arts, and the training of the arts, to so many on what is still one of the most historically underserved areas in the state. This has been highlighted with this production, where we have brought kids from all up and down the Shore, from Northampton, Kiptopeke, Occohanock, Nandua, Broadwater, and Cape Charles Christian School. This young cast brought so much energy, passion, and dedication to the task, that by now, it's even starting to wear this old man out. Tired as I am, I wouldn't miss a second of it — it seems each time we meet, someone does something so creative and serendipitous, so out of the box, something that fits the production so well, I sometimes have to just sit down and shake my head, thinking, "Where'd they come up with that bizzaro idea — but it works!" [Read more...]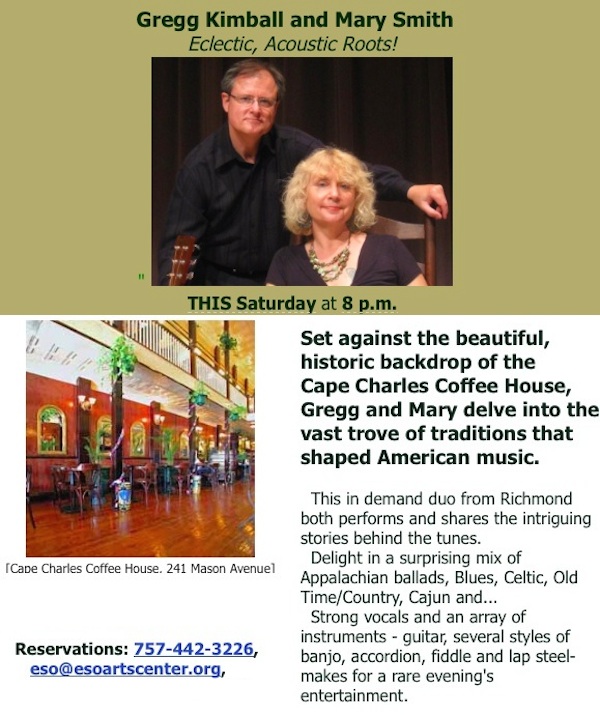 Next Saturday, April 12, set against the beautiful, historic backdrop of the Cape Charles Coffee House, the eclectic, acoustic roots of Gregg Kimball and Mary Smith will delve into the vast trove of traditions that shaped American music. As part of ESO Arts Center's ESO LIVE! On the Road Series, this in-demand duo from Richmond will both perform and share the intriguing stories behind the tunes. Their show is a surprising mix of Appalachian ballads, Blues, Celtic, Old Time/Country, Cajun and other styles. [Read more...]
By WAYNE CREED
March 29, 2014
The play The Odd Couple premiered on Broadway at the Plymouth Theatre on March 10, 1965, and later moved to the Eugene O'Neill Theatre where it closed on July 2, 1967 after 964 performances and two previews. Directed by Mike Nichols, the original cast starred Walter Matthau as Oscar Madison and Art Carney as Felix Ungar. The Nichols show produced Tony Awards for Walter Matthau as Best Actor, as well as Best Author for Simon, Best Direction of a Play for Nichols, and Best Scenic Design for Oliver Smith. In 1968, the film version, starring Matthau and Jack Lemon, cemented the iconic characters of Oscar Madison and Felix Unger. In 1970, the television show starring Jack Klugman and Tony Randall forever wove Oscar and Felix into the American consciousness.
The beauty of theater is that it is never static, whether it is recreating the Oresteia Trilogy, or Hamlet, or The Sound of Music. There's always something new, a different angle, a new way to be fresh. That is just what we saw this last weekend with the Palace Theatre's brilliant production of The Odd Couple: Female Version. Great productions always start at the top, and Clelia Shepherd's vision, wit, and charm created the perfect pallet. The production had a firm, even pace, allowing each actor the room to breathe and find their space within this rather daunting script.
This version of the Odd Couple differed from many I have scene, due to its visual brilliance — the actors literally popped on the stage, and the credit for this goes to one of the most talented and underrated artists on the Shore — the Palace Theatre costume mistress, Vera Miller. After every show, I always tell myself, there's no way she'll ever be able to top that, but somehow she always does, whether it is pitch-perfect historical such as Oliver or Piece of Eden, or the flat-out brilliance and style of Seussical the Musical. Here, once again, her eye was spot on. Working with Ms. Miller, Kevin Schwenk's great work with hair and make-up truly lent an air of authenticity to the show.
The beauty of the Odd Couple is that it plays to America's greatest theatrical strength — the ensemble comedic cast, and that strength was exploited to the fullest by Ms. Shepherd. The heart of the Odd Couple is the friendship and camaraderie that exists among the characters, especially when they meet for the weekly card games. In the female version, poker is exchanged for Trivial Pursuit, a savvy twist by the author, opening the door for numerous one-liners and zingers. [Read more...]
Saturday, April 5,  at 7:00 p.m., the Historic Palace Theatre on Mason Avenue presents a Tribute to Vivaldi. The evening will be filled with beautiful music along with imagery on the big screen. Violinist Dora Mullins and pianist Stefan Dulcie will perform Vivaldi's "Four Seasons." Adults $15, Students $5. [Read more...]
Friday, April 4, share an intimate musical journey at ESO Arts Center  in Belle Haven with one of the Shore's most beloved singer-songwriters, joined by a stage-full of musician friends. Peg Snowden plays guitar and performs a retrospective of original songs written over four decades. [Read more...]
March 17, 2014
Unger and Madison are at it again! Florence Unger and Olive Madison, that is, in Neil Simon's hilarious contemporary comic classic: the female version of "The Odd Couple" coming to the Historic Palace Theatre. Performances are Friday, March 21, at 8 p.m.; Saturday, March 22 at 8 p.m.; and Sunday, March 23 at 3 p.m. Tickets are $15 adults and $5 students and are available at the box office immediately before performances.
Olive, like her original male counterpart, is divorced and living in cheerful chaos in her New York apartment. At Olive's invitation, the suicidal Florence, newly separated from her husband, moves in and is soon finding comfort in cooking, cleaning and fussing until Olive is almost reduced to a nervous wreck. It becomes clear that the patterns of their disastrous marriages are already re-occurring.
Instead of the poker party that begins the original version, Ms. Madison has invited the girls over for an evening of Trivial Pursuit. The Pidgeon sisters have been replaced by the two Constanzuela brothers. But the hilarity remains the same. Taking the stage at the Palace Theatre for these performances are Fran Loper, Mellisa Stein, Joanne Dean, JP Pare, Christie Iversen, Victor Abrahamian, Susan Kovacs, and Sherri DeMarino.