Arts Enter will be holding auditions for "The Exciting Adventures of an Effervescent Elf" on Saturday, January 24, at 10 a.m.. There are several roles for male and female, ages 7 to 16. [Read more…]
"Traumatic Brain Injury" is this week's free 90-minute talk sponsored by the Science and Philosophy Seminar of the Eastern Shore of Virginia. It will be held at 12:30 p.m. on Friday, January 23, in the Lecture Hall of the Eastern Shore Community College, in Melfa. Bob Paschall will talk about the political and social implications of traumatic brain injury. Paschall practices neurology on the Shore.
Time to get your dance and movement on, as the spring semester begins at Arts Enter School of Dance. Looking for a different kind of workout? Try our 60 minute high-energy Advanced Modern or Contemporary Jazz classes featuring a warm up, a toning session, and 45 minutes of original choreography by Amy Watkins. Drawing on all types of musical influences, Miss Amy's choreography is always low impact, but fun for both new and experienced dancers. [Read more…]
Chris Bannon invites everyone to attend the 23rd Annual Epiphany Party & Auction January 17 at the Fire House. Per tradition, guests are requested to bring their "least favorite" Christmas gift to be auctioned, with proceeds going for playground equipment at Central Park. RSVP to Bannon at 757-331-2206 or [email protected] by January 14.
"Bird Photography on the Eastern Shore," sponsored by the Science and Philosophy Seminar of the Eastern Shore of Virginia, will be held from 12:30-2 p.m. Friday, January 16, in the Eastern Shore Community College lecture hall in Melfa. George Budd will show how he has used the medium of bird photography in a journey to open himself up to the world around him. Budd, now retired, has lived with his family on the Shore for 10 years.  He plans to continue with his photography.
A beginners' beekeeping class will be held in February at the Chamber of Commerce in Melfa.  Sponsored by the Beekeepers' Guild of the Eastern Shore, the class will meet on two consecutive Saturdays, February 7 and February 14, from 9 a.m. until 2 p.m. [Read more…]
DATE:  January 10
TIME: 8 p.m.
PLACE: Historic Palace Theatre, 305 Mason Avenue
COST: $15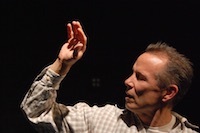 John Hardy's one man show, Rattlesnake, is a ground-breaking creation. A man of West Texas meets a rattlesnake and immerses himself in its world, finding a comfort and belonging that eludes him in the outside world. It is a brilliantly written original script with 16 characters all played by Mr. Hardy. They come to life before your eyes, distinctly and convincingly. The show is visionary, mystical, and virtuosic in the execution. [Read more…]
American Legion Post 56 Commander Joe Vaccaro reports that the Post collected and delivered over 570 dry and canned food items to the Cape Charles Food Pantry this year. "Of significant note is the fact that this was the first year the Post participated in this food drive, and plans are already under way to make this an annual event at Post 56," Vaccaro noted.