SUNDAY 7/5: Art in a Barn Features Free Dance Films, Dinner at Mimosa Barn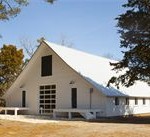 Art in a Barn begins at 6:30 p.m. Sunday, July 5, 2015, at ESLAND's Mimosa Barn just outside of Cape Charles at Eyre Hall Creek. Space will be transformed into a stage for dance, music, projection, community, and good food and drink. This innovative experience offers a stunning Eastern Shore sunset, dazzling  guests with a night that unravels in a series of site-specific, live performance "events" and plenty of time to relax and enjoy the scenery with friends and family. Dinner and Cash Bar will be followed by performances beginning at 7:30 p.m. Suitable for all ages. Special screening of dance films by COORPI, Italia, with performance and music by the Experimental Film Virginia artists.
Directions to Mimosa Farm: From Cape Charles and Stone Road, turn left onto Rt. 13 north. At first traffic light turn left onto Townefield Road, then make an immediate right on Cherrystone Road. Go to 2nd paved road and turn right onto Oakland Farm Road  (there is a Dead End sign here). Mimosa Farm is straight ahead.