The Eastern Shore Oyster Roast is Saturday, October 25, from 4-8 p.m. with proceeds benefiting the Eastern Shore Artisan Trail. If you look carefully on the poster below you'll see there could not be a more appropriate location in the whole world.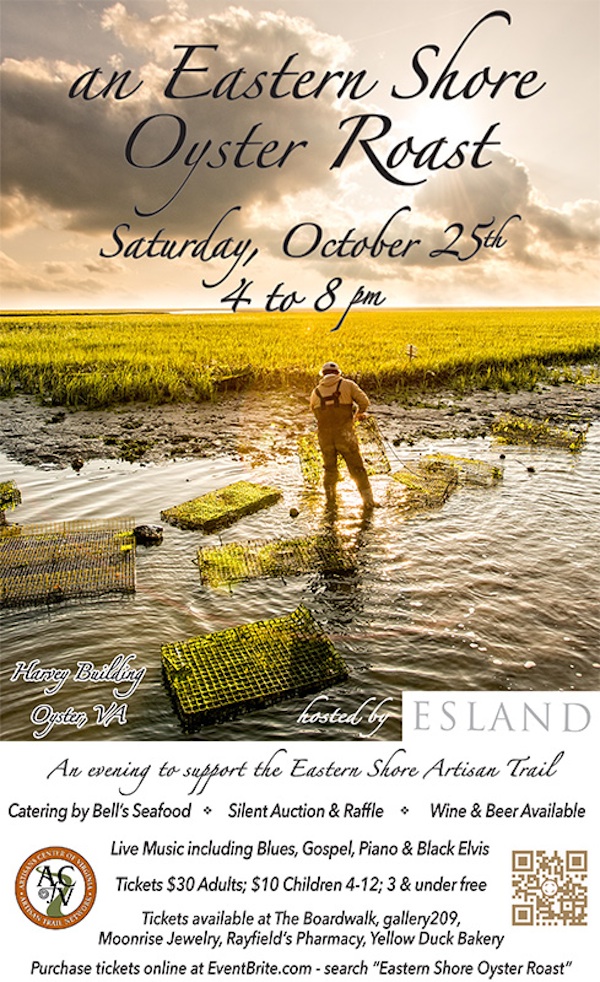 October 20, 2014
Peacewerks Center for Well-Being, LLC, announces its opening in Cape Charles at 109 Mason Avenue, Suite A (the former Sullivan's Building).  Peacewerks is staffed by Gerald E. Boyd and Polly Boyd and exists for the support of individuals, families and communities in the continuous achievement of emotional and spiritual balance and the reclaiming of life. [Read more...]
By ANDY ZAHN
October 20, 2014
PART 5
With so many women working on the war effort, and many had children, there had to be a way to take care of these kids. My town came up with "Child Care Centers," and my mother, being a natural with children, got a job as a Child Care teacher. Now this was amazing since Mom never graduated from 8th grade because her father got killed at work and left a widow with seven kids. The oldest had to quit school and had to find jobs.
I've heard of "horse whisperers" and "dog whisperers" where a person can train the animal through just plain love, and I think some people, especially kindergarten teachers, also have this talent.
After Mom quit school she was playground director in the school she had just left. At times she taught nursery school and in a large federal housing project in California she was in recreation for the teenagers. I saw my mother who was 4′ 11″ just simply clap her hands at a dance of a couple hundred boys and girls and the place fell totally silent. The respect was incredible!
Dad was overseas, and he loved real stinky German Limburger and Liederkranz cheese. The cheese came in a wooden box with about eight half-pound blocks, each wrapped in tin foil, and then Mom wrapped the whole thing securely in brown paper and I took it to the Post Office. They could smell it, and it had to be re-wrapped and then sent. I avoided the kitchen whenever my parents were eating that cheese.
Dad was a stickler about eating. "Eat that fat. I paid 35 cents a pound for that too!" "Clean your dish." We had a deal which was fine for me. Eat everything on your dish, that meant all the veggies, etc., and then you could have seconds on whatever you wanted, which meant steak and chops. Dad couldn't abide people who ate with their eyes or noses. "Taste it. You may like it," and usually he was right. Finally he goaded me into trying the stinky cheese, but one bite was my limit. I said it tasted just like what it smelled like.
Turkey, I got the drum stick. T-bone steak, I got the tail. I thought it was the best part and because they loved me. Only now I realize their teeth couldn't handle it! [Read more...]
By DR. NATHAN HIGGINS
October 6, 2014
There are two questions that I generally get when I meet someone new. It's either, "Do you have family here?" or "What brought you to the Eastern Shore?"
The first one is easy; no, we don't have family here. The second is much more complicated and multi-faceted. From the moment we stepped on the Shore in April 2013, we found the contrast to our usual hustle and bustle to be so refreshing. Northampton County was filled with unobstructed charm along with caring people who took the time to get to know us.
We saw an exciting small town community that was growing steadily while keeping a safe, family atmosphere. But we were astounded to hear that there was no veterinary clinic in the county, and to learn how far people were traveling for pet care. [Read more...]
CAPE CHARLES WAVE
October 6, 2014
Last week former mayor Dora Sullivan closed her office supply store at 109 Mason Avenue, which had been the informal "town hall" for eight years. She had announced her retirement concurrent with stepping down as mayor last July, but kept the shop open until it could be sold or rented.
Meanwhile, Realtors Lynn Gray and Melanie Brown had closed their Eastern Shore of Virginia real estate office just up the street and joined Long & Foster in Onancock. That's when L&F listings started appearing on For Sale signs in Cape Charles.
Business must be good, because Long & Foster now has leased the Sullivan's storefront. No more trips to Onancock will be necessary. [Read more...]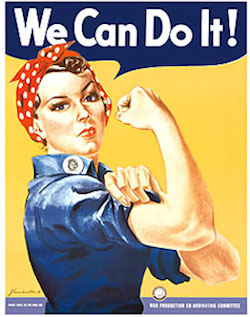 By ANDY ZAHN
September 29, 2014
PART 4
On the home front many men were gone into the military. There was a need for people to enter the work force and do the jobs that the men left behind. Who else but the women to fill these slots and to work in factories making such things as jeeps, trucks, B-17 bombers, rifles and so many other products?
With many husbands now earning "21 dollars a day, once a month" as GIs, where they used to bring home $35 a week, there was a need for extra income. The women were magnificent!  The plants building war items flew on their flag poles a letter "E" for efficiency awarded by the government. Even far more important the women were forced to manage the household budget, pay the bills, taxes, mortgages, or rents and raise their children by themselves long before "single moms" existed. Some men owned businesses and it fell on the wives to take over the business and put in the hours that required so when the war ended the business was still there.
Andy Kless had a little dining car on Springfield Avenue, and when he was in the Navy, Mrs. Kless took over, cooking, washing dishes, etc. Andy was a friend of mine and when he returned home the business was in good shape. Andy got a GI loan, removed the old dining car, and put in a beautiful shiny new diner. He later bought two more new diners in Irvington, but when the town went to ruin the one diner was moved to Beachwood where it now stands. Adele Joa in Pine Beach, NJ, took over Mack's Tavern on Highway 9 in Bayville while her husband was in service.
Another side of this was that the mothers and wives were not hardened by the horrors of being on a battlefield, and provided a nurturing, warm, loving environment for the children and the returning veterans. Civilized nations did not send their women off to war. During and after the war we had women in service; my wife was in the USAF, but we didn't put then in harm's way. In the Korean "Conflict" we were capturing and holding as POWs women from the Chinese Army. We were horrified that women would be sent into combat! Now we are doing the exact same thing. Even worse, we have fathers and mothers both in service and both being deployed with grandparents watching the kids. There is talk of reinstituting the draft and now a possibility of drafting girls. Like they say, "we've come a long way baby," and I for one don't like it at all. [Read more...]
By ANDY ZAHN
September 22, 2014
PART THREE
At home we got the Newark Evening News and every day they told how the war was going. They daily had a map showing how far General Patton had gone that day. One day he advanced 65 miles and had to stop because his tanks needed gasoline. He saved our bacon in the Battle of the Bulge by having his Third Army cut across all the supply lines and racing to reinforce our forces. He was my hero and I wanted to be a "tanker" and wear two pearl handled .38s but it wasn't to be. Ernie Pyle had war stories that were great and I believe he got killed by enemy fire.
General Marshall had more brains than any 20 other generals. He put so many things together that all came together at the same time and same place. Training an army while making their M-1 rifles, 6×6 trucks, cargo ships, troop transports, training pilots before their planes were built, managing the rails, coal, and steel plus everything else an army and navy needs.
Eisenhower was a low key, quartermaster issue army officer. D-Day and the European campaign were sheer brilliance. We had an elderly corporal in the 4th MPs and he was waiting to retire. He just came in and talked and then went back home. He should have retired but they had him down for six months bad conduct time which he had to make up. His mother wrote Ike, and a letter came back from the White House. He had served with Ike at Fort Lewis long ago when Ike was a major. The letter said "THIS MAN HAS NO BAD CONDUCT TIME. REPEAT NO BAD CONDUCT TIME." The corporal got his pension!
In the Pacific, Admiral Nimitz was my hero and I have his autograph. I saw him after the war and he was the most handsome naval officer there ever was, bright SILVER hair. Medium height, about 5'6″, in his blues his stripes went to his elbow or above. He was a five star as were Ike and Marshal along with Halsey, MacArthur, and Bradley, and he had a wide gold stripe with four regular gold stripes. He was the Fleet Admiral of Task Force 57 and they went through hell with Jap aircraft and Kamikazes. He defeated the Jap fleet at the Battle of Midway and that was the turning point in the Pacific. There was a Navy Lt. Commander who worked with codes and he cracked the Jap code. Because of that Nimitz knew where and when the Jap fleet would be and that was a large part of our victory. Nimitz, a FIVE STAR WAR HERO, put the Lt. Commander in for a medal and the Pentagon rejected the request. It is hard to believe — and also hard to believe that Patton would be humiliated for slapping a malingerer. [Read more...]
September 2, 2014
Cape Charles Historical Society has for more than a decade been recording oral histories of the area's earlier days.  A grant from the Virginia Foundation for the Humanities enabled 15 interviews to be transcribed, and the Historical Society has made this one available for readers of the Wave. 
1990 Interview of Virginia Fitzhugh conducted by Virginia Savage
PART SIX
VIRGINIA SAVAGE:  There's a house [southwest corner of Randolph and Peach] owned by Ham Hamilton.  He was married to a Whitehead [from Townsend -- two doors east of Miss Iva].
VIRGINIA FITZHUGH:  They're related in some way.  You know you can't talk about anyone around here, Virginia, because everyone is kin!
You know, I found that early!  When I came to the Eastern Shore I found out in a hurry you don't talk about anybody because everybody was kin!
That's where Carrie King lived for years [before she built her house].  Yeah, she lived there for years and years, Carrie King.  Now who built it, I don't know.
Now which house is that?
Where Ham Hamilton lived on that corner.
Tazewell and Peach.  Then Carrie built the house up Randolph Ave that the Wendells now live in.  And I think she must have built that about 1945.  You know, in about 1958 we bought what was the Dr. Lynch house, the Dr. Moore house before that, we didn't pay but $7,500 for that house.  And the Wendells bought Aunt Carrie's house not long after that and I don't think they paid but $20,000 for that and that was one of the prettiest houses in town.
Dr. Lewis Belote, the dentist, only paid $20,000 for the Moore house.  [Jack Moore house on Bay Avenue.]  And that came right from Elizabeth.  Because you know when Joan wanted to sell it, she wanted $100,000 and Elizabeth had a fit.  She said, "My Lord, my Daddy sold that to Lewis Belote for $20,000 and I think left the piano in there."  [Bobby Rittenhouse has it.]
And that was thirty years ago, because I think Wade was about two years old when they moved into that house, because I kept him during that period of time.  He and Jake were buddies.  So that was about thirty years ago, they paid $20,000 for that house.  Isn't that amazing!
Elizabeth said she just couldn't get over it.  To think Daddy sold it for $20,000. [Read more...]