By WAYNE CREED
Cape Charles Wave
March 30, 2014
Mayor George Proto has begun holding "office hours" twice monthly for an hour at the Cape Charles Civic Center, and last week the Wave took that opportunity for an interview. Proto holds degrees from Drexel (BS Physics) and University of Virginia (PhD Materials Science). He worked at IBM for 30 years, interacting with and managing diverse groups of people from multiple countries and continents.
"I was responsible for projects that demanded that people worked together in order to be successful."
So, how did you come to find yourself in Cape Charles?
Well, my wife tells the story better than I can — but, briefly, I guess I would go back to 1999, and both our parents had just passed away, within a few months of each other. And we just wanted to get away, so went to Bethany Beach. We just wanted to sit in the sun, and just relax, maybe jump in the surf now and then. But it rained the entire time. The whole week.
Now my wife, who is from Milford, Delaware, still had a good friend living in Belle Haven, and since the weather was going to be so bad anyway, we drove down to the Eastern Shore to visit, and explore some. There were small towns all up and down, and I even got to see the Bridge-Tunnel for the first time (I had never been that far south on the Peninsula before).
On the way down to see the CBBT, we saw the sign for Cape Charles, so on the way back we pulled in and explored, and just fell in love with the place. We bought property, and when we retired, we moved here.
How would you rate the current status of Cape Charles?
Overall, I would say it's in good shape. Of course, there's much more to do. Obviously, from an economic standpoint, I would like to see more growth. The tourism — the current tourism we have I think is a good thing, but I would like to see more growth in industries that are year round. I think the yacht center is something we can look to, where the success there will create, or provide opportunities for other businesses to build up around it.
One asset that we do have in our favor is high speed Internet — did I ever tell you what I did when I worked for IBM? Well, basically whatever they told me to do (laughs) — but later on, I was working more in project management, or more problem management, where our teams were spread out all over the world. I think high speed Internet can allow that kind of collaborative work to occur here.
What we'd like to see is a little more density [year round], to help all of our businesses — but there are barriers to getting people to move here. Number one is the schools. Then there is the lack of emergency medical services. Third is the toll. Now, if we could lower the toll even more, I'm sure there are people in Virginia Beach that would move here, if we could also offer a better public school option. Like I said, I think our tourism is always going to be a big part of what we do, but in our case, it is the type of tourist that chooses to come here that differentiates us. They seem so willing to embrace us, to embrace our values. [Read more…]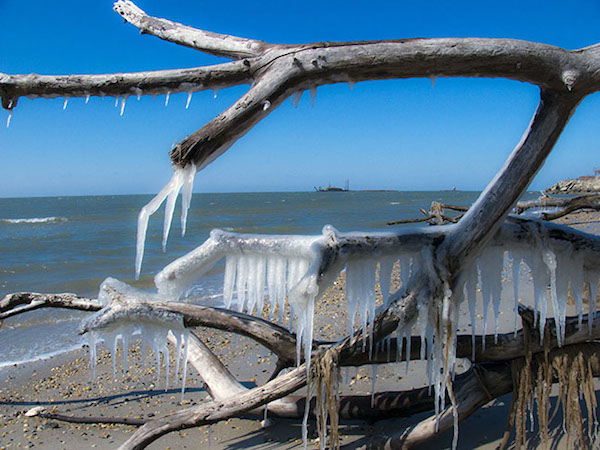 Photographer/artist Gertraud Fendler took this shot just before last week's warm spell arrived. In the distance is one of the ships dredging the Cape Charles Harbor. (March 16, 2015 edition)
United Poultry Concerns founder Karen Davis submitted this week's snow photo, featuring three of her sanctuary birds. "We got hit with lots of snow this winter, but our sanctuary birds have braved the elements with fortitude and good cheer," she reports. "Some of the white hens in these photos were flown by private jet from California battery cages in 2013 following their rescue by Animal Place, yet here they are, tramping about in winter wonderland in Machipongo, Virginia!" (Published March 9, 2015)
By BILL NEVILLE
Cape Charles Historical Society
March 9, 2015
This is the story of the family that built the house at 113 Tazewell, and a glimpse of what life was like in Cape Charles in the early part of the 20th century when Geraldine Richardson's parents raised their three children there. The house was built in 1914 by C.H. Legg, a building contractor in Cape Charles who also was busy laying some of the sidewalks in town. (He marked his work by leaving metal plates stamped with his name. Some still remain today.)
This story begins with a late summer encounter when Sarah Kepple was visiting Cape Charles and wanted to see the house where her grandmother Geraldine Richardson Scott was born and grew up. The last time she had seen the house it was in great dis- repair and appeared abandoned, so she was happily surprised to see the house completely renovated including a nicely designed addition.
She called her  to let her know about the amazing transition. Grandma said, "You should go knock on the door and tell them that your great-grandparents built this house." So she did. The person who happened to be in the house was Missy, the sister of part time resident Kim Abod, who along with husband Craig bought and renovated the house.
Through a series of emails and phone calls, arrangements were made, and on November 7, a spry and witty Geraldine, now 93 years old and living in Norfolk, returned with two of her children, Nancy Phillips and John Scott, to the home where she was born in 1921. [Read more…]
March 4, 2015
When the Wave broke the news that Aqua Restaurant was being renamed The Oyster Farm at Kings Creek, the story quickly became the most read of the year. Everyone was interested to hear about the changes — although the majority of commenters turned thumbs down on the new name. Now the restaurant has launched, heralded by the magnificent photo above. CLICK for the Oyster Farm website, which includes new menus for the renamed restaurant.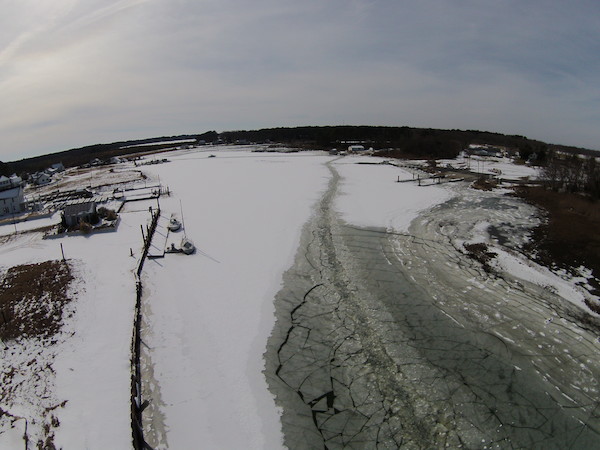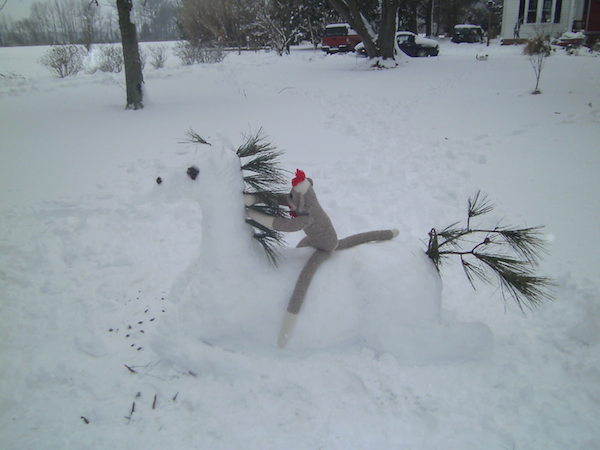 Submissions to our FROZEN FOTOS this week come from Craig Richardson (top), who with the aid of his quadcopter unmanned aerial vehicle captured an iced-in Oyster harbor. Meanwhile, Ken Dufty reported that "Our sock monkey didn't have to go to school today. He was so happy, he snuck out into the snow to take a ride on his snow horse. Never underestimate the joy that lives within a sock monkey." (March 2, 2015)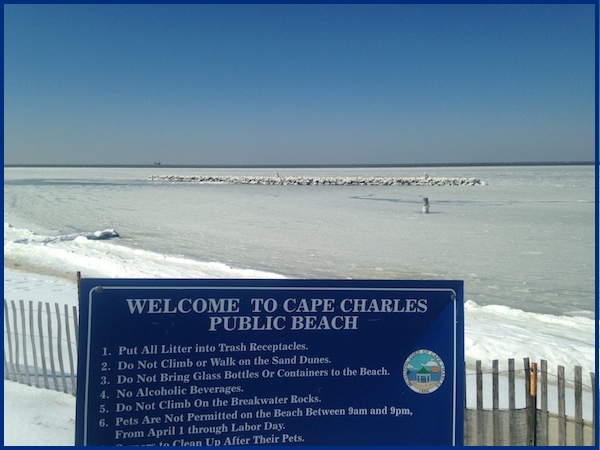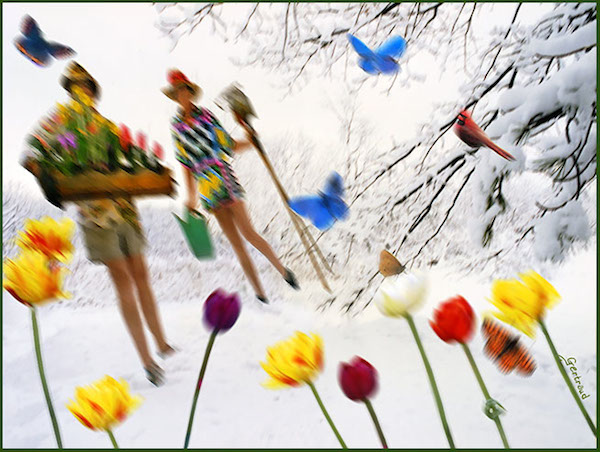 Reader submissions on the coldest, snowiest week of the year include the stark reality of the Cape Charles beach, documented by Frank Wendell, and a fantasy of sugarplums dancing through the head of Gertraud Fendler and her Photoshop. (Published February 23, 2015)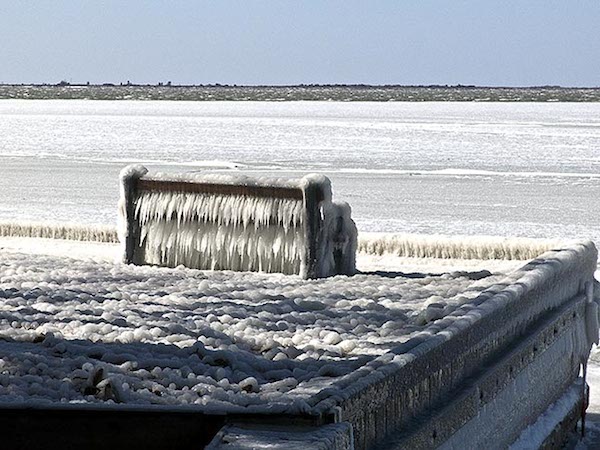 Intrepid photographer Gertraud Fendler documents how the Bay looked yesterday (Sunday, February 15) at 15 degrees in the morning with wind gusts up to 50 mph. An icicle-covered bench will have to wait a long time for a customer.