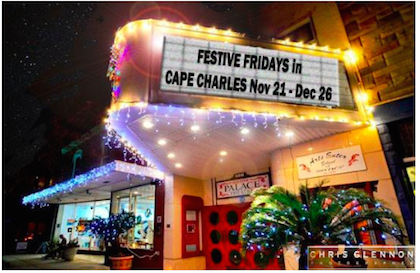 By SARAH GOLIBART
Cape Charles Wave
November 21, 2014
Cue the song by Little River Band "Reminiscing." The song is playing on a Friday night, just as a guy is walking his girl home, a frequent happening in small towns like our own Cape Charles.
If only there were more events to walk your girl or guy home from in Cape Charles!
"Well, I want to tell you, Cape Charles, I want to plan my schedule around you. Tell you that it's true. I want to make you understand. I'm talking about a holiday plan!"
Calling all Cape Charles residents! You too can walk through the park reminiscing — after "Festive Fridays" that is.
"Festive Fridays" will take place on six consecutive Friday evenings beginning November 21 through December 26. This is your chance to enjoy an old-fashioned, small-town holiday experience, including shopping, delicious food and drink, entertainment, seasonal decorations, and plenty of good cheer.
Each Friday from 5-8 p.m. enjoy events like horse-drawn carriage rides, special deals at restaurants, refreshments, and special promotions at local merchants. Get into the holiday spirit by following the luminaries lighting the sidewalks of Cape Charles while enjoying holiday caroling and appearances by Santa and Mrs. Claus. Even the "Love" sign will be front and center in town and decorated for the season. Don't miss your chance to make new memories in Cape Charles that you'll reminisce about for years to come.
The Artisans Center of Virginia, in partnership with citizens on the Eastern Shore of Virginia, celebrates the naming of the newest artisan trail in the Virginia Artisan Trail Network system: "Virginia's Eastern Shore Artisan Trail." After 6 months of community meetings, lunch & learns, and an exciting amount of creative input with consideration by key stakeholders and the trail's management team, consensus led to the branding of their artisan trail. [Read more...]
By JOE VACCARO
American Legion Post 56
November 6, 2014
Veterans Day is Tuesday, November 11. Its purpose is sometimes confused with Memorial Day.
Veterans Day celebrates the service of all U.S. military veterans, while Memorial Day remembers the men and women who died while serving. Veterans Day originated as Armistice Day and marked the end of hostilities of World War I that occurred at the 11th hour on the 11th day of the 11th month. Therefore, the day is always recognized on November 11th, regardless of the day of the week the 11th falls on.
American Legion Post 56 will conduct their Veteran's Day ceremony at the Cape Charles Memorial Flag Pole on Mason Avenue starting at 10:55 a.m. Guest speaker will be retired Army veteran Clayton Allen, and his wife, Rev. Janet Allen, will lead the prayer service. The public is most welcome, and is requested to dress appropriately for this outdoor ceremony. [Read more...]
The inaugural Brews, Band, BBQ & Oysters Too! took place on Saturday, October 18 and was a delight to all of the senses. The aroma of spicy-sweet smoked barbecue filled the air. Hoppy beers tickled the taste buds. Even the most reluctant dancers found themselves tapping their feet to the beat of the music. As if by special request the weather was perfect with the sun shining and a coastal breeze blowing. Looking around, smiles adorned the faces of a large crowd coming together to benefit Cerebral Palsy of Virginia – a nonprofit serving children and adults with disabilities on the Eastern Shore and throughout Virginia. [Read more...]
The Eastern Shore Oyster Roast is Saturday, October 25, from 4-8 p.m. with proceeds benefiting the Eastern Shore Artisan Trail. If you look carefully on the poster below you'll see there could not be a more appropriate location in the whole world.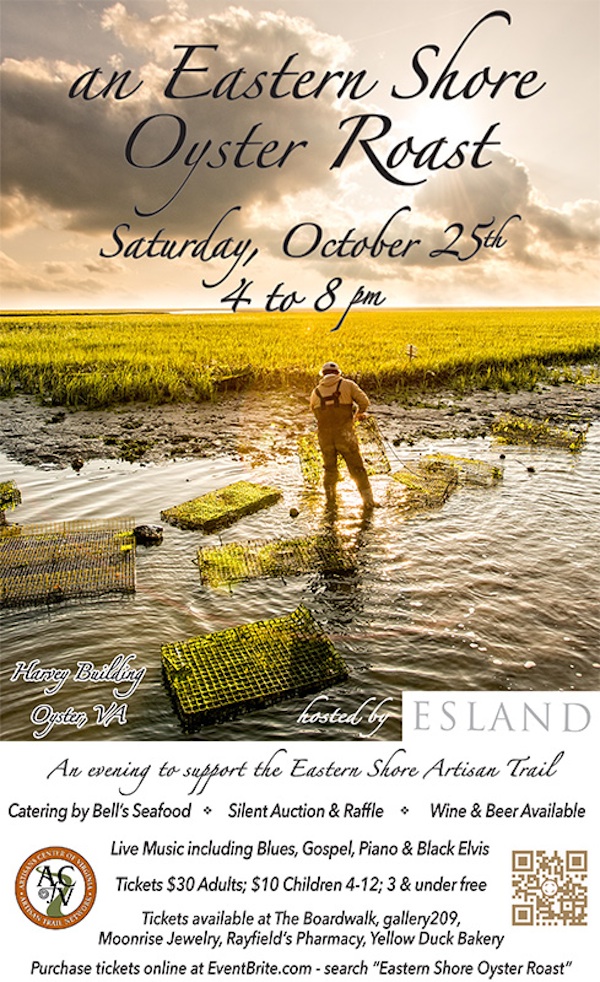 October 20, 2014
Peacewerks Center for Well-Being, LLC, announces its opening in Cape Charles at 109 Mason Avenue, Suite A (the former Sullivan's Building).  Peacewerks is staffed by Gerald E. Boyd and Polly Boyd and exists for the support of individuals, families and communities in the continuous achievement of emotional and spiritual balance and the reclaiming of life. [Read more...]
By ANDY ZAHN
October 20, 2014
PART 5
With so many women working on the war effort, and many had children, there had to be a way to take care of these kids. My town came up with "Child Care Centers," and my mother, being a natural with children, got a job as a Child Care teacher. Now this was amazing since Mom never graduated from 8th grade because her father got killed at work and left a widow with seven kids. The oldest had to quit school and had to find jobs.
I've heard of "horse whisperers" and "dog whisperers" where a person can train the animal through just plain love, and I think some people, especially kindergarten teachers, also have this talent.
After Mom quit school she was playground director in the school she had just left. At times she taught nursery school and in a large federal housing project in California she was in recreation for the teenagers. I saw my mother who was 4′ 11″ just simply clap her hands at a dance of a couple hundred boys and girls and the place fell totally silent. The respect was incredible!
Dad was overseas, and he loved real stinky German Limburger and Liederkranz cheese. The cheese came in a wooden box with about eight half-pound blocks, each wrapped in tin foil, and then Mom wrapped the whole thing securely in brown paper and I took it to the Post Office. They could smell it, and it had to be re-wrapped and then sent. I avoided the kitchen whenever my parents were eating that cheese.
Dad was a stickler about eating. "Eat that fat. I paid 35 cents a pound for that too!" "Clean your dish." We had a deal which was fine for me. Eat everything on your dish, that meant all the veggies, etc., and then you could have seconds on whatever you wanted, which meant steak and chops. Dad couldn't abide people who ate with their eyes or noses. "Taste it. You may like it," and usually he was right. Finally he goaded me into trying the stinky cheese, but one bite was my limit. I said it tasted just like what it smelled like.
Turkey, I got the drum stick. T-bone steak, I got the tail. I thought it was the best part and because they loved me. Only now I realize their teeth couldn't handle it! [Read more...]
By DR. NATHAN HIGGINS
October 6, 2014
There are two questions that I generally get when I meet someone new. It's either, "Do you have family here?" or "What brought you to the Eastern Shore?"
The first one is easy; no, we don't have family here. The second is much more complicated and multi-faceted. From the moment we stepped on the Shore in April 2013, we found the contrast to our usual hustle and bustle to be so refreshing. Northampton County was filled with unobstructed charm along with caring people who took the time to get to know us.
We saw an exciting small town community that was growing steadily while keeping a safe, family atmosphere. But we were astounded to hear that there was no veterinary clinic in the county, and to learn how far people were traveling for pet care. [Read more...]