By BILL NEVILLE
Cape Charles Historical Society
July 17, 2014
Friday, July 18, at the Town Harbor the symbolic return of a piece of Cape Charles railroad history will occur. An early 1900s yacht will enter the harbor displaying on deck a 20-foot-long name board with the word "Pennsylvania."
These boards were attached to the side of the pilot houses on the old Pennsylvania Railroad barges that have been a part of the harbor scene in Cape Charles since the 1880s.
The name board will be crossing the bay on the yacht Mar-Sue following the early route of the barges from Port Norfolk on the Elizabeth River to the harbor in Cape Charles. The event was made possible when Cape Charles Historical Society member and railroad enthusiast Jim Curtin of Chesapeake offered this piece of history, which has been in his possession for decades, to the society last March. [Read more...]
July 14, 2014
(EDITOR'S NOTE: Cape Charles Historical Society has for more than a decade been recording oral histories of the area's earlier days.  A grant from the Virginia Foundation for the Humanities enabled 15 interviews to be transcribed, and the Historical Society has made this one available for readers of the Wave.  All the transcriptions may be read at the Cape Charles Museum. CLICK to read previous oral histories in the Wave.)
1990 Interview of Virginia Fitzhugh conducted by Virginia Savage
PART FOUR
VIRGINIA FITZHUGH: When we lived on Randolph Avenue, Miss Lina Taylor lived across the street from us. And when Daddy built [on Tazewell and Pine] down there, she said that town was so lonesome up there that her neighbors had moved, she bought a piece of property and built on Monroe Avenue.
VIRGINIA SAVAGE: I love that house. And she would be pleased to know that the stairwell is back in it and it's no longer two stories. Did she have a family?
She had Gordon Ames and Winton. Now, Gordon, you remember Cary Ames? Well, that was one of Miss Taylor's sister.  See that double house in back of us, Miss Taylor built. She sold that house to Dixon, that's on the corner where the B&B is now. Mr. Dixon was a painter, paper hanger.
Now that's always been referred to as the Dixon house. He's the one that turned it into two apartments then.
That's right.
Because when I first came over to the shore, you had to go up a back staircase to get to Bond Disharoon's apartment.
And Miss Taylor built that big, brick double house in back of ours, where Ruby Bull lived; they lived there for years. That's right, the Schrecks were living in one part. Then Miss Taylor died and Marie married and went to New York and they sold that house to Ryland Bull. See, Ryland lived up the street in that double house that's across from Ethel May [500 block of Monroe]. And he sold that and bought the double house of Miss Taylor's. Cary Ames was the daughter-in-law. the son was Gordon. He built the house they lived in. [Read more...]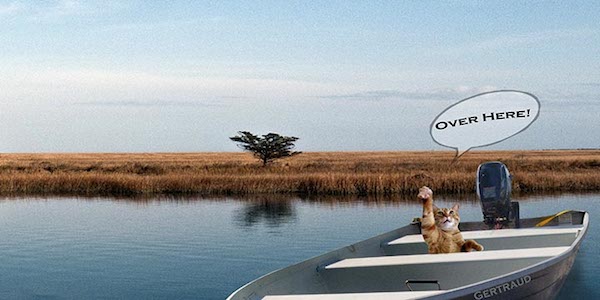 By GERTRAUD FENDLER
July 14, 2014
Living on the Eastern Shore, bounded by water on two sides, makes owning something to float on a necessity. I have this little kayak, a short, round, cute little tub. Not a streamlined kayak, just a little basic kayak. Used it every so often, not too often. After a long, painful trip out to the Barrier Islands a few weeks ago, I realized that my paddling days were not so enjoyable any more.
I also have another boat, a small aluminum rowboat. Has been sitting in my backyard as an ornament for years, slowly turning into a planter. So a few days ago, I decided to purchase a real, small outboard engine at a local marina. Next day I was ready to head out with my new toy. Eureka! It felt like having my first car, after riding a bike for years. Freedom!
Started out early to avoid the searing afternoon heat. Made it to the boat ramp just fine. Backing up took (quite) a few tries. The boat ramp looks much wider close-up when on foot. (Note to self: Should practice backing up in my driveway — and remember, turning left means the bloody boat turns right!)
Slid the boat off the trailer without any problems — even remembered to tie it up before I parked the car. Tried to lower the motor into the water. Where on earth was that little gizmo Tom showed me at the marina that I had to pull out first? Ten minutes later — oh, this one! (Note to self: Things look different when viewed standing on land behind the boat.)
Then tried to start the motor. Pump … Choke … Pull … Again. Took a few pulls (Why did it only take ONE at the marina?) And then the motor stopped. Again — see above — nothing, just a few sputters. Ten minutes later — Success! (Note to self: Do NOT stand on the gas supply hose while trying to start the motor!) [Read more...]
(EDITOR'S NOTE: The Wave normally does not publish promotional press releases from afar, but this one caught our eye as exceptional. We congratulate Lisa McPherson on her successful and growing Eastern Shore start-up.)
By LILLY McGEE
July 12, 2014
Blue Skye Lavender, a 13.7-acre lavender farm near Modest Town in Accomack County, is featured in a nine-page spread in the current edition of Martha Stewart Living. Founded by Lisa McPherson in 2008, Blue Skye Lavender caught the attention of the magazine in 2013, and a camera crew spent two days on the farm last June capturing its natural beauty and the 1,200 lavender plants that dominate the farm's landscape.
McPherson uses the lavender she grows to produce elegant confections and bath products. She distributes her products in North Street Market in Onancock and in the Washington DC area.
The business started as a series of happy accidents. "Six years ago, I wanted to plant some lavender to deter deer from eating my plants and trees, so I ordered 300 lavender plants from a West Coast nursery. They sent 3,000 plants by accident, so my daughter and I rounded up some friends and got to work," McPherson said.
The Shore's wind and sun were hard on McPherson's fair skin, so she mixed lavender extract with sugar and created a soothing skin balm. "One day, I noticed my daughter spooning this lavender skin balm out of the jar and eating it," said McPherson. "I just about fell out of my chair. Then I started thinking about it and realized that lavender might be a nice accent in candy, so I started making nut brittle with a lavender accent." [Read more...]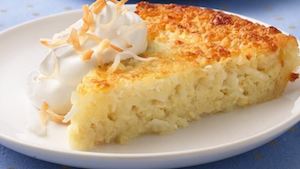 July 12, 2014
At the Wave's request, longtime Monroe Avenue residents Dolores and Stefanie Somers are sharing a recipe known as "Impossibly Easy Coconut Pie." Dolores says the recipe was popularized by Bisquick, but no matter — it really is the best coconut pie ever!
 Impossibly Easy Coconut Pie
2 cups milk
¾ cup sugar
½ cup Bisquick
¼ cup butter or margarine, softened
4 eggs
1 ½ tsp vanilla
1 cup coconut flakes
Lightly grease pie pan.
Mix all ingredients except coconut flakes in blender or food processor.
Stir in coconut flakes.
Pour into pie pan and bake 50-55 minutes at 350 degrees.
No need for a pie crust — the pie forms its own crust!
By GEORGE SOUTHERN
Cape Charles Wave
June 30, 2014
In August 2012 the Washington Post sent travel writer Becky Krystal to the Eastern Shore, where she discovered then newly opened Hotel Cape Charles, as well as Brown Dog Ice Cream, and gushed over both of them. Two years later the Post has discovered the Eastern Shore all over again, this time through the person of Andrea Sachs, who appears not to have read the yellowed clippings of her colleague's story.
Ms. Sachs' upbeat account in this past weekend's Post will no doubt bring even more tourists our way – especially those looking for something new and different. She writes:
Travelers familiar with the extrovert to the north, Maryland's Eastern Shore, will be surprised by Virginia's subdued and understated character. Maryland is the lazy man's summer retreat: Simply follow the dancing crabs to your stretch of sand or pot of seafood. Virginia's section is more mysterious and challenging. You have to work for your water views, your beaches and your summer requisites.
That's the first hint that this travel story will be different. The second comes when Sachs, overnighting at the Exmore Holiday Inn, asks a question. As she tells it:
On the drive to my Exmore hotel, I'd passed a sign for Silver Beach, imagining a sparkling strand with sand spun of the precious metal. When I asked a Holiday Inn employee for information about it, she had none. Instead, she directed me north to Chincoteague (done it, and didn't want to repeat it) or south to Cape Charles (on the itinerary).
Imagine – a travel writer who purposely skips Chincoteague! Instead, Sachs highlights the following: [Read more...]
June 16, 2014
(EDITOR'S NOTE: Cape Charles Historical Society has for more than a decade been recording oral histories of the area's earlier days.  A grant from the Virginia Foundation for the Humanities enabled 15 interviews to be transcribed, and the Historical Society has made this one available for readers of the Wave.  All the transcriptions may be read at the Cape Charles Museum.)
1990 Interview of Virginia Fitzhugh conducted by Virginia Savage
PART THREE
VIRGINIA SAVAGE: Let's talk about Randolph Avenue.  You lived in the Wilkins house.  Now that was the Wilkins that built what is now the Methodist Parsonage.  And the other Wilkins was Elliott's grandfather. And then he built both of those houses.  The Eleanor Lowe house I believe is next and Mr. Jack Scott built that for her. Do you remember when that was being built?
VIRGINIA FITZHUGH: No. Eleanor was older than me, and I don't remember.  You know, Virginia, back in those days you didn't roam around town like the kids do today.  You just went so far and that was it.  You just had your group of friends.  He built that and the one next to that is that bungalow and that was built by Sterling, a man named Sterling.
I think a Miss Sterling lived in that when I came here.
No, a Mrs. George Guy. She was a caretaker.
What did the Sterlings do?
Well, you know where Lee Sterling lives.  Well, that house was on the corner where the Post Office is now.  That house has been moved and turned around and that was the Sterling house.
This is the house across Tazewell Avenue and one from the corner from the Presbyterian Church that you're talking about.  The great big house and they moved it back.  There was an explosion in the late '60s and it burned.  A new house has been built, very close in type to the old houses. Lee Sterling worked at Colonial Store.
That's right.  That's where the Sterlings lived.  I think some of that property still belongs to the Sterling girls, Josephine and I think her sister. [Read more...]
By JOAN PRESCOTT
June 9, 2014
Avast me hearties!! Get your pirate gear on and head on down to Cape Charles Town Harbor June 14 and 15 for the third annual Tall Ships At Cape Charles Festival. This year's festival will be the best yet, so come early (gates open at 9 a.m. and close at 5 p.m.). With so many fun things for the whole family folks will want to spend a day or the entire weekend.
Mix and mingle with real pirates and the costumed crews of three historic tall ships, Privateer Lynx, Schooner Serenity, and Kalmar Nyckel. Tour the decks. Take a day, sunset or pirate cruise on the Chesapeake Bay.
Hear the cannon roar when the ships return fire from a troupe of shore-based pirates, The Moody Crewe, representing the Golden Age of Piracy (1680-1730), who will hold free land-based kids' pirate schools on Saturday and Sunday and a pirate costume parade and contest Saturday at noon.
Take a pirate sail aboard one of the tall ships. The Schooner Serenity is offering Captain Mayhem Pirate Adventure Sails three times daily on Saturday and Sunday. Kalmar Nyckel will host Pirate sails with Pirate tales, scavenger hunts, and the raising of the Jolly Roger. All three tall ships have afternoon or evening sunset cruises both days. In advance of the festival, the Kalmar Nyckel and Lynx are both offering three-hour day sails and private company or group charters Thursday and Friday, June 12 and 13. The Kalmar Nyckel will also host educational tours for school groups on Thursday from 9:30 – noon. Reservations are recommended; visit www.tallshipscapecharles.com for times and to book your cruise. [Read more...]