March 4, 2015
When the Wave broke the news that Aqua Restaurant was being renamed The Oyster Farm at Kings Creek, the story quickly became the most read of the year. Everyone was interested to hear about the changes — although the majority of commenters turned thumbs down on the new name. Now the restaurant has launched, heralded by the magnificent photo above. CLICK for the Oyster Farm website, which includes new menus for the renamed restaurant.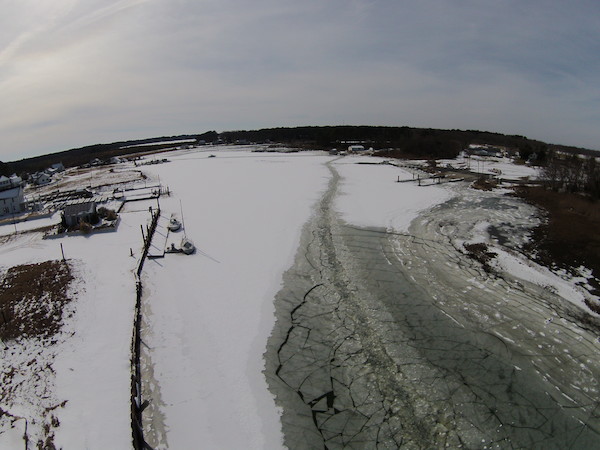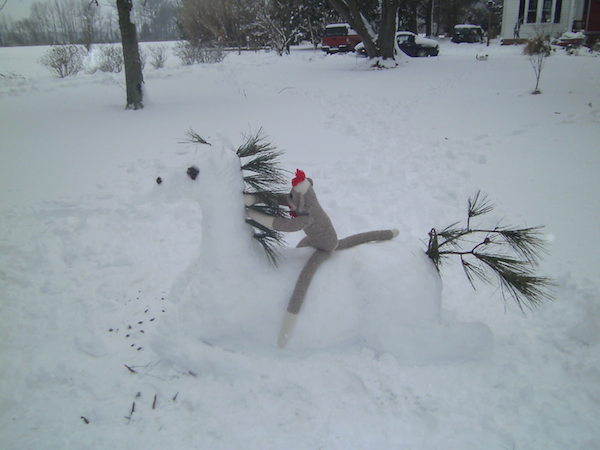 Submissions to our FROZEN FOTOS this week come from Craig Richardson (top), who with the aid of his quadcopter unmanned aerial vehicle captured an iced-in Oyster harbor. Meanwhile, Ken Dufty reported that "Our sock monkey didn't have to go to school today. He was so happy, he snuck out into the snow to take a ride on his snow horse. Never underestimate the joy that lives within a sock monkey." (March 2, 2015)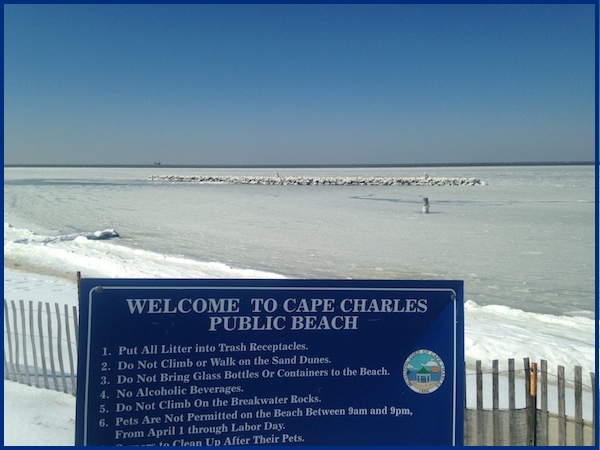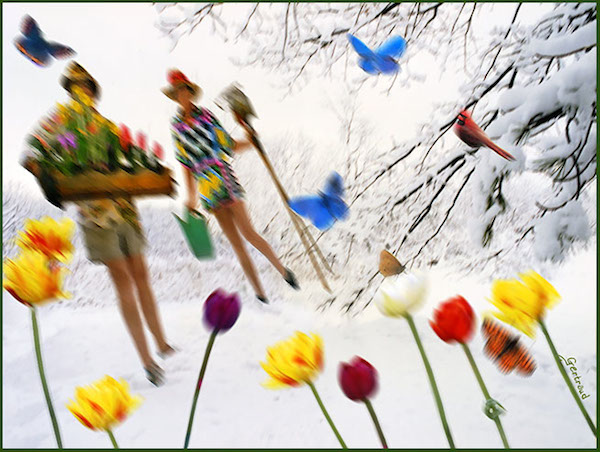 Reader submissions on the coldest, snowiest week of the year include the stark reality of the Cape Charles beach, documented by Frank Wendell, and a fantasy of sugarplums dancing through the head of Gertraud Fendler and her Photoshop. (Published February 23, 2015)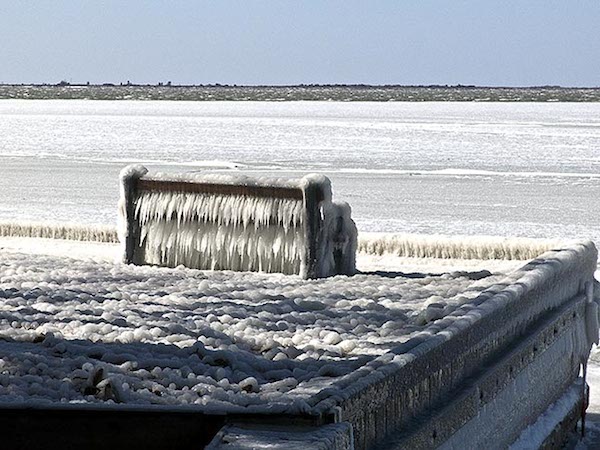 Intrepid photographer Gertraud Fendler documents how the Bay looked yesterday (Sunday, February 15) at 15 degrees in the morning with wind gusts up to 50 mph. An icicle-covered bench will have to wait a long time for a customer.
By WAYNE CREED
Cape Charles Wave
February 16, 2015
The Shore SPCA was founded in 1970, and began its mission here by providing the shelter used for Animal Control Operations. During the past decade, SPCAs around the state were re-evaluating their operations and returning to their roots by providing food, shelter, and medical care to homeless pets and attempting to find them homes. In 2005, the Shore SPCA Board decided to take on that mission and became a no-kill limited intake shelter. Currently, Shore SPCA shelters, treats, rehabilitates, and finds homes for household companion animals in hopes of reducing some of the burden on the Regional Animal Shelter in Accomack.
Although sheltering and adoption are a key function, the need for affordable spay/neuter services as a humane way to manage the overall population is also a big concern. According to Maureen Lawrence, president of the Shore SPCA, since 2008, "we have raised close to $95,000" which went toward a low cost spay/neuter program aimed at lower-income residents. Much of this came in the form of grants ($2,500) from Accomack and Northampton counties. These funds allowed them to qualify for a matching grant. Since then, they have been able to spay or neuter 375 dogs, 990 cats, as well as 502 feral cats. The cost for the surgeries was a low $25 for dogs, and $15 for cats.
As successful as this may sound, as many non-profit organizations will testify, funds from government and foundations have become very hard to come by. Things are beginning to look up, but due to the downturn of the last few years, funds for the spay/neuter program have become so low that the program has had to be temporarily suspended. Ms. Lawrence asserts, "Foundations are increasingly reluctant" to fund spay/neuter programs "without buy-in from the community" and unless they can show a means to sustain the program.
Ms. Lawrence remains optimistic, "We've asked Northampton for $3,500, and Accomack for $9,000." The hope is to amass $12,500, hoping to get a matching grant.
It takes close to $25,000 per year to operate a program that services 500 animals. There has been some criticism that the SPCA has not been doing enough relative to gathering funds, as well as leveraging more from the volunteer community. Ms. Lawrence understands the criticism, and admits the last few years have been tough (not just for the SPCA), but adds that they are constantly re-evaluating the process. "The good news is we have a wonderful grant writer" that will be working hard to get the program back to where it was. [Read more…]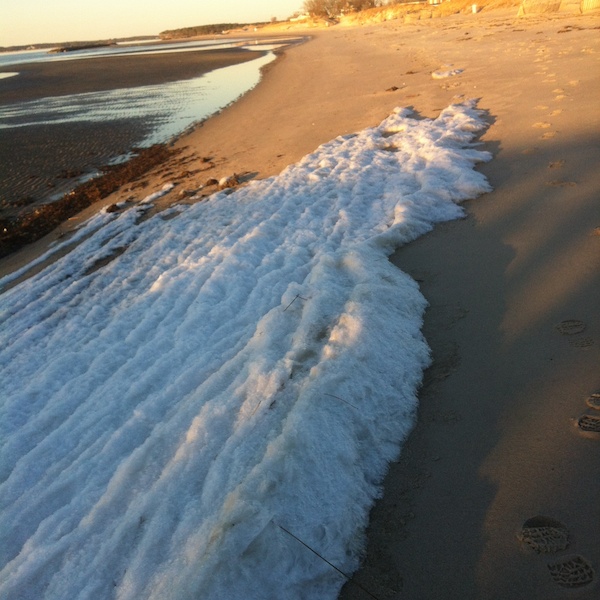 A wave is a fleeting thing — rushing onto the sandy beach only to disappear, sometimes leaving behind a foam mustache which also quickly vanishes. But not always! Sub-freezing temperatures this past week preserved the foam in place, and Kathleen Sabo captured it with her cell phone camera during her regular beach patrol to pick up trash. (Published February 9, 2015)
By WAYNE CREED
Cape Charles Wave
February 9, 2015
The news of animal abuse and theft that has been documented over the last few months, accompanied by graphic video and photographic evidence, has been an eye-opening experience for some.  But for those that have been working this issue for many years now, it was nothing more than confirmation of the status quo.
On January 23, many of the Shore's animal rights top guns came together at the Bank Coffee House in Onancock for a meeting of the Accomack Animal Cooperative. President Charles Knitter led the meeting, and the fundamental message was that there are many folks that really care, whether it is the staff at the Accomack-Northampton shelter, County animal control agents, or non-profit groups and private citizens. But the situation on the ground is so overwhelming that, given current funding and available workers, it is almost impossible to influence meaningful change.
From a facilities management standpoint, the regional Accomack-Northampton animal shelter, despite being a first class operation, is still considered undersized and not fully able to meet the demands of the population — not unusual for any county facility. What is lacking is an adequate means of dealing with the overflow. According to Knitter, "we need to bolster our network of fosters, some way to help with overcrowding at the shelter."
As always, funding is major issue. A problem that Knitter pointed out is that, even as fines are levied for any number of abuse cases, those fines generally go right into the general fund. Knitter recommends instead that such revenue should go back into the animal welfare operations, freeing up resources for expanded capacity and allowing the county to hire additional part-time staff to relieve some of the burden felt by the current staff limitations. [Read more…]
By WAYNE CREED
Cape Charles Wave
February 2, 2015
Viewing Gordon Campbell's aerial photographs of the barrier islands, you become aware of the chaotic and fractal geomorphic patterns that define them. As you descend closer, and ultimately land, some of this chaos gives way to patterns of complexity. The randomness of nature is somewhat mediated by the actions of the people that inhabit the peninsula that those islands protect.
When I think of those actions, nothing stands out more than the work being done by American Legion Post 56 in Cheriton. Post 56 was originally chartered back in 1922 to serve Eastern Shore veterans. With WWII and the Korean War, more veterans  joined the ranks until the late 1950s, when a fire destroyed the Cape Charles meeting hall. Left homeless, the Post struggled to maintain membership.
An odd bit of luck occurred when, in an attempt to find a new home and rebuild membership, the Post bought an old car dealership building in Cape Charles. The new building did little to alleviate the membership issues, but after selling it, the Post was able to maximize profits, add to existing assets, and put over $300,000 in the bank.
With active membership stalled at 76, Walter Dellanbach, Jim Chapman, and Joe Vaccaro assumed the task of finding Post 56 a new home. In what appeared to be another serendipitous event, the search party located an old grocery store in Cheriton. It was apparent to all that this was the perfect location. Although the store was still filled with the original contents, by donating to the local food bank, the SPCA, and directly to local residents, Vaccaro and team had it emptied out in eight days. The building also served as a training exercise for what has become Post 56's most important work: community outreach, support and charity. [Read more…]