By WAYNE CREED
Cape Charles Wave
January 26, 2015
Walking past the Post Office towards the beach, as I pass the old gothic-Victorian house in a state of despairing disrepair next door, I am often reminded of the decaying mansion in Truman Capote's novel Other Voices, Other Rooms. Stopping on the sidewalk just in front of the twisted iron fencing, looking up at the gabled top-floor windows, I half expect to see the figure of Capote's "queer lady" gazing down at me.
The gothic imagery may soon have to find another room, as this historically beautiful home at 237 Randolph Avenue has found a new family that has already begun restoring it to its former glory. Meadow Green Builders has applied to the town's Historic District Review Board for permission to construct a second-floor rear addition.
When adding on to an existing restoration project, several aspects need to be taken into consideration, such as the condition of the home, the structural integrity, how much of the original design has been left intact and how much of it has been altered over the years. Walking the tightrope of code requirements is also an issue — do the code requirements have an adverse effect on historic character?
As part of the restoration and addition, owners Jennifer Jackson and Bobby Baird, who currently reside on Strawberry Street, are going to leverage the historic tax credit program through the Virginia Department of Historic Resources and have hired consultant Paige Pollard to handle the application process. Ms. Pollard previously worked for the Department of Historic Resources, and is also handling tax credit applications for the developer of the old Cape Charles High School.
The house at 237 Randolph is a gabled, ell-framed dwelling dating from circa 1890, making it one of the oldest homes in Cape Charles. In some cases, we have seen restorations go rogue (see the Wave's story on Hotel Cape Charles), generally ignoring the historical significance of a structure (as well as the Historic Review Board) relative to time, language, and culture. That does not appear to be the case with Ms. Jackson and Mr. Baird. The intent here is to get as close to the original design as possible while making the space modern and livable. [Read more…]
January 26, 2015
EDITOR'S WARNING: The following has nothing to do with the Eastern Shore. It is merely a reprint from a Florida weekly newspaper of the corniest jokes we have heard in 50 years. The first challenge: read them without cracking a smile. The second challenge: quit reading them before you reach the end.
COMPILED BY JACK KING
St. Cloud In The News
WARM-UPS
Q. What do you call a fish without an eye?
A: Fsh
Q: What was the name of the girl who kept a frog on her head?
A: Lily
Q: Why does a dog wag its tail?
A: Because no one else will wag it for him.
NOW FOR A LONGER ONE
A team of little animals agreed to play football with a team of big animals. During the first half of the game the big animals were winning, but in the second half a centipede scored so many touchdowns that the little animals won the game. Afterward, a chipmunk asked the centipede, "Where were you during the first half?" The centipede replied, "Putting on my shoes."
RIDDLES
Q: What word becomes shorter when you add two more letters to it?
A: Short
Q: A man leaves home, turns left three times, and then returns home where he sees two men wearing masks. Who are those masked men?
A: A catcher and an umpire
Q: If April showers bring May flowers, what do May flowers bring?
A: Pilgrims
Q: What did the snowman say to the customer?
A: Have an ice day!
GRAVEYARD HUMOR
On Halloween a kid takes a shortcut through a graveyard, where he is startled to hear a tapping sound coming out of the darkness. Trembling with fear, he sees an old man with a hammer and chisel, chipping away at a headstone. "Whew, I thought you were a ghost," says the kid. "Why are you working so late?" The old man just grumbles, "Idiots — they misspelled my name!"
PASSWORD PROBLEM
While visiting the home of his grown daughter, a father calls her at work to ask for the password to the WiFi. "It's taped under the modem," she tells him. Fifteen minutes later he calls her again. "I've tried over and over but I can't log in. Am I spelling this right: T-A-P-E-D-U-N-D-E-R-T-H-E-M-O-D-E-M.
AND THE LAST JOKE IS. . .
Two robbers hold up a restaurant. They line up the customers against a wall and proceed to take their wallets, watches, and other valuables. While this is going on, the first robber jams something into the second robber's hand. Without looking down, the second robber whispers, "What is this?" to which the first robber replies, "It's that $50 I owe you."
OK, ONE MORE, BUT THAT'S IT [Read more…]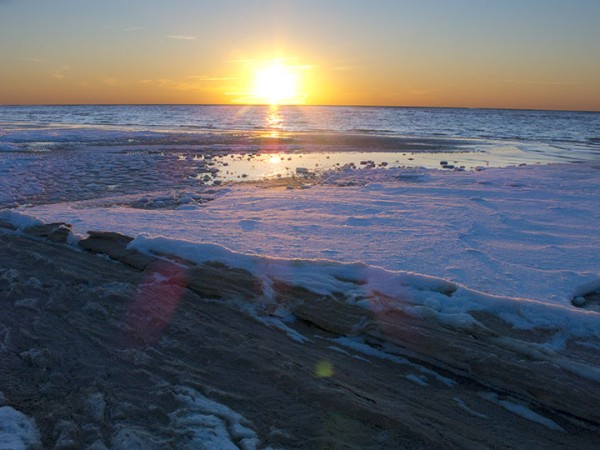 By GERTRAUD FENDLER
January 11, 2015
Nice cold day — yes!
Staying home? No way! Just had to go to the beach. . . [Read more…]
By WAYNE CREED
December 22, 2014
Living in Cape Charles is always great no matter the season, whether spring, summer, fall or winter. But Christmas time in Cape Charles is always a special time that sets itself apart from the rest of the year. The streets are lined with decorations, Smitty has his crab pot tree at the harbor, and the shops are decorated as cheerfully as any in Ghent or Old Town Alexandria.
This season, I was fortunate to be able to be part of two wonderful Christmas events: acting in short skit at one of the stops along the Progressive Dinner Tour, and acting and directing in the Palace Theatre's A Christmas Carol.
The Progressive Dinner Tour's theme this year was "Christmas by the Bay," where a yacht full of rich folks are stranded in the harbor, and are forced to endure the holidays in this little bayside village. Of course they, like all of us, fell in love with Cape Charles, and wind up buying a home here. My role in this little drama was to play the saucy Mrs. Lambertson, along with Michael Flannigan as the sea captain and Sagre Strutzman as the chef. I don't mean to sound immodest, but on this evening I was certainly the sexiest woman in Cape Charles (and moving forward, possibly Cape Charles' new "I"' girl).
I have been involved in several Progressive dinners in the past, yet it seems like this year was truly one of the best. Carol Evans and the Chamber of Commerce, along with all the volunteers, should be commended for designing such an elegant, yet streamlined evening (we have seen some of these go well into the night). I wish I could review each and every location but I can only give a first person account from where I was working, at the beautiful Sea Gate Bed and Breakfast. Mr. Bannon did a wonderful job decorating for the occasion, filling each space from the Florida Room to the Peach, Blue, or Yellow bedrooms with ample color and holiday cheer. [Read more…]
By DONNA BOZZA
Citizens for a Better Eastern Shore
December 15, 2014
Next year will be Cape Charles' turn to host the annual CBES "Between the Waters" bike tour. Held each year on the fourth Saturday in October, the tour attracts upwards of a thousand participants – 90 percent of them not from the Eastern Shore.
This year's bike tour was held in Onancock, headquartered at the historic Onancock School, with excited riders streaming to check in and start one of the tour's four routes: 25, 40, 60, or 100 miles. Event Coordinator Phyllis Tyndall estimated about 800 cyclists, up some 50 participants from last year.
"It's about the fifth or sixth time for us," said Don Pratt, 70, of Southern Shores, NC, as he saddled up in the school parking lot. "It's a good ride and it's flat like the Outer Banks where we train."
Nearby, Brad Dougherty, 60 of Virginia Beach, riding with his coach Mellissa Kuch, shared how triple bypass surgery prompted him to do the tour. "I made it part of my therapy to train and do the 100 mile tour — it's my goal." Dougherty finished shy of his mileage goal but logged an impressive 73 miles. "I'll be [in Cape Charles] next year to do the full 100," he promised. [Read more…]
By MARION NAAR
Cape Charles Historical Society
December 1, 2014
Over 200 people attended last Saturday's 17th Annual Oyster Roast at the Cape Charles Museum — a sellout. After a rough week of weather, the evening was perfect (and so were the Plantation Creek oysters — roasted or raw, your choice).
With years of experience, the volunteer cooks know how to roast oysters right — position the rack just the right height over the smoky fire, and keep the burlap wet but not soggy. After about 10 minutes, samples are taken to check if the oysters are ready (a tough job, but there's no shortage of volunteers).
Bill and Jan Neville prepared two kinds of clam chowder this year — the traditional Eastern Shore variety, and a thicker version with lots more vegetables, which won praise. [Read more…]
By DONNA BOZZA
December 1, 2014 
After decades as nationally known designers, Mary Miller and David Handschur, artisans and owners of the Gallery At Eastville, are retiring. "It's been wonderful running a business, and working as artists on the Shore," said David. The pair are founding members of the Artisans Guild of the Eastern Shore, and frequent exhibitors at national venues like the Smithsonian. With their experience, they have been happy to mentor new Guild artisans. "We've helped with setting up businesses, finding reliable suppliers and markets, even showed how to photograph art work," said Mary.
Renowned Shore Folk Artist MAMA Girl is one of their favorite stories. After buying one of Mary Onley's first works at a street fair in Cape Charles, they helped her believe she had a bright future as a folk artist. "We just put a little wind in her sails, the rest is her story," Mary says. [Read more…]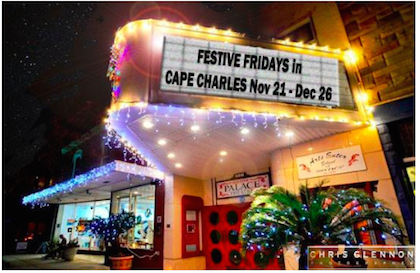 By SARAH GOLIBART
Cape Charles Wave
November 21, 2014
Cue the song by Little River Band "Reminiscing." The song is playing on a Friday night, just as a guy is walking his girl home, a frequent happening in small towns like our own Cape Charles.
If only there were more events to walk your girl or guy home from in Cape Charles!
"Well, I want to tell you, Cape Charles, I want to plan my schedule around you. Tell you that it's true. I want to make you understand. I'm talking about a holiday plan!"
Calling all Cape Charles residents! You too can walk through the park reminiscing — after "Festive Fridays" that is.
"Festive Fridays" will take place on six consecutive Friday evenings beginning November 21 through December 26. This is your chance to enjoy an old-fashioned, small-town holiday experience, including shopping, delicious food and drink, entertainment, seasonal decorations, and plenty of good cheer.
Each Friday from 5-8 p.m. enjoy events like horse-drawn carriage rides, special deals at restaurants, refreshments, and special promotions at local merchants. Get into the holiday spirit by following the luminaries lighting the sidewalks of Cape Charles while enjoying holiday caroling and appearances by Santa and Mrs. Claus. Even the "Love" sign will be front and center in town and decorated for the season. Don't miss your chance to make new memories in Cape Charles that you'll reminisce about for years to come.