ALTERNATIVE TABLE: Strawberry Fields Forever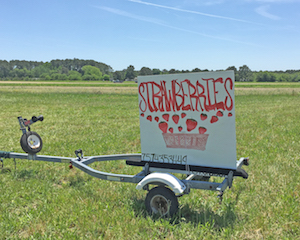 By KAREN GAY
Cape Charles Wave Columnist
June 1, 2015
Last spring while my friends were gorging on juicy, sweet strawberries I was supine on my zero-gravity recliner recovering from 35 years of sitting at a desk. This year, feeling much better, I determined to find that farm that everyone talked about but no one could quite explain exactly where it was. Asking one friend, I heard "Oh, it's just a ways up 13." Another friend looked at me blankly when I asked whether it was north or south of OBS Building Supply. Someone told me it was before you hit Exmore. "Well, is it before or after the Machipongo Trading Company?" She couldn't say.
So on a sunny Saturday I set off north from Cape Charles to find these ephemeral strawberry fields where everyone in town went, but where no one could identify its location. Lo and behold, just a short distance north of Eastville the fields appeared just after Union Baptist Church. I swung right into Bell Lane and parked in the grassy lot to the side of the farm stand. As soon as I opened the car door I could tell there were strawberries nearby. The scent wafted over me as I approached the stand and then it only got better as Janice Giddens welcomed me with a huge smile and bright pink stained hands. She and two others had been in the back of the stand packing strawberries into quart containers. I bought two quarts and asked if I could interview her. She deftly pointed me out to the fields to question the boss who was in a red shirt.
CONTINUED FROM FIRST PAGE
I trudged over rows of May peas and strawberries and approached two men in red shirts, wondering which one was the boss. They both admitted to being the boss, but to my relief one finally confessed he was just kidding. This was my introduction to William Baines, clearly a man of mystery. The mystery intensified after he told me a bit about his history. Fifty years ago, while courting the woman who today is his wife, he drove past this property. He thought it would be a good place to farm, and secured a loan to purchase it. Since then, the farm has been in his hands, and five acres near Route 13 are used to grow strawberries, peas, watermelon, and greens, which are offered for sale during the season.
It was clear that William was working alongside the team picking the strawberries. The pickers go over each row as many as eight to 10 times during the season, picking only the berries that are ripe. The ripe berries go into large baskets, which are used to replenish the stock at the farm stand. This accounts for the sweet scent and red hands. William explained that commercial growers pick the strawberries while they are still green and gas them to bring out the red color. His berries are sweet because of their ripeness and the richness of the soil.
This year the berries fruited later than other farms and he was worried that his crop would be lost. Finally, one day he examined the plants and saw the red peeping through the green leaves. It was a relief because last year a strawberry virus hit from Florida to Canada and caused him to take quite a bit of acreage out of cultivation. There's quite a bit of risk involved in farming and a loss of even some of his crop impacts not only his bottom line, but those who work with him year after year planting, picking and packing strawberries.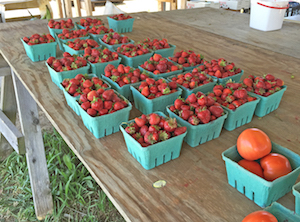 William explained that strawberries are tough and vulnerable at the same time. The plants are planted in November and survive the cold of winter and floods in the spring. However, come summer and they are very susceptible to virus and fungus. Occasionally he needs to spray fungicide, but he does not like having to do this.
Some of the mystery of William Baines was cleared up as we chatted some more about his farm stand. He loves the fact that his customers come back year after year. He doesn't advertise, so word of his strawberries passes from one happy customer to another. Despite the fact that he is 72 years old, he loves coming to the berry patch, working with his team, and talking to long-time friends who come back week after week.