July 29, 2014
(EDITOR'S NOTE: The following letter was sent by the Riale family of Port Penn, Delaware, in appreciation for the service provided by local law enforcement, fire, and other first responders to the tornado at Cherrystone Campground.)
I am writing this letter in regard to the responses that were made in regard to the EF 1 tornado that struck Cherrystone Campground on the morning of July 24, 2014. My parents and my kids and I were camping there that morning when the tragic storm struck the grounds.
Just a little background on my family: my father has been in the fire service since 1964 and is a Past Fire Chief, and I have been in the service since 1994 and currently serve as my department's Assistant Chief, and I am a Delaware State Police Dispatcher.
Once the storm started to lift that morning we made sure that my mother and kids were okay, and then my father, my son, and I started checking campsite to campsite for injured people. Within minutes we could hear the sirens of the responding units coming. We first were contacted by a Cape Charles police officer to join in the site checks. He informed us that the next streets over they were getting reports of worse things, so we ran over to that area.
While on the way a mother stated that her 11 year old was missing. Just a couple minutes later we found that girl walking down the street and the officer took her back to her parents. We continued onto the street worse hit and noticed campers removing a young boy from a tent site with a tree over it. We met up with a couple firemen from Cape Charles Fire Company that were assessing two more young girls who were lying next to their deceased parents.
The firemen acted quickly in making backboards out of the tops of picnic tables. My father and I assisted in loading and transporting the one young girl out to a waiting ambulance from the Exmore Fire Company. By the time we did that there were so many police units, ambulances, and fire units on the scene that me and my father's attention went back to our own family.
In all of our experiences in the fire service I have never seen such organization of a disaster and the willingness to work together for the common good. The Cape Charles Officer, Cape Charles Fire, Virginia State Police, or the Northampton Sheriff's Officers, never once said get away, we got this, etc. They all asked what we had, what we needed, and asked how they could help. We watched the command structure that was there that day organize site by site searches with no problems. For such a rural area compared to where I work and am from, the responses from these agencies were very fast, efficient, and bar none the very best I have ever seen in such a disaster. [Read more...]
July 9, 2014
(EDITOR'S NOTE: The following letter from "Citizens for Open Government" was read to the Northampton County Board of Supervisors at their meeting last night. The Supervisors subsequently agreed to hold a joint work session with the County Planning Commission to hear testimony and evidence on whether to retain protections of the Chesapeake Bay Act on the seaside.) 
Dear Chairman LeMond and Members of the Northampton County Board of Supervisors:
After the March 11, 2014, joint meeting of the Northampton County Board of Supervisors and the Northampton County Planning Commission, the BOS imposed a 100-day time limit for the Planning Commission to make recommendations on the 150-page complete revision of the Northampton County Zoning Ordinance. Citing Virginia Code 15.2-2285(b), County Administrator Katie Nunez at that time announced that failure of the Planning Commisision to finish their review of the complete revision of the zoning ordinance within the 100-day time limit would allow the BOS to adopt the proposed zoning ordinance as written, and would also allow the BOS to consider the lack of a recommendation as an endorsement for approval by the Planning Commission.
Unfortunately, but as predicted by many who were observing this process, the Planning Commission was unable to finish its review of the revised zoning ordinance by the May 31, 2014, deadline, and was only able to make recommendations on about one half of the 150-page document. Indeed, some of the most important and profound suggested changes to the current zoning ordinance were not addressed by the Planning Commission, and yet the BOS did not recommend remanding the unfinished portion of the proposed zoning ordinance to the Planning Commission to resume their review. This denial of allowing the Planning Commission to resume their review of these changes poses to profoundly affect the future of Northampton County. This failure by the BOS runs counter to the interest of the public and those hundreds of citizens who have voiced their opposition to the proposed zoning revisions.
At the July meeting to of the Planning Commission, the work on amending the current Comprehensive Plan resumed, as they were not asked to continue their review of the proposed zoning ordinance revisions. During deliberations last week, they addressed the language in the current 2009 Comprehensive Plan which calls for extending the protections of the Chesapeake Bay Preservation Act to the waters of the seaside. At first, it was recommended that the Planning Commission recommend that this language be retained and brought forward into the draft amended Comprehensive Plan. However, discussion among the members turned to a debate as to whether or not there is enough scientific evidence to support either continuing the Cheasapeake Bay Act protections to the seaside or to let those protections lapse. After lengthy discussion, it was decided that the Planning Commission needed to call in experts in this field, and it was finally agreed that Art Schwarzchild, a well-respected marine scientist from Willis Wharf who has studied this issue in depth, should be invited to present evidence and input from his peers to help the Planning Commission in their deliberations. [Read more...]
DEAR EDITOR,
June 23, 2014
On a recent errand off Route 13 into Cheriton we were awestruck by the newly unfurled mural flying' and caressing the northeast corner facade of American Legion Post 56. So impressed by the artwork and trompe l'oeil undulation of our national flag, I suggested that the Wave capture the image — especially at this time of year. When you replied that community input is welcome, this subscriber became motivated to photograph the site and get the scoop, thanks to dedicated Commander "Captain" Dave Steward, whose inspiration and that of First Vice Commander Joe Vaccaro it is.
Late in April our soggy spring finally permitted designer artist Mike Boan of Parksley to airbrush his installation. Successful fundraisers had followed on the heels of the Post's power washing, tedious scraping of the formerly institutional-looking grey, and repointing and painting of the brick walls.
Such an uplifting patriotic endeavor is, above all, a handsome reminder of those currently serving our country, our veterans who the Post serves, and in memory of those who paid the ultimate price. Illumination at nightfall presents another moving dimension.
Dave admits there've been many compliments, especially from folks arriving from Cherrystone Campground. And in spite of a very productive year in office he has even more upbeat plans in store.
WENDY MARTIN
June 23, 2014
DEAR EDITOR,
American Legion Post 56 has been the site for a number of positive and uplifting events over the past weeks including the National Commander's visit, the Freedom Hunter's Project for Wounded Warriors, and several Legion- related events to raise monies for community projects. However, May 30 took on a very special meaning for all local veterans when the Post 56 American Legion Auxiliary honored them with their special yearly dinner.
The event was attended by over 100 veterans and their families and featured a four-course meal that several veterans said surpassed the previous year's menu. President Susan Moyers personally greeted everyone, and Irene Morris made sure that every veteran received a handmade boutonniere at the door. Post 56 Bar Manager Susan Bagwell Miller ensured that those in attendance had the finest refreshments, and chefs Hania Steward and Sandra Salopek were responsible for the wonderful meal along with several members of The Sons of the Legion. [Read more...]
June 16, 2014
DEAR EDITOR,
Since the United States went to war in Afghanistan in 2001 and Iraq in 2003, over 2.4 million Americans served in the military. Large numbers of these men and women served multiple tours; however, some of them never saw combat. According to the Veterans Administration there are over 22 million veterans today, and unfortunately, a small number of them have led people to believe that what they have accomplished in military service is not necessarily true.
A member of one veterans organization in the southwest masqueraded for several years as a general officer and was a frequent VIP at parades, luncheons, and special events. He was finally unmasked by an active duty service member who keenly observed that the service awards that adorned his uniform didn't match his stated military assignments. When confronted with these facts he sheepishly admitted that he served less than two years in the military. He had the jargon and mannerisms down but lacked the details that any bona fide service member would know without hesitation.
In 2007, a man named Xavier Alvarez stood at a public meeting and announced that he was a "retired Marine with 25 years of service" and "was awarded the Medal of Honor in 1987 . . . for rescuing the American Ambassador during the Iranian hostage crisis" and was "wounded several times by the same guy."  He made these bold and untrue allegations before he actually became an elected official in his home State of California.
After he was exposed as a liar, he faced scorn and public humiliation as one would expect but the courts viewed his "lie" as protected speech and the controversy continues today. The Stolen Valor Act of 2005 makes it a crime to lie about being awarded any U.S. military medal that was authorized by Congress. However, in 2010 the 9th Circuit Court found the Act to be unconstitutional under the First Amendment in the United States vs. Alvarez. [Read more...]
May 10, 2014
DEAR EDITOR,
Tuesday's election drew more than 400 voters to the polls, a large turnout which spoke of its importance to the people of Cape Charles and their commitment to our town and the democratic process.  I want to thank all the voters who came out and participated.
To those who voted for me, I wish to express my appreciation for your support and confidence in my ability to lead our town.  To those who did not vote for me, I recognize that you have legitimate concerns, some of which are shared by those who supported me, and I'll do my best to listen to you as to everyone.
To me, this election says that the majority of the people feel the town is headed in the right direction.  At the same time there are a number of matters which need to be examined in an open and constructive matter — from our local economy and fiscal responsibility, to community needs, to our long term future. I will work for compromise to find the best solutions for the town as a whole and to develop teamwork.
Perhaps more importantly, many of  those who did not support me have come forward and expressed a strong willingness to work together in a spirit of cooperation.  These expressions are encouraging and speak well for the future of our town.
This town has a great deal of talent.  Together I am confident that we can help Cape Charles maintain its small town charm while continuing to grow for the benefit of all the citizens.
I look forward to helping to do this.
GEORGE PROTO
Cape Charles
Letters to the Editor are welcome, and a diversity of opinions is encouraged. Send submissions to [email protected].
April 14, 2014
DEAR EDITOR, 
Perhaps like many of you, I grew up in a time when most news outlets operated under the Golden Rule. Television and radio stations were mandated to devote time to contrasting views on matters of public interest. They were also required to offer equal time to political candidates with opposing views. The policies that required this applied only to radio and television but, in simpler times, were a standard for all journalism. Unfortunately these policies were repealed in 1987.
While none of these rules were ever mandated for newspapers, many people still expect the news to be delivered in an unbiased fashion. Reading your April Fool's story and subsequent postings made it very clear that the Wave has a political agenda and is actively promoting a particular point of view.
The right to vote is sacred and it is the duty of voters to learn as much as they can about all candidates and issues prior to voting in any election — national, state, or local. In every election, it is important to get information from multiple sources.
In Cape Charles, all of the candidates live just a few blocks away. We have the opportunity to watch how they volunteer their time in our community. We can speak to them directly and ask their opinions. We can attend Town Council meetings and candidate forums. It is only by knowing both sides of a story that we can be sure that we vote for what is best for our future.
NANCY DANIEL VEST
Cape Charles
Letters to the Editor are welcome, and a diversity of opinions is encouraged. Send submissions to [email protected].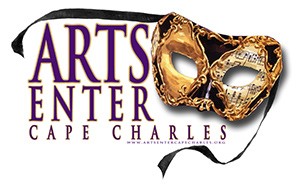 March 10, 2014
DEAR EDITOR,
We are writing to provide an update on some changes within the Stage Door Gallery, the visual arts facet of Arts Enter Cape Charles. From our humble beginning on Strawberry Street 14 years ago, to our growth into the beautifully renovated space on Mason Avenue in 2007, the gallery continues to shine thanks to our dedicated patrons, artists, and volunteers.
However, it is with sadness that Arts Enter has accepted the resignation of gallery manager Ellen Moore. Both she and her predecessor, Ebba TinWin, were instrumental to supporting the gallery's role in the community. [Read more...]