April 14, 2014
DEAR EDITOR, 
Perhaps like many of you, I grew up in a time when most news outlets operated under the Golden Rule. Television and radio stations were mandated to devote time to contrasting views on matters of public interest. They were also required to offer equal time to political candidates with opposing views. The policies that required this applied only to radio and television but, in simpler times, were a standard for all journalism. Unfortunately these policies were repealed in 1987.
While none of these rules were ever mandated for newspapers, many people still expect the news to be delivered in an unbiased fashion. Reading your April Fool's story and subsequent postings made it very clear that the Wave has a political agenda and is actively promoting a particular point of view.
The right to vote is sacred and it is the duty of voters to learn as much as they can about all candidates and issues prior to voting in any election — national, state, or local. In every election, it is important to get information from multiple sources.
In Cape Charles, all of the candidates live just a few blocks away. We have the opportunity to watch how they volunteer their time in our community. We can speak to them directly and ask their opinions. We can attend Town Council meetings and candidate forums. It is only by knowing both sides of a story that we can be sure that we vote for what is best for our future.
NANCY DANIEL VEST
Cape Charles
Letters to the Editor are welcome, and a diversity of opinions is encouraged. Send submissions to [email protected].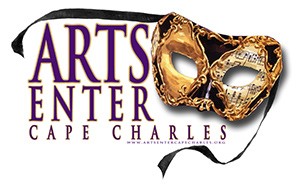 March 10, 2014
DEAR EDITOR,
We are writing to provide an update on some changes within the Stage Door Gallery, the visual arts facet of Arts Enter Cape Charles. From our humble beginning on Strawberry Street 14 years ago, to our growth into the beautifully renovated space on Mason Avenue in 2007, the gallery continues to shine thanks to our dedicated patrons, artists, and volunteers.
However, it is with sadness that Arts Enter has accepted the resignation of gallery manager Ellen Moore. Both she and her predecessor, Ebba TinWin, were instrumental to supporting the gallery's role in the community. [Read more...]
February 24, 2014
DEAR EDITOR,
I recently attended a Cape Charles Town Council Meeting and heard that our Town Manager, Heather Arcos, had proposed a wage hour survey be conducted for $10,000 and has already selected her preferred vendor, Springsted Inc., to do the work.  Surprisingly, without any discussion, the Mayor and Town Council approved the request. [Read more...]
February 24, 2014
DEAR EDITOR,
On January 30, we had an incident at Kings Creek Marina that required medical attention and our staff called 911. [Read more...]
January 15, 2014
DEAR EDITOR,
For well over a year, a group of residents has been battling to save the historic Cape Charles High School from being lost as an historic public asset. I will explain why and suggest a course of action to protect other historic property.
First, the primary excuse for transferring the property to a private developer, for a nominal price, was a supposed need to unload a building that had been allowed to fall into disrepair. Of course, the Town of Cape Charles has ordinances that prohibit allowing property to become dilapidated, so it appears that the local governing body violated its own laws. That type of excuse for disposing of historic property is sad, ironic, and unacceptable.
Second, the deal involving Cape Charles High School converts a public asset into private property, with no public space and no future intended public use. The deal takes a building that was considered to be a part of the public park and allows it to be converted into private residences. The "renovated" building will bear little resemblance to the old high school. This would appear to be contradictory to the Cape Charles Comprehensive Plan, which calls for the preservation of public space.
Third, saving an historic school property like the Cape Charles High School is not complicated to do. The Town of Onancock managed to save the old Onancock High School, and the community is richer for the effort. Many residents urged the Cape Charles Town Council to follow the Onancock example, to no avail. In fact, a competing bid to purchase the school for more money and keep it public was rejected without any Council vote or public discussion. No good reasons were ever offered for the refusal to engage in a serious preservation effort. [Read more...]
December 9, 2013
DEAR EDITOR,
Citizens for Central Park would like to thank all the people who braved the cold wind on Saturday evening to attend the Grand Illumination of Central Park! It was the culminating event in a day filled with holiday cheer!
There are so many different people and groups who had a hand in making the day a success. Many thanks to the numerous volunteers who worked all day to get the luminaries prepared and ready for the event. Special thanks go to the Northampton County Chamber of Commerce and Jim Weiner for their invaluable assistance, Jeb Brady for the use of his trailer, and Wako Chemicals for allowing us to use their space to prepare and store the luminaries.
Thanks also go to the Town staff who kindly worked with us to decorate the park for the holiday season and to many citizens such as Ned Brinkley, Heather Gladden, Zach Hunter, and others who helped us keep the luminaries lit in the windy weather. We are also very grateful to the Cape Charles Business Association for providing hot cocoa for guests, the children from Cape Charles Christian School for their joyful song, and Angie Pheiffer for transporting Santa and Mrs. Claus from their sleigh to the Park to greet the children.
We hope you had the opportunity to visit the Cape Charles Museum' s antique toy display, Santa's House at the Cape Charles Christian School, the boat tours and the lighted boat parade sponsored by the Cape Charles Yacht Club, and the lighted golf cart parade organized by Sandy Mayer. We appreciate the willingness of all of these groups to work together to create a magical day in our beloved town.
I do hope the Cape Charles Community Band will accept my apologies for the shortening of their concert in Central Park. As you may be able to imagine, coordinating the flow of events from one venue to another can be difficult. It was out of concern for our littlest guests that we moved the Grand Illumination ceremony along more quickly than planned. The wind was cold and we wanted to be sure that the children had the opportunity to visit with Santa. [Read more...]
December 6, 2013
DEAR EDITOR,
Now that the air and water has finally cooled, trucks and boat trailers overrun the parking lot and roads around Cape Charles harbor — sure signs that the rockfish season is now in full swing. This time of year also marks the start of the North Atlantic right whale calving season which begins in November and runs through April. The whales are now migrating from their normal habitat in northeast U.S and Canada to the south coast of Georgia and Florida. NOAA Fisheries reminds boaters to be aware of these whales, and to take precautions to avoid collisions. There are fewer than 400 left, making them the most endangered marine mammal in the world.
The right whale got its name from northeast whalers who called it "the right whale" to hunt. These mammals had large amounts of blubber, were very slow swimmers, and once harpooned, tended to roll over and float, making them easy to strip and clean. Chapters 93-96 in Melville's Moby Dick describe capturing the whale and the process of cutting the blubber into sections and preparing it for rendering.
Adult whales average 40-55 feet in length, can weigh up to 140,000 pounds, and may live up to 50 years. They spend the majority of their lives in the zooplankton- rich waters off northeastern U.S. and Canada. (Having no teeth, they mainly feed on copepods, euphausiids, and cyprids). In the fall of each year pregnant females migrate south to give birth to calves that are 10-15 feet long and weigh up to 1.5 metric tons. After birth, the calves drink mother's milk for 8 to 17 months.
The coasts of Georgia and Florida are the only known calving areas for right whales, and NOAA wants to raise awareness of their migratory patterns and movement. The biggest issue is that, even as it would seem easy to spot something as big as a whale, in reality it is very difficult. They are dark, do not have dorsal fins, and swim just below the surface of the water. The only way is to be keenly aware of any changes in the texture of the water surface. [Read more...]
November 16, 2013
(EDITOR'S NOTE: The following letter from Jack Forgosh was read by the Town Clerk at a special meeting of Town Council November 14. Town Council subsequently voted to accept the recommendation of financial advisor Davenport & Company to borrow $1.215 million at a variable interest rate.  Mr. Forgosh has given permission to reprint his letter in the Wave.)
DEAR MAYOR SULLIVAN AND COUNCIL MEMBERS,
I just learned of your intention to refinance a municipal loan based upon the recommendation of David Rose at Davenport & Company.
I am a seasonal resident of Cape Charles and I hope to become a full time resident in a few more years. While I am not privy to all of the details of our financing, I can tell you with a very high level of confidence that the fixed rate available to the Council and our residents is at historic lows.  I understand the appeal of lowering monthly payments by extending the duration of this loan; however, the risks of a rate increase after 10 years outweighs the short-term savings on our principal and interest payments.
The primary saving is not the difference between a 2.65 percent rate and a 3.1 percent rate but rather from the time extension from a 15-year loan via Sun Trust to a 20-year loan via PNC.
The probability that loan rates [in 10 years] will be higher than the current 2.65 percent is a probability approaching 100 percent. There is also a reasonably high probability that interest rates for this loan, 10 years from now, could easily be reset in the 6-10 percent range. Nobody truly knows where rates will be 10 years from now; however, this Council has the opportunity to refinance the debt of Cape Charles at these historic low rates. [Read more...]