SUNDAY 12/8: Free Holiday Movie 'Elf' at Palace Theatre
It's holiday movie time at the Historic Palace Theatre with a screening of "Elf" on Sunday, December 8 at 3 p.m. This movie is free and open to the public. Come see this hysterical holiday favorite on the big screen.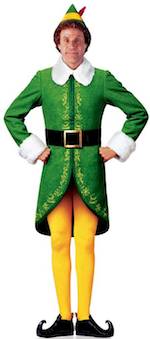 "Elf" is about a young orphan who crawls into Santa's bag of gifts on Christmas Eve and is transported back to the North Pole and raised as an elf.
Years later Buddy learns he is not really an elf and goes on a journey to New York City to find his true identity.
This 2003 film stars Will Ferrell, James Caan, Bob Newhart, Ed Asner, Mary Steenburgen, and Zooey Deschanel.
This movie has a PG rating and run time of 97 minutes.
Children 10 and under must be accompanied by an adult.
The Historic Palace Theatre is located at 305 Mason Avenue, Cape Charles.