By GEORGE SOUTHERN
Cape Charles Wave
(EDITOR'S NOTE: The writer was an international economist for the U.S. Department of State in Washington, DC. Earlier as a newspaper reporter he and his wife were privileged to spend an afternoon with Nobel economist Milton Friedman and his wife Rose at their Vermont mountain home, where Friedman taught them about the "tooth fairy.")
December 5, 2013
Our neighbor Wren lost his first tooth the other day and the tooth fairy gave him five dollars. But his mother says that's a one-time thing; future teeth will get only 25 cents. So Wren is destined to learn that the tooth fairy is a variable and capricious spirit.
Meanwhile, Cape Charles Town Council has been told it can refinance current debt, borrow an additional million dollars, and save money in the bargain. Taxpayers have an opportunity to address Council tonight (Thursday, December 5) at a 6 p.m. public hearing at Town Hall.
Town Manager Heather Arcos advises that "the projected total debt service for both the refinanced loans and the new projects will be less than the Town currently pays." She got that from financial advisor David Rose of Davenport & Company.
The Town is thinking like the customer for a new car who says, "I don't need to know how much it costs – just how much the monthly payments are."
At last Tuesday's work session, Council member Mike Sullivan said he wants no tax increase and no utility rate increase. But he's OK with borrowing more — "if we can finance improvements under the existing debt service."
Council member Steve Bennett said, "Maybe we could have a tax decrease next year." [Read more...]
By DORIE SOUTHERN
Cape Charles Wave
December 3, 2013
Northampton County is holding public information meetings December 4 and 5 on proposed changes to the zoning ordinance. The changes do not apply to the Town of Cape Charles, but would impact Town residents and merchants.
The County wants to eliminate overlay districts, including the Town edge overlay intended to protect the entrance corridor to Cape Charles. The changes would create a new 2.5-mile Commercial District along Route 13 and Route 184 at  the Cape Charles stoplight.
Both the County and the Town are updating their comprehensive plans — the blueprints for community development, including economic development, education, and community services. The current comprehensive plans of both jurisdictions call for encouraging enterprise, development, and growth in towns. This would change to promote development on the highways outside of towns.
Northampton County Economic Director Charles McSwain acknowledges that both the County's and the Town's comprehensive plans call for driving commerce into towns and villages. "But the Comprehensive Plan is a living document," he told the Wave, suggesting that it's time to change it.
Meanwhile, the Cape Charles Planning Commission is reviewing the Town's Comprehensive Plan and the Town Edge Overlay District, a product of the nearly forgotten 1991 Annexation Agreement between Cape Charles and Northampton County. But the Town Edge Overlay District will disappear if the new zoning ordinance is adopted. [Read more...]
By GEORGE SOUTHERN
Cape Charles Wave
November 29, 2013
Cape Charles Town Council is proceeding with plans to borrow an extra million dollars in the next few weeks, and members will discuss how to spend it at a workshop 6 p.m. Tuesday (December 3) at Town Hall. The problem is that the Town wants to spend closer to twice that much — an estimated $1.724 million.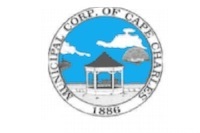 Meanwhile, nobody seems sure how much money the Town already owes. The Wave reported (click here) that at the November 14 Council meeting, Councilman Frank Wendell asked Treasurer Kim Coates how much debt the Town currently owes. Coates was unable to say, but financial advisor David Rose thought it was around $8 million or $9 million. After consulting with bond counsel Kevin White, he revised that estimate to "about $10 million." Town Council voted at that meeting to pay Rose $37,500 for his financial advice. Wendell says he still has not heard from Coates exactly how much money the Town owes.
In preparation for the Tuesday workshop, Coates has produced a one-page report entitled Town of Cape Charles Remaining Debt as of 11/26/2013 (click here). But the figures shown are not loan balances, but instead the remaining debt service. The only time total debt service equals loan balance is for a no-interest loan. Cape Charles is fortunate enough to have one no-interest loan with a balance of $4.7 million, but that's a little less than half of the Town's total debt according to estimates of Messrs. White and Rose.
The "Remaining Debt" report also omits four loans for police vehicles: a 2013 Dodge Charger, a 2013 Ford Explorer, a 2011 Dodge Charger, and a 2010 Dodge Charger. Interest rates on those loans range from a high of 6.6 percent to a low of 3.125 percent. Again, the loan balances are not known. [Read more...]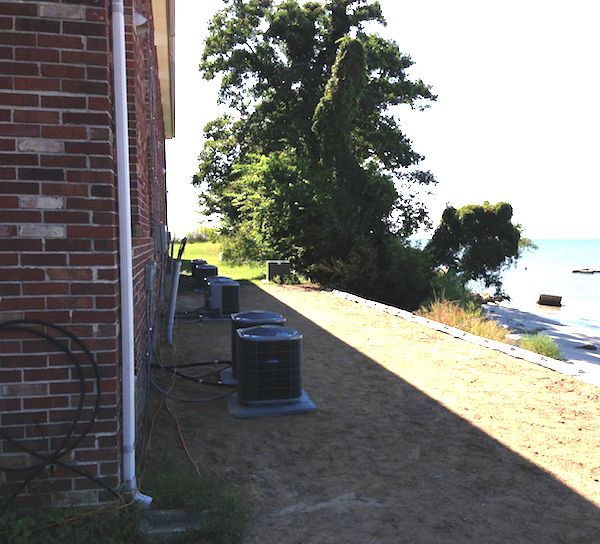 CAPE CHARLES WAVE
November 27, 2013
More than a year after Hurricane Sandy washed out the foundation on a section of Sea Breeze Apartments on Washington Avenue, the condemnation signs have been removed, and  units are being readied for re-occupancy.
The owner has constructed a sea wall out back and fortified the foundation. When the storm took out the foundation, it left the air conditioning units hanging from their wires, high but not dry, as shown below.
As shown in the top photo, all-new heating/AC units have been installed, but they are sitting directly on the ground, much like the old units.
By DORIE SOUTHERN
Cape Charles Wave
November 25, 2013
Cape Charles is "under the gun" to stop pumping untreated backwash directly into the Town Harbor.
Public Works Director Dave Fauber told Town Council November 21 that the Virginia DEQ (Department of Environmental Quality) has ordered Cape Charles to cease discharging excessive amounts of iron- and manganese-laden water into the Chesapeake Bay. The Wave first reported the "red tide" in August after a resident observed the discharge and expressed concern.
Ironically, the Town only began the unlawful discharge after completion of the new $19 million sewer treatment plant. Previously, backwash was directed into the old treatment plant's polishing pond.
But, "when the new wastewater treatment plant was built and the old polishing pond demolished, the discharge from the water treatment plant backwash was sent directly into the harbor," Fauber said. Council approved his recommendation to expand a backwash vault at a cost of approximately $28,000 to allow metal solids to settle before the water is discharged into the Bay. [Read more...]
CORRECTION: This story was updated at 4 p.m. to correct information on the property owner. The owner is Beach Town LLC, and the managing member and principal is Bill Parr of Parr Properties.
By DORIE SOUTHERN
Cape Charles Wave
November 20, 2013
Cape Charles Historic District Review Board approved plans yesterday to remodel the building at 1 Pine Street into a one-room hotel.
The south wall of the building is also the back wall of Kelly's Gingernut Pub. Bill Parr of Parr Properties told the Board that the one-story building will become a one-room hotel along with an office that might later be converted to a second hotel room. The application for renovations was filed in the name of Beach Town LLC, with Parr being the managing member and principal.
The historic old storefront has been in disrepair for decades.  Local architect Leon Parham has completed the design, and Parr said he wants to start construction as soon as possible. The first step is to remove a Town dumpster beside the building  in order to repair the wall. [Read more...]
By DORIE SOUTHERN
Cape Charles Wave
November 18, 2013
Cape Charles Town Council voted November 14 to refinance two loans for $1.215 million at a variable interest rate and begin preparations to borrow $1 million more. Borrowing additional money requires a public hearing, scheduled for December 5.
Richmond financial advisor David Rose of Davenport & Company urged Council to take advantage of historically low interest rates with a 20-year loan from PNC Bank.  The interest rate would be 2.65 percent for 10 years and then change to whatever the market rate is in 2024.
Rose claimed the PNC loan did not have a variable rate because the interest rate would only change once. But according to Wikipedia, "variable rate" refers to any type of loan "that does not have a fixed rate of interest over the life of the instrument." (Click for definition.) Rose's fee to the Town for arranging the new loan is $37,500.
Councilman Frank Wendell asked Treasurer Kim Coates how much debt the Town currently has. Coates was unable to say, but Rose thought it was around $8 million or $9 million. After consulting with bond counsel Kevin White, he revised that estimate to "about $10 million." [Read more...]
November 14, 2013
The American Legion Post 56 dinner/fundraiser for a young woman assaulted in Oyster was a huge success. The Post will present the victim with a check next week for more than $7,000.
Post 56 held a spaghetti and seafood dinner November 9 at the American Legion Hall in Cheriton (click here for story) to support their "Neighbor from the 180th" who was brutally assaulted in October in Oyster.
The event drew a large and festive crowd of nearly 300.  More than 280 meals were served, and the kitchen staff reported over 48 pounds of dry spaghetti were cooked in addition to several gallons of red sauce and over 1,500 clams. [Read more...]