By GEORGE SOUTHERN
Cape Charles Wave
October 21, 2014
Two working days after Cape Charles Town Council shot down the "urban chicken" concept, the brainchild behind the proposal, Town Planner Rob Testerman, submitted his resignation.
Mayor George Proto told the Wave that he learned yesterday (Monday) that Testerman was leaving to accept a "better" job with supervisory authority. Proto stressed that Testerman's departure is on very amicable terms — the town has been very happy with his work over the past year, the mayor said.
Whether Testerman's decision to quit was influenced by Town Council's rejection of his chicken proposal may never be known. Testerman was reluctant to divulge his plans to the Wave before having the opportunity to personally inform his colleagues on Wednesday that he was leaving. He was unaware that the job opening had been posted on the town website within hours of his letter of resignation. No notice was even given to members of Town Council before the job opening was posted.
Applications for the position of town planner are due November 14, and Mayor Proto said he hoped a new planner could be hired by the time Testerman leaves in December. [Read more...]
By GEORGE SOUTHERN
Cape Charles Wave
October 6, 2014
When Cape Charles Town Council approved a $10,000 employee wage study by Springsted Inc. last February, the Wave publicized the action — and a number of readers reacted negatively to the town's decision. (CLICK to read letter from David Gay: "Town Paying $10,000 for Free Information.")
Apparently wishing to avoid further bad publicity, when Town Council decided to hire the same firm again — this time to search for a new town manager — they did it behind closed doors. The official minutes following the July 31, 2014, executive session (CLICK) refer only to a motion "to hire Springsted Inc. per their proposal for executive search services for the Town Manager position as discussed." The "as discussed" part will forever remain secret, as no minutes are recorded for executive sessions. There will be no explanation, for example, why Town Council chose Springsted or whether any other headhunter was even considered.
State law requires public bodies such as Cape Charles Town Council to do their work in public, where concerned citizens have the opportunity to scrutinize their actions. Elected officials are not even allowed to discuss town business among themselves — all discussion must be in a public forum. The only exception is that two members may have a private conversation — but no more than two. Under the last administration, Council members would make almost daily pilgrimages to Sullivan's Office Supply to confer one by one with the mayor, which was legal.
There are only a few instances when public bodies are allowed to close their doors, and one of them is to discuss personnel matters. But even then, only certain aspects can be kept private — in this case, "Discussion, consideration or interviews of prospective candidates for employment." That's the reason cited for the July 31 closed session. The reason was patently false, however, since there were no prospective candidates at that time.
Alan Gernhardt, staff attorney for the Virginia Freedom of Information Advisory Council, confirmed to the Wave that Town Council's secretive action was illegal: "The personnel exemption would not cover a discussion of the job position and/or hiring a search firm, as the personnel exemption only covers discussions concerning specific individuals," Gernhardt said. He added that a different exemption might have been used (although it was not): "Discussion of the award of a public contract . . . where discussion in an open session would adversely affect the bargaining position or negotiating strategy of the public body" (emphasis added).  It is difficult to see how openly discussing the Springsted proposal could adversely affect the town's negotiating strategy — especially if no competitor was under consideration. Although the town did not apply this exemption, it has improperly done so in the past, when it confused its own interests with those of J. David McCormack, developer of the Old School property. In that instance, Town Council met privately to avoid any adverse impact on the developer. [Read more...]
CAPE CHARLES WAVE
September 29, 2014
Last week the Wave reported the results of a "chicken survey" (CLICK) conducted by Town Planner Rob Testerman: 39 respondents opposed backyard chickens, 35 were in favor, and 7 wanted more information. But the Wave noted that 20 of the responses came from Bay Creek property owners, even though the backyard chicken ordinance would apply only to the Historic District. Bay Creek makes its own rules, and chickens are not allowed. The survey results did not break out Bay Creek respondents, so there was no way to know if the Creekers were skewing the results.
At last Thursday's work session of Town Council and the Planning Commission, Council member Sambo Brown wanted to know what the survey results would be if Bay Creek responses were eliminated. Planner Testerman didn't have that information at his fingertips, but he supplied it the next day: Of the 55 Historic District responses, 31 favored backyard chickens, 20 were opposed, and 4 said "maybe."
That's a significant change: overall, only 47 percent said yes to backyard chickens, but when the Bay Creek vote is removed, the yes percentage rises to 56 percent. Even more telling, the opposition drops from 52 percent all the way down to 36 percent.
This is not the only time that Bay Creek residents have had a hand in making rules that do not apply to them: Creekers hold 40 percent of the seats on the Historic District Review Board, which must approve any construction in the Historic District but which has no purview in Bay Creek.
Creekers enjoy even more power on the Planning Commission, which also has no jurisdiction in Bay Creek. Nevertheless, the chairman and the majority of members of the Planning Commission reside in Bay Creek. [Read more...]
By GEORGE SOUTHERN
Cape Charles Wave
September 22, 2014
It took a few months, but an obscure legal notice published June 6 in the Eastern Shore Post finally attracted the attention of Bay Creek property owners when they heard that the private roads they drive on might be sold for back taxes.
The legal notice listed 47 properties owned by Bay Creek LLC, the company owned by Richard "Dickie" Foster. Most of Foster's former holdings have been sold to Keyser-Sinclair, operating as Bay Creek South LLC. Another portion – the former Bay Creek Marina, Shops, and Aqua Restaurant – was foreclosed and sold to Robert Occhifinto in December 2012.
More than half the properties listed in the legal notice are lots on Stone Road coming into town that have nothing to do with Bay Creek other than that Foster owns them. Those lots have now been conveyed to another entity, "HJ Rail LLC," also wholly owned by Foster — but the tax is still overdue.
Before the Stone Road lots were listed to be sold for back taxes, Foster offered six other Stone Road lots to the Town of Cape Charles for $100,000, and the town bought them for the asking price. The terms of sale required the $100,000 to be applied against Foster's delinquent tax bill, both to the town and the county.
But what largely escaped notice until recently is that other properties in the legal notice include Bay Creek Parkway – the principal private road running through Bay Creek, and other common holdings. The blue-green outline on the map at left indicates portions of Bay Creek Parkway and other private roads listed in the legal notice.
When taxes become delinquent for several years, the Northampton County Treasurer's office employs Yorktown tax attorney James W. Elliott to handle legal proceedings. It is Elliott who announced that "proceedings will be commenced" on July 7 to sell the properties. That does not mean a tax auction would have occurred on that date — only that a lengthy "proceeding" was to have begun at that time.
Some two months later, an alarmed Bay Creek property owner, Andrew Follmer, sent a letter to Dickie Foster and Gary Dorsch (president of Keyser Capital) stating that "both the County Treasurer's Office and the Law Offices of James Elliott confirmed that taxes from 2011, 2012, and 2013 remain unpaid on these parcels — along with interest, penalties, and attorney's fees — as published in a public notice in the Eastern Shore Post on June 6, 2014. According to Mr. Elliott's office, the latest instructions from the county were to file suit to proceed with sale if the taxes were unpaid by Sept. 15, 2014." The letter was copied to Bay Creek property owners and subsequently passed to the Wave. [Read more...]
CAPE CHARLES WAVE
September 22, 2014
Results are in for the Town of Cape Charles "Urban Chicken Survey," which asked residents their opinion on whether hens should be allowed in town. Town Council and the Planning Commission will hold a work session to discuss the results Thursday, September 25, at 6 p.m. at the Civic Center (Old Library). The public may attend but not speak.
Responses were tabulated from 75 property owners, 20 of whom own in Bay Creek, which has its own rules prohibiting chickens that cannot be overridden by Town Council. Bay Creek responses are not shown separately from Historic District responses. Of the 75 responses, 39 oppose backyard chickens in town, 35 support them, and 7 want more information before making a decision.
Here are the respondents' comments:
SUPPORT
1. As the dollar is increasingly undermined, raising food will become paramount.
2. I have concerns about the portion of the population that is allergic or highly allergic to chicken feathers, but this is balanced by my support of vegetable gardening and other sustainable homesteading practices.
3. 3-4 chickens [maximum].  NO ROOSTERS. Must be housed in a clean, movable, at least partially covered coop.
4. We have worse eyesores in this town than clean, egg-producing chickens.
5. At this point a fairly large number of urban communities throughout Virginia and the United States allow residents to keep a few hens. They have done this for a number of good reasons. It's great to know where your food is coming from. Chickens provide natural fertilizer. Chickens eat insects. I encourage Cape Charles to allow owners to raise a few chickens. On a separate note, there seem to be a number of folks in Cape Charles that just let their dog wander around the city. Dogs should be with their owner when they are outside, unless they are in a fenced yard.
6. I feel that chickens are fine but a limit to 6 per lot should be enforced. Chickens have proven to be a great way to control bugs and ticks. Chickens are very interesting and make great pets while providing a variety of benefits.
7. There is no harm in keeping a few chickens as pets or whatever you prefer to call them, or rabbits as long as they have enough room and do not disturb the immediate neighbors.
8. Having observed "up close and personal" chicken keeping in a fenced residential setting I wholeheartedly support the idea and the practice as long as the guidelines set by the town are followed. I built my little "granny cottage" on the rear of my daughter's home and was interested to learn about and interact with her six hens. My grandsons helped care for the chickens, helping to build and paint their very artistic chicken coop, changing their bedding every day, helping to feed and water them every day and gathering the daily fresh eggs. The chickens naturally went into their coop at sundown every day and were in general very quiet. They did come to "visit" me as I sat on my swing in good weather. They got along well with my two cats — the kitties did not chase the hens. I observed the hens pecking at and eating bugs out of my garden and would settle under a bush to rest. Occasionally they would hop up on my swing to say hello and to softly talk with gentle clucks, and study, this human creature, which I enjoyed. The hens were definitely good pets and educational for the boys. And, the very fresh eggs they provided every day were delicious! We did not keep our hens for slaughter, only for the companionship and education they provided. At 74 years of age, my only prior interaction with chickens was when I was a child, observing my grandmother running after one of her chickens with a cleaver in her hand. So I was entranced by our fascinating chicken pets, their place in our family and in our fenced yard, and would recommend the practice of keeping a few hens to anyone. [Read more...]
By GEORGE SOUTHERN
Cape Charles Wave
September 15, 2014
What a difference being mayor makes. Just seven months ago when George Proto was president of the Cape Charles Business Association he wrote a hard-hitting letter to then-Mayor Dora Sullivan, chastising her for failure to answer his questions about processing county sewage at the town's new treatment plant. "My original questions have yet to be answered after almost 6 months," he wrote.
Proto and the Business Association were concerned that running a sewer line to Route 13 would promote commercial competition on the highway. "There does not appear to be any significant benefit to the Town of Cape Charles from the proposed connection," Proto wrote to Mayor Sullivan.
Now Proto is mayor, and acting Town Manager Bob Panek has convinced him, along with all other members of Town Council except Frank Wendell, that piping commercial sewage from Route 13 into town is a good idea. Panek's argument is that (1) the income received will reduce town utility bills, and (2) if the town doesn't take the sewage, the county will eventually build a plant elsewhere – perhaps on the Webster property in Cheriton — and the town will have forever lost the opportunity to operate a regional treatment plant.
Panek oversaw planning of the town's new sewer plant, which with some modifications is large enough to treat all the wastewater in the lower part of the county, were there some means to get it there. Meanwhile, the fixed costs of the plant are eating the town and its ratepayers alive.
Town Council agreed September 11 (Wendell dissenting) to negotiate an agreement with the County's Public Service Authority to accept wastewater for 1.5 cents per gallon. All Council members agreed that PSA customers must also pay the town a substantial facility hookup fee, even though Panek has opposed such a fee, fearing it would drive away potential customers.
As Business Association president, Proto had urged that the sewer line project be put on hold "until certain significant questions" were answered. The first question was, "What is the projected benefit to the town from the Route 13 sewer line?" [Read more...]
CAPE CHARLES WAVE
September 8, 2014
A consultant hired by the Town of Cape Charles has reported that town staff salary ranges are "significantly lower" than in comparable regional organizations. The consultant warned that because salaries are "below average market rates," Cape Charles may experience difficulty hiring and retaining employees in the future.
The town paid Richmond consultant Springsted Inc. $8,400 to conduct the salary study, which entailed comparing Cape Charles town salaries with those in other municipalities. However, Springsted Senior Vice President John Anzivino said they were unable to obtain information from any other town on the Eastern Shore, including Onancock and Chincoteague. Most of the comparisons are with towns closer to Hampton Roads and Richmond, although both Northampton County and Accomack County salary schedules were obtained.
Springsted's proposed salary schedule recommends increases for every town position surveyed, with more than half the town's workforce currently earning less than even the minimum proposed salary for their grade.
The report recommends a maximum salary of $87,900 (not including benefits) for the Chief of Police, the Director of Public Works, the Treasurer, the Harbor Master, and the Code Official. Anzivino emphasized that the actual salary earned by a town employee was not considered — instead it is the salary range of the position that matters. That's because a new, inexperienced employee will be paid much less than a long-time, seasoned staffer doing the same work.
The report suggests a maximum salary of $72,300 plus benefits for the Assistant Town Manager, the Town Clerk, the Town Planner, and the Librarian.
Maximum salary for the Wastewater Plant Operator in Charge would be $68,900.
The Recreation Coordinator could earn up to $65,600, while the Public Works Supervisor would see a maximum salary of $62,500.
Springsted also recommended that the town hire additional support staff in order to free up department heads for other duties. A "lack of internal support" has caused inefficiencies, with department heads forced to prepare their own reports, conduct research, answer phones, and conduct administrative support functions, Springsted found. [Read more...]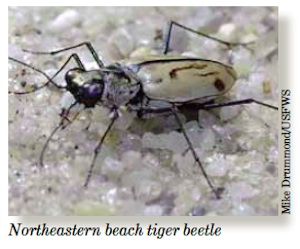 CAPE CHARLES WAVE
September 2, 2014
The lowly Northeastern beach tiger beetle, a threatened species, has won out over Bay Creek beach goers — with the help of the U.S. Fish & Wildlife Service.
The Bay Creek Homeowners Association used to rake the Bay Creek beaches to remove whatever washed up with the tide, such as seaweed, grasses, and the like — just as Cape Charles does at the town's public beach. But the raking, especially with a tractor, is highly damaging to the Northeastern beach tiger beetle, whose habitat has been reduced to two areas: Martha's Vineyard in Massachusetts and some relatively undisturbed beaches on the Chesapeake Bay.
That counts out the town public beach, where the tiger beetle gave up long ago. But the Bay Creek beaches, having become frequented by people only in recent times, still host the tiger beetle. So the beaches at Bayside Village and at The Colony/Kings Bay have been designated by the F&WS as tiger beetle habitat and may not be disturbed. 
"This means that the beach must be left to nature with the exception that human pedestrian traffic is permitted, as well as the hand removal of glass, metal, plastic, etc. In years past the beach at Bay Creek was mechanically raked and maintained. This practice was suspended when the F&WS Enforcement branch placed the management of the Home Owners Association on notice that cleaning the beach is a violation of law subject to criminal prosecution and heavy daily fines for continued violations," the Bay Creek HOA reported to its members in August. [Read more...]