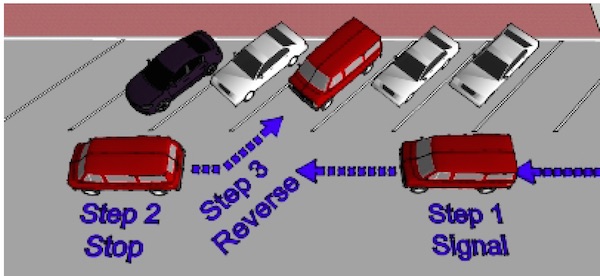 CAPE CHARLES WAVE
May 18, 2015
According to the diagram above, Cape Charles's new "reverse angle parking" on Mason Avenue is supposed to be a three-step process: Signal, Stop, Reverse. But the white Audi station wagon above didn't get that memo, and made a wide turn to pull in front-ways.
The bicycle with trailer next to the Audi did a better job, smartly facing outward. But since when are bicycles allowed to occupy a full parking space? Since reverse-angle parking came to town, apparently.
Next to the bike we see a golf cart, also properly positioned — although it looks to be crowding the white line. Golf carts rarely travel in reverse, so the driver probably lacked experience. [Read more…]
By WAYNE CREED
Cape Charles Wave
May 18, 2015
The May 12 regular meeting of the Northampton Board of Supervisors once again hosted a standing room only crowd, and once more, it was education that dominated the discussion.
Andy Teeling addressed the board with his vision of a "small, rural, waterfront county" that, at all levels, is a community fully invested in revitalizing our schools and getting personally connected with the students. With this came a resolution calling for a renewed partnership between the Board of Supervisors, the School Board, and the community to use education as driver for future economic development.
"The path to economic recovery, the path is simple," said Teeling. "We must improve our schools. We each have to ask, 'what can we do for our schools?' By helping each student reach their potential . . . we will reap dividends for our economy."
The core of Teeling's vision included a county that takes the initiative to promote education to drive the economy, that launches a mentorship program that involves retirees with trade and business backgrounds, that sees a surge of parental involvement, and finally, that brings new business to the Shore that are attracted by the education initiatives.
Supervisor Granville Hogg said, "We have just given back $20,000 that was a grant for industry-specific technical training, for workplace skills for entry level jobs — industrial technology. Though I'm fully in support of the resolution, we have let another opportunity slip through our fingers, only because there were not enough enrollments in the course. That, ladies and gentleman, falls on you all. We need to bring students in, to interest them, to provide them with a job and a way to make a living."
A resolution that echoed Teeling's call for a renewed partnership passed unanimously. Although several commentators piled on the Teeling presentation with heartstring, backslapping appeals, others, feeling the full weight of the reality on the ground, and a sense of just how daunting the task really is, also addressed the board. [Read more…]
CAPE CHARLES WAVE
May 18, 2015
Would the historic structure at 500 Tazewell Avenue be just as historic without its two chimneys? That's a decision to be made by the Historic District Review Board at its Tuesday, May 19, meeting.
The building, once a Methodist Church and more recently the Cape Charles Memorial Library, is now the town's "Civic Center" hosting public meetings. Town officials have recommended removal of both chimneys due to leaking around the flashing. Despite their best efforts, town maintenance workers have not been able to stop the leaks.
Town Planner Larry DiRe has advised that "the guidelines are rather quiet on the status of chimneys." But then, curiously, he quotes the guidelines as explicitly stating that "historic building roof types, including elements such as chimneys and light wells, should be retained (Building Element 1, page 34)."
The Historic Review Board ruled in May 2013 that a non-historic house at 621 Jefferson Avenue undergoing remodeling had to install a fake chimney to replace a decrepit flue being removed (CLICK). Following community ridicule the Board reversed itself. [Read more…]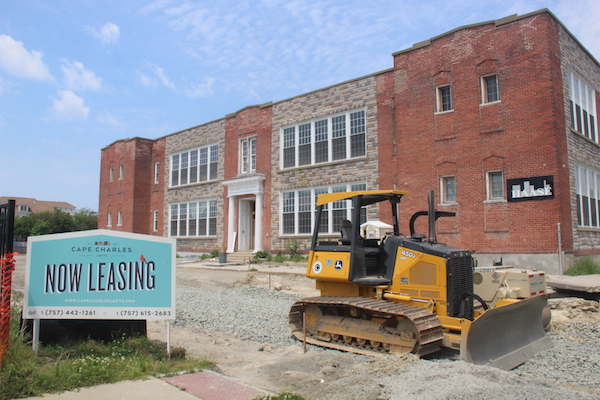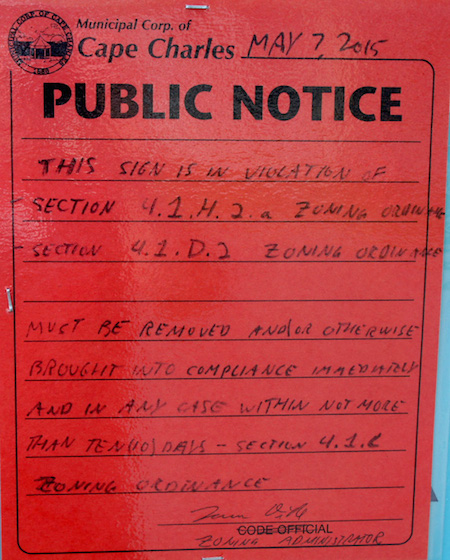 CAPE CHARLES WAVE
May 18, 2015
Last week the Wave reported that Town Zoning Administrator Larry DiRe had slapped a red violation notice on the new "Now Leasing" sign in front of the old Cape Charles High School. Dated May 7, the notice ordered the sign to be "brought into compliance immediately and in any case within not more than 10 days."
That would be by May 17. But 10 days later the only sign that's been removed is DiRe's original Public Notice shown at right.
VDOT does not allow signs on public right-of-way, and the "Now Leasing" sign has been moved to the other side of the sidewalk. But the town ordinance limiting the size of the sign to 4 square feet continues to be ignored: the sign is three to four times larger than allowed.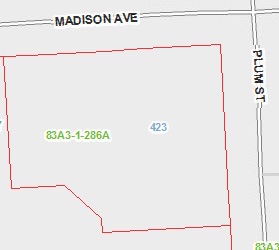 DiRe missed another sign violation (or maybe he just ran out of room): only one real estate sign is permitted on a single residential lot. But there are now two illegal signs occupying one residential lot — lot 423 at the corner of Plum and Madison. (See county tax map at right and second "Now Leasing" sign below.)
Last week the Wave noted that "DiRe has only been on the job a matter of weeks and apparently was unaware that Old School developer J. David McCormack gets carte blanche (including free water)."
It appears that Assistant Town Manager Bob Panek has now explained that fact to DiRe, and there will be no more red violation notices. [Read more…]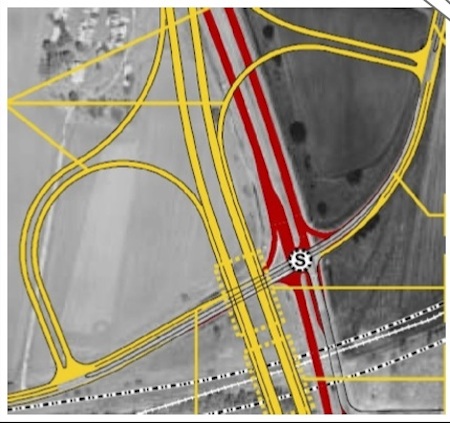 CAPE CHARLES WAVE
May 11, 2015
Resembling ancient symbols in the sand, the array of lines at right depicts a proposed Los Angeles-style reworking of the intersection of Stone Road and Route 13 — Cape Charles's only traffic light (at the sign of the "S").
Northampton Supervisor Granville Hogg dubs it "a million-dollar fix for a hundred-dollar problem."
The red lines show the existing Route 13 including ramps to Stone Road and S. Bayside Road. The yellow lines show a proposed Route 13 relocated to the west with two half-cloverleaf interchanges. The dotted yellow lines signify bridges over Stone Road and the railroad tracks.
VDOT will be in attendance at the Tuesday, May 12, Board of Supervisors meeting, where public input may be voiced at the 7 p.m. session.
By WAYNE CREED
Cape Charles Wave
May 11, 2015
The May 5 Cape Charles Planning Commission agenda covered not just the visual and aesthetic, but also the fiscal issues that could have broad effects for both businesses and the general population.
Due to scheduling conflicts, the Planning Commission had to conduct the session with a skeleton crew: two members absent and a third 30 minutes late.
Town Planner Larry DiRe reported that "reverse angle parking" will be implemented on Mason Avenue in the next week or so. For higher traffic areas, reverse angle parking is a safer type of angle parking — instead of pulling into the parking spot, cars are supposed to (but not required to) back into their spots, allowing them to make eye contact with oncoming traffic when exiting the parking space. You don't have to back out into oncoming traffic. The benefits will be to create a more efficient parking scenario, fitting more parking into less space.
DiRe also noted that the town will be looking at reverse angle parking on some parts of Bay Avenue. Once feasibility is determined, the same application process with VDOT will have to be undertaken (possibly in front of the gazebo, and south towards the pier).
The Commission once again visited the notion of a Tourist Zoning Ordinance somewhat akin to the Technology Zone already in place. The goal of these specialized economic zones is to attract investment in the downtown and harbor areas. How this will actually be implemented is still in question but could involve a grant or credit. "We need to look at this," said Commissioner Joan Natali. "Do we need to change this to say grant, or credit, to reflect what is accurate?"
Natali also voiced fiscal concerns about how the town plans to create the incentive structure. "I really believe the Treasurer needs to weigh in on this" to provide an adequate level of insight and context, she said.
DiRe noted that he and Town Manager Brent Manuel had begun discussions with the Treasurer. Natali also voiced concerns about businesses that may attempt to take advantage of the program. "How do we determine if what they did was appropriate? If they don't meet the criteria, don't meet the regulations, how do we handle getting money back, or getting refunds?" she asked. DiRe agreed that should be looked at, and those rules and stipulations should be undertaken as part of creating the new tax zone. [Read more…]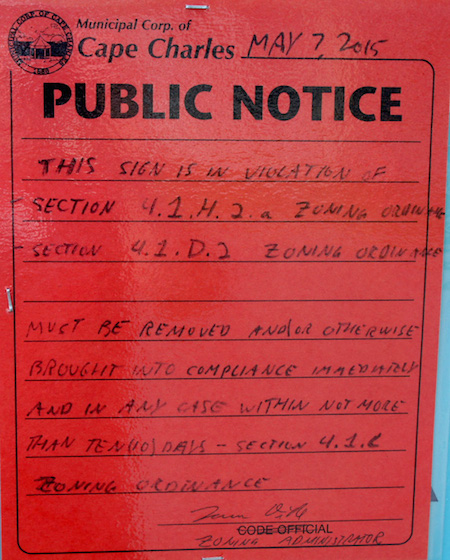 CAPE CHARLES WAVE
May 11, 2015
Everything about the Old School giveaway has been either illegal or underhanded, so no surprise that the NOW LEASING sign was also put up illegally.
The sign is erected on VDOT right-of-way, to begin with. During last year's heated local elections, town officials were instructed to alert VDOT to campaign signs posted in public right-of-way areas, and the signs were removed. There was no "10-day warning."
The sign is also some four times larger than the 4 square feet allowed.
The only surprise is that Cape Charles's new zoning administrator, Larry DiRe, slapped a warning notice on the sign. DiRe has only been on the job a matter of weeks and apparently was unaware that Old School developer J. David McCormack gets carte blanche (including free water). [Read more…]