By GEORGE SOUTHERN
Cape Charles Wave
December 7, 2013
Rarely is anything printed in the Wave that does not relate directly to the Eastern Shore. But the passing of Nelson Mandela compels me to write about what he meant to me. I offer this commentary to those who may be interested, while recognizing that it is not for everyone.
Among the early accounts of Mandela's death December 5 at age 95 was a striking quote from, of all people, Arnold Schwarzenegger. He said: "President Mandela's life is the closest thing we have to proof of God." I would call that an overstatement, but I agree with the sentiment that Mandela, at least within the group of people we label politicians, was heads and shoulders above all the others. Mandela was a modern statesman in a time when the word seems obsolete.
Somewhere in my old collection of VHS tapes I have the Sunday morning recording I made of Mandela's release from prison February 11, 1990, after 27 years of confinement. At the time I was training for my upcoming assignment to South Africa as a political aide to the U.S. ambassador.
I arrived in South Africa in June, just four months after Mandela's release from prison. The country was in a state of hypertension, with all races fearful that a civil war would shortly erupt. For more than a decade, the conventional wisdom had been that war was inevitable.
This was where Mandela showed his genius for toughness encased in humility. During the negotiations between his African National Congress and the white ruling government, his eloquence, humility, intellect, determination, and yes – sense of humor – eroded the white power structure's long-held conviction that a black president would run their nation into the ground, just as they had seen happen in Zimbabwe and elsewhere. [Read more...]
(EDITOR'S NOTE: Below is a message from Mayor Sullivan reprinted from the November 20 Town Gazette. It is followed by a message to the mayor from Old School Cape Charles.)
November 21, 2013
MESSAGE FROM THE MAYOR
I am pleased to report that the Supreme Court of Virginia has rejected both petitions for appeal of the decisions rendered by the Northampton Circuit Court filed by Old School Cape Charles, et al. We are looking forward to the developer now moving ahead with the historic rehabilitation of the former school property into an asset that contributes to our economy.
I am hopeful that we can continue to move forward in improving our Town.
Thank you,
DORA SULLIVAN
MESSAGE TO THE MAYOR FROM OLD SCHOOL CAPE CHARLES
The wheels of justice grind slowly, and Old School Cape Charles LLC has not given up the fight to save Central Park property from the hands of a developer who would turn the largest public building in town into an apartment house.
Old School Cape Charles still has the option of requesting the Supreme Court to review the decision of the Writ Panel that rejected our appeals. The question of "standing" looms large in the rejection. Circuit Court Judge Revell Lewis ruled that a community group formed for the sole purpose of saving a public asset does not have standing to question the decision of Town Council. Judge Lewis also decided that he did not have jurisdiction over the case involving the sale. So Old School Cape Charles plans to ask the Supreme Court to review the decision of the panel.
Then there is the question of the Town staff's ignoring Historic District Guidelines which state that a parking lot should not be allowed in front of the building. Madame Mayor, you have refused to identify the front of the building, but we believe that the Virginia Department of Historic Resources will be able to locate the front even without your assistance. [Read more...]
(EDITOR'S NOTE: Cape Charles resident Joe Vaccaro submitted this commentary with the request that it be published on Veterans Day. It is his latest article in observance of American Legion Post 56′s "Year of the Veteran.")
By JOE VACCARO
American Legion Post 56
November 11, 2013
There are over 830,000 veterans residing in Virginia, and that number includes some 700,000 men and 130,000 women. Within those numbers are over 669,000 wartime veterans who have served their country in time of need. The Eastern Shore of Virginia lays claim to over 5,000 of those men and women living among us; also living among them is the dark potential of suicide.
According to the Department of Veterans Affairs, 22 veterans take their own lives every day. That data is from 1999 through 2011 and only contains information from 21 states, with large states such as California, Texas, and Illinois not reporting any information. Throughout the years combat veterans have been returning home seemingly unscathed by the battles they have fought, yet the suicide rate for our recently returning veterans continues to climb. The troops, especially the career minded, view any cry for help as a career blemish that could tarnish a record of valor and hard work, and halt an upward climb through the ranks.  The attempt to gather facts to combat this national tragedy is too skewed to be of any solid value.
Part of the problem is that there's no uniform reporting system regarding these deaths. So it's up to a coroner or funeral director to enter a veteran status or note a suicide on a death certificate. This makes it extremely difficult to determine a veteran's status unless the person is known to them, which begs the next question of how do they collect that data on homeless veterans? [Read more...]
By DEBORAH BENDER
October 14, 2013
Tomorrow the Old School Cape Charles civic group will get a second chance at justice. On Tuesday, October 15, the Virginia Supreme Court will hear an appeal of a lower court decision allowing the historic school in Central Park to be given to a developer.
Those who have been reading the Wave know the sad story of the Town's secret negotiations and purported "sale" of the school for $10. One can barely buy lunch for $10, but our Town Council sold valuable town property –including the Town's only two basketball courts — for that "price."
But it gets worse: Not only did they sell the school for $10, they then gave the developer $41,000 in insurance money for earthquake damage not noticed until three months after the fact.
The Town bumbled about for several months trying to issue a legally acceptable rezoning and conditional use permit, which they were never quite able to do.
The Town signed a contract and enacted an ordinance to sell the school to Echelon Resources. But when Mayor Sullivan signed over the deed, it was to Charon Ventures — an entity that was never mentioned in the contract or the Town ordinance.
Town residents who value public property and care about the local children thought better of the school than to give it away. They formed a group and named it Old School Cape Charles. Old School set to work alerting townspeople through signs, leaflets, and petitions. In reaction, Town Planning Commissioners have spent months working on the Town's sign ordinance to ban protest signs. [Read more...]
By WAYNE CREED
September 21, 2013
Assistant Town Manager Bob Panek received a universally chilly reception September 16 at the Cheriton Fire Hall when he explained plans to use the Town's wastewater plant as the southern node of a semi-regional wastewater system. But when so many people around here agree with each other, it should raise a giant red flag that something is wrong.
I agree that at the current time, Cape Charles should not engage with the Public Service Authority to run pipe out to the newly created Economic Tax Zone along Route 13 — but for different reasons than have been voiced by others.
A major red herring is that supplying wastewater treatment to Route 13 and Cheriton would somehow cause economic stress to Cape Charles businesses. There is a notion that a Rite-Aid or CVS may open to compete with Rayfield's, yet in this economic climate, chain stores tend to stick to locations that minimize risk. Even with peak summer traffic, there doesn't appear that there are the demographics to support a chain like that, and companies like CVS only survive if they can subsume and assimilate. That is, it would only be viable if they could assume Rayfield's base — a difficult task that may seem too risky after a thorough cost-benefit analysis. [Read more...]
By LENORA MITCHELL
August 21, 2013
Looking through some old files recently, I reflected on how much time I had spent being a community servant, running up and down Highway 13 attending board and committee meetings in Northampton and Accomack counties. And then I found a file that documented the demise of the Cape Charles school system 26 years ago.
I was appointed to the Cape Charles School Board in 1982. As I looked at documents from the United States Justice Department Civil Rights Division, Northampton County School Board, the county superintendent, Cape Charles School Board, the town superintendent, the State Board of Education, and numerous letters from attorneys involved in the case, including from the Department of Justice, I remembered how long and intensive the battle was to retain the independent school system in Cape Charles, along with ownership of the building.
The battle started civilly, but then it turned into a major war. The Town was divided and there were heated exchanges wherever you went, especially at the Town Council meetings.
The Cape Charles School Board accused the Northampton County School System of violating a consent decree by allowing Cape Charles students to attend their schools.
The Town Council charged the School Board with malfeasance or misfeasance and demanded an investigation by the State Police.
Meanwhile, the Cape Charles School Board charged the Town with siphoning off funds earmarked for the school. These were just a few of the allegations and charges being thrown around during that time. [Read more...]
By DEBORAH BENDER
August 13, 2013
Several years ago I had a shop on Mason Avenue called Scarlett's Closet where I sold women's clothes. So I know how shoppers think. Let's say someone wants to buy a linen top: One of the first things she will do is look at the price tag. She will consider buying two if there is a sale that offers a second garment at half price.
A shopper will consider how much money she has in her wallet — or if she gets out her credit card, what that will mean to the family budget.
But our Town Council jumped feet-first into building a new wastewater treatment plant without knowing for sure where the money to pay for it would come from. Now they want us to foot the bills.
In accordance with the 1991 Annexation Agreement, Town Council asked Bay Creek's developer Dickie Foster to pay its share of the cost of the new state-of-the-art sewage treatment plant. But when he just said "no," Town Council backed down.
Now, instead of demanding that the developers of Bay Creek pony up the money, Council is expecting the people of Cape Charles to accept two large increases to our water bills. In the last five years the cost of wastewater treatment has gone from $24 a month to $60.85.
Not only that – Council expects people to pay those bills whether their house is occupied or not. They get billed even if the house has the water turned off because the owner can't afford to pay.
What are they thinking?
When a homeowner gets behind in paying his water bill he is hit with a $30 late fee. I wonder how much late fees Bay Creek has to pay for the $42,000 invoice they received in July 2008? Have they paid anything yet? Do they have any more invoices? [Read more...]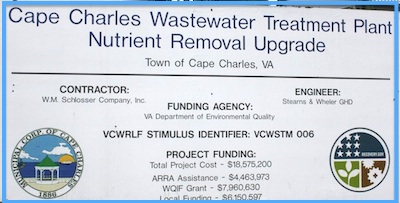 By WAYNE CREED
July 27, 2013
As a kid, growing up with a dad that tended to tinker in the garage with the radio on, I remember lazy days, tinkering alongside him on a bike or Briggs & Stratton lawnmower engine, all the while listening to the Paul Harvey show. I especially liked the section of the show "The Rest of the Story."
As of July 22, Northampton County finalized the Southern Node commercial service area which will pump sewage to the Cape Charles treatment plan. The County's PSA (Public Service Authority) has recommended a special taxing district for commercial property along Route 13. There is, however, "the rest of the story."
Back in 2008 and into 2009, the Town of Cape Charles was faced with a dilemma: the wastewater plant was failing (although reports of its impending demise may have been slightly exaggerated), and without addressing the issue, harsh dealings from the Department of Environmental Quality were on the horizon. The Mayor, the assistant town manager, and the town manager should be commended for stepping up and getting in front of a serious problem.
The facts: Cape Charles, like all municipalities in the Chesapeake Bay watershed, had to meet a specified nutrient waste load allocation by January 2011. If we did not meet this date, our current waste load allocation, which was based on a projected discharge of 500,000 GPD, would be reduced by half (along with possible fines).
But there is still more to the story. There were actually two competing plans on the table at the time: the current system, owned and operated by the Town, and a public private venture to be funded and managed by Webtide Partners, led by the concerns of Furlong Baldwin and Sons, and Joe Corrado.
Floating about was also the notion of a regional system to service Northampton County. In 2009, the Town and County held a wastewater summit. Then-supervisors Dave Burden and Spencer Murray posited lukewarm approvals in favor of a regional system, but one that was made up of several smaller plants; Burden also added that effluent should not be pumped back into the Bay, and that a water reuse plant should be at the forefront. [Read more...]