CAPE CHARLES NATIVE
Sunday Service for Carlisle Lamar Nottingham, 92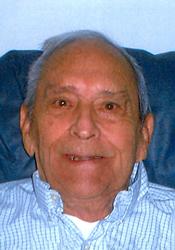 Carlisle Lamar Nottingham, 92, husband of the late Faye Phillips Nottingham and the late Hattie Brunley Nottingham and a resident of Heritage Hall Healthcare in Nassawadox, passed away Thursday, November 1, at his residence.
A graveside service will be held 2 p.m. Sunday, November 4, at the Wachapreague Cemetery with the Rev. Tammy L. Estep officiating.
A native of Cape Charles, Mr. Nottingham was the son of the late Dr. Carlisle L. Nottingham and the late Eliza Caine Nottingham. He was a retired postmaster of the Wachapreague Post Office, a former deacon and member of Powelton Presbyterian Church, Past Master of Ocean Masonic Lodge AF & AM, member of Loyal Order of the Moose #683, and member of American Legion Post #56. He was a US Air Force Lieutenant, having served in World War II, and was a P.O.W.
He is survived by two daughters, Liza Nottingham Soderstrom of Quinby, and Rosa Caine Custis and her husband, Wayne, of Belle Haven; four grandchildren, Beth Burnley of Willis Wharf, Christopher Custis of Charleston, SC, Carla Russell of Richmond, Patrick Soderstrom of Pocomoke, MD; and 10 great-grandchildren. He was predeceased by two sisters, Mary G. Nottingham and Rosa Caine Seaward.
Online condolences may be sent to the family at www.doughtyfuneralhome.com
In lieu of flowers, memorial contributions may be made to American Legion Post #56, P. O. Box 351, Cheriton, VA 23316 or Powelton Presbyterian Church, c/o Brenda Ashby, P. O. Box 84, Belle Haven, VA 23306.
Arrangements are by Doughty Funeral Home in Exmore.