By DORIE SOUTHERN
Cape Charles Wave
April 21, 2014
Cape Charles Board of Zoning Appeals approved variances April 14 for half of the proposed development of the shuttered grocery store property on Mason Avenue. Local developer Patrick Hand had requested variances for setbacks, open space, and parking. The requests had been tabled at an earlier meeting, and the Board had asked Hand to come back with other alternatives for his parking variance request
Hand's response was to request that the parking requirement be reduced to one car per 200 square feet of commercial property. The Board instead agreed to one car for every 300 square feet. Under town code, parking requirements are dependent on the uses in the building, but Hand, who does not yet own the property, does not know what businesses might locate in the 3,750 square feet of commercial space that he plans to build.
In addition to the commercial space, Hand envisions his building housing one- and two-bedroom apartments for retirees and weekenders in the Soho style of New York. The proposed building would be 120 feet wide and 104 deep on a lot that is 105 feet deep, thus allowing a one foot setback from the drainage ditch on the adjacent railroad property. Although the Harbor District has no setback requirement for the rear of a building, lots are supposed to be 140 feet deep. [Read more…]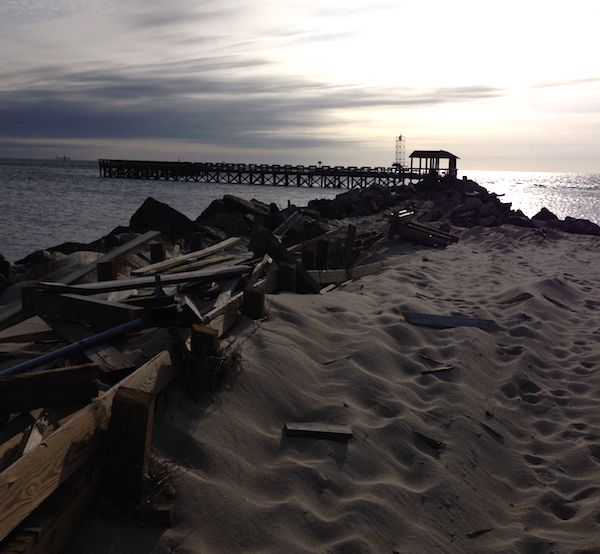 April 21, 2014
The Cape Charles Fun Pier is no longer, but a resurrection is in the works. Just before Easter, an excavator ripped out the portion of the pier resting on railroad-style ties, which was damaged by Hurricane Sandy. The far portion of the pier is built on deep pilings that withstood both Sandy and Irene with no damage at all. Town staff repaired the pier following Sandy, but now a FEMA grant is paying for a replacement. However, the replacement portion will again be built on less expensive ties instead of the pilings proven to withstand hurricanes. The pier is scheduled to reopen before Memorial Day. (Wave photo)
By DORIE SOUTHERN
Cape Charles Wave
April 21, 2014
Blustery conditions cancelled Gov. Terry McAuliffe's charter flight to attend the State of the Shore event April 15, so he had to come by car. But the real turbulence at the meeting came from opposition to Northampton County's rezoning plan.
Northampton Board of Supervisors Chairman Larry LeMond defended the zoning rewrite, saying the county needs to streamline the development process. Those who questioned the county's plans are advocates of "no growth," he said.
Ken Dufty, representing the newly formed group Citizens for Open Government, responded that the proposed zoning ordinance was not in accord with the County's Comprehensive Plan and that the Planning Commission had not even discussed the zoning changes until two weeks before the public hearing. Dufty disputed LeMond's claim that the Planning Commission had had two and a half years to look at proposed zoning changes. He also noted that the Planning Commission had asked the county to hire a consultant to help review the proposed changes, but that the county refused to fund it.
LeMond responded that Supervisor Larry Trala felt that the citizens should be able to take care of the review of the ordinance without hiring a consultant. The Planning Commission has 100 days to offer suggestions about the changes, and no further public hearings are scheduled for what LeMond referred to as a "hot-button issue." [Read more…]
By JOE COCCARO
April 21, 2014
As a new resident, I've been impressed by the town's dedication to preserving its past. I love that Cape Charles has a "historic" designation, and I admire residents and leaders steadfast about preserving its quaintness and personality.
In the town's zeal to protect its legacy, however, I fear some have lost perspective about what's worth preserving. The lines between "historic'' and "nostalgic'' have become fuzzy.
I live near Central Park and enjoy my strolls there and hearing the kids playing, the fountain flowing, seeing residents walking pets, pushing baby strollers, playing soccer. Like its beautiful old buildings, the park defines Cape Charles. It's where we gather, recreate and bond. The beach and park unifies us, as much as our local pubs and churches and shops.
With that in mind, I have been head-scratching about the old school. Frankly, I was stunned by the rancor swirling in such an otherwise civil and thoughtful community. The accusations, lawsuits and bitterness seem shockingly out of character. There's nothing quaint about bitterness.
I keep asking myself, "all of this fighting over what?'' A dilapidated building that, in my view, is ugly. Yes, the old school building is an eyesore to no less an extent than the old supermarket by the harbor that, hopefully, will soon be razed and replaced with at least some open space.
The school obviously has nostalgic appeal to some. But it's not "historic'' and seems devoid of architectural splendor. Not everything old deserves to be protected. The school building was a tool; its purpose served.
One solution to the school quandary could have been just tearing the old girl down. The town could have preserved the site and enhanced wonderful Central Park with some basketball courts for the kids, or maybe a few more tennis courts or benches, or swing sets. Wouldn't that have been a fitting legacy for the school site? Kids enjoying the old playground? Perhaps that was an option discussed and discarded. [Read more…]
April 21, 2014
(EDITOR'S NOTE: Cape Charles Historical Society has for more than a decade been recording oral histories of the area's earlier days.  A grant from the Virginia Foundation for the Humanities enabled 15 interviews to be transcribed, and the Historical Society has made this one available for readers of the Wave.  All the transcriptions may be read at the Cape Charles Museum.)
David Mitchell speaks April 12, 2001
PART 5
[Audience]: "When you were in the ball club and traveling, did you go on a bus?  Did you sleep on the bus?
Oh yes, we had a bus.  We always had hotels that we would go to stay in.  I had a kind of hairy experience coming out of Upstate New York.  We played up in Utica and Ithaca, New York.  We were coming down from there and what happened, the bus had broken down in New York and we had to hire a limousine to take the team, there were 18 heads.  Coming back, the left front tire blew on this limousine and we were coming down this mountainside.  And the driver hollered, "Don't nobody touch it!"  He was afraid someone would grab the wheel and try to steer it.  We came to a stop right to a guard rail and nobody got hurt, didn't even scar the car or anything, but that was something that lived with me for a long time, because if we had gone over . . . .  There was a 50 or 75 foot drop down there  and I guess all of us could have been killed or get broken bones or something.
We were staying in a hotel in New York on 7th Avenue,  I can remember a young lady that had been down here visiting and all she was talking about was this Glass house in Cape Charles.  It's the house right across from where Raymond Spady lives, that was new at that time.  Somebody described it to her as the Glass House and so she wanted to see it.  So this lady was visiting my friend's girlfriend and this particular night we were going out and I didn't have a date, so they asked me if I would mind taking this girl along.  I said fine.
After taking her out that night, I took her out the next day and showed her the sites, the farm, the houses and different places.  And she enjoyed it so much, that she told me that if I was ever in New York, to please come by and see her.  She told me about her boyfriend and everything. [Read more…]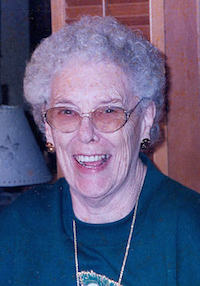 April 21, 2014
Delma Virginia Lewis, 90, wife of the late Cecil T. Lewis, Sr., and a resident of Cape Charles, passed away Sunday, April 20, at Heritage Hall Healthcare in Nassawadox.
A graveside service will be conducted 2 p.m. Tuesday, April 22, at Redbank Baptist Church Cemetery with Rev. Randy E. Lewis officiating. Flowers will be accepted or memorials may be made to Hospice and Palliative Care of the Eastern Shore, 165 Market Street, Suite #3, Onancock, VA 23417.
A native of Machipongo, Mrs. Lewis was born June 8, 1923, the daughter of the late Allen E. Outten, Sr., and the late Alice Catherine Richardson Outten. She was a homemaker and member of Cape Charles Baptist Church. [Read more…]