CAPE CHARLES WAVE
April 14, 2014
Attention Cape Charles voters: Lenora Mitchell-Fields has NOT withdrawn her candidacy for Town Council in the May 6 elections.
The town's official publication, Cape Charles Gazette,  inexplicably omitted Mitchell's name in its April 14 edition headlined "2014 Is An Election Year!"
The story states that "five candidates are running for Council," and then lists five names. But in fact, SIX candidates are running for Council.
Reached at her store, Mitchell was asked by the Wave to guess which candidate the Gazette had left off its list. Her first guess was Deborah Bender, who was once referred to by Mayor Sullivan as the "Barking Bender," perhaps due to her history of public comments at Town Council meetings. But Bender's name was not the one omitted from the Gazette.
Lenora Mitchell has her own history of criticizing the Town when an official injustice has been committed. When the town sold the basketball court, parking lot, and old school to a developer for conversion into apartments, it stipulated that the property could not be made available to low-income residents — despite the developer's intention to receive over $1 million in state and federal assistance for renovating the building. [Read more…]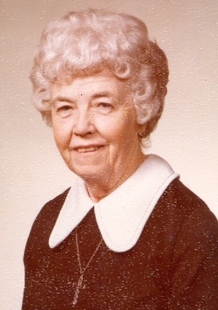 April 14, 2014
Emma Loretto Kelly, 104, passed away Monday, April 14, at Heritage Hall Healthcare in Nassawadox. A funeral mass will be held at a later date.
Mrs. Kelly was born July 15, 1909. A native of Marlboro, NY, she was the daughter of the late Peter Krones and the late Honora McManus Krones. She was a retired secretary and member of St. Charles Catholic Church.
She is survived by a son, Eugene J. Kelly and his wife, Colleen, of Cape Charles, and three grandchildren, Colin Kelly, Liam Kelly, and Finn Kelly.
Online condolences may be sent to the family at www.doughtyfuneralhome.com
Arrangements are by Wilkins-Doughty Funeral Home, Cape Charles.
By DORIE SOUTHERN
Cape Charles Wave
April 14, 2014
Cape Charles Town Council is in the midst of hammering out a $3.2 million budget for the fiscal year that begins July 1. The  projected budget does not increase taxes on real estate or personal property, and utility bills are also projected not to increase. But even though no general tax increase is planned, the budget includes a 2 percent cost of living adjustment for all town employees.
At a Town Council budget workshop April 10, Council member Frank Wendell argued that since the town is paying $10,000 for a wage and compensation study, it should not provide any cost of living adjustment until the study results have been received.
Town Council does want to increase the lodging tax imposed on guests at hotels, B&Bs, and vacation rentals a whopping 23 percent — from the current 3 percent to 3.7 percent. That's in addition to 5.3 percent state tax and 2 percent county tax on short-term lodging, for a new total of 11 percent. The tax increase is projected to generate an additional $19,000 revenue for the town.
The lodging tax would be spent on tourism-related events such as Fourth of July fireworks, Cape Charles Business Association projects, the Historical Society, and the new tourism website Cape Charles By the Bay. A public hearing for the proposed tax increase has been rescheduled for 6 p.m. Thursday, April 24, at St. Charles Parish Hall.