Consultant Declares Town Staff Underpaid, Overworked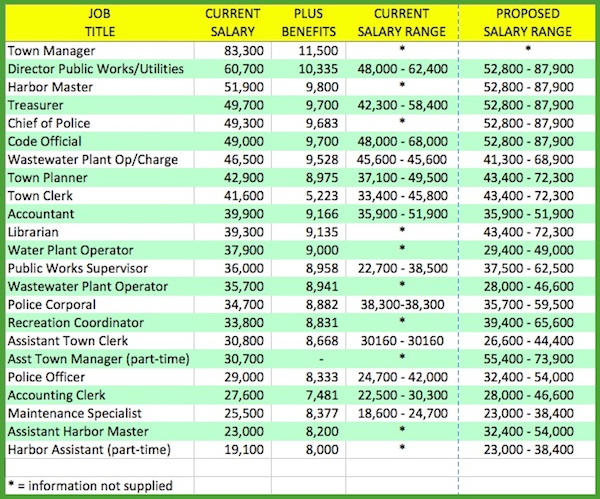 CAPE CHARLES WAVE
September 8, 2014
A consultant hired by the Town of Cape Charles has reported that town staff salary ranges are "significantly lower" than in comparable regional organizations. The consultant warned that because salaries are "below average market rates," Cape Charles may experience difficulty hiring and retaining employees in the future.
CONTINUED FROM FIRST PAGE
The town paid Richmond consultant Springsted Inc. $8,400 to conduct the salary study, which entailed comparing Cape Charles town salaries with those in other municipalities. However, Springsted Senior Vice President John Anzivino said they were unable to obtain information from any other town on the Eastern Shore, including Onancock and Chincoteague. Most of the comparisons are with towns closer to Hampton Roads and Richmond, although both Northampton County and Accomack County salary schedules were obtained.
Springsted's proposed salary schedule recommends increases for every town position surveyed, with more than half the town's workforce currently earning less than even the minimum proposed salary for their grade.
The report recommends a maximum salary of $87,900 (not including benefits) for the Chief of Police, the Director of Public Works, the Treasurer, the Harbor Master, and the Code Official. Anzivino emphasized that the actual salary earned by a town employee was not considered — instead it is the salary range of the position that matters. That's because a new, inexperienced employee will be paid much less than a long-time, seasoned staffer doing the same work.
The report suggests a maximum salary of $72,300 plus benefits for the Assistant Town Manager, the Town Clerk, the Town Planner, and the Librarian.
Maximum salary for the Wastewater Plant Operator in Charge would be $68,900.
The Recreation Coordinator could earn up to $65,600, while the Public Works Supervisor would see a maximum salary of $62,500.
Springsted also recommended that the town hire additional support staff in order to free up department heads for other duties. A "lack of internal support" has caused inefficiencies, with department heads forced to prepare their own reports, conduct research, answer phones, and conduct administrative support functions, Springsted found.
A new Administrative Assistant should be hired for the Police Department, Planner/Zoning Administrator, and Public Works and Utility Director, Anzivino said. Additionally, a Permits Assistant should be hired for the Building Code Official, who currently must prepare his own reports and correspondence. When the Code Official is doing inspections in the field, there is no one in the office to issue building permits, Anzivino noted.
A new Police Officer should be hired to relieve the Chief of some patrol duties, "allowing him to plan, direct and train staff more frequently," the report recommends.
"Retention of a part-time Assistant Town Manager on a continuing basis" was also urged in the report, and Anzivino suggested to Council members that the Assistant Town Manager position could grow into a full-time position.
At a September 4 Town Council work session, Anzivino drew a parallel with Ocean City, where a cadre of seasonal employees is maintained. A number of these employees live in Florida, he said, and return each summer to work in Ocean City. Cape Charles could consider something similar. Anzivino also noted that the increase in staff could occur over time, as needed — "particularly if Bay Creek takes off real quick," he said. "You have a lot of talented people in the community who may enjoy a part-time job."
The Springsted survey compares Cape Charles employees with those working for Accomack County, Northampton County, and the towns of Kilmarnock, Smithfield, Warsaw, West Point, and Windsor, as well as the Chesapeake Bay Bridge-Tunnel. But not all those entities have equivalent positions, so comparisons were with as few as three, two, or even one other employer. For example, the position of Wastewater Plant Operator in Charge was compared with only one, unnamed, other employer, and the Wastewater Treatment Plant Operator had only two comparisons. The Recreation and Community Event Coordinator had three comparisons, and the Town Planner position had four. The survey does not contain the names of the employers for the comparisons.
Anzivino would not estimate how much it might cost the town to carry out his recommendations for both salary hikes and increased hiring, but Town Council member Sambo Brown said that town financial staff should be able to derive a figure.
Councilman Frank Wendell questioned why the Springsted survey excluded the town manager — especially given that the current town manager has resigned. Anzivino replied that it is "common practice" to omit the town manager because she serves at the pleasure of Town Council.
Council member Chris Bannon told Anzivino that "we hear, ad nauseam, that we're overstaffed. Would you care to make a comment?"
"I would not say you're overstaffed," Anzivino replied, and Council member Joan Natali added, "I would say we're understaffed, according to your recommendations."
Anzivino had high praise for the new town treasurer, particularly her computer software expertise: "For a town your size to have someone like that on top of the game is very unusual," he said.
Council member Tom Godwin questioned why no local towns responded to Springsted's survey request, and wondered if it could be because they didn't want to reveal their pay scales. But Anzivino said it is common for municipalities to make that information public. "If you go on websites such as for Fauquier County, they've got their whole pay plan and all their personnel policies on their website," he said.
Cape Charles Town Council authorized $8,000 for the Springsted salary study plus $2,300 in expenses, but Anzivino said at the work session that the total cost was only $8,400, meaning that his expenses incurred in conducting the study were only $400.
Town Council has also hired Springsted to conduct a job search for a new town manager, which will include a suggested salary range.
CLICK to read the Compensation and Position Classification Plan.
CLICK to read the Organization Management Review.