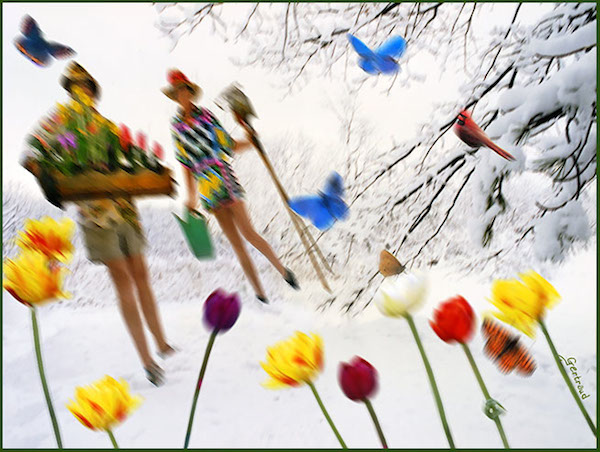 Reader submissions on the coldest, snowiest week of the year include the stark reality of the Cape Charles beach, documented by Frank Wendell, and a fantasy of sugarplums dancing through the head of Gertraud Fendler and her Photoshop. (Published February 23, 2015)
By WAYNE CREED
Cape Charles Wave
February 23, 2015
With sidewalks frozen and iced over, temperatures dipping into the teens, and winds gusting to 30 knots, the Cape Charles Town Council put on their parkas and braved the elements to conduct the February 18 Regular Meeting at the Civic Center. With normal walkway entrances flooded and crusted over with a thin layer of ice, Chief Pruitt and Jeb Brady had to be on hand to help attendees traverse a makeshift path through the snowbank up to the sidewalk.
Mayor Proto called the meeting to order, and as first order of business, requested a motion to amend the agenda, tabling discussion and vote on the Manhole Rehabilitation Project, and substituting the purchase of property on Mason Avenue. The motion was approved by unanimous vote.
Several items were set to be addressed as new business, but because bids for the manhole project only came in that afternoon, the Town did not have adequate time to review them, and thus produce an accurate number of just how much the work was going to cost. Given this uncertainty, items such as Harbor for the Arts Festival Marketing, Tourism Map, Pine Street Lot Trash Management area, and Beach Swimming Area Safety Measures (Buoys, markers, signage) were put on hold. Council did approve $11,000 for Compensation Study Implementation (due March 1), $10,000 for Leased Parking Area improvements, and then began the discussion of using $70,000 to purchase a lot that currently is part of Patrick Hand's Strawberry Street Plaza.
When Mr. Hand purchased the old Be-Lo market, he acquired both sets of parking lots that for so many years accommodated overflow for Palace Theatre and Stage Door Gallery events as well as providing convenient access to Mason Avenue restaurants and shops such as Breezes Day Spa, Sea Glass and Stories, Drizzles, and the Cape Charles Coffee House. Purchasing the lot from Mr. Hand, which could be converted into parking, seemed like a definitive win for the Town, destined for a quick, unanimous vote. Instead, Councilman Steve Bennett attacked the logic and timing of the motion. "Strawberry Street is just not important. I don't think it is a wise investment of taxpayer dollars," he said. Councilwoman Joan Natali countered, "But we need this to secure parking."
Councilman Frank Wendell then addressed the Council. "How can visitors access the town without parking? Here, Council seems happy to pay hundreds of thousands to run a pipe (PSA) out to the highway to promote investment there, yet turns a blind eye to the consumers and shops on Mason Avenue." [Read more…]
By WAYNE CREED
Cape Charles Wave
February 23, 2015
My roots are in the clay hills of northeastern Alabama, where for generations my forebears were basically subsistence farmers living on what the land would provide them. Mainly corn, cotton, apricots, and other rotational crops were supplemented with eggs (chickens produced year round). A flock of 100-120 chickens lived outside during the day, pecking the dirt for worms and insects, and in the evening returned to the safety of a fairly large corrugated metal and wire chicken house enclosure. This somewhat bucolic memory allowed me for so many years to perpetuate the myth of "cage free" or "free range" organic chicken farming in my own mind.
I would argue for the promotion of "organic" family chicken farming in Washington, DC, and Northern Virginia (where I lived for 25 years), as well as for expanded operations here on the Eastern Shore. That all changed a year ago. As I was traveling to work in Norfolk, I got behind a truckload of caged chickens. The thermometer in my car registered 18 degrees, and as I stopped at a traffic light, I could see each face, crammed in and waiting. I have never been much of an adherer to James Joycean epiphanies, but this was one. It was a realization that I had been very wrong about the myth of the family farm and the possibility of "humane" chicken farming. No matter what justification I tried to use, Morrisey was right: meat is murder — it's unnecessary and just not possible to farm animals humanely. The end of the line would eventually lead to a cage in the back of a truck. I told myself I would try to no longer be party to this.
Almost one year later, I find myself on another cold morning traveling Seaside Road on the way to the chicken sanctuary and headquarters of United Poultry Concerns. Karen Davis, PhD, is the president of UPC, which she founded in 1990. UPC is a nonprofit organization "dedicated to the compassionate and respectful treatment of domestic fowl" and addresses the treatment of domestic fowl in "food production, science, education, entertainment, and human companionship situations." [Read more…]
The Northampton County EMS and Medical Services Foundation, a non-profit 501 (c) 3, has been established in Northampton County. One of the recommendations of the Board of Supervisors-appointed EMS Task Force was to establish this foundation as a vehicle through which citizens, civic organizations, and other charitable groups could support expanded county and volunteer emergency response agencies.
H. Spencer Murray, Foundation President and CEO and a former member of that Task Force, accepted the responsibility to fund the establishment of the non-profit. IRS tax-exempt status has been received and a kick-off campaign has been planned for early Spring. Other Foundation board members are H. Furlong Baldwin, Director; John Coker, Treasurer and Director; and Cela Burge, Attorney and Director. [Read more…]
(CANCELLED DUE TO WEATHER) Science and Philosophy Seminar of the Eastern Shore of Virginia's event this week is "Addiction:  A Panel Discussion."  The free 2-hour + seminar will begins at 12:30 p.m. Friday, February 27, in the Eastern Shore Community College Lecture Hall, 29300 Lankford Hwy., Melfa. Bill LeCato of Hospice will lead the discussion on various aspects of addiction and its consequences here on the Shore. The panel, organized by John Bulette, will be composed of representatives from the Drug Task Force, Commonwealth Attorney's Office, Parole Office, Psychiatry, and Hospice.
(Cancelled due to weather) This Friday, February 27, at 8 p.m. in ESO LIVE! unplugged and intimate setting, cozy up with Sherry, Pat, and Gary of "The Waterfront Band" as they perform a variety of songs from a variety of genres. Shore natives and popular musicians, Sherry and Pat Belote have rocked our peninsula and elsewhere for over two decades. Starting back in 1990 with the uber-awesome "Storm Warning Band" up to now with their in-demand "Waterfront Band," they continue exhibiting their musical versatility with pop, alternative, rock, country, praise & worship, musical theater, oldies, and originals. ESO LIVE! attendees will be thrilled to see talented bassist Gary Gibb joining his longtime friends. [Read more…]
The Commission for the Arts has awarded the Northampton County Education Foundation a grant to help support an upcoming concert benefiting the Foundation's work in Northampton County Public Schools.
According to Crosby Johnson, Chairman of the Board of Directors, "This is the first in a series of cultural enhancement and high quality arts opportunities the Foundation will be sponsoring here on the Shore.  All proceeds will support scholarships, teacher grants, and special event activities in Northampton County Public Schools. Twenty-five tickets will be distributed to students involved with music programs at all four Northampton schools." [Read more…]