March 4, 2015
EDITOR'S NOTE: To our great surprise, yesterday we received the letter below from Clelia Sheppard, whose name is synonymous with the arts scene in Cape Charles and, by extension, the entire lower Eastern Shore. Ms. Sheppard is resigning as director of Arts Enter, but promises that she will remain a board member "ad infinitum." Here is her eloquent and breathtaking letter:
DEAR COMMUNITY MEMBERS, 
As I step down from my role as Executive Director and Artistic Director of Arts Enter Cape Charles, I have a question. I want to know—what inspires you? An Eastern Shore sunset? A work of art that grabs you and won't let go? Perhaps it's seeing your child perform on stage for the first time, or hearing the right chord just when you need it most.
When I first stepped inside the Historic Palace Theatre, with her worn seats and dark, quiet stage, I found my calling. To bring this gem back to life. To shine a spotlight on the people of Cape Charles and the lower Eastern Shore. To share my love of the arts. And to test my own limits and abilities: it was a personal challenge. [Read more…]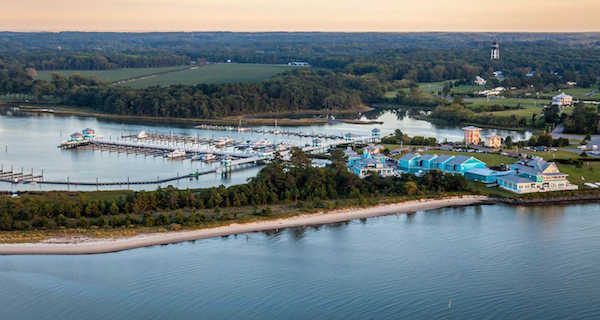 March 4, 2015
When the Wave broke the news that Aqua Restaurant was being renamed The Oyster Farm at Kings Creek, the story quickly became the most read of the year. Everyone was interested to hear about the changes — although the majority of commenters turned thumbs down on the new name. Now the restaurant has launched, heralded by the magnificent photo above. CLICK for the Oyster Farm website, which includes new menus for the renamed restaurant.