Schooner Lynx Is First Arrival for Tall Ships Festival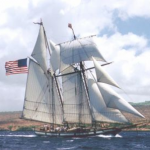 The square-rig top-sail schooner LYNX has arrived at Cape Charles Town Harbor and will offer evening sails beginning Thursday, June 11, in advance of the Fourth Annual Tall Ships At Cape Charles Festival June 13-14. Reserve Lynx sail times and buy tickets online at www.tallshipscapecharles.com.
Designed by noted marine architect Melbourne Smith of Annapolis, Maryland, and built in Maine by Rockport Marine, Lynx represents a "letter of marque" Baltimore Clipper from the War of 1812.  Considered to be among the finest privateer schooners ever built, with great swiftness and maneuverability, the Baltimore Clippers were most effective as blockade runners and offensive weapons of war.
Lynx sails as a living history museum, providing inspiration and serving as a classroom for the study of history, ecology, and the environment.  She is fitted with period ordnance and flies pennants and flags from the 1812 era.  She is operated under the auspices of the Lynx Educational Foundation.