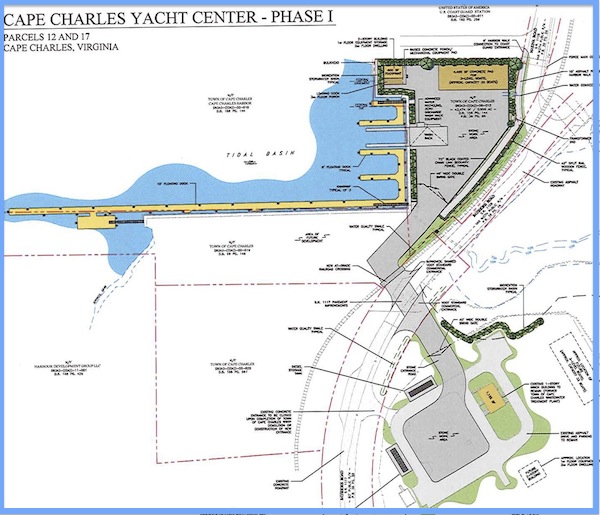 By DORIE SOUTHERN
Cape Charles Wave
November 8, 2012
Cape Charles Planning Commission on November 6 reviewed a conditional use permit application from South Port Investors.
South Port is moving forward with its proposed $5 million Cape Charles Yacht Center at the town harbor, and hopes to have the project underway by spring.
Preliminary work has begun at the site of the former wastewater treatment plant, now leased by the Town to South Port.
Phase one of the project is to install a travel lift for boats up to 75 tons. South Port seeks permission to perform marine engine repairs and to construct a 6-foot-high black chain link fence around the property. [Read more…]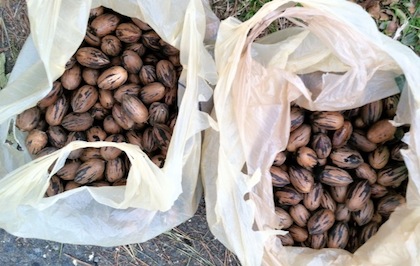 By BRUCE LINDEMAN
Cape Charles Wave
November 8, 2012
It was brisk Sunday morning as we walked over to the next block to pick some of the giant pine cones from the ground that fall this time of year.  They will be useful for dressing the Christmas table with fresh greens such as magnolia, holly, and such and to give away for others' holiday decorating.
The bag, now full, was big and clumsy so we left it on the front porch before heading out in search of our prime mission: picking pecans.
If you're a Cape Charles resident, I'm not telling you anything you don't already know.  However, what's intriguing is that so many residents don't seem to care about the pecans — or so it seems from the sheer amount of them we found still on the ground this year.
Cape Charles is known for its beautiful crepe myrtles and, more recently, its abundance of rosemary which seems to grow so well in our rich Eastern Shore soil.  I could go on about rosemary, but we're talking pecans here.
Our first visit to town was at the end of winter, oddly.  While most people's first visit is during summer — a time of blooming perennials, parades, harbor parties, and the like — we came when there were no leaves on the trees, under overcast skies.  Yet we still fell in love with the place.  And we hadn't even seen the crepe myrtles in bloom yet!
Like most visitors, one of the places I had to go first was Watson's Hardware.  Ever since we were kids helping my dad restore a 1920s bungalow on the south shore of Long Island, I've had this thing for old hardware stores. [Read more…]
Yard Sale November 9-10 from 8 a.m. – 5 p.m. Early bird specials on appliances and furniture — best offer accepted. 647 Madison Avenue, Cape Charles.